Home to famous icons like the Golden Gate Bridge, Fisherman's Wharf, and Alcatraz Island, San Francisco is a prime destination whether you're taking a U.S. road trip or backpacking up and down America's vibrant and picturesque West Coast.
San Francisco is both a vacation destination with plenty of sightseeing opportunities and an enclave for digital nomads looking to get some work done. The following six hostels are the top-rated spots in the "Golden Gate City" and will put you right in the middle of the action.
Green Tortoise Hostel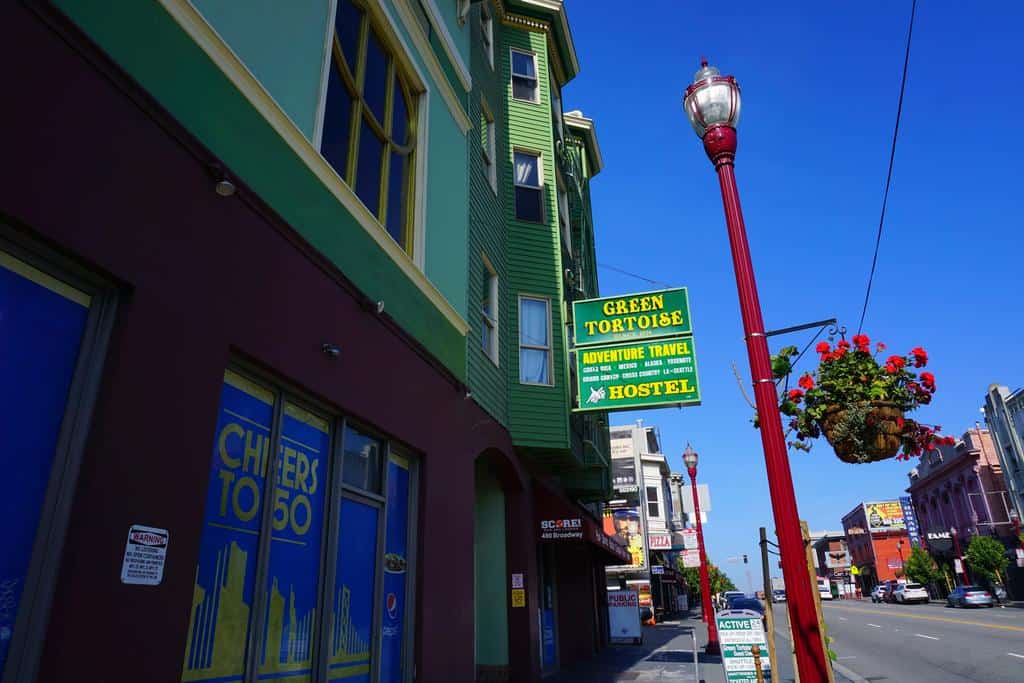 HostelWorld (*9.0) Booking.com (*8.5) Map Starts at ($39) for 8 bed-dorm
**prices are shown for weekdays in Mid-season (Nov.)
The Green Tortoise Hostel is widely touted as "San Francisco's favorite party hostel." Boasting a 9.0 rating at Hostelworld, the Green Tortoise is family-owned and -operated, and it features the comforts of home. And yes, the Green Tortoise Hostel really is green!
Enjoy a diverse breakfast spread every morning, as well as coffee and tea 24/7. Free, home-cooked dinners are offered three nights a week, and complimentary Wi-Fi is available throughout the building. Green Tortoise guests have access to exclusive deals and activities, including bike rental discounts, a €15 airport shuttle, and free pub crawls to some of the hottest bars and clubs in North Beach.
Before embarking on your pub crawl or sightseeing tour of San Fran, take advantage of the hostel's fully equipped kitchen. Or you can play pool, foosball, or piano in the spacious common room. Guests should note that the Green Tortoise's convenient North Beach location, only a 15-minute walk from Fisherman's Wharf, can be busy and noisy on the weekends.
HI San Francisco Downtown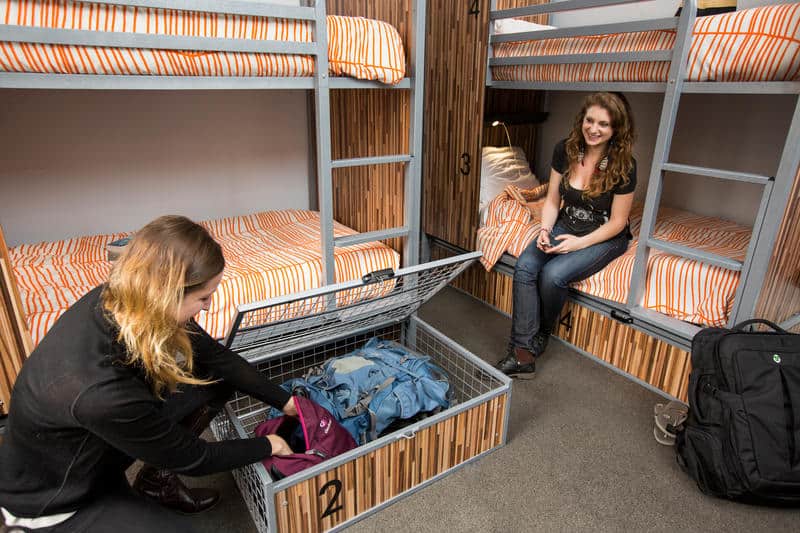 HostelWorld (*8.9) Booking.com (*8.3) Map Starts at ($40) for 8 bed-dorm
**prices are shown for weekdays in Mid-season (Nov.)
Hostelling International has long been a top choice among backpackers and digital nomads for affordable lodging with plenty of amenities, and HI San Francisco Downtown continues that legacy. Hostelworld named HI San Francisco Downtown the city's most popular hostel in both 2017 and 2018, and it's easy to see why.
Freebies at HI San Francisco Downtown include breakfast, hair dryers, lightning-fast Wi-Fi, and towels. You'll find spacious individual lockers in each dorm room, along with a lamp, power outlet, and shelf at every bed. The per-night cost for a bunk in a 4-bed male room, 4-bed female room, or 8-bed mixed room is €49.81 on average, along with a €2.60 per-night surcharge if you're not a member of Hostelling International.
The atmosphere is a huge draw at HI San Francisco Downtown, which is housed in a historic building dating back to 1909. Travelers love the hostel's central location — just minutes from Union Square — as well as its relaxed, cool vibe and vibrant common areas, featuring a fully equipped guest kitchen and a theater-style TV room.
USA Hostels San Francisco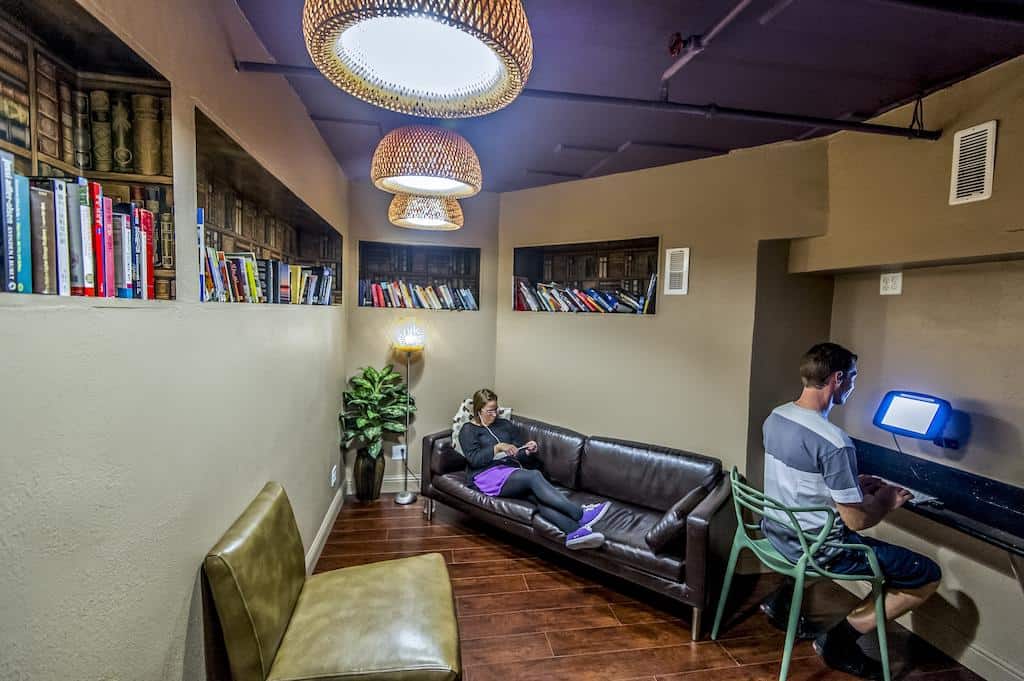 HostelWorld (*9.0) Booking.com (*8.4) Map Starts at ($41) for 4 bed-dorm
**prices are shown for weekdays in Mid-season (Nov.)
From 2013-2016, USA Hostels San Francisco reigned as the most popular San Francisco hostel, as chosen by Hostelworld guests. Today, it remains one of the best hostel values in the city, with an average €48.83 price tag for a Basic dorm room, and €58.66 for a Standard room with ensuite bath. Each room has only four beds, giving you maximum privacy.
Further, each bed is enclosed by a "privacy pod," featuring a screen, shelf, outlet, and reading light. Dorm rooms are equipped with plenty of amenities, such as fridge, microwave, cable TV, and MP3 player. Wi-Fi is available in all rooms and common areas, and free laundry soap is offered for all guests using the on-site laundry facilities.
You won't go hungry at USA Hostels San Francisco, which offers a breakfast spread every morning with a variety of baked goods, fresh fruit, and all-you-can-make pancakes. Family €5 Dinners are served every Monday, Wednesday, Friday, and Sunday.
Pro tip: To make the most of your time in San Francisco, take the hostel's free walking tour, hosted by Poonam. Walking tours depart at 10:00 a.m. sharp, and are offered on Saturday, Monday, and Wednesday.
HI San Francisco City Center
HostelWorld (*8.3) Booking.com (*7.8) Map Starts at ($40) for 5 bed-dorm
**prices are shown for weekdays in Mid-season (Nov.)
The perfect blend of retro charm and modern conveniences, HI San Francisco City Center is one of the most unique hostels in San Francisco, from an architectural standpoint. The hostel is located in a former boutique hotel, built in 1920 during the height of the city's Art Deco movement.
From the moment you step into the hostel's breathtaking marble-tiled lobby, you'll feel as though you stepped back in time, but with one foot in the modern digital world.
HI San Francisco City Center guests are treated to free daily breakfast, free Wi-Fi throughout the building, and daily housekeeping. You can swap travel stories with fellow digital nomads and adventurers at the hostel's on-site bar and cafe. Or take a quick stroll down Larkin Street, which will take you to the Asian Art Museum, Pioneer Monument, and the San Francisco Public Library, an architectural marvel in its own right.
The average cost for a 4-bed dorm with ensuite bathroom at HI San Francisco City Center is about €48.55 per night, plus Hostelling International's €2.60 non-membership fee.
Music City Hotel/Hostel
HostelWorld (*8.4) Booking.com (*7.8) Map Starts at ($37) for 6 bed-dorm
**prices are shown for weekdays in Mid-season (Nov.)
Starting at just €36 per night for a dorm bed, Music City Hotel/Hostel is the perfect overnight option for creative types on a budget. Designed specifically for musicians, artists, and travelers, Music City offers both private, hotel-style rooms and gender-specific dorm rooms with shared bathrooms.
Music City is located in the vibrant Polk Gulch neighborhood, within walking distance of The Regency Ballroom and myriad dining options. The hostel is a card-only facility, and dorm rooms are equipped with convenient mini kitchens.
Music City rooms feature artwork that honors the musical heritage of San Francisco, and explorers who want to learn more about the city's music scene don't have to go far — directly beneath Music City Hotel are 15 rehearsal and recording studios. Just outside the hostel, you'll find the San Francisco Music Walk of Fame, a collection of more than 300 bricks, engraved with the names of some of the most famous musicians from the Bay Area.
The Urban Hotel Union Square
HostelWorld (*9.4) Booking.com (*7.9) Map Starts at ($76) for 1 bed-private
**prices are shown for weekdays in Mid-season (Nov.)
Touted as a "boutique communal hotel," The Urban Hotel Union Square is pricier than the other lodging options on this list, but its location can't be beaten. Sleek and modern, The Urban is just steps from Chinatown and two blocks from Union Square on the edge of the bustling Financial District.
Digital nomads will appreciate the fact that children are not allowed as guests at The Urban. The hostel's common area is quiet and convenient, featuring a work desk, microwaves, and complimentary Wi-Fi.
The Urban holds an impressive 9.4 rating on hostelworld as well as a perfect 10.0 score when it comes to location. Its price isn't as budget-friendly as other hostels in San Fran, however: A single private room with shared bath will set you back €123.38 per night on average. Travelers should note that a seven-night minimum stay is required.
San Francisco: The New Silicon Valley?
Silicon Valley is well-known among digital nomads, as the region is the global hub of emerging technology and innovation. Its historic epicenter is the Santa Clara Valley, just 40 kilometers south of the San Francisco Bay.
But in recent years, San Francisco itself has stepped up its tech game to give Silicon Valley a run for its money. Its Design Spaces is one of the top co-working spaces in the world. And the city's Levi's Stadium, home of the San Francisco 49ers since 2014, is considered one of the smartest stadiums in America.
Levi's Stadium is equipped with high-speed Wi-Fi, and patrons can download a useful app that provides bathroom line wait times, instant replay access, and the ability to order food and drinks without getting out of your seat. Further, the stadium can expand to allow for a maximum capacity of 75,000 people, up from its regular 68,500. Located just off the historic Highway 101, Levi's Stadium is just a short ride away from all the best hostels in San Francisco.
The Bottom Line
It can be expensive for backpackers to stay in San Francisco, and savvy travelers should consider visiting during the off-season for the best value and smaller crowds. The "slow season" in San Fran is between September and November when daily temperatures are cool and rainfall is rare.
As for your hostel choice in San Fran, it depends on your budget and travel goals. If you're a digital nomad traveling to the Bay Area for work, you'll appreciate the amenities and ambiance of USA Hostels San Francisco and The Urban Hotel.
Backpackers looking to party down in San Fransisco should book a stay at Music City or the Green Tortoise. And if you want to experience old-world charm in modern San Francisco at an affordable price, HI San Francisco City Center is your best bet.
---
Author Bio: Leah D. Nelson: writes about music, sustainability, and traveling. Her work has been featured on Flypaper, Backroad Planet, and Mobility Lab. She and her partner, Sandro, live in Boise, Idaho, and are in the midst of a DIY tiny house project. Check out her latest post on signs of dehydration. Where they will end up once the house is finished is anyone's guess. Follow her on twitter @leahdeann3