Santa Teresa is a small beach town that's off the beaten path. Its remote location means you won't be inundated by tons of tourists like you will in other places, but that's not to say there isn't lively energy and plenty of people. Many folks visit this tropical destination in search of authentic feel-good vibes, welcoming atmosphere, and the world-class surfing it offers.
Santa Teresa is home to some of the best surfing breaks in the world, so it's no surprise that it draws in a lot of surfers and the sort of nomadic traveler that's right at home on the beach. And surfing isn't the only pass time: There's plenty to do for the oceanic enthusiast such as fishing, sailing, snorkeling, and plenty more. If you're looking for something to do inland, there are the famous Montezuma waterfalls that you can take a tour to on ATVs.
The town proper crackles with inexplicable energy, and it's not uncommon to find amazing parties, live music, and a lively, welcoming atmosphere lining the streets at night.
During the day, you can enjoy shopping in quaint shops or experience the local cuisine at many of the fantastic restaurants. The size and quaintness of this town make it a wonderful place to shack up in and enjoy on foot. The town is practically sitting on the beach, so you can trek to just about everything this town has to offer within just a few minutes.
What's your next stop in Costa Rica? Check some hostels that we recommend: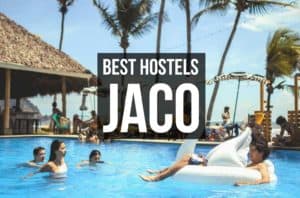 For accommodations, Santa Teresa offers the usual hotels, but it's the hostels you'll want to visit for an authentic and social experience that will draw you in and make you love this place.
Here are six of the best ones in and around the town:
Casa Zen Guesthouse and Yoga Center
Book on Hostelworld Book on Booking.com
Highlights:
They have an impressive yoga studio with daily classes.

They offer a delicious complimentary breakfast.
Casa Zen is a quaint little hostel located near Santa Teresa and Mal Pais. For lodging, they offer several private rooms for couples or friends traveling together that include double beds or two singles.
For amenities, they offer two full-size kitchens, one of which is a signature chef's kitchen, equipped with all sorts of gadgets for whipping up tasty meals.
The staff is helpful and knowledgeable, and they're always willing to help plan tours and activities in the area such as canopy tours, stand-up paddleboarding, fishing, snorkeling, sailing, surfing, and more. The best part about Casa Zen is its fantastic yoga studio where they have daily yoga classes.
Selina Santa Teresa North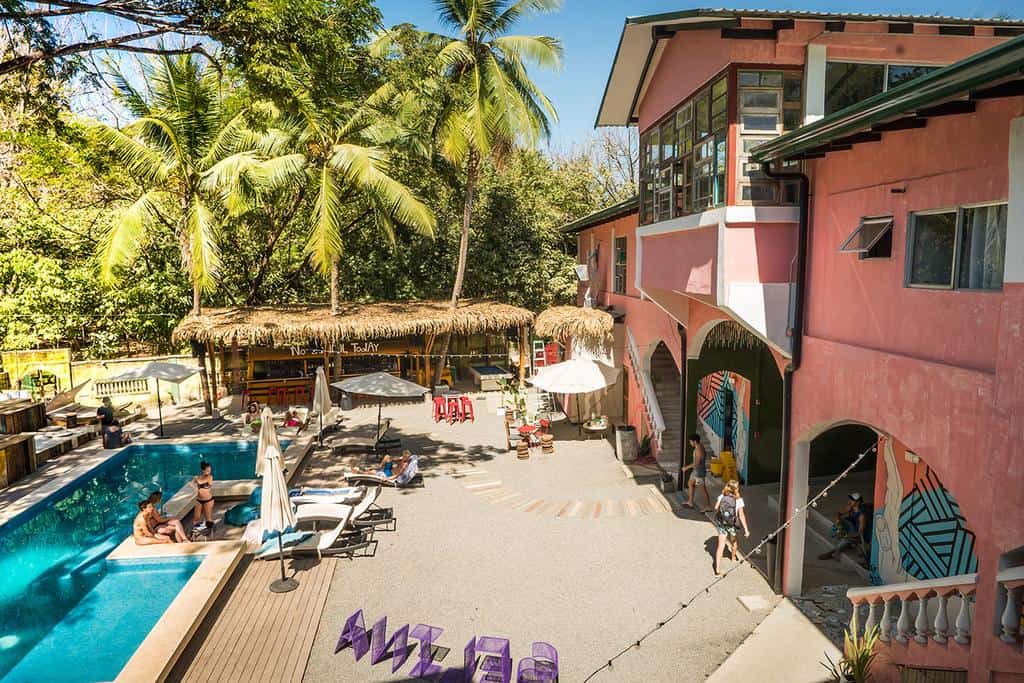 Book on Hostelworld Book on Booking.com
Highlights:
They have their own restaurant and bar.

They have a beautiful pool to take a dip in.

There's a yoga studio, playground, and nice common area to share with other travelers.
Selina Santa Teresa North is a large hostel, offering four floors of artistic and welcoming vibes. It's one of the larger hostels in Santa Teresa, and it even includes its own restaurant with a delicious and diverse menu.
It's in a fantastic location, just a short walk from some of the best surfing spots in Costa Rica.
This hostel focuses on community and the inclusive vibe is evident in every area. They have camping sites, a pool, a playground, a yoga studio, and a common area for travelers to get together and make new friends. It's a hostel with everything you'd want and a wonderfully welcoming atmosphere.
MUST HAVE GADGET for every minimalist backpacker. Get your own portable travel hammock!
Hostel Dos Monos South
Book on Hostelworld Book on Booking.com
Highlights:
You can take surfing lessons with their instructor, Javier.

If you need a surfboard, they provide board rentals.

Staying here gets you a 10% discount at Satori, one of the trendiest restaurants in Santa Teresa.
Hostel Dos Monos South offers an atmosphere of service and inclusion with a focus on making you feel comfortable and at home.
They're in a great location: Less than 100 meters away is Playa Carmen, one of the best surfing spots in Santa Teresa. If you've never surfed before, they have their own in-house instructor, Javiar, who can get you up and on the waves in no time.
In case you're a seasoned surfer, they have surfboards you can rent right there at the hostel. And if you're not into surfing, the staff here will help you plan and book other activities such as sport fishing or snorkeling.
Zeneidas Surf Garden
Book on Hostelworld Book on Booking.com
Highlights:
This place has a gorgeous and lush garden with hammocks to relax in.

They have a robust outdoor area with a fire pit for barbecuing.

They have surfboard rentals and provide surfing lessons.
Zeneidas is the only hostel in Santa Teresa that's located directly on the beach. The location offers easy access to Playa Hermosa, Playa Cocal, and Playa Carmen, among others. It's a welcoming place with a lush garden where you can relax in hammocks and enjoy the vibes of nature right where you're staying. Zeneidas also has surfboard rentals, and they offer surfing lessons to people of all skill levels.
In addition to their other amenities, Zeneidas has comfy living areas, its own library, two fully-stocked kitchens, a backyard area with a fire pit, and its own studio for practicing meditation and yoga.
Wavetrotter Guest House
Book on Hostelworld Book on Booking.com
Highlights:
This hostel offers mainly private rooms.

They offer surfboard rentals.

It's in a really great location central to Santa Teresa and the beach.
Wavetrotter is a family-owned Hostel with a welcoming vibe that offers primarily private rooms, though they do have a single shared room with five beds to retain the hostel vibe.
The layout here is a wide-open "Quincho" style with a full kitchen for cooking. They have a great location in the center of Santa Teresa, so there are plenty of restaurants and markets within a short distance, and they're also close to plenty of the main breaks for surfing. Like many of the other hostels, they offer board rentals.
Selina Santa Teresa South
Book on Hostelworld Book on Booking.com
from $121 / 4-private 4.7/5 Map
Highlights:
This place has an amazing co-working space for digital nomads to work and mingle.

They have a wellness center along with a year-round pool.

They have a beautiful, upscale sun terrace for you to relax in.
Selina Santa Teresa South is a magnificent upscale hostel with the goal of redefining travel and work. This place isn't just a hostel, it's also a co-working space with the aim of giving travelers a place to be productive while giving them the opportunity to connect with their fellow nomads.
They offer all of the usual amenities you'd expect from a quality hostel along with a sparkling pool and a wellness center. Like the other hostels, Selina has a tour desk where you can book and plan some of the great activities and tours that are available in Santa Teresa.
Experiencing Santa Teresa
Whether you're a surfer looking for some of the best waves and breaks to be had or a digital nomad looking for a paradise to relax and work in, Santa Teresa has something for you.
Its quaintness and white-sand beaches will charm you and the people and energy will make you want to never leave. It's an unforgettable little beach town in Costa Rica that's worth traveling off the beaten path to get to.