When you think of Spain you are likely to think of amazing food, warm weather, beaches, and great fiestas. Spain is a backpackers' dream. Each of its regions is uniquely different from one another.
Madrid offers art, museums, and an amazing nightclub scene. Sevilla and Granada offer authentic cultural experiences. The Mediterranean beaches of Barcelona and the vibe is amazing. There are also majestic mountain regions with awe-inspiring landscapes in the North of Spain.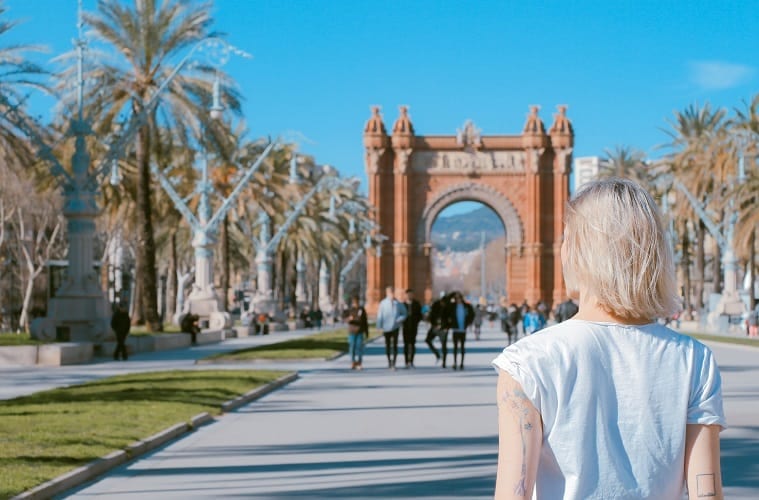 Backpackers can take the Cami Catala trail beginning in Barcelona and head west across the countryside. You will find Europe's only desert in Spain. This country is beautiful with beautiful people and amazing fun and adventure.
With so many activities to enjoy every day, you'll need a place to relax and recharge.
Check out this list of the best hostels in Spain's biggest cities: Barcelona, Madrid, Sevilla, Granada, Valencia, and Malaga:
Sant Jordi Sagrada Familia Hostel (Centrally Located & Funky)
Book on Hostelworld Book on Booking.com from $20 / 12-dorm 4.1/5 Map
**Prices are shown for weekdays in Mid-season (August)
Sant Jordi Sagrada Familia is a unique, skateboard-themed hostel renowned for its friendly staff, prime location, and outstanding amenities. Guests have access to numerous communal areas, including a self-catering kitchen, a patio, or a living room with a huge TV. There is also an indoor mini-ramp for skaters to use before they go out to the lively streets of Barcelona.
You can stay in a 3-bed private ensuite or a 12-bed dorm. Female-only dorms are available, too. They are all furnished with bunk beds (linens and sheets included) and air-conditioning. Each bed has a security locker, head-board cubby, reading lamp, and a charging station. The communal areas are set aside from the rooms so you could sleep sound after a long day of exploring the city.
The famous Sagrada Familia is just around the corner, while the beaches of Barcelona and other major attractions are only a short metro or bike ride away. Also, there are plenty of restaurants and bars around the hostel. However, if you wish to party at the beach, three night bus lines stop just a few blocks away from the property.
Generator Barcelona (High-end LUX Hostel)
Book on Hostelworld Book on Booking.com from $27 / 8-dorm 4.2/5 Map
**Prices are shown for weekdays in Mid-season (August)
Generator Barcelona promises the best view of the city. It's also one of the best hostels in Barcelona. This location offers upscale hotel rooms, private rooms, twins, and dorms. Select rooms have spacious terraces. Take in stunning views of the famous Sagrada Familia from the hotel's 7th floor.
Bathrooms on every floor have private showers. Order an affordable buffet-style breakfast Monday to Friday from 7:00 am -10:00 am. Weekend hours are from 7:00 am -12 pm. Socialize and relax in The Lounge; open to residents 24 hours.
The hostel's staff members are helpful and friendly. Many are multilingual and can recommend the city's popular bars and restaurants; all are within just a short walking distance. Two of the main metro stations are only a 5-minute walk from the hostel.
Guests of the Generator can walk to trendy shops, restaurants, and bars in Barcelona's Eixample district. A 15-minute metro ride delivers guests to the famous Barceloneta Beach.
---
The Central House Lavapies
Book on Hostelworld Book on Booking.com from $20 / 8-dorm 4.6/5 Map
**prices are shown for weekdays in Mid-season (August)
Nestled between two central neighborhoods of Madrid – Lavapiés and La Latina – Central House Lavapies is a brand new hostel close to all the city's attractions that also provides guests with amazing amenities.
It features a 24-hour reception, underground parking, and a rooftop terrace with loungers and parasols. On the ground floor, there is a restaurant where you can have breakfast, lunch, or even dinner and a drink that you can enjoy inside or on the open-air patio.
There is also a variety of rooms to choose from. Stay in a dorm, private room, or family room. Travelers who prefer large mattresses, a bit more comfort, and yet they want to stay with other guests can try premium dorms.
The Hat (Eco-friendly & Great for Solo Travelers)
Book on Hostelworld Book on Booking.com from $32 / 10-dorm 4.2/5 Map
**prices are shown for weekdays in Mid-season (August)
The Hat is an Eco-friendly sociable hostel with all the plush luxuries of an upscale hotel. This is the first boutique hostel in Madrid and the first that has used Biomass energy. When traveling solo and ready to make friends, guests can stay in one of the fun shared dorms.
Female-only rooms are also available as well as those four groups when traveling with friends. En Suite rooms are available for those who prefer a private bathroom.
The amazing common area features a bar and restaurant. There is also a rooftop terrace with a solarium. Air conditioning allows you to cool off on hot sunny days.
Free events are included such as city walking tours. It's centrally located In the popular Plaza Mayor.
---
Hostel One Catedral (Party + Social)
Book on Hostelworld Book on Booking.com from $21 / 6-dorm 4.5/5 Map
**prices are shown for weekdays in Mid-season (August)
Hostel One Catedral is in an ideal location and is one of the best hostels in Sevilla. It"s just a one-minute walk from Alcazar and the cathedral. Here you will find private rooms and dorm rooms that are comfortable and modern beds offering the privacy of curtains, a plug, and an LED light.
Their friendly and amazing staff organize lots of fun activities daily. Located in the heart of the Jewish quarter in the Santa Cruz neighborhood, hostel one is just a one-minute walk from Giralda Tower, the Alcazar, and The Cathedral.
The area of Seville is interesting and beautiful. The hostel is surrounded by numerous tapas bars and restaurants.
---
Eco (Stylish + Social + Great Location)
Book on Hostelworld Book on Booking.com from $20 / 14-dorm 4.4/5 Map
**prices are shown for weekdays in Mid-season (August)
One of the best hostels in Granada is the Eco hostel. It's an urban hostel with design elements inspired by nature and recycling. It's located in a beautiful historic building in the heart of the city.
The unbeatable location at the main avenue accommodates solo travelers, families, and groups. breakfast brunch and lunch are available daily. The Retro Eco cafeteria located on the lower floor offers a great atmosphere.
The hostel also features great activities such as tortilla and gazpacho courses, paellas, the best mojitos, dining, and games. Backpackers love it here. Activities include diving, paragliding, trekking, Flamenco, cycling, and horseback riding.
There are dorm rooms and private rooms to accommodate two, four or six people. All rooms are ensuite. Socialize with other travelers in or cinema TV room, living room, or kitchen and cook something tasty. Fast and free Wi-Fi is available throughout the building.
---
Purple Nest (Social + Great Location)
Book on Hostelworld Book on Booking.com from $- / -dorm 3.9/5 Map
**prices are shown for weekdays in Mid-season (August)
Purple Nest Hostel is one of the best in Valencia. With a great location in the Bohemian neighborhood Ciutat Vella, there are many activities within walking distance. The natural history museum is an 8-minute walk.
The Plaza De La Reina is just a 6-minute walk and packed with Lively cafes and shops. Visitors can see more of the City by hopping onto the Metro. Alameda is just a 5-minute ride.
After a day of adventure, guests can take time to relax in your room. There are many options from makes dorms, female-only, family rooms, doubles, and private rooms. Private bathrooms are available in some rooms.
Every room offers free linens, air conditioning, and lockers. Multilingual staff is available 24 hours to help you or give you advice on what to do and where to go.
---
The Urban Jungle
Book on Hostelworld Book on Booking.com from $38 / 8-dorm 4.5/5 Map
**prices are shown for weekdays in Mid-season (August)
The urban jungle hostel is the top-rated hostel in Malaga and is known as one of the best. The reception is open 24 hours. The place has a wonderful staff and is conveniently located in the city center. Picasso Museum and but Alcazaba are just a 2-minute walk.
There is free Wi-Fi throughout the hostel. Private bedrooms and multiple bed dorms feature a fresh green design. Dorm beds feature curtains.
A complete kitchen is accessible to guests and every day the staff organizes loads of excursions and onsite activities. There are planned family dinners, free concerts, tapas tours, beach parties, pub crawls, and Flamenco shows. Happy Mojito Hour is nightly from 7 p.m. to 8 p.m. and a pub crawl every night.
---
Way Hostel (Ideal for Solo Travelers)
TEMPORARILY CLOSED
Way hostel is centrally located, has a welcoming staff, and great activities. There are tapas tours, free walking tours, Flamenco shows, and bar crawls. The hostel also hosts free tango dance events. These Saturday night Milongas are lots of fun.
There is free Wi-Fi in every part of the building. Guests can keep everyone back home up-to-date on all the fun and binge on Netflix at the end of their daily Spanish adventures.
Way hostel is located in the quiet neighborhood of Tirso De Molina. Puerta Del Sol is the city center and right around the corner. The art triangle is just a 15-minute walk away as well as must-see sights such as El Retiro Park.
The hostel is easily accessible from the main train station or Madrid Barajas Airport.
---
Hostels have come a long way in terms of overall comfort. Also, shared kitchens, common areas, and game rooms give backpackers and other travelers the chance to meet like-minded people. Whether visitors want to make friends and party, chill by the beach, or just need a place to rest, there are great Hostel accommodations they can choose from.