Valencia is said to be among the earliest cities in Spain and Spain's great destinations. The city is located in the coastal line of Spain, and it receives sunshine over 300 days every year. Valencia got amazing architecture to enjoy and plenty of museums to visit.
The following is a list of the most amazing hostels available in Valencia.
Heading north? Check out Best Hostels in Barcelona!
The hostel of Home Youth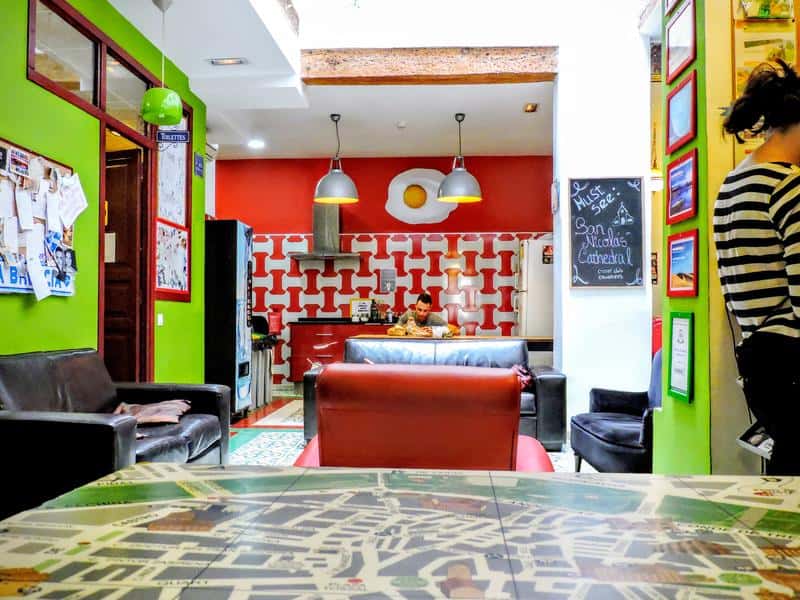 HostelWorld (*9.3) Booking.com (*8.7)
Map Starts at ($20) for 4 bed-dorm
**prices are shown for weekdays in Mid-season (Nov.)
The hostel is in Ciutat Vella Lonja, Valencia. It is the best hostel for travels and is also budget friendly. The hostel has one of the best accommodation in Valencia with dorm rooms accommodating up to four beds. Those who hate overcrowding will like it here. The bed also are not bunk beds so there are no chances that other people will wake you by shaking and rattling when they climb to bed.
If you are searching for the best hostel for fun, quality accommodation, and for relaxing in Valencia, don't worry because Home Youth Hostel will provide that in the best way possible.
All the rooms have great bright paintings and wonderful features. Also, the hostel provides the guests with charging facilities, reading light and a locker. The hostel has enough space where you can interact freely while you relax your mind.
It is also a great place to socialize with other people. The hostel has a vintage atmosphere and lounge area with huge comfy armchairs. For those people who love cooking, your interest is taken care of. The hostel has a spacious and well-maintained kitchen where you can prepare your favorite meal. You are also free to watch a film when you are relaxing. The hostel has a family dinner which takes place twice each week where you get the chance to interact with other guests over the dinner and later you can hit the town.
The hostel staffs are very social and attentive. They are always willing to assist with insider tricks and tips for exploring the city. They also have a walking tour which is provided for free on daily basis. The hostel is an only 10-minute bus ride from the beach. Also, a station of both bus and train is just a walking distance away. This means you can easily access transport mean hence exploring the city will not be stressful. From the hostel, you can also see the silk and central market.
Purple Nest Hostel
HostelWorld (*8.5) Booking.com (*7.8)
Map Starts at ($16) for 10 bed-dorm
**prices are shown for weekdays in Mid-season (Nov.)
It is in Tetuan Vella, 46003 Valencia, Spain. The hostel is among Valencia's best party hostels. This is the best hostel for party lover guests who want to spend their time in Valencia. They also have one of the best accommodations in Valencia.
The hostel is also near Valencia's great attractions places and sites. The hostel provides a great avenue where you can meet people from all over the globe. It organizes an outing to the best clubs and bars in Valencia severally every week. They also have tapas tours and walking tours every day. These are some of the things travelers look for when booking a hostel.
In addition, they teach Taichi. The hostel bar rooftop is open where you can have drinks and interact before going out. Also, their staff are very friendly and always ready to help and give helpful opinions on the best bars, sites to visit and sites during your stay.
Their dorm rooms accommodate 4-10 people. They are also spacious, airy, and have bright color walls. In terms of security, every guest is given an individual locker and key card access. Purple Nest hostel enhances an interactive and proactive environment and also ensuring their guest are safe and comfortable.
Red Nest Hostel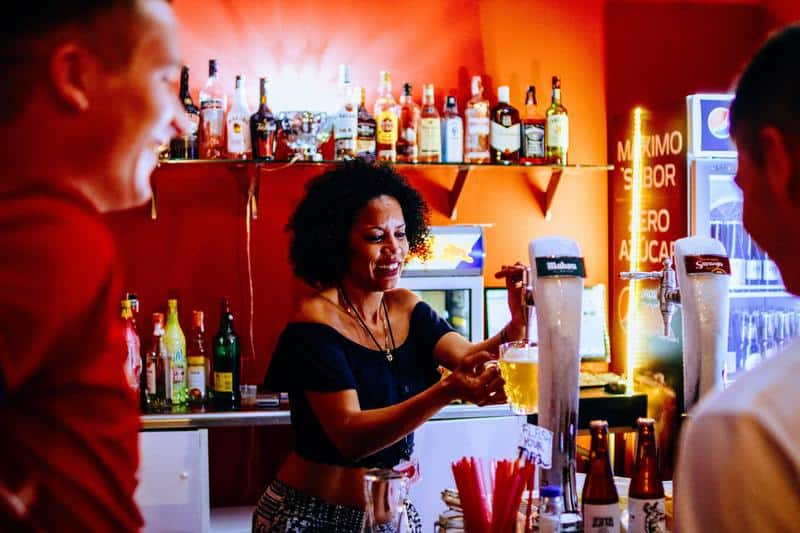 HostelWorld (*8.7) Booking.com (*8.1)
Map Starts at ($17) for 12 bed-dorm
**prices are shown for weekdays in Mid-season (Nov.)
The hostel is in La Paz, 46001 Valencia, Spain. It suits travelers on a budget very well. The hostel is comfortable, colorful clean and centrally located. It will be very easy and cheap to explore Valencia from Red Nest Hostel.
The hostel offers a well-maintained bar where you and your friends can take advantage of readily available drinks. The hostel also has social events on a weekly basis which generate a great chance to meet new people. Also, they have weekly homemade paella and BBQ nights which are great socializing and also learning Spanish lifestyle. They provide large rooms for guests which are brightly decorated and also well maintained. These rooms are appropriate for accommodation for people from different places and backgrounds. Also, they provide a locker, a communal kitchen, and comfortable beds. All this are provided at very cheap prices.
Red Nest hostel staff are very friendly and are always ready to help you with everything you need to know about the best places and activities to do in Valencia. They will always speak in a language you will understand. They also organize paella, pub crawls, sangria nights and walking tours. These will provide venues for interactions for travelers and making new friends.
Youth Hostel Center Valencia
HostelWorld (*8.0) Booking.com (*7.7)
Map Starts at ($13) for 8 bed-dorm
**prices are shown for weekdays in Mid-season (Nov.)
It is in Samaniego Valencia, Spain. It is classified as one of the very best hotels available in Valencia with affordable prices, central located and chilled atmosphere. The hostel is located near the old Centre of Valencia, near the best cities nightlife and surrounded by a lot of bars and clubs which make the perfect place if you are looking for a place where you can spend a bit of a party time!
The hostel offers private room's spacious dorm and also female only dorm to suit every traveler. The rooms are nicely decorated with bright walls. They are also airy and spacious with comfortable beds. They also offer a free simple breakfast for the guests. The accommodating workers at the service desk will be much willing to share with you everything you want to know about Valencia to ensure that you have a great time there. They won't mind even sharing some stag do ideas and adventure activities available in Valencia.
Also, you will get free maps of the city and cheap bikes you can hire for easy movement around the town. You will get a walking tour every day and pub claw every week. This will facilitate your interaction with other guests as making new friends. You will also enjoy the rooftop terrace as you rest with a bottle of beer. Several nights when it is the summer month the staff usually prepare BBQ on the rooftop which usually very enjoyable and gives you a great experience.
Urban Youth Hostel
HostelWorld (*8.3) Booking.com (*8.4)
Map Starts at ($20) for 10 bed-dorm
**prices are shown for weekdays in Mid-season (Nov.)
It is in Poblats Maritims, 46024 Valencia, Spain. It is great for travelers on a budget with a friendly atmosphere and also close to the beach. The hostel staff are friendly and always happy to help with information about Valencia City.
Urban Youth Hostel rooms are spacious and colorful. They have a dorm and private rooms as well. The rooms are equipped with TVs and bathrooms. Guests get personal reading lights and electronic locker. Guests can enjoy themselves in the bar available in the hostel. You can have a beer with other guests or friends before going to experience the nightlife in Valencia. The hostel is spacious for interaction during the day.
---
The above hostels are some of the amazing hostels available in Valencia Spain. Many people like to call Valencia the paradise of outdoor lovers. Valencia is the home of the biggest Spain annual festivals such as Tomatina which comes on the final Wednesday of every August and Las Fallas which take place in March. These festivals will give you and your friends an experience you will never forget.
It is highly advisable to book your accommodation early enough to avoid inconveniences when the city gets pretty packed. Book accommodation in one of the best hostel Valencia offers to ensure you enjoy your time there. When booking a hostel there thing you might consider such a friendly atmosphere that will encourage interaction, clean rooms, secure luggage storage, comfortable dorm beds among others.
Book accommodation with one of the hostels, and discover why it is a paradise. Spend your time in one of these hostels and you will have a good stay, travel, backpacking trip or stag in Valencia that you will never forget.