Are you trying to decide on a destination in Florida in 2023? With the warm weather to enjoy and many conspicuous attractions to visit, ranging from the white sand beaches with emerald waters that transcend over the horizon to reptile-infested swampy National Parks, the Sunshine State has offers for everyone.
Whether you're chasing a family, romantic, or exploration getaway, Florida has a lot in store for your next vacation.
Here are some of the most exciting points to consider but in no particular order.
For Beach Time
Treasure Coast
The Treasure Coast is situated just above Miami's more popular beaches. The cities making up the Treasure Coast include West Palm and Palm Beach, famous for their upscale dining establishments, discotheques, and premium shopping opportunities.
The top beach recommendations include the West Palm, Delray, Pompano, Palm, and Boca Raton beaches, characterized by pristine white sands, warm waters, and fewer tourists.
Every beach is unique and offers a variety of leisure ventures and the Treasure Coast contains a plethora of luxurious accommodations to supplement tourist travel experiences.
Florida Keys
The Florida Keys is a series of tropical islands stretching about 120 miles between the Atlantic Ocean and the Gulf of Mexico. Traversing through the keys allows for a scenic view of the coastline and renowned landmarks.
The spring season brings out the ideal conditions for enjoying the warm waters, natural landscapes, immaculate coral reefs, and sporting activities such as fishing and boating. The Florida Keys offers beaches on Key West, Key Largo, and the Marathon.
Underwater exploration of marine life and pristine coral reefs at the John Pennekamp Coral Reef and Bahia Honda State Parks is an iconic attraction in the Florida Keys. The Florida Keys also boasts exquisite hotels and resorts to magnify your travel experience.
Gold Coast
Situated on the southeastern side of Florida, the Gold Coast mainly binds the Miami and Fort Lauderdale areas on the Atlantic Oceanside. A wide range of entertainment and cultural activities awaits tourists, an epicenter of fun given the diversity of language and cultures.
The ideal beaches along the Gold Coast include Miami Beach, South Beach, and Fort Lauderdale Beach. This destination is a very popular escapade from cold conditions. Therefore, you will probably find many areas fairly crowded.
Check out the full post: 30 Best Beaches in Florida
For Family Fun
Orlando
Alternatively, the world's theme park capital, Orlando, is a popular family vacation destination. Orlando acquires its alias from being the home of multiple theme parks such as the famous Universal Orlando Resort, Sea World Park, Disney World, and Discovery Cove. The Kennedy Space Centre is also situated here, allowing real-time interaction with astronauts.
Orlando's rather central location within Florida adds to its merits. It allows access to other cities and attractions without much traveling time. The city also boasts a vibrant art scene and diverse eateries with authentic international cuisines.
Additionally, several festivals exist in Orlando, including the Epcot Flower Festival, which brags about stunning flower displays, real-time concerts, and outdoor kitchens. The Orlando International Fringe Theater Festival accommodates all ages through theatre, music, dance, and artistic activities.
Destin
Destin is also known as "The Emerald Coast" because of its lovely beach waters. The local State Park is an iconic beach haven, and a stroll along its boardwalk is attractive to adults and children.
The Big Kahuna's Water Park is a famous destination in Destin for its clear waters and friendly marine life. Dolphin watching is a major engagement in the park affording interests from both adults and children and is simply a suitable family escapade point.
Amelia Beach
Situated at the edge of Georgia, Amelia Island is a family-friendly destination filled with southern charms and untarnished landscapes that provide a blissful atmosphere. A hint of Spanish culture exists in Amelia and adds to its diversity.
Several vacation homes, motels, and other accommodation facilities stretch along the Atlantic Ocean and offer tourists notable stays.
A variety of family-friendly recreational aquatic activities not limited to kayaking, fishing, paddle boarding, and surfing are available. If relaxing is your priority, Fernandina Beach will offer you tranquility.
For Entertainment
Fort Lauderdale
Fort Lauderdale is a sophisticated cultural center with an emerging social scene. Nicknamed the "Venice of America" because of its extensive canal network, this Atlantic Ocean city is located about 23 miles (37 km) north of Miami Beach.
There are numerous hotels, golf courses, marinas and museums in the city, which has an exceptional tourist infrastructure. With mega-ships departing daily for the Caribbean, Mexico and other destinations, the city's Port Everglades is one of the busiest cruise ship ports in the world.
The most famous part of the city's beach is "The Strip," lined with restaurants and bars on the landward side of the beach road.
Miami
Miami is a popular entertainment hotspot, with the bright city lights providing a decent ambiance for a good time.
The city is set apart from others in Florida by its rather large count of rooftop bars, fine dining, and luxurious residences ideal for holding parties and other entertainment gigs. Furthermore, the various cultures in Miami offer a wide range of forms of entertainment concerning foods and music.
The Ultra Music Festival, an annual electronic music festival in Miami, unifies various performers and fans with an ultimate party experience. Downtown Miami is indeed the epitome of enjoyment.
Tampa Bay
Tampa is also viewed as the ideal destination to enjoy a variety of foods and drinks in the Sunshine State. The existence of local breweries such as Cigar City and Coppertail offers tourists an opportunity to enjoy a few beers to cool off from the tropical conditions in Florida.
For sports enthusiasts, Tampa provides the delight of spectating live sporting events and games from the resident hockey, football and baseball teams. The Hard Rock Casino supplements the trill for those willing to buck the odds.
Also, being the home of the Busch Gardens Tampa Bay, a celebrated theme park that incorporates a zoo, proves that Tampa Bay is indeed an ideal destination to satisfy your amusement needs.
Exploration and Art
St. Augustine
St. Augustine, America's earliest city, has existed for over five centuries. Naturally, it has developed into a renowned attraction site for people enthusiastic about history. It gives a perspective of how architecture has evolved over the years as there are still visible ancient shelters.
St. Augustine bonds visiting tourists with historical events when visiting the privately-owned Fountain of Youth Archaeological Park along Hospital Creek. A tour of the Castillo de San Marcos, a fort from colonial times, is also a highlight of St. Augustine.
Besides, cannon firing, the Colonial Quarter, and ascending the 142-year-old ancient lighthouse are other popular engagements at St. Augustine.
Mount Dora
Mount Dora is among the most iconic small towns in Florida but offers great exploration opportunities to tourists.
It is greatly associated with antiquing as several antique exhibitions and spring festivals are present over time. Besides that, the shelters are typically vintage clapboard houses with old-school accommodation set up among antique outlets and pleasant cafes.
For more exploration, the Ocala National Forest to view the Silver Glen Springs and Jupiter springs is ideal.
Sanibel Island
Sanibel Island, dubbed the Sea Shell capital of the world, is a great destination for explorers. The beaches at Sanibel are explored for unique fragments of fortunes that have washed up shoreward.
Characterized by minimal retail chains and fancy restaurants, Sanibel strives at preserving its natural heritage while still growing in popularity.
Among the popular engagements available at Sanibel, there is biking through the JN Ding Darling National Wildlife Refuge, Lovers Key State Park, and scouting the nearby Captiva Island.
Romantic getaways
Apalachicola
Apalachicola is a serene destination for people seeking seclusion and involving themselves with untouched nature. Tourists can interact with Old Florida experiences away from the fuss of cities.
Located on the Apalachicola River, this coastal town attracts tourists with magnificent ocean sceneries and warm hospitality from the locals. Besides the exciting aquatic activities available, the Apalachicola Chamber grants maps to tourists and allows them to survey the historical listings of the town.
Partners visiting Apalachicola get to survey local shops and eateries while absorbing the beautiful sceneries within the town square.
Sarasota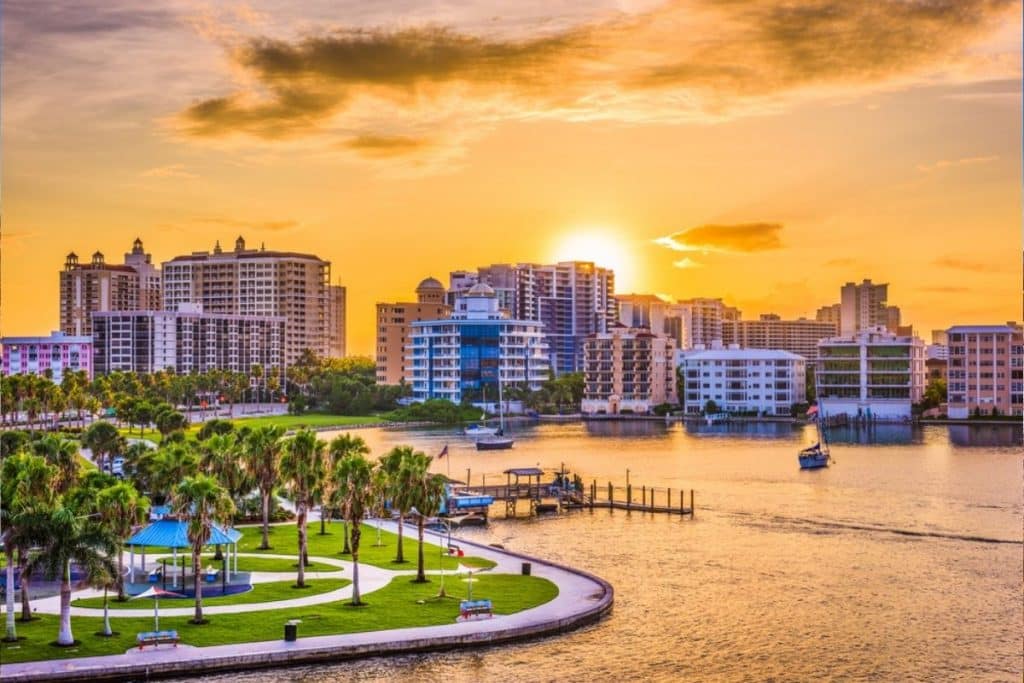 Sarasota, the residence of the top-rated beach in the nation, is a favored tourist site in Florida. Its beach is iconic for its crisp quartz sand and can enhance your beach experience.
Famous circus king, John Ringling's mansion, exists in Sarasota, and tourists acquire an opportunity to interact with the massive art collection preserved there.
Furthermore, the Sarasota Jazz Festival is quite an attraction to add to your visit with live performances by established performers. Sarasota strives at preserving jazz culture, and this atmosphere blended with the exquisite local eateries provides the ultimate travel experience.
Siesta Key
Siesta Key is a must-see island paradise known for its white quartz beaches, turquoise waters and numerous beach amenities. Siesta Key has something to offer everyone. Siesta Key is a romantic getaway for lovers, a place for family fun and an outdoor adventure playground.
The fall season is one of the best times to visit Siesta Key. With pleasant, mild temperatures and silky white quartz sand, you can spend your afternoon lazing on the beach soaking up the cool Gulf breezes or participating in exciting water sports.
This beautiful eight-mile barrier island provides easy access to Sarasota, where you can enjoy unique fall activities such as The Ringling, Myakka River State Park and Marie Selby Botanical Garden.
Shopping destinations
Miami South Beach
Miami South Beach is quite the epicenter of luxuries. From being able to purchase items from various cultures to the more notable extravagant luxury brands, Miami South Beach is indeed the ultimate shopping destination.
The Lincoln Road Mall in Miami South Beach is crowded with trendy boutiques and exorbitant designers. Plenty of themed bars and retailers dealing with summer accessories are also present to add to the shopping experience.
Jacksonville
Despite being a half-hour away from Georgia, Jacksonville is still recognized as a popular tourist destination in Florida. Concerning other cities in Florida, Jacksonville is quite the focal point of economic activities.
Given its identity as a business center, plenty of shopping outlets range from cultural to more premium goods. Tourists on a shopping spree are recommended to visit the iconic Five Points neighborhood and roam through the many antique shops available.
Naples
Located on the Gulf of Mexico in southwest Florida. Naples is a budget-friendly vacation spot that appeals to nature lovers and beachgoers alike.
Naples Florida, named after the Italian coastal town of Naples, remains a popular Florida vacation spot and one of the best places for a Florida beach vacation because of its smooth white sand. When it comes to natural beauty, Florida beaches are a true treasure.
Naples, Florida, is recognized for its laid-back atmosphere, luxury shopping and world-class golf courses.
Although Florida's replica lacks history, the views, artwork and opulence are reminiscent of the European Mediterranean lifestyle.
Naples is also known for its world-class shopping and culture and fine dining.
For the Nature
Ocala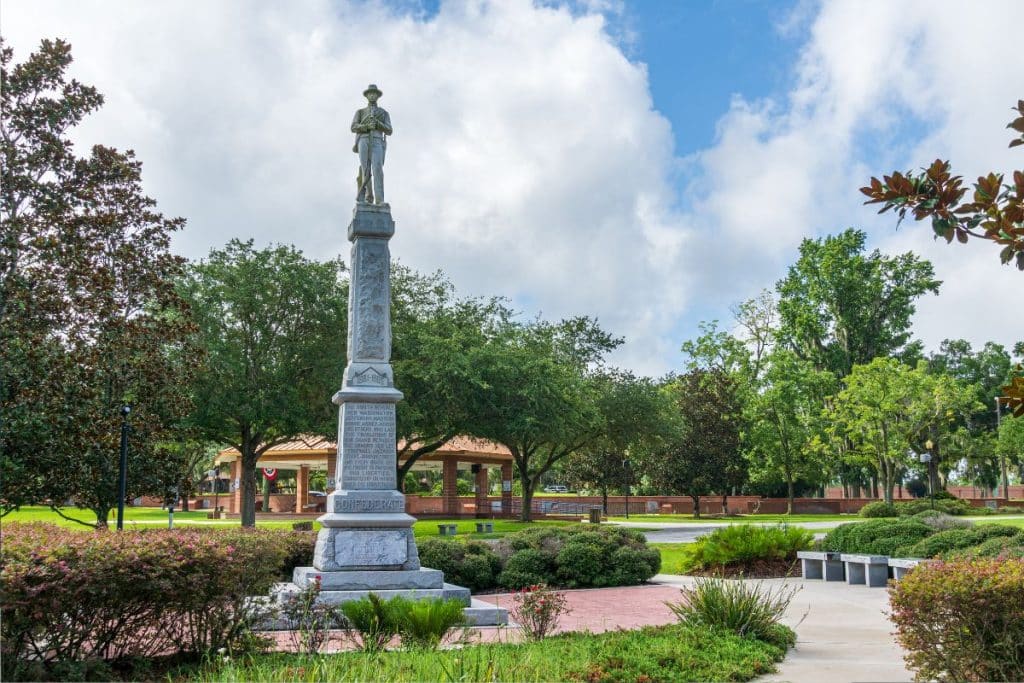 Located in north central Florida in a region known as "horse country," Ocala offers visitors winding community trails lined with oak trees and dangling trellises of Spanish moss and the opportunity to explore miles of unspoiled nature.
In Ocala, there are fewer tourist crowds and plenty of natural beauty in the fall. The city's crown jewel is the stunning 360,000-acre Ocala National Forest, considered one of the best hiking areas in Florida.
Over 100 miles of natural habitats showcase the magnificent pine forests, eucalypt swamps and cypress trees. It's an ideal time to take advantage of the recreational opportunities in the area. You can also paddle on Juniper Run and go swimming at Silver Glen Springs.
Thanks to Florida's year-round sunny weather, Ocala is a great place to visit all year round!
Suggested: Best Camping in Florida
Biscayne National Park
One of the most interesting destinations in Florida is Biscayne National Park. It consists of a few small islands or keys and a huge expanse of water. Off the coast of South Florida, December is the ideal month to travel there. The end of the hurricane season also means the end of the hot summer. The water is warm enough to spend all day swimming and snorkeling, and temperatures are quite comfortable.
Visitors have many options for activities. The most popular activity in the national park is snorkeling. There are a number of cruises that depart from a location near the Dante Fascell Visitor Center and take visitors to the islands.
You can snorkel over sunken ships or among coral reefs while admiring the charming Boca Chita lighthouse. Paddle through the mangroves and across the seagrass beds that surround the islands. For more active tourists, guided kayak excursions are available.
Conclusion
October is the ideal time to visit Florida, given the pleasant weather conditions and reduced prices. Regardless of the purpose of your visit, Florida has something in store for everyone. Despite your choice of destination from the above, a delightful escapade at the Sunshine State is inevitable.