With summer in full swing, it's time to plan a family vacation and put away those beach chairs for some serious fun.
July means that the kids are out of school for several weeks, and the weather is warm across most of the United States.
If you are looking for an escape that offers fun activities and entertainment, these locations offer various options without worrying about breaking your budget.
Suggested:
– Best places to visit in August in the US
– Best places to visit in September in the US
1. Sequoia National Park, California for Famous Sequoia Trees
Did you know there's an area of California where you can glimpse what the world would be like if people weren't the main inhabitants? Sequoia National Park is exactly that. This national park is home to the famous sequoia trees, the largest living things on earth. If you visit this national park in California, you will have plenty of opportunities to hike and see these awesome trees.
The trails are well-marked, and some even offer spectacular views of the forest below. Another nice thing about visiting Sequoia National Park in July is that it won't be as hot as many other places on this list because it's at higher elevations. Of course, just because it isn't as hot doesn't mean it's cold! I recommend bringing lots of water with you when venturing out into nature.
2. Denali National Park, Alaska for Great Hikes
A perfect place to get away from it all, Denali National Park also offers some of the most spectacular scenery and great hiking trails.
Visitors can experience the breathtaking beauty of the Alaskan wilderness, impressive glaciers, and rugged peaks while they watch moose, grizzly bears, and caribou in their natural habitat.
Denali is a great place to be in touch with nature and take in its splendor. Denali is also an excellent destination for photography enthusiasts with abundant wildlife viewing opportunities.
3. San Juan Islands, Washington for Summer Killer Whale Watching
The San Juan Islands are truly playgrounds for nature lovers and adventurers alike. It is dotted with more than 150 islands, large and small. The largest of these, San Juan Island, is home to some of the most beautiful beaches in Washington State.
Killer Whales can be spotted between June and September.
Not only can you enjoy wide sandy strips, but crystal clear waters are perfect for kayaking or paddleboarding. You can also see pods of orcas from the shore. During your day on the water, keep an eye out for seals and eagles — the area is filled with wildlife.
There are many great places on all islands, including beach houses that allow up to four dogs per property (perfect for families) or romantic guest cottages with incredible views right off your deck.
4. Santa Fe, New Mexico for Perfect Temperature
The best part of summer in Santa Fe is that it's not super-hot. Even during the hottest months, temperatures rarely top 100 degrees Fahrenheit, so you will not feel like you are melting after a few hours outside. And compared to other places along the northernmost stretch of the United States, Santa Fe is surprisingly low-key for a city this size.
The town itself is small, and most of its charm lies in the wide variety of local artisans and shops that fill its historic downtown district — which has both an active cultural life and plenty of nightlife options.
Suppose you are looking for something more exciting to do than window shopping or lounging by a riverbank. In that case, Santa Fe also accommodates visitors with things like world-class museums, outdoor sports parks, and unique music festivals.
5. Rocky Mountain National Park, Colorado for Best Hikes
It is one of the most beautiful national parks in America, and it is just a short drive from Colorado's two largest cities: Denver and Boulder. The park features towering peaks, some soaring above 14,000 feet, sparkling alpine lakes, and meadows filled with wildflowers. When you visit Rocky Mountain National Park in July, you can enjoy various activities.
Hiking is one of the best things to do when visiting Rocky Mountain National Park in July. You can also stay at one of the wonderful lodging options near the park. There are several campgrounds within Rocky Mountain National Park, or you can reserve a room at one of the charming bed & breakfasts or resorts nearby.
6. Bar Harbor, Maine for Small Seaside Town Vibes
Located on the east coast of Maine, Bar Harbor is a lovely seaside town that has some truly amazing things to see and do. If you are looking for an old-timey New England kind of experience, then this is a place where you can get it. The focal point of Bar Harbor is Acadia National Park, which offers some unbelievable scenery and has many opportunities for getting close to nature.
The park has more than 100 miles of hiking trails and 45 miles of carriage roads perfect for walking or biking along. There are also whale watching tours available during the summer months if you'd prefer to get out onto the water instead.
7. Madison, Wisconsin
Madison is the capital of Wisconsin and home to many attractions. The city is best known as the location of the University of Wisconsin, one of the top research universities in the world. Madison consistently ranks in the top 10 most educated cities in America, and its population includes a high number of Ph.D. students.
Visitors love Madison for its many outdoor activities, especially those on Lake Mendota or local state parks.
In July, temperatures hover around 80 degrees Fahrenheit (27 Celsius), making it perfect for bike rides along scenic trails or exploring natural wonders like Cave of Mounds and Devil's Lake State Park. Madison is also home to several museums, festivals, and a lively theater scene.
8. Grand Teton National Park, Wyoming for All Outdoor Activities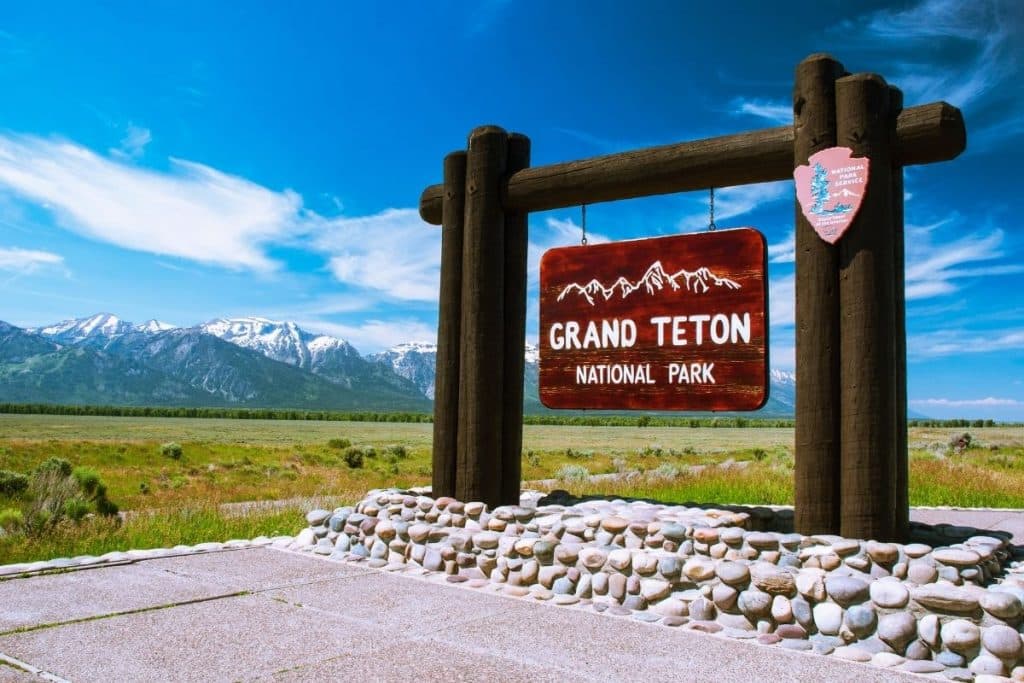 Located in northwestern Wyoming, Grand Teton National Park is full of spectacular sights and opportunities for adventure. It's a great destination for hiking, camping, climbing, fishing, and more. Whether you are visiting on your own or with family in tow, you will see something that will appeal to everyone in your group.
The park is home to the world-famous Jackson Hole Mountain Resort, which offers ski and snowboarding during the winter months and summer activities like zip-lining and horseback riding. The park comprises three separate areas: The John D Rockefeller Jr Memorial Parkway connects Grand Teton to Yellowstone, while Colter Bay Village & Campground are located near Jackson Lake at an elevation of 3 miles high (5 km).
9. Yachats, Oregon for Best Pacific Breezes
Oregon is a great place to visit in July. The dry climate of summer makes it a perfect time to explore the state's forests and mountains with its cool breezes, while the low rainfall also means that you can enjoy days spent on the beach.
The town of Yachats, located right on the Pacific Ocean, is one of Oregon's best places to stay.
This small town has a population of around 700 people but offers many activities for visitors, including whale watching and kayaking excursions, as well as great hiking trails for all levels, from beginner to expert hikers alike.
10. Voyageurs National Park, Minnesota for Nature
Voyageurs National Park is a great destination for all nature lovers and photographers. However, the park is not only for those who love to spend time in the great outdoors but also for those interested in learning more about Native American history. Many historical sites, including an Ojibwe Cemetery and a Koochiching Agency Schoolhouse, are displayed.
The best way to explore Voyageurs is by boat! The park has 400 miles of water routes that can be explored by canoe or motorboat. You will see views of the beautiful forests surrounding you while traveling along the waterways, and you might even spot some wildlife. Additionally, kayaking and fishing are popular activities here.
11. Dauphin Island, Alabama for Beaches
Dauphin Island is a barrier island located on the Gulf of Mexico, about 20 miles southwest of Mobile.
The 14-mile-long island is a popular tourist destination, particularly its beaches and birdwatching. With its abundant wildlife and outdoor recreation opportunities, Dauphin Island is an excellent place to visit in July.
The island's western side fronts Mississippi Sound, an area enclosed by barrier islands that include Mobile Bay. The sound offers warm waters that provide ideal fishing, kayaking, and stand-up paddleboarding conditions. On the eastern end of Dauphin Island lies Mobile Bay and Fort Gaines.
12. Half Moon Bay, California for Golf and Surfing
Half Moon Bay, California, is a great beach town to visit in July. There are plenty of things for you to do there. You can play golf and go surfing. You can also fish or relax at a spa.
Another activity you could do is attend one of the many festivals during July. This includes the Art & Pumpkin Festival and the Concours d'Elegance Classic Car Show at Carmel.
If you are into shopping, they have lots of shops with surf clothes, antiques, and other unique items that make great gifts for the people back home!
13. Las Vegas for Festivals
Summertime is the best time to visit Las Vegas, with daytime temperatures in the upper 80s and 90s. July is a great month for Vegas, as many events and festivals occur this month.
July 1st is Canada Day, so visitors from Canada can expect some deals to be available. Fourth of July celebrations continue over the 5th, with restaurants offering special menus and discounts for customers. One of the most popular festivals in Las Vegas during July is BBQ Fest, which features ribs and other barbecued meats.
14. Buffalo River Arkansas, Arkansas for Kayaking
The Buffalo River has trails in an area stretching over 100 miles. It has a hiking trail that will give you great views of the river gorge. You will be treated to wildlife, ancient caves, elk, and waterfalls.
15. Traverse City, Lake Michigan for Relax
The city has splendid gastro pubs, food carts, boutiques, and amazing public art. You can also enjoy swimming at nearby lakes. The place also features multiple sand beaches like Clinch Park.
As you head into summer, the days are getting warmer, and there is plenty of time to take a vacation. July is one of the best months to visit the States since you'll find great weather no matter where you're looking. So start planning your summer holiday now.
16. Yellowstone National Park for Most Amazing Nature
Yellowstone is the right place for incredible nature experiences, encounters with wild animals, vast landscapes and the possibility to avoid crowds even in July.
Yellowstone offers not only breathtaking mountain landscapes, from the mesmerizing colors of the Grand Canyon of the Yellowstone to the deep Yellowstone Lake, but also so much wildlife that you might think you have arrived at a safari park.
Another alternative is to go on a picnic! Grab a snack and relax on a bench along the boardwalks that wind through the Mammoth Terraces.
Take some dinner from Canyon Eatery to Artist Point, an overlook on South Rim Scenic Drive that provides views of the Lower Falls of the Yellowstone, the park's largest waterfall at 308 feet.
The park is home to nearly 300 species of birds, 16 species of fish, five species of amphibians, six species of reptiles and 67 mammals, including elk, moose, bison, wolves and bears.
17. Oahu for Paradise Experience
Oahu is a paradise at any time of year, but it is especially beautiful in July. During this month, there is relatively little rain on the island, resulting in pleasant, sunny weather that is ideal for going to the beach.
The island of Oahu, sometimes called the "gathering place," is the third largest in the Hawaiian island chain. It lives up to its moniker, hosting the majority of Hawaii's population and attracting visitors worldwide.
Oahu is one of the most visited islands for good reason. Oahu offers a wealth of activities: unique natural experiences, Hawaii's most significant sights, and fantastic hiking trails.
Oahu is ideal for first-time tourists. You'll find Waikiki Beach, the Pearl Harbor National Memorial, Diamond Head State Monument, and more.
18. New York, New York, For July 4th Celebrations
Summertime in New York is beautiful, and July is a terrific month to visit America's largest city. The weather in New York City warms up in July, so taking a stroll in Central Park or the Bronx Zoo is a great way to cool off. After that, visit the Metropolitan Museum of Art (The Met) or the Guggenheim Museum to escape the heat.
To celebrate July 4th, East River State Park is probably the best spot to enjoy the July fireworks spectacle. It features a vast lawn facing the east river above which the fireworks take place.
Another option to enjoy July 4th in NYC is to take a cruise that Departs Highlands, NJ shortly before sunset, sail to the East River to watch the show, and then check out your favorite Manhattan sites aglow in the city lights. Tickets for this event always sell out, so book yours early to reserve your seat.
Check out this article dedicated to NYC 4th of July Celebrations.
19. Hawaii for a Lifetime Experience
Summer weather with moderate rainfall levels, as well as fantastic festivals, make July a fantastic time to visit Hawaii. Despite the fact that the Hawaiian islands will see a near-maximum number of visitors, hotel prices are above average.
World-class beaches, beautiful rainforests and volcanoes are just some of the features that make Hawaii a popular destination.
Each Hawaiian island has its own appeal, making this state a land of adventure and luxury no matter where you turn.
There are many compelling reasons to visit Hawaii. There are eight Hawaiian islands, four of which are the most popular with tourists. The most visited island is Oahu, which has a vibrant surf culture.
The Big Island is about 200 miles away and is famous for its diverse landscapes, which include active volcanoes. Both Maui and Kauai are popular vacation destinations because of their beautiful beaches and hiking opportunities. However, they are more relaxed and less congested than touristy Oahu.
20. Lake of the Ozarks
Located in the heart of Missouri, Lake of the Ozarks is the Midwest's premier lake resort, offering world-class boating, golfing, shopping, and fishing, as well as a wide variety of lodging, state parks, dining and other recreational activities to suit every budget and taste.
The park has nearly 1,150 miles of beautiful coastline, which means there's enough room for swimming, camping, hiking, and mountain biking.
Since July and August are the warmest months of the year, water sports on the lake are much more enjoyable. You can rent a boat or jet ski or paddle across the lake in a kayak or a canoe.
Water toys like kayaks, paddleboards, and canoes are a great way to get some exercise while enjoying the scenery at the beach. Some people bring their own, but if you do not have one, you can easily rent one.
21. Portland, Oregon for a Summer Filled with Outdoor Culture
In July, when the weather is pleasant, the roses are in full bloom, and the party moves outside, you can really appreciate Portland's cool, laid-back atmosphere. Portland is all about sustainability and eco-friendly living.
The spectacular Waterfront Blues Festival kicks off the city's signature Fourth of July celebrations, which continue with the Craft Beer Festival, Oregon County Fair, and Edgefield Concerts on The Lawn, among others.
If you are up for an outdoor adventure, visit one of the many breathtaking waterfalls in the area or the wineries of the Willamette Valley with their gorgeous agricultural landscapes.
Do not forget to visit the stunning and colorful International Rose Test Garden to admire the amazing array of hues. Those who enjoy the outdoors can float down the breathtaking Willamette River, surrounded by lush vegetation.
22. Finger Lakes, New York
July is the ideal time to visit the Finger Lakes region of New York for an unforgettable summer getaway. The region, named for its long, narrow lakes that resemble fingers, offers a wealth of activities and attractions to enjoy during this time of year. With its pleasant weather and lush green landscapes, outdoor enthusiasts can partake in various water activities such as boating, swimming and fishing on the lakes.
Hiking and biking trails wind through the picturesque surroundings, offering breathtaking views of waterfalls, vineyards and rolling hills. In addition, July marks the height of the agricultural season in the region, with numerous farmers markets and restaurants offering fresh, local produce and delicious culinary experiences.
Wine enthusiasts can indulge in wine tours and tastings at the Finger Lakes' world-class wineries, known for their exceptional rieslings. From outdoor adventures to culinary delights, a visit to the Finger Lakes in July promises an unforgettable vacation experience.
23. Orange County California
Orange County, California, is the ideal choice for you if you want to spend the summer at the beach, but are also drawn to historic sites, fantastic shopping and charming cities.
Orange County is a stunningly beautiful and multi-ethnic region in California where you'll find gorgeous weather year-round, but summer is the best time to travel if you love the beach life. It is located just 2 hours from Los Angeles and 1 hour from San Diego.
Huntington Beach and Lagoon Beach, two of the 34 cities in Orange County, are the ideal choice for a summer vacation because of their magnificent hotels, breathtaking coastline, and unrivaled beaches.
24. Monterey – California
The charming town of Monterey is located in the protected area of Monterey Bay, about 30 minutes from Carmel-by-the-Sea.
There's plenty to do in Monterey, California, with an abundance of gorgeous oceanfront hiking trails, stunning beaches, restaurants and shopping options.
Monterey, while a bit less distinctive than the popular nearby town of Carmel, knows how to keep you busy, whether you are looking for a relaxing beach vacation or an exciting getaway filled with outdoor activities.
Do not forget to go shopping or window shopping on Cannery Row, go whale watching, or visit the Punta Lobo Nature Preserve, just to name a few of the fantastic things you can do in Monterey.