Planning a summer holiday? There are many fantastic places all around the world to consider and the United States should definitely be one of them!
It's an incredibly beautiful, fun and interesting place to visit with a number of terrific spots to consider for a summer holiday. Additionally, it's a great place for all sorts of holidays from the beach vacation, family vacation, hiking, camping to road trip.
The summer is a great time to visit the States, we listed a few options and places on how to spend your vacation in the US:
US Road Trip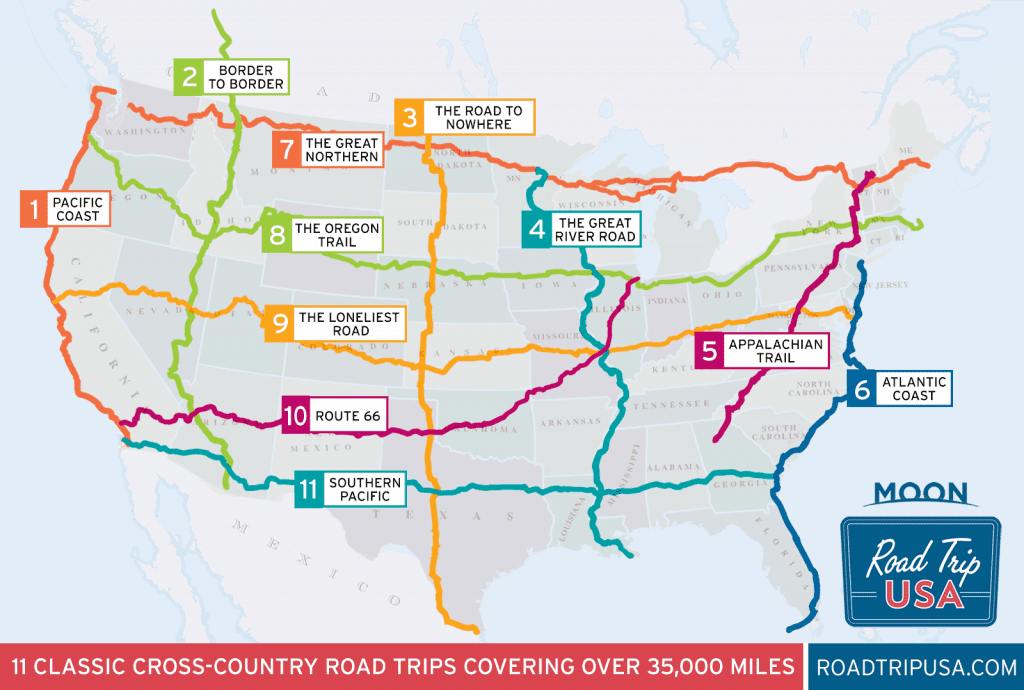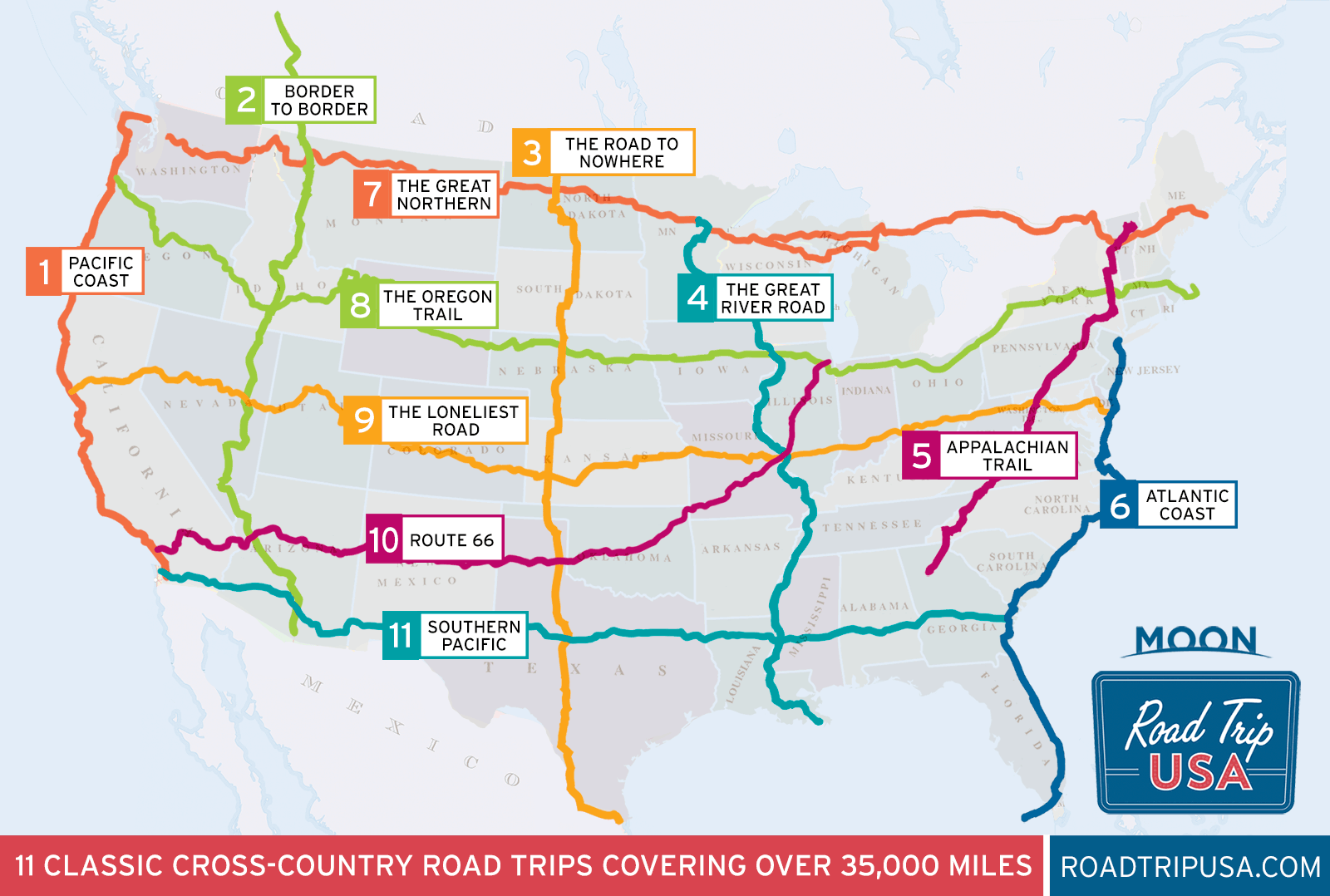 Most of the holidays in the US are kind of road trip! Choosing one destination is impossible and most of the people rent a car and discover a few states around anyway.
You should definitely consider this option and plan your route in advance! Most of the people plan a road trip around the East Coast, West Coast or cross country road trip. On the map above you can see 11 most popular routes.
Editor's note: we did our 25-days road trip around the West Coast 4 years ago and visited California, Nevada, Idaho, Montana, Utah and Arizona. Check out the video below capturing some highlights:

https://www.youtube.com/watch?v=A0NRcS7IZQg
We created some useful articles and guides that you might find interesting:
Los Angeles, California
Los Angeles is an iconic city and one that is synonymous with good weather and fun.
It's a superb place to visit because there is so much to see and do in Los Angeles, including going to the beach, Theme Parks, movie studios, exploring Hollywood, going to a sports game and much, much more.
Additionally, there are many different districts and areas for you to stay so you should easily be able to find somewhere suitable for you and within your budget.
Other alternatives close to LA are:
San Diego
Malibu
Santa Barbara
New York City, New York
New York is often the place to spring to mind when discussing the States and this is for a good reason. The Big Apple is one of the most glamorous cities in the entire world with charm unlike anywhere else.
Highlights here include going up the Empire State building, going to Central Park (very beautiful in the summer), shopping, going to the theatre amongst many other highlights. This is also a city that is enjoyable to simply stroll around and soak up the atmosphere.
If it gets too hot or you get tired of the city buzz, take a trip to one of the nearest beaches in NY state:
Robert Moses State Park
Orchard Beach
Coney Island
Orlando, Florida – Ideal for families
Orlando is another very summery holiday destination that you should consider!
It's a home of Disneyland which can be fantastic fun for both kids and adults, but Orlando has a lot more to offer than just this, and it boasts a gorgeous climate at this time of year.
Orlando villa holidays are a good choice when traveling with your family! Having villa to return to after a thrilling day will allow you to chill out and relax before doing it all again the next day.
Florida is an amazing place for all types of travelers and has a lot to offer! Florida's beaches are world-famous and you should definitely spend at least half of your holiday on the beach somewhere. Do not miss, visiting Florida's state parks and try also camping experience if you are a "nature lover".
San Fransisco, California
Another lovely place to visit in California in the summer is San Francisco. This is a very friendly, laid back and cultural city that is a well-suited & ideal summer destination.
A few of the highlights to see here include the iconic Golden Gate Bridge, Lombard Street, cable cars and Fisherman's Wharf but there is something for everyone in this great city.
Alternatives close by:
Big Sur Park
Santa Cruz
Monterey
Ocean City, Maryland
OC is a very classy East Coast vacation destination. With its 9 miles, long beach is an ideal place for summer beach vibes and relax. It has a very authentic American culture, amazing restaurants, annual events, a very friendly atmosphere, and a safe vibe.
We recommend experiencing during the 4th of July.
Nashville, Tennessee – Ideal for music lovers
There are few destinations as lively and fun in the USA than Nashville.
It's famous for its vibrant live music and food scene which ensures that it is a great spot for a family vacation which is furthered by the fact that there is a laid back vibe with friendly Southern hospitality here.
Portland, Oregon
Portland is a great spot for a family summer holiday because it has the perfect mix of nature and culture.
It's surrounded by greenery which can be nice to explore, but Portland also has a very distinctive culture which makes it a unique and interesting destination. It has a thriving culinary scene, cool markets, pretty parks, huge bookstores and much, much more to explore.
Cape Cod, Massachusetts
This postcard-esque destination is one of the most idyllic spots in the entire world with quaint villages, lighthouses, beaches and seafood shacks which makes it a very popular summertime spot.
The hook-shaped peninsula is unlike anywhere else in the country and a great area for relaxing while also exploring.
Boston, Massachusetts
Boston is one of the most historic cities in the USA and a place of high importance. It's also a very beautiful, friendly and cultural place which makes it a great place to come during the warmer months of the year.
There are many highlights for families here, including legendary professional sports teams, beautiful parks, museums, markets, and walking trails.
---
The United States is an excellent place to visit on a family vacation or a friends trip during the summer months. As such a large and diverse land, there are many different places to consider with the above being a few of the best spots during the summer.
We hope you've found this useful and we would love to hear some feedback and tips on how we could improve/extend this article. Feel free to submit a comment in the discussion section below. Thanks for reading.