Travel hammock is one of the best ways to boost your backpacking trip experience around the world. It gives a sense of immense freedom and truly connects us with nature. They are easy to set up, pack up, and small enough to keep them in our backpack.
Hammocks are the perfect travel companion for budget travelers. You will definitely make memories that you won't ever forget and will look back upon them with immense joy. If you haven't experienced traveling with a hammock yet you are most definitely missing out as it's a perk that allows us to be more flexible and free on our travels.
So I guess you are considering buying a hammock for your next adventure? My friend, you are in the right place to be.
13 Best Portable Travel Hammocks 2022
We are presenting you with the best portable folding hammocks that the world can offer so you will have a safe, cozy place to sleep on your next voyage.
These are some of the leading brands in the space that try to provide the best hammock experience possible.
Best Travel Hammocks 2022
[URIS id=7022]
Have you ever wanted a travel hammock that folds down into a super-compact package and is extremely easy to carry? Well, Wise Owl Outfitters Hammock is exactly that!
It is one of the best ultralight hammocks on the market up to this day. Its 8-foot long hanging ropes give you unlimited freedom so you can tie it around trees and other objects in your area. It holds up to 400 pounds of weight and has so many color combinations that you will most definitely find one that fits your personality!
We definitely recommend choosing the double hammock because it gives you so much more space and you really don't want to cheap out on comfort when it comes to rest time on your adventure!
The best thing is that it weighs only 26 oz. and is made of 210T nylon which is the same fabric that is used to make parachutes for skydivers. The construction even features triple interlocking stitching for added unparalleled strength. Some of its best features include a built-in drawstring stuff sack which makes storage and unpacking super easy. Solid steel D shape carabiners that have a smooth locking mechanism are included as well. You will be equipped with everything you need for your next adventure. It is perfect for camping, hiking or even the beach!
A 100% satisfaction guarantee enables you to reach out to the manufacturer if you have any issues and you also get tips on tying knots to ensure your setup is easy and safe.
What are you waiting for? This is one of the best portable hammocks you will find on the market and once you try it you won't want to change it for anything else.
[URIS id=7027]
What if I told you that there exists a travel hammock that is designed to create a bond between friends or couples? This is exactly why Winner outfitters double camping hammock was made for!
It is incredibly durable and holds up to 500 pounds of weight so you can share it with a partner and still get a good night's sleep.
When traveling being light is key and this hammock is super lightweight and portable with only 1.5 pounds, which means it can easily be taken along on extended trips. It was made with comfort in mind and it is extremely easy to fold which will definitely help you on your trips.
It made from 210T nylon parachute fabric which is breathable, lightweight, and super strong so you don't have to worry about any tears or damage. It features two end ropes (137 inches long), two steel carabiners and two tree friendly straps that make the hammock really easy to hang on trees. It is available in vibrant, beautiful colors and is perfect for backpacking, beach, camping, traveling and other situations.
It comes with everything you need and it takes you less than 3 minutes to fully set it up. It truly is a quality product that stands out in the market and if you run in any kind of trouble you get an amazing customer service that will provide you with any kind of support you need.
The company is known to take their work seriously, and that's why they have a loyal fanbase that religiously buys their products. Their mission is to create camping gear that will provide you with the best camping experience ever. All of their products come with a 100-percent satisfaction guarantee which allows free refunds in case you are unhappy with the product.
It is hard to find anything comparable on the market, so don't hesitate and get your own hammock today!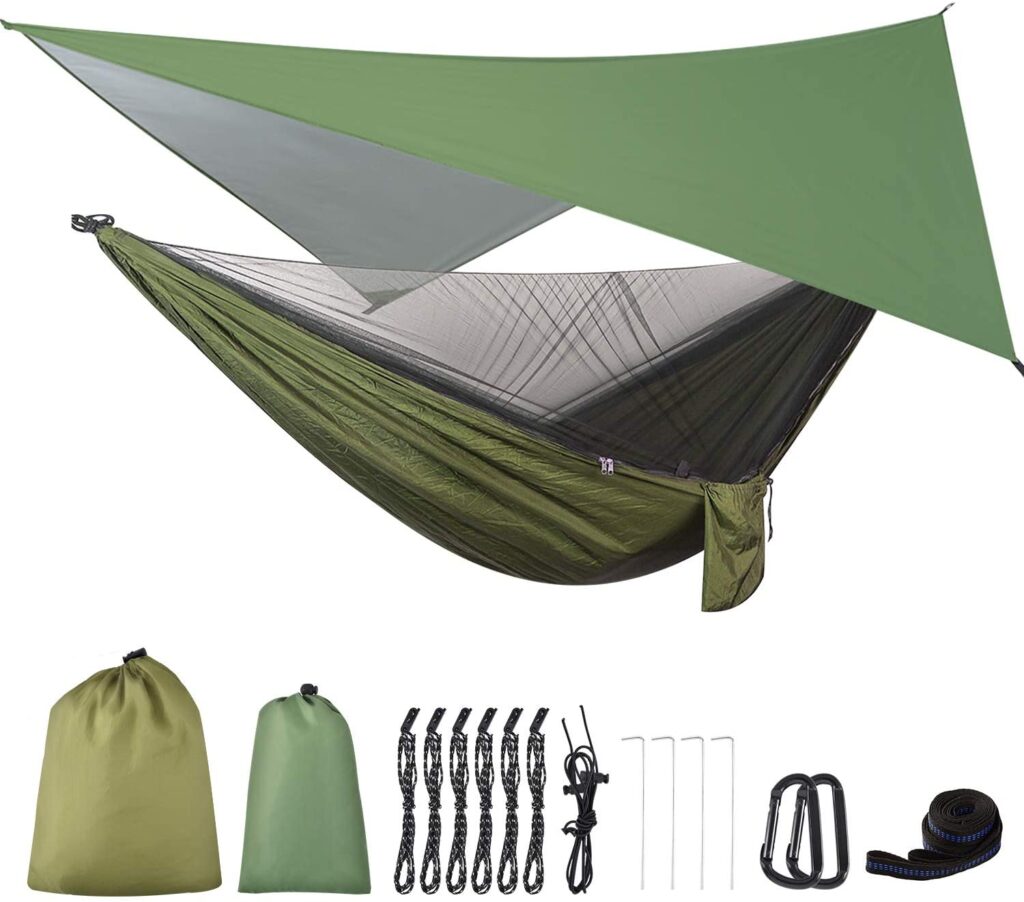 This army green, high-quality tent provides multiple purposes to ensure that you relax without experiencing any worries of being negatively impacted by mosquitoes, rain or the sun.
Its mosquito net, which cannot be removed but can be moved to the downside if you do not want to use it, has been reported as working effectively. Meanwhile, its rain tarp, which is a solid-color part of this product, goes above you to protect you from getting wet or sunburned. Of course, a hammock by its nature also protects you from any flooding that may occur from heavy rainstorms or otherwise.
This hammock's weight capacity is 440 pounds, and it has the space to hold up to two people. It is also strong enough to withstand the one or two people in it regularly moving around while they sleep. Stretching out can be comfortably done as well. The size of this hammock is 114 inches by 55 inches.
It is also tear-resistant. However, it can be scratched, so be careful to not have sharp objects on your clothes while in it.
Many users have reported that this camping hammock offers great overall value for its price.
Are you shopping for a hammock that comes in a wide collection of color patterns and features military-grade nylon construction?
The Kootek Hammock allows you to choose from a range of fifteen colors to match your camping theme. Better yet, it is strong, so you and your loved one will never fall from simple breakages.
You can choose between a single and a double Kootek Camping Hammock. The large size hammock is 78 inches wide to accommodate two adults. It can hold up to 500 pounds. We recommend the double size hammock as it is more comfortable and offers the best value for money.
Even the large (double-size) hammock is super lightweight and folds into a small pack that fits in your backpack. When you have the hammock, you do not need to carry a sleeping pad, a ground mat, a swing, or a cradle.
On the sides are adjustable straps to hold the hammock firmly on trees. Each strap is 10 feet long, with 19 loops. You will find it easy to lock carabiners to any of the loops and adjust to your desired comfort level. You don't need knots for the setup, and you will not damage trees. Better yet, you are offered a user manual to help with the setup.
You do not have to worry that the hammock will crack under your weight. It is made from parachute material that does not fray, tear, or hold stains. After the camp, all you have to do is lightly clean the hammock, and it dries fast.
Don't wait, get one today.
[URIS id=7032]
Have you ever heard of a hammock that is made from military-grade parachute nylon? Legit camping double hammock is the sturdiest hammock on the market. There is nothing that you can compare it with.
Legit Camping is a brand that understands that your hammock is more than just a place to sleep, that is why they provide you with 13 different vibrant colors that will blend in with your style seamlessly.
Their hammock supports up to 400 pounds. It is very spacious and can accommodate up to 2 adults. It supports heavy users with its quality material that won't rip or tear easily and has sturdy and well-sewn seams, heavy-duty carabiners and straps. This gives you maximum strength and support + its ultra-smooth surface enhances comfort and allows you to relax to the fullest while you are on a hiking or camping trip.
Instead of packing bulky sleeping bags and tents, you can simply store your hammock in the small sack included, slip it into your pack, and head out on your camping trip. Ease of transport is key when you are backpacking and that is exactly what the manufacturers had in mind. The setup takes only a few minutes which is key when you are on the road. Fold it effortlessly and carry it in your backpack when you are on your trip.
If you are looking for a hammock that is really easy to use, look no further as they even promise you a full refund if you're not satisfied, and a lifetime warranty. Get yours today!

What if you could buy a double-sized camping/travel hammock from a choice of 26 color patterns and at a great price? The Gold Armour Camping Hammock comes in to fit that need, so you and your loved one can have fun the next time you go camping.
The Gold Armour Camping Hammock is large enough (79 inches wide) to fit two adults. It sports a parachute nylon construction, so you and your partner can have fun without worrying that the hammock will break. It accommodates up to 500 pounds.
To make it even safer for double use, the unit has a strap that can hold up to 1000 pounds before breaking – this is stronger than what most competitors offer.
After camping, fold your hammock into a neat package and squeeze it into the provided stuff sack. Setting up the hammock is easy, and the manufacturer provides you with an easy to follow manual. The package comes with two sturdy carabiners, two 10-feet straps, and 32 attachment loops. With all these loops, you can set the hammock to your desired height and comfort.
This USA-designed camping hammock comes in a range of 26 color patterns to choose from – you can match any camping theme. As a show of confidence in the quality of the hammock, Gold Armour offers you a 100-percent satisfaction guarantee, and you can return the hammock if you do not like it. A 15-year warranty follows the guarantee.
Choose one color today and run away with it. Make your camping fun again.
[URIS id=7036]
Imagine a hammock that dries immediately after getting into contact with water… Yes, you guessed it, this hammock does just that!!
First of all, it is super lightweight and easy to set up. It was built very sturdy and can hold up to 500 pounds. 210T nylon fabric which it is made of is one of the strongest and most durable materials out there. Quick and easy setup is ensured by the 2 solid steel carabiners which do not have any dangerous sharp edges and support up to 1000-pounds force + you get 2 hammock straps that measure 10 feet. Triple stitching keeps the double hammock safer and everything together weighs only 1.5 lbs.
The hammock is available in 5 different colors and best of all it can be set up in under a minute. How awesome is that? + the integrated stuff sack makes storage and unpacking super easy.
And if you are not satisfied with the product you even have a money-back guarantee.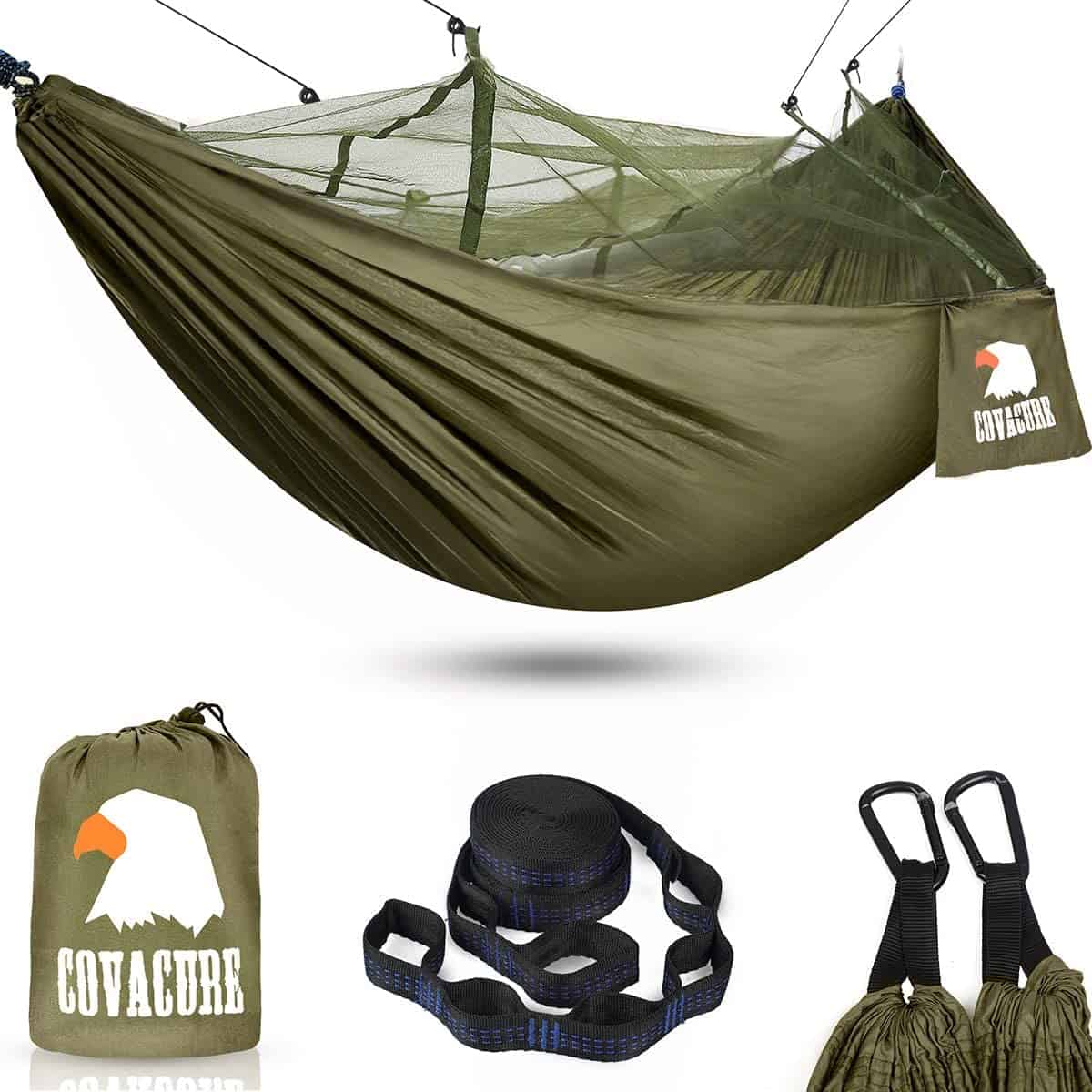 How would you like a hammock that comes with a built-in mosquito net? That would be perfect, wouldn't it? Curvature offers you just that!
Safety is key when going on a trip, and being safe from mosquito bites can save your sleep. There is nothing worse than chasing mosquitos when you are just trying to have a good night's sleep. This hammock is also designed to keep you safe from dust, so it is perfect for people with allergies. It is extremely lightweight and easy to carry around. Triple stitching and the quality pattern will support you by minimizing pressure points and ensuring maximum comfort while you sleep.
The hammock is made of strong and lightweight breathable woven 210T nylon – not only is this durable, it is also very comfortable, breathable, and quick-drying. Its uncomplicated suspension system, which makes set-up take no time at all is amazing. All equipment is included (nautical rope, carabiners, and straps) and packing up is effortless and fast.
The company has thousands of positive reviews and is dedicated to producing the world's greatest products. If you are not satisfied with it, you have a 6-month money-back guarantee which enables you to return the product.
We definitely recommend this hammock as what it offers is unparalleled on the market!
[URIS id=7044]
Wouldn't you like a hammock with a super smooth surface that provides comfort and remains cool even in hot weather? Then this hammock is the perfect fit for you!
It weighs only 1.2 pounds and comes with a one-year warranty and a 100% refund policy. It carries up to 600 lbs which is the most in this category.
The quality is unheard of, and you will be definitely satisfied, so get yours today!
This 70D nylon, tear-resistant travel hammock provides a comfortable texture for your skin as well, allowing you to more easily fall asleep while in it.
It has a weight capacity of 440 pounds, and it can fit up to two people although it might be a semi-tight fit when two are using it. With that said, an adult and two small children could fit in it as well. This hammock's dimensions are 114 inches by 57 inches.
You will be protected from mosquitoes while in it, thanks to its mosquito net. However, that is also optional to use; you could instead rotate the hammock 180 degrees and put the net in its inner pocket.
This hammock also provides a shaded area for your head to protect it from being sunburned and to keep a bright sun or moon from distracting you as you attempt to sleep.
One of its features that adds to your overall comfort is its inner pocket, where you can place all of your small accessories, such as your phone, glasses, wallet and other things that you would normally carry in your pockets. The hammock offers an outside pocket as well.
[URIS id=7048]
How would like a hammock that is available in 26 colors? Yes, that is right, 26 different colors! You will find a scheme that fits your personality guaranteed!
This hammock is breathable, quick-drying and small enough to take anywhere and durable enough to serve you for decades. Weighs only 1 pound, but can support up to 400… this is what we call efficiency. Best of all it is comfortable and breathable even on hot summer days.
It's made of a material that is not abrasive and it doesn't get sticky when we sweat. The packing is absolutely effortless, and its multi-purpose sack does wonders. The hammock can be rolled up immediately to a super small size. It is so durable that there should be no fear of sudden falls or injuries and finally, this travel hammock comes with setup equipment included (except the straps).
Available in a variety of designs and sizes, Ticket to the Moon is a popular hammock brand that boasts fair production and OEKO-Tex quality. They are handmade using standard 100 nylon and boast a 10-year warranty. Therefore, they are a great option for trips to nature, camping, bonfires, or music festivals.
The original version of the hammock weighs just over one pound but can load up to 440 pounds. It is machine washable and suitable for both hot and cold climates. Thanks to its triple stitching, it is also very durable and rip-resistant.
All hammocks come in a setting bag that can be used as a neck pillow while traveling. However, note that straps and loops have to be purchased separately.
Travelers especially like Ticket to the Moon hammocks for their minimal design, comfort, as well as easy setup.
[URIS id=7055]
Would you like to have an ultra-strong hammock with a breaking strength of 1000 pounds? Then The MalloMe XL Double Parachute Camping Hammock is ideal for you!
It is perfect for anybody in the market for a top-quality hammock. It is the key addition to your next outdoor adventure as it's extra-large in size and comfortably fits two adults. There is plenty of room to sleep, cuddle and if you really want you can even fit in 3 people for extra fun.
It's twice as strong as most other hammocks and is made from a premium nylon fabric that provides great strength, durability and not to mention comfort. It is lightweight even though it is big and strong, and can be packed really compactly.
What else could you wish for in a hammock? The stuff sack is attached to the hammock so you won't be able to lose it and when packed it is the size of a basketball and it weighs less than a pound. Hammocks like these are really a blessing to have nowadays.
For your convenience, everything you need in order to set up the hammock is already included as you buy it because the company wants to make an outdoor lifestyle really simple and affordable. With all their products you even get a satisfaction guarantee, so you know if something goes wrong, they have got you covered. This hammock really left us impressed.
---
FAQ
What is the best brand of the hammock?
At the moment, the best-rated travel hammock brands on Amazon are Wise Owl Outfitters & Legit Camping. They offer various sizes and price ranges that will fit any travel or camping needs.
Can you get a discount in the hostels if you sleep in the hammock?
Some of the hostels offer discounts for people who choose to sleep in the hammock. Especially in Central and South America this option is possible.
Can 2 people sleep in a hammock?
Yes, 2 people can easily sleep in the hammock but if you really want to be comfortable, you should use a double hammock.
Is sleeping in the hammock legal?
Not everywhere! In some countries (such as Spain or Australia) overnight sleeping in a travel hammock is considered camping and that's only allowed in designated campgrounds.
---
So what are you waiting for? Buy your hammock today!
These are some of the best hammocks in the world and best of all they are super affordable. We are confident you will find one that is the right fit for you which will serve you on all of your future trips. We are excited to hear about how to do you like your new hammock so please let us know in the comments below.
Wish you all the best,
Team Traveling Lifestyle