Though remote work has been a feasible option for many years, only recently — in response to the coronavirus pandemic — have companies begun to fully accept it. By the middle of 2021, 16% of companies worldwide hired only remote employees.
At the same time, many businesses are reconsidering degree requirements in favor of demonstrated skills. Here are 14 remote job options for people without college degrees.
Check out also: Best remote job sites 2022
Copywriting
People do not need a college degree to land a high-paying copywriting job. Thousands of companies around the world pay these remote employees to create high-quality writing content that authors may later use to build their portfolios and advertise their services.
Copywriters are in charge of creating persuasive, entertaining, informative, and engaging content for a variety of channels, including websites, print ads, and newsletters.
These workers have a plethora of different text formats to choose from. These include articles, blog entries, product descriptions, landing pages, social media posts, emails, and more.
They must be ready to shift their wording to keep a consistent tone for the customer and the channel. In addition to writing creative content, they are also responsible for researching keywords and proofreading their own work for accuracy and quality.
Tip: A great platform to start with copywriting is textbroker.com.
Data Entry
Data entry workers manage electronic data, entering and updating information in computer systems. This job requires the ability to use the software as directed. Being a quick typist is also a plus.
For individuals who want to start remote employment as soon as possible but feel they lack specialized skills, data entry is an excellent choice.
Customer Service
Customer service workers help businesses create good customer experiences. This work includes answering questions, solving customer problems, and knowing when to direct a customer toward someone better suited to help.
Customer service professionals must have excellent people skills. Friendliness and patience are key — especially when customers get upset.
Interaction with customers can take several forms, but the most popular remote communication methods are phone, chat, and email.
Tech Support
Specialists in tech support help businesses by aiding in any technical issues experienced by employees or customers. A solid working knowledge of computers is a must.
Depending on the business in question, a tech support specialist might help either co-workers or customers troubleshoot technical problems. This field also includes the upkeep of computer systems.
Email marketing
Email marketing specialists help businesses close sales by creating appealing email campaigns mostly focused on reaching out to potential clients or retaining existing customers with new services and products.
Designing infographics and identifying which images, text, and link pathways create the best results for the company are all part of the creative side of email marketing.
Email marketing professionals typically require some technical knowledge in order to accurately assess email reader interactions and adjust future emails based on data analysis.
However, those who have some expertise in writing or managing digital content will not need a degree for this position.
They can also increase their chances of landing a highly-paid remote position by learning about email marketing tools and developing a portfolio of their previous digital tasks.
Content Managing
This remote position entails supervising marketing initiatives aimed at engaging customers and ensuring that they have a favorable opinion of the company and its products or services.
A content manager assists companies in developing a consistent corporate identity and maintaining a robust online presence.
Workers in this position also help websites determine what types of writing, videos, and other materials to produce and promote. They look for effective keywords to focus on, discuss new content ideas and plan how to effectively promote them.
As they manage large volumes of customer input, effective content managers use analytics tools to develop customized content for their target markets.
Learning the essentials of analytics tools and content marketing online is enough to start seeking freelance content manager jobs.
Transcription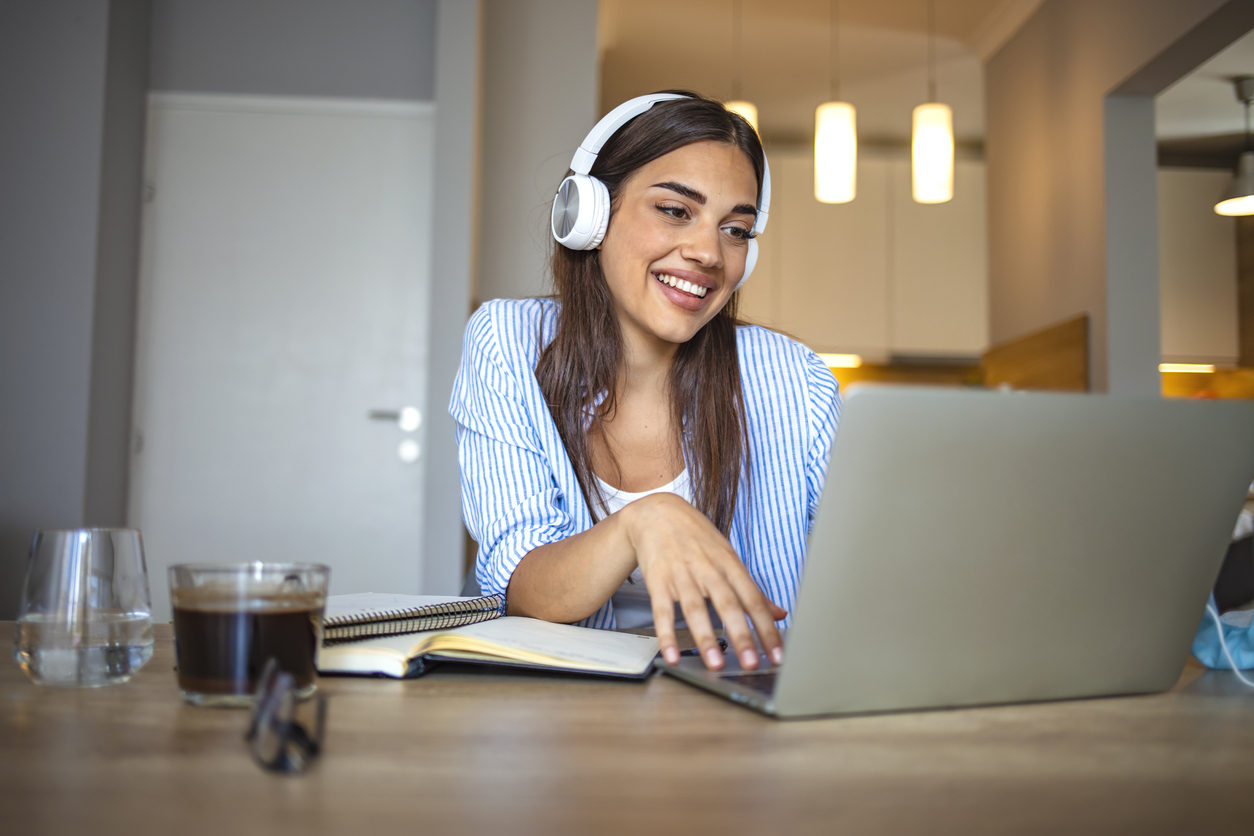 Transcriptionists listen to audio files and write down what they hear. Closed captions, transcripts of court proceedings, and more are all created by people in this line of work.
Putting together transcription documents requires several skills. In addition to excellent knowledge of punctuation and grammar, a transcriptionist also needs a good ear and lots of patience.
An ability to type quickly is also necessary.
A great website to start is: Rev.com
Translation
Translating text or speech into another language is vital when many countries' economies are so interdependent.
Though translation software is helpful, it leaves companies open to puzzling or embarrassing mistakes — a human touch is necessary to make sure the final product makes sense. To thrive in this field, employees need to speak more than one language and have excellent writing abilities.
Virtual Assistance
Virtual assistants help companies or people with administrative tasks. Scheduling appointments, answering emails, and handling payment issues are just three things a virtual assistant might do.
To thrive in this job, a worker needs to be a quick thinker with the ability to switch between diverse tasks. Reliability is also critical for virtual assistants.
Sales
Successful salespeople have excellent social skills. They understand the wants and needs of potential customers — and they're great at explaining how their company can fulfill those needs.
Though some involve interaction with existing customers, most remote sales opportunities for beginners focus on cold calling.
Prospective employees should consider a sales department's pay structure before signing on to work: Pay can come in the form of salary, salary plus commission, or just commission.
Social Media Coordination
A social media coordinator handles a business's social media activities. Some even strategize with companies to create entire social media campaigns.
They might be responsible for posting to their employer's accounts, sharing interesting information, and engaging potential customers. That can involve posting links, videos, photos, articles, or even clever jokes.
To do well in this line of work, a social media coordinator needs to understand their employer's preferred tone and primary message. A coordinator must also understand what sort of content connects with a business's customer base.
Graphic Design
Graphic designers use technology to create visual concepts — in other words, to create useful art for companies. Their skills are necessary for the development of everything from logos to advertisements.
People in this field need to have a firm grasp of how consumers perceive visual elements. What colors inspire trust? What do symbols mean in different cultures? What art styles suit different types of products and services?
Those are all questions a good graphic designer can answer.
To succeed in this area, a designer needs to be skilled in using certain software. Photoshop, InDesign, and Canva are three popular options.
Online Tutoring
Tutors are one-on-one teachers. However, unlike becoming a teacher, becoming an online tutor doesn't always require a degree.
Having a degree can help if someone wants to provide tutoring in a highly technical area like linear algebra or astrophysics, but not all tutoring requires advanced education. For instance, anyone who speaks and writes a language fluently can tutor others in that language.
Tutoring jobs can cover nearly any topic for any grade level. Whether someone wants to teach graduate students or first graders, there are students who need their services.
Travel Agent
Remote travel agents work from anywhere in the world assisting customers in booking a variety of aspects of their leisure or business travel including hotel reservations, flights, cruises, tourist packages, car rental services and more.
By understanding their preferences and budgets, travel agents can help their customers anticipate their own travel needs and possibilities.
To do so, these professionals should have the necessary skills to collect payments, determine the most suitable travel insurance, coordinate transportation, handle travel inconveniences such as cancellations and refunds as well as advise clients regarding destinations, cultures, customs, weather and local activities.
Given the huge amount of travel-related content available online, a knowledgeable travel agent stays current on travel trends, activities, and top destination bargains in order to provide added value to their clients.
A degree is not essential, but the ability to keep accurate records of bookings, payments, transactions, phone calls, and meetings is required.
(Source: Flexjobs)