Whenever we hear the word "Florida", the beach is the first thing that comes to our mind 🙂
There are countless options when it comes to Florida's beautiful white sand beaches and amazing state parks full of greenery and wildlife. It's simply, a paradise of the United States.
In this article, we have narrowed down some of the most popular as well as most beautiful Florida's State Parks you can visit with your family or friends while discovering us or just going for a weekend getaway from the city life!
We've listed a few FAQs and 11 different state parks across Florida. We keep our list a bit diverse, so you can find beach parks, lakes, forests, caves and other amazing natural highlights of Florida.
FAQ
What is the largest state park in Florida?
Fakahatchee Strand Preserve State Park, so-called "Amazon of North America" is the largest state park in Florida with around 77, 000 acres. It's mostly swamp forest containing around 160 partial state parks.
How long can you stay in Florida state park?
You can stay in most of the Florida state parks is limited to 14 consecutive days. However, some of the state parks established their own weekly / monthly limits but maximum that you can stay in one park is up to 8 weeks within a period of 6 months.
How much is the annual Florida state park pass?
You can get an individual annual pass for all Florida state parks for 60 USD and family (up to six people) annual pass for 120 USD.
What is the oldest state park in Florida?
Myakka River State Park & Fort Clinch State Park are 2 oldest state parks in Florida.
Whether you are planning a weekend getaway, coming to Florida for holiday or planning a cross country road trip, you definitely want to check out some of these amazing Florida state parks below:
State Parks are sorted from South to North Florida
Curry Hammock State Park – Key West
Located halfway between Key Largo and Key West, Curry Hammock State Park is uniquely known for its large areas of mangrove, Rockland hammocks and seagrass beds making it essential to Florida Keys ecosystem.
The perfect location for any adventurous kayaker or paddleboarder.
With 28-sites to pick from, you will have a selection of places to stay and activities to enjoy. Most sites are equipped with grave parking areas for cars and RVs.
All campsites offer water and 15/30/50 amp electric hookups. You will have access to swimming, a playground, picnic tables, grills and public showers on the ocean side of Little Crawl Key.
The waters surrounding the park are usually calm and gentle, making it ideal for many activities including canoeing or fishing.
However, there are no facilities for powerboats and most waters within Curry Hammock State Park are a no combustion zone.
Bahia Honda State Park – Key West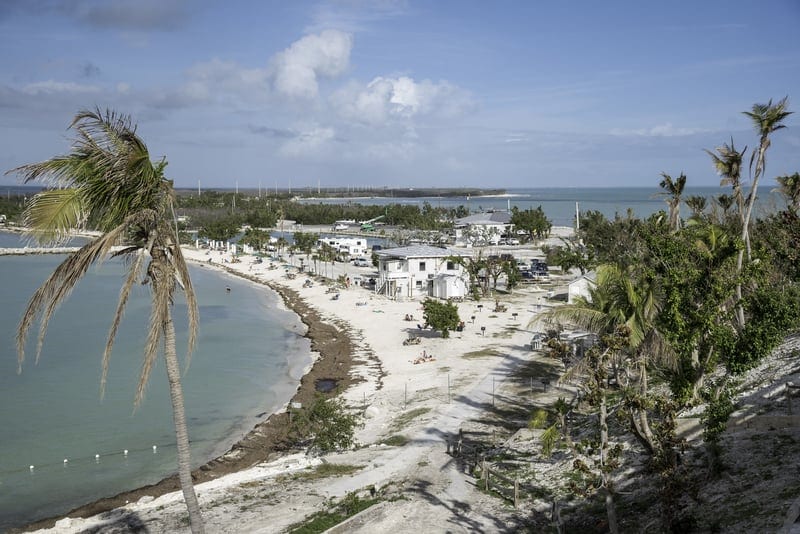 If you're headed from the southern tip of Florida to the keys, be sure to stop off in Bahia Honda State Park. Bahia provides visitors with the chance to watch the birds, enjoy the water and relax under the stars. It' a pet-friendly spot for leashed animals and offers camping, cabins and some of the best RV spots in Florida.
Water fans will put the boat ramp and canoe-kayak launch to good use. You can also spend time on the beach, sunning, swimming or just watching the waves.
Keep an eye out for wildlife while at Bahia. Not only is this park celebrated by birders, but Bahia is helping to save the Miami Blue Butterfly from extinction.
Be sure to save time for a visit to Fort Zachary Taylor to study the lives of soldiers defending the southeastern coastline during the Civil and Spanish-American wars.
Oleta River State Park – Near Miami
Oleta River State Park is just north of Miami and offers visitors a bit of wilderness with plenty of access to city amenities. The park is crisscrossed by many waterways, including the Oleta River.
You can rent a canoe and check out the deeper recesses of the park, or fish off the pier and enjoy relaxing along the water.
There's a great beach for a quick dip, shower facilities for cleaning up, and plenty of wildlife to study. Bring your bike and check out the trails. Don't forget your binoculars so you can scope out the birds.
Oleta River State Park is a great spot for families with children. If Miami is feeling a bit too crowded, you can easily escape to Oleta for quiet walk or paddle among the mangrove trees. Thanks to the sandbar to the east, the coast of this park is protected. If you're a novice kayaker or paddleboarder, you can test your oars here!
You can bring in a picnic and set out a table at one of the pavilions, or just spread a blanket on the beach.
Lovers Key State Park Florida – SOUTHWEST
Well-named for its romantic setting, Lovers Key State Park is located on Lover's Key and three barrier islands, Black Island, Inner and Long Key and lies within the city limits of Bonita Springs. With just one visit, it is easy to see why this place is popular as a wedding destination.
Featuring a two-mile-long beach on Lovers Key, campers are welcome to stroll and enjoy the local wildlife. This includes West Indian Manatees, bottlenose dolphins, osprey, snowy egrets and over 40 bird species that call this place home.
Amenities include trails, picnic areas, board ramp and two playgrounds for family use.
The facilities also offer canoe, bicycle and kayak rentals for those traveling light but seeking to make the most of what Lovers Key has to offer.
Jonathan Dickinson State Park – SOUTHEAST FLORIDA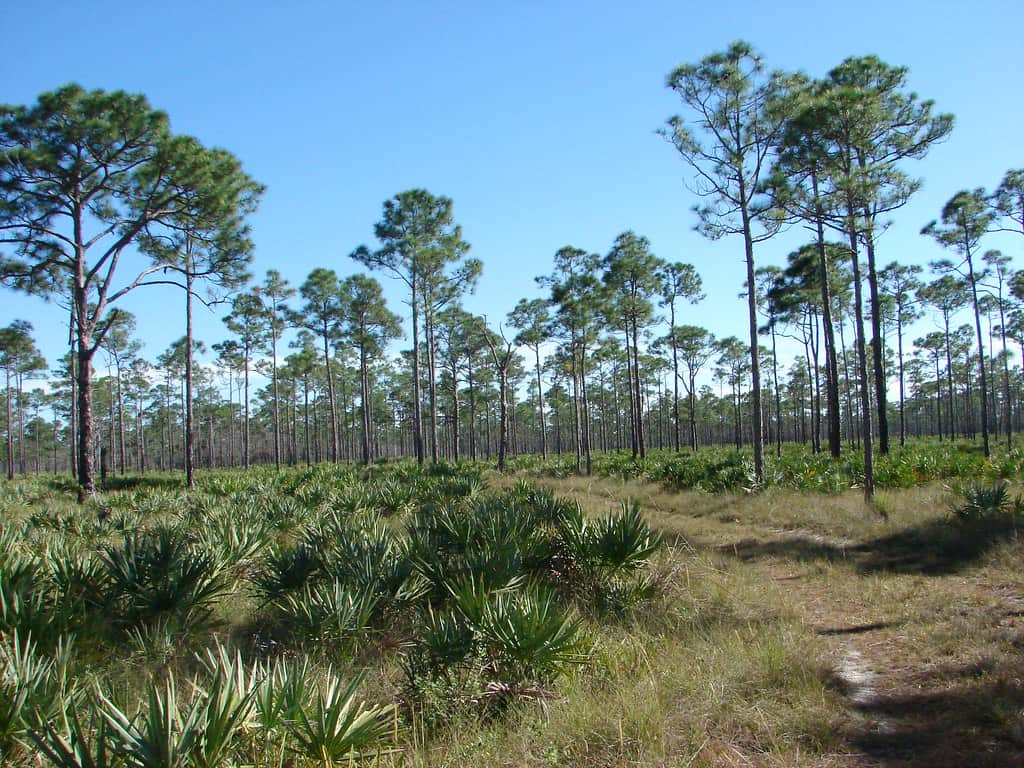 The location of Jonathan Dickinson State Park is the main attraction for most tourists as it is located to the north of Burt Reynolds' state.
The natural communities will be enough to make you visit Jonathan Dickinson State Park this year.
The park offers two campgrounds accessible for reservation. Pine Grove is situated on the east side of the park and The River Campground is situated around four miles from the park entrance. At either campground, you'll approach the water, power, a table, and flame broil, yet sewer hookups are just offered at Pine Grove. In the event that you have an equestrian outdoors buddy, there are five campgrounds that can suit your steed.
There are just two crude exploring campgrounds off the Florida Trail, which are additionally accessible for reservation.
Simply make a point to pack a stove, as kindling gathering is disallowed in Florida state parks.
Caladesi Island State Park – near TAMPA
Caladesi Island State Park is located on the Island of Caladesi in the Gulf of Mexico. It is located in the west of Dunedin, Florida.
If you want to search for the perk of Florida in a single place, it is going to be the best choice. Caladesi Island State Park is located in the north of Clearwater Beach.
If you ask for any special point to visit in 2019 where you can enjoy the best time of your life, we will suggest you visit the most amazing beaches of Caladesi Island State Park. This Caladesi Island State Park is the perfect location for people who want to spend some time on the peaceful beaches of Florida.
You don't need to worry about staying on Caladesi Island. The hotels in this Island are really comfortable and available at different rates. In simple words, you don't need to worry about this thing.
You can book any hotel in Caladesi Island ranging from 4 to 5-star hotels. The price of the stay can vary depending upon the location and the surroundings. The stay in Caladesi Island is not very expensive.
Myakka River State Park – near TAMPA
If your goal is to explore the natural beauty of Florida, Myakka River state park is a great spot for you. It is one of the largest and oldest state parks in Florida. This state park is home to turkeys, gators, and panthers. This is one of the few state parks where you might find panthers.
Wildlife is the main attraction in Myakka River State Park and hikers can also enjoy the long trail of almost 39 miles. There are boat tours that are arranged for tourists on a daily basis.
The deep hole is the most famous spot if you want to see gators. In simple words, this state park is a paradise for photography lovers.
There are several campsites in the Myakka River State Park and all the facilities and services are provided near these campsites. Some campsites are away from these facilities so it is always a good decision to bring extra food and water for you while going hiking.
Rainbow Springs State Park – near Orlando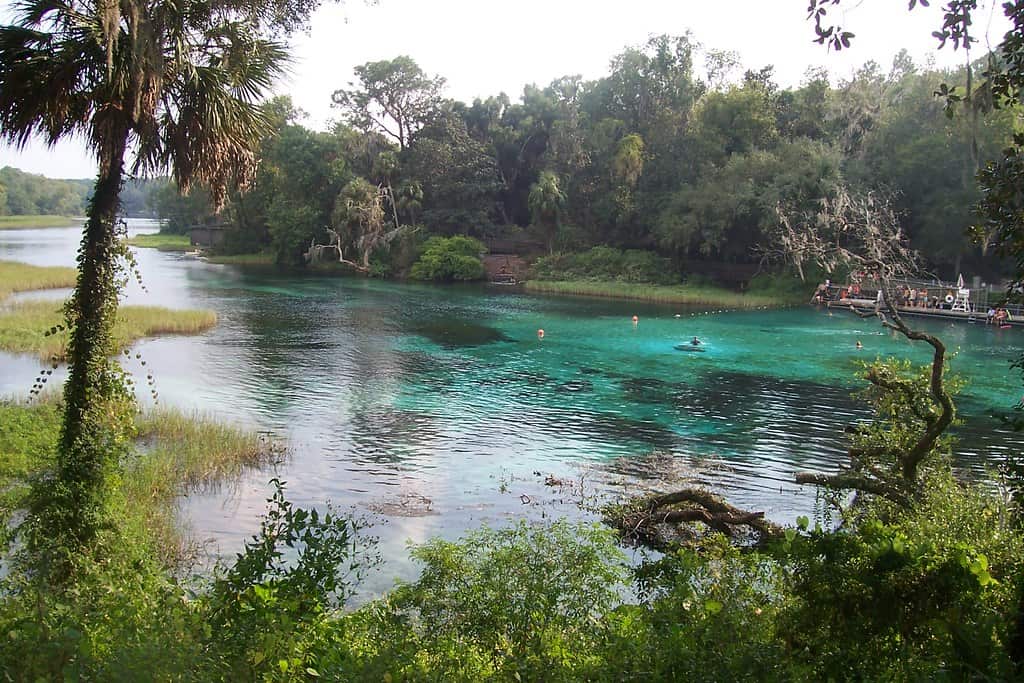 Get your gears ready as you are going to dive deep into the history of Florida in Rainbow Springs State Park. As per history, this state park was first visited around 10,000 years ago.
Today, the Rainbow River attracts individuals for its close steady all year temperature of 72 degrees. In any case, this is just the same old thing new, proof backings that the stream has upheld human life for a long time.
The campground offers three RV or trailer-just destinations, seven tent-just locales, and 44 plots that appreciated RV or tents. A tip for the tent campers — the locales are rock, so back will thank you on the off chance that you bring a ground canvas.
Campers at the tent or RV locales can expect a flame ring, park table, and hookups for water and electric.
Blue Spring State Park – near Orlando
Blue Spring State Park is a perfect destination for a day trip and it's definitely one of the best state parks near Orlando, FL.
Natural waters of Blue Spring State Park are the biggest attraction here and most of the tourists visit here just to see manatee migrating.
If you are into swimming then Blue Spring State Park has a lot to offer for your adventure-loving soul.
Anastasia State Park – NORTHEAST
Anastasia State Park is full of deep ancient history.
This state park is located in Northeast Florida. If you like to visit ancient landmarks and buildings, Anastasia State Park is a perfect destination for you.
There are several hiking trails and most of the hiking trails are in the loop so you will probably end up on your starting point.
This state park is best for tourists who prefer privacy as Anastasia State Park is never too crowded and you can enjoy some alone time here in a peaceful environment.
Big Talbot Island State Park – NORTHEAST
Big Talbot Island is just east of Jacksonville near the northern Florida border. This park is beloved by birders and hikers alike, and photographers will never run out of subject matter here!
Go for a hike on Boneyard Beach. Take your mountain bike down one of the many trails available, or find a spot in the picnic pavilion to enjoy the sun and the views.
Be ready to pack out whatever you bring in, as Big Talbot is primarily a nature preserve, meant to be explored and treasured.
Be aware that Big Talbot closes at sundown, though the boat launch is open 24 hours. You will need to a spot for your RV outside the park. Here are the best campgrounds in Jacksonville.
Henderson Beach State Park – NORTHWEST
If you find yourself in northwestern Florida and looking for a state park with sandy beach views, Henderson Beach State Park is the place to visit.
Located near Destin, this state park features white sand beaches and more than 6,000 feet of scenic shoreline as well as 60 campsites for you to choose from.
Campsites feature water and electric hookups as well as bathhouse facilities equipped with air conditioning and heat making camping quite comfortable.
A boardwalk allows for easy access to the beach for swimming, sunbathing and fishing. You can also make use of four large and two small pavilions for picnicking or grilling.
The boardwalk also allows for ADA accessibility for those that need it and pet-friendly areas for furry members of the family.
Florida Caverns State Park – NORTHWEST
If you're feeling particularly adventurous, Florida Caverns State Park offers a unique sight with air-filled caves accessible for the public.
This gem is located in the Florida Panhandle near Marianna and offers 33 campsites for you to reserve. However, keep in mind that park gates close at sunset so make sure to plan your arrival accordingly.
You will not want to miss their chance to see the only state park in Florida with guided tours. Cave tours are available on a first-come, first-serve basis and now feature a new state-of-the-art LED lighting system.
Visitors are now able to enjoy the limestone formations without impacting the sensitive ecosystem within the caves.
Florida Caverns also features horse stalls and horse trails for equestrians looking for beautiful trails to ride.
Big Lagoon State Park – NORTHWEST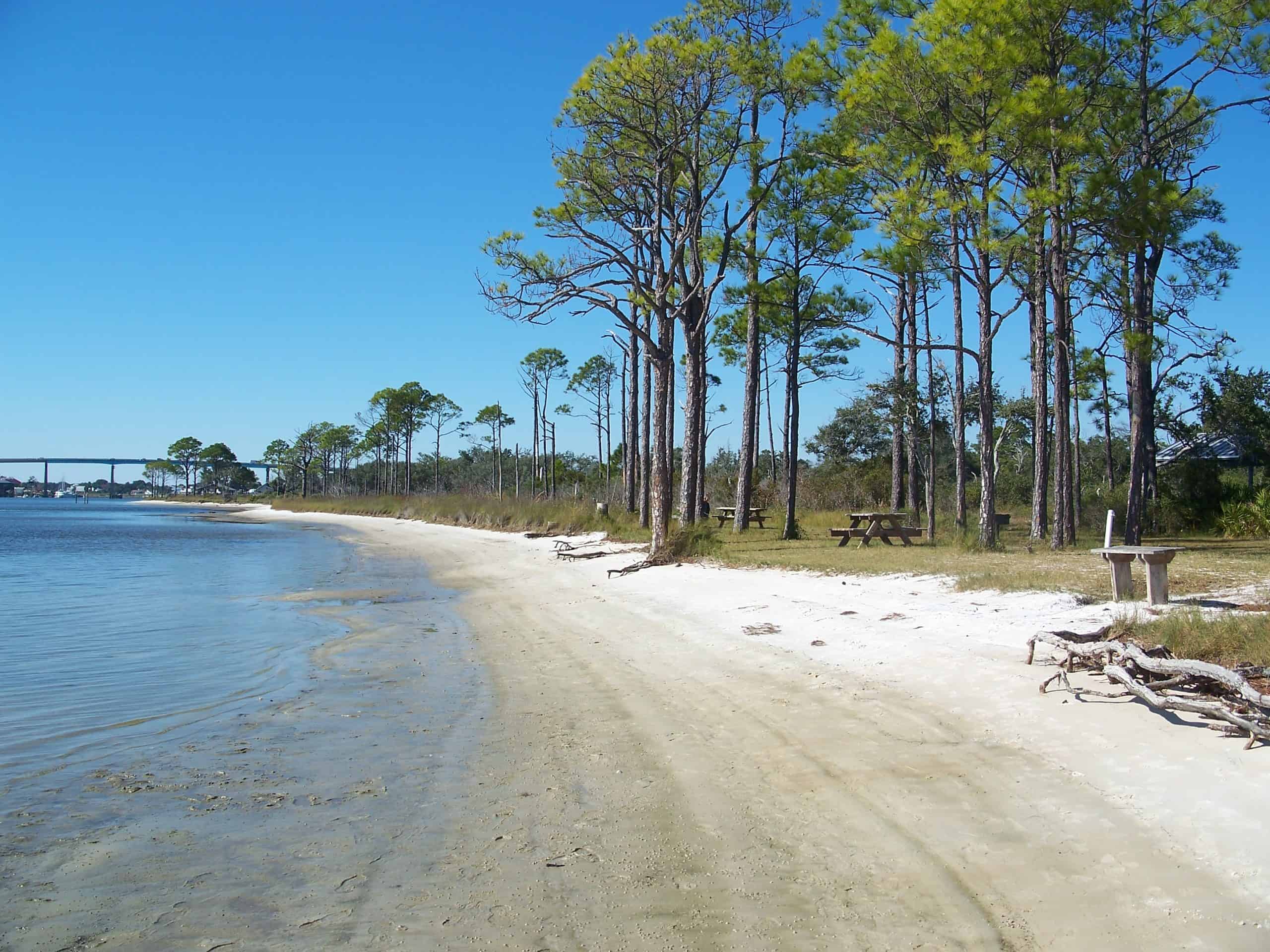 Your visit to Big Lagoon State Park will put you right along the Gulf of Mexico. This park is loaded with fun and family-friendly options, including geo-seeking hikes, a playground and campfire circles.
Enjoy your time on the beach, then find a spot for a picnic at one of the pavilions. Bring your dog on their leash and let them check out the area.
This park is home to many of the plants native to northeastern Florida, and volunteers are working hard to promote the growth of native plants. Bring your binoculars and keep an eye out for birds.
Camping is available, and there's access to water and electricity. There's also access to primitive camping if you're ready to rough it. Take a long stroll along the boardwalk, or rent a kayak to check things out further from the shore.
Blackwater River State Park – NORTHWEST
Blackwater River is famous all over the world as it is one of the purest sand-bottom rivers all around the globe. When you visit Blackwater River State Park, you will know that this state park is worth visiting once in your lifetime.
The river is really unique due to black and dark water. The river is not the only reason to visit Blackwater River State Park but there is a natural forest too.
There are many fun things to do in Blackwater River State Park and you need some energy to do all of these top things in Blackwater River State Park. There are several camping sites on the beach and it is a great opportunity to spend some quality time on a peaceful beach.
Fort Clinch State Park
Fort Clinch State Park is one of the oldest state parks in Florida located in the North, just before the border with Georgia.
Parks offers combinations of nature and history that visitors can enjoy every day! The first weekend of every month you can experience various soldier performances with firing cannons and demonstrating battlefields skills.
There opportunities for various activities such as hiking, fishing, camping, shelling or shark tooth hunting.
If you're visiting North of Florida, you should definitely visit Fort Clinch!
Conclusion
We hope that you have chosen your next destinations for the tour to Florida. These 16 best state parks in Florida have their own unique attractions and natural landmarks.
There are some state parks like Caladesi Island State Park that must be part of every tourist's list. If you decide to visit one of the state parks from this list, you will be sure to have a good vacation.