Surfing as a sport didn't land in Spain until the early 60's, when the Cantabrian man Jesús Fiochi became the first Spanish to stand on a surfboard that her sister brought him from a trip to France. Later, Félix Cueto from Asturias joined him with is own shaped surfboard and they sparked the fire of surfing in northern Spain that would expand to the rest of the country until today.
When people think of Spain as a travel destination, we tend to associate it with laying on a sunny beach in summer, eating tapas, drinking sangria and spending late-night hours dancing at some fiesta.
But Spain is also home of an increasing amount of surfers thanks to its privileged geography, which makes it possible to find some of the best surf spots in Europe, available all year round.
Spain's surfing spots can be found along the full extension of its coast: from the Mediterranean to the northern Cantabrian sea and the Atlantic waters that surround the Canary Islands.
However, we're going to focus on those surfing spots that work most of the year, being located on the northern cantabrian coast and the Canary Islands (sorry for Barcelona, you're truly beautiful but surfing is not your biggest appeal). After reading this article, you'll have plenty of options to think where you want to experience your first surfcamp in Spain.
We've made a list of amazing surfing spots and you will probably be able to visit most of them, but if you've never surfed before or you're just starting, be smart and ask for advice at one of the many surf schools that you can find in all these spots. They will help you give your first steps and teach you all about the specific beach you will be surfing at.
SOMO, Cantabria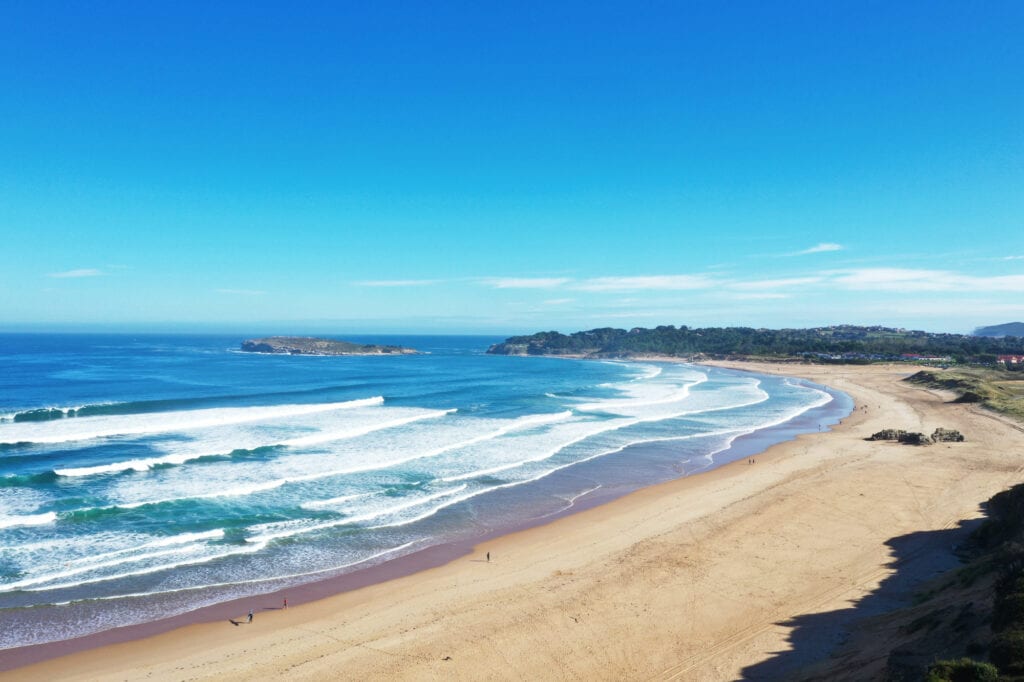 Somo is probably the most popular surfing beach in Spain and one of the best spots whether you're starting to learn how to surf or you're a seasoned wave rider.
With almost 4 km of beach extension, this beach offers several spots for all levels along the full extension of the coastline. When the sea comes with incredible strength, you will be able to see expert locals and even pro surfers catching a massive right-handed wave that originates on an island at the east part of the beach.
The natural landscape here is incredible and you can walk to other amazing beaches and surf while you see the snow on the mountains in the background. A true jewel to be enjoyed during most part of the year.
SANTANDER, Cantabria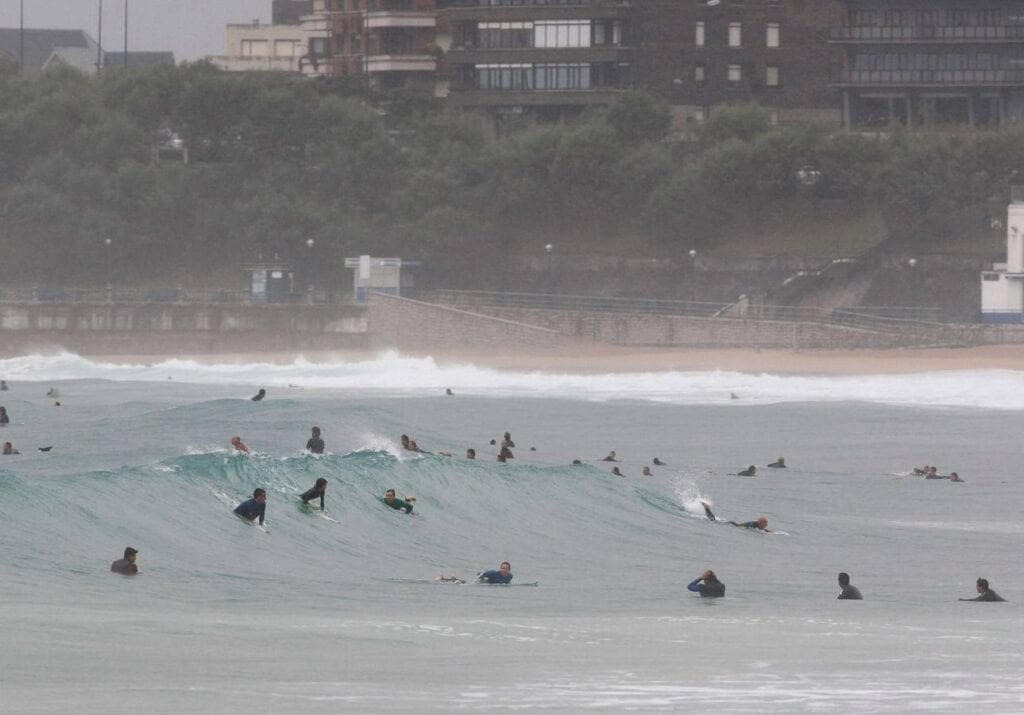 Santander is not only the capital of the northern region of Cantabria, but also the place of birth of surfing in Spain.
The first surfers were seen at "Playa del Sardinero" in the early 60's, a beach you can walk to from any part of the city. When the sea strikes hard only the best surfers are capable of riding this fast striking wave. And if the sea swell is not good enough for you, you can always get the ferry and try the waves in Somo, at only 30 minutes away.
Santander offers also a wide range of leisure possibilities: gastronomy, museums, tapas and cañas bars and some clubs where you can dance if you're not tired enough after your waves session.
The airport connections make it a great place to land and explore the best surfing beaches of Cantabria: Somo, Loredo, Suances, Liencres, San Vicente de la Barquera, Oyambre, Laredo. All of them top quality surfing beaches you won't want to miss.
MUNDAKA, Basque Country
Mundaka is known to be the best wave in Europe and many experts and pro surfers agree on this. Certainly this makes it a place of cult for many seasoned surfers but on the other side, is not the perfect spot for the regular surfer.
This left-handed barrel can reach a height of 4 m and run for 400 m of distance so you should only surf here if you're an experienced surfer. You can also stop by to eat the the village, a traditional fishermen's town where you will enjoy the rich gastronomy of this region.
ZARAUZ, Basque Country
Zarauz is without any doubt one of the most famous surfing spots of Spain and certainly the most emblematic of the Basque Country area.
The quality of its waves is incredible and its 2,5 km of distance make it the biggest beach on the Basque Country coast.
It's open coastline allows the waves to hit the beach all year round, making it ideal for all levels. In Zarauz you can see some of the best pro surfers but on the other side, it can easily be too crowded. But don't worry about these days, the town has top-notch restaurants and "pintxos" bars (a pintxo is a traditional way of presenting food, with a little spike that keeps the bread and the rest of the food together).
PLAYA DE RODILES, Asturias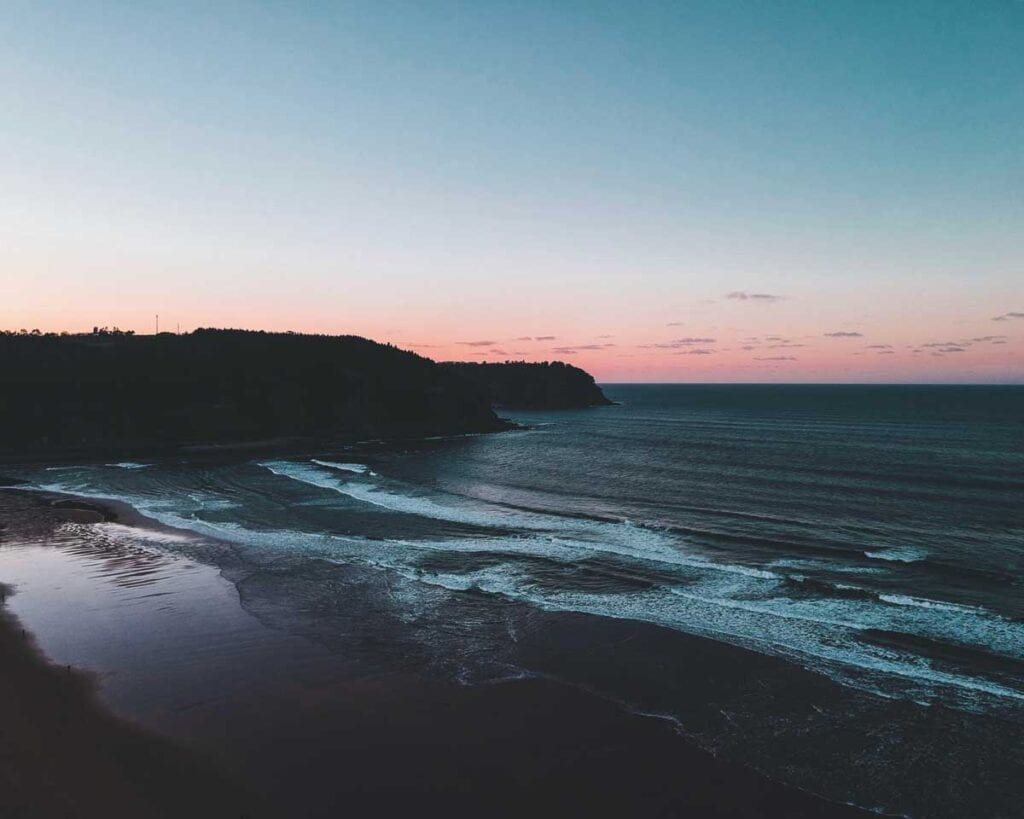 The beauty of the north of Spain is unparalleled but Asturias is truly something else and proof of it is Playa de Rodiles. A virgin beach surrounded by an amazing mass of forest and located at the estuary of a river.
This beach is certainly not as known as others because of its "remote" location but it has a left-handed barrel that has nothing to envy to Mundaka. A true place for breathing peace and connect with nature. Make sure you bring a camera, you'll want to go back for sure!
SALINAS, Asturias
This beach is located at a beach town and it's considered one of the best beaches to surf in the north of Spain. It also has a great community of surfers with many incredible surfcamps and surf schools.
The beach offers right handed and left handed waves for surfers of all levels: from utter beginners to experienced surfers.
The spot is also home to an international classic longboard competition, making it ideal to spend some days surfing and getting to know people from all over and watching the pros dancing on the board.
PLAYA DE PANTÍN, Galicia
If you move further west in the northern coast of Spain you will find yourself in Galicia, a magical land of forest and cliffs that opens to the Atlantic ocean.
Pantín is the most important beach of the region and you can practice your surfing technique all year round due to the consistency of its waves. Is a long white sandy beach where the Pantín Classic Pro competition has taken place for more than 25 years, an international surfing competition and one of the most importants in Spain.
If you decide to visit the beach and surf, don't forget to choose a warm wetsuit: the waters of the atlantic ocean are even colder than the cantabrian sea.
RAZO, Galicia
Another great galician beach, Razo beach is one of the most visited in the "Costa da Morte"(literally means coast of death).
Considered by many as one of the best surfing beaches of Spain, this huge piece of land of 6 km of distance offers possibilities for beginners and experts. The place is incredible, and you can even see dolphins jumping when surfing.
If you're lucky enough you might even share some waves with them.This beach has showers and a parking area so it's a great place to spend the full day surfing and chilling at some of the local bars while you enjoy the views to the magnificent Atlantic ocean.
EL QUEMAO, Canary Islands
Who doesn't know the beauty of the Canary Islands? El Quemao, in the island of Lanzarote, is one of the best barrels you can find in any european country.
This spot is not located at a beach but in front of a the fishermen's village of La Santa. The barrels are quite big and only the best surfers out there dare to try to ride it.
It works best in winter so it won't be your choice if you're a beginners. But don't worry about it, Lanzarote has another great spot for learning or improving your skills on the surfboard.
FAMARA, Canary Islands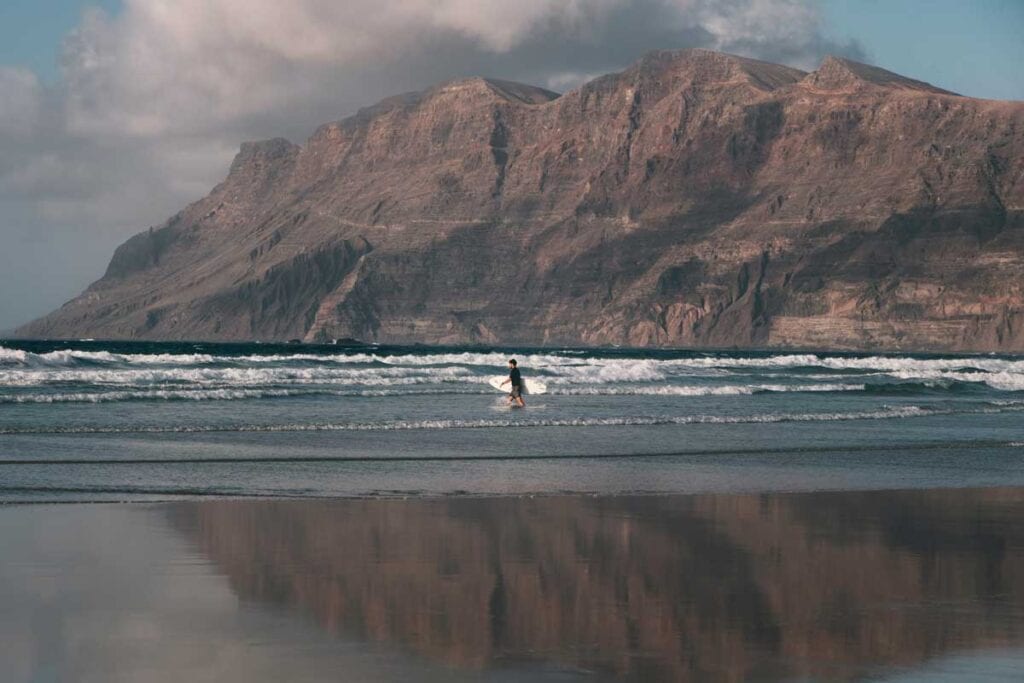 Again in the volcanic island of Lanzarote, the Famara beach is an incredible and huge landscape of sand, dunes and huge volcanic rocks on the background.
A place that resembles of another planet with 6 km of distance and few people walking by. Its beauty is unparalleled and although they've opened a few surf schools, it hasn't changed the landscape nor deteriorate it. Waves are constant and the weather is nice all year round so you can surf here anytime whatever your levels is. If you want to surf and let your mind explode with the surroundings, this is the beach for you.
Surfing is a great sport that makes you stay in touch with nature, get fit and make you feel great while you enjoy a healthy and sustainable lifestyle. These are just some of the best spots to surf in Spain, but there are plenty more, most of them in the northern cantabrian coast. Plan your next trip and visit some of the beaches we told you, discover new ones and tell us which are your favourites. See you on the waves!