Using a travel pillow is not just limited to travelers. All our necks experience a degree of discomfort from time to time, even when not traveling or backpacking. Sitting in front of a computer for hours on end can cause pain to one's neck, so to speak. Even couch potatoes can attest to suffering from sore necks and backs, channel surfing isn't easy believe it or not!! It comes with the territory of often having to find comfortable positions on not-so-comfortable couches and seats. This is especially true for anyone who is planning on binge-watching their favorite series over the weekend.
The driving cause behind the invention of these wonderful and relaxing pillows is as follows: to achieve the best of levels of comfort that a travel pillow can provide you, the intrepid traveler.
There's a bit of everything for everyone when it comes to picking the ideal travel pillow for your needs. From the foam-filled to the air-filled pillows, to various shapes and sizes; improvements and adjustments are still applied to ensure ultimate comfort from your travel pillow for your price range.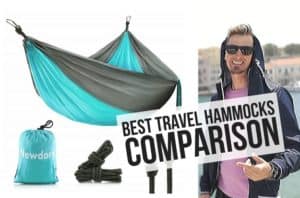 The future is here and if we're not going to take advantage of it, we may as well go back to the days of carrying bedroom pillows everywhere we go, while also carrying their accompanying postural aches and pains. The tempo has been tinkered with dramatically in the realm of travel pillows and you might want to know what the market has to offer.
The following selection is based on the findings of our research and market comparison, in the pursuit of the best travel pillows available, to suit your pocket and travel needs. Granted, as with all innovative products a few challenges exist, because all great inventions start by aspiring, and then adjusting.
Best Travel Pillows for Backpacking
high-density memory foam

adjustable rope lock

strong support
This travel pillow is a good example of one that works just as well while traveling on a plane, bus, train, or car as it does while on your couch binge-watching your favorite show or in your home office going through your messages and researching for your projects.
One of its main benefits is how soft it is although its memory foam feature is another that many comments. Meanwhile, its cooling design, which reduces sweat, is appreciated by many as well. It also comes with a high-quality sleep mask that several users are grateful for.
The dimensions of the MLVOC neck pillow are 11 inches by 9 inches by 5 inches and it weighs 10 ounces.
Note that it may have a chemical-like smell upon arrival but that that generally goes away within a few days. It may also take a few uses for your head and neck to get fully comfortable with it. However, once they do, that is when all of its benefits will be fully enjoyed. It can also be used while laying down if desired.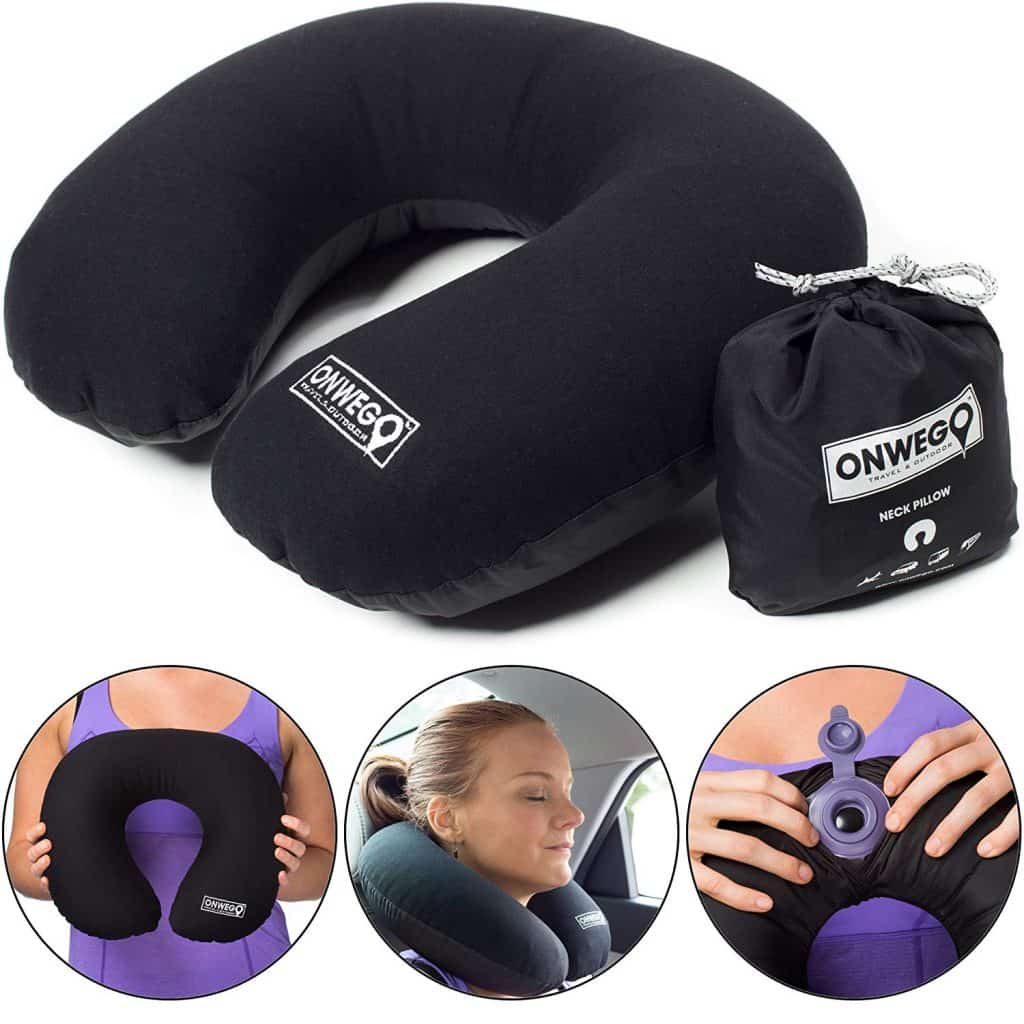 AVAILABLE: US, CA, UK, AUS, MX, JAP
compact/minimalist/comfortable
washable by hand
one-way air-valve
Who wouldn't want a travel pillow so compact that it fits into a glove box?
This versatile travel pillow is well suited for all kinds of traveling and is generally considered to be the best u-shape plane pillow available as it easily adjusts to the traveler's level of comfort. It is manufactured from a unique removable stay – a cool fabric that is washable by hand or a gentle wash setting on your washing machine. This travel pillow comes with a removable cover that is made of soft cotton, providing comfort for your neck as you relax upon your travels, so much so that you can cradle your neck without sweating.
The ONWEGO travel pillow also comes with a one-way air valve which allows you to inflate and deflate the pillow in a few quick and easy breaths, which means that there is no need to take up space carting a pump around.
One slight disadvantage in this pillow's innovative yet ongoing design is that the inflation process could be inconvenient for some people, considering that the traveler will need to blow into the air valve several times in order to get the pillow to just the right comfort zone.
In fact, it would be advisable that you read through the instructions that come with the pillow and practice inflating and deflating. The last thing you want is to be figuring out how the travel pillow operates when you need the comfort that it provides. If a little bit of huffing and puffing isn't an issue for you, then the ONWEGO might just be the travel pillow for you.
AVAILABLE: US, UK, CA, AUS, SP, FR, GE, IT
fully adjustable design
waterproof
tested ergonomic design
This is a new generation of Trtl travel pillows which are the most wanted on Amazon at the moment.
Trtl designs are based on scientific engineering with ergonomy in mind to offer you the best possible support for your neck while traveling on the airplane, bus or car.
As you can see in the video below, it's very practical and makes a lot of sense when it comes to sleep, it will keep your head more UP than inflatable pillows and will get you the exact comfort that you usually crave on those long flights.
A disadvantage could be its flexibility in terms of purpose. It's totally perfect for an airplane or car but can't be really used in bed for regular sleep. But that part will hopefully be covered by your hotel unless you are heading for some camping adventures. So if you wanna stay flexible, you might wanna get an inflatable pillow.
AVAILABLE: US, CA, AUS, GE, JAP
soft/smooth material
compact / minimalist
curve design
This travel pillow is made from smooth velvet and has a cutting-edge scientific curve design that keeps your neck up, providing support for all forms of travel, book reading as well as and relaxing. For convenience during cleaning and for laundry purposes, the Metene has a washable and removable cover.
The fabric that it is made from renders it great for use by children as it causes a lot less irritation and because it is lightweight and easy to carry around.
The travel pillow comes with an air valve button that one can simply press to inflate or deflate the pillow in just a few seconds. An added advantage is that there is no need to remove the pillow in order to make adjustments for postural purposes and comfort.
A winner in the comfort and convenience departments, the Metene also ticks the value for money box while it comes with a 12-month Guarantee AND can also fit snugly around the waist!
For ease and traveling convenience this pillow comes with its own portable carrying bag.
A slight disadvantage for those who take the longest to adapt to its settings is that it takes some fidgeting to get used to controlling the pressure button or air valve. For people who don't shy away from a little bit of trial and error, you will find a setting suitable for your travel needs.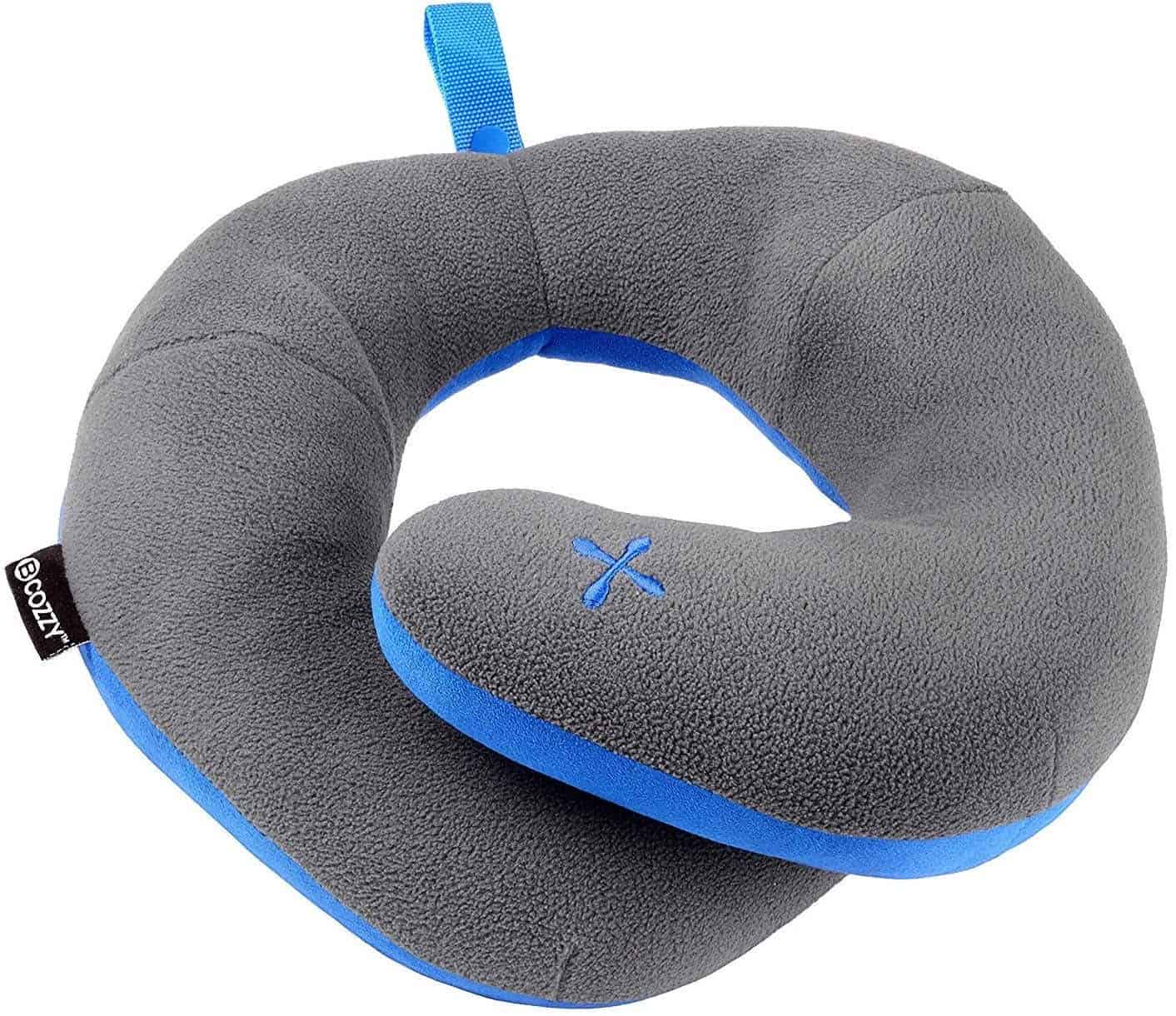 AVAILABLE: US, CA, UK, AUS, JP, GE. IN, MX, IT, FR
can be easily attached
comfy
different sizes
This chin-supporting pillow aids in preventing your head from falling forward while you sleep, thereby ensuring that the head and neck are constantly kept in good posture; whatever position that traveling may leave you at the mercy of!
This travel pillow boasts a unique and innovative design that is of course patented and comes in various colors.
Another winning characteristic of the BCOZZY is its versatility, in that you can shape the travel pillow to suit your comfort. For instance, if you prefer to sleep on your side, it has "booster sides" which help to provide your head and neck with the support it requires during travel.
The BCOZZY travel pillow comes in three sizes, to suit the whole family: Child, Adult, and Extra Large, and it has a built-in snap trap so it can be attached to luggage easily. This versatile and easy-to-carry travel pillow is also machine washable for cleaning convenience.
Red negative: Because this makes travel pillow surrounds one's neck completely, as comfortable as it is sworn to be; it tends to get steamy around the neck area after a while of having it on.
AVAILABLE: US, UK, CAN, AUS, IT, JP, FR, SP, ID
washable
quality foam material
Its patented therapeutic curl memory foam design allows the pillow to take the shape of its user's neck, which makes it even more comfortable. It comes with microfibre fabric and has a drawstring which makes it easy to attach to the rest of your luggage.
This pillow is versatile in that it can also be used anywhere, anytime, and is machine washable. So whether you're using it at home to recline while watching movies or reading a book, the TravelRest Curl Memory Foam pillow is well suited for anybody looking for optimum head and neck support.
The TravelRest Curl Memory Foam pillow has been scientifically tested by NASA and results show that it has proven itself great for people with serious neck problems.
Red negative: Carrying it around may prove a little testing for some people, as it does not have a drawstring, nor does it come with a carry bag. For all the minor disadvantages it has, there are many more advantages to the TravelRest Curl Memory Foam travel pillow.
Dot&Dot's – Memory Foam Twist Pillow
versatile
machine washable cover
snap closure to attach it to your backpack
As the name suggests, Dot&Dot's travel pillow can be twisted into any shape. No matter whether you are a back, stomach, or side sleeper, it will definitely come in handy in transportation where you often toss around to find the best sleeping position.
The premium memory foam makes it very comfortable but is also able to relieve pain. What's more, the outer machine washable cotton cover is super easy to clean.
Another great feature of this pillow is the snap closure with which you can attach it to your luggage or backpack. Therefore, you will never be bothered carrying it.
Thanks to its versatility, this pillow doesn't have to be used for transport only. It's also a great spine support for the office or a relaxation pillow for your sofa.
AVAILABLE: US, UK, CAN, AUS, IT, JP, SP

small roll upsize

full lateral body support
easily attachable
This inflatable pillow rolls up quite small which makes it a super portable travel pillow. In line with the innovative ethos of our travel pillows, the Travel Rest is a patented product.
When traveling, the pillow easily attaches to the wings of an airline seat, the headrest of a car and can even be worn as a 'messenger bag style'.
Another unique feature is that it has full lateral body support which keeps one from falling forward.
It is also washable and kids friendly. The cover is sold separately.
Red negative: The pillow unfortunately only stays firm for a few months. Meaning if you are a frequent traveler then you might find yourself having to buy another in a short space of time after purchasing the product.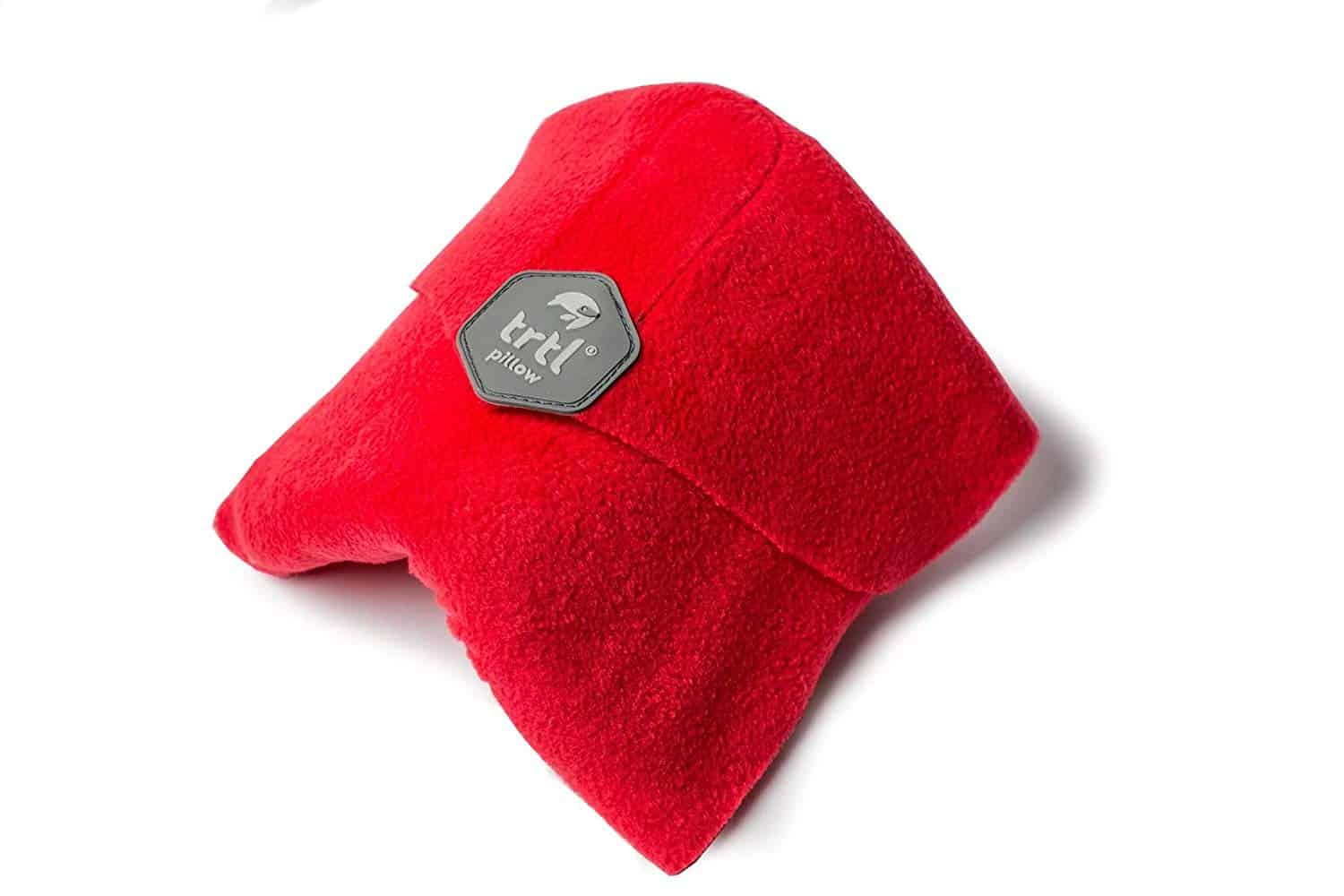 AVAILABLE: US, CAN, AUS, UK, GE, SP, JP, IT
easy to attach
soft material
internal support
A patented design combined with the Trtl scarf for warmth and comfort, its neck brace effect is created by an internal support system made to fit snugly between the face and shoulder.
It's scientifically proven to keep the head in a better position while sleeping upright.
Weighing in at just half a pound, the Trtl Pillow is easy to attach to luggage and is machine washable.
Red negative: It gets very warm around the neck after a short while if not in air-conditioned surroundings. And they are not exactly earphone friendly.
---
We hope you've found this article about Best Travel Pillows 2020 useful and you've decided which one you'll go for. It's almost 100% proven (by common sense) that you won't ever regret this decision. A travel pillow is an absolute n.1 travel gadget you should carry with you on all long trips.
Get one and give your neck a proper rest! 🙂