Digital nomad world is growing rapidly and some of the cities have become popular "hotspots" with amazing communities of remote workers and entrepreneurs.
Those are mostly places around Europe, Asia, and South America meeting basic "digital nomad standards", such as affordable cost of living, lovely weather, and fast internet. Of course 🙂
If you're a digital nomad, tired of traveling solo, and working on your own, then you should head to some of these digital nomad destinations.
Nomad communities are already very well established, so you won't have a problem finding your tribe!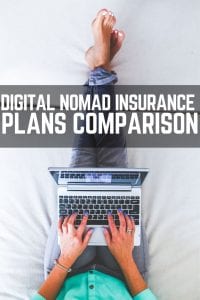 We've put together this list based on our experience, research, and discussion with fellow digital nomads and travel bloggers. Enjoy reading & happy travels 🙂
37 Best Digital Nomad Cities 2020
FAQ:
What does it mean to be a digital nomad?
A digital nomad is a person who works online or manages a business via the internet while often changing location or country to work from.
How do you become a digital nomad?
To become a digital nomad you need a job or business that can be done via the internet (remotely) from anywhere around the world.
What are digital nomad jobs?
Digital nomad jobs are professions that can be done from anywhere around the world via internet while traveling. The most popular jobs are for example copywriting, programming, e-commerce management, virtual assistant, etc.
Best Digital Nomad Cities & Places 2020
1. CANGGU – Bali
Bali is definitely one of the most trendy tourist destinations in the last few years but it also attracts plenty of digital nomads! Many people just come and go but there are thousands of ex-pats all over the island.
One of those destinations in Canguu. There are around 2-3 thousand of digital nomads in Canggu and around 10 thousand around the whole island.
While living in Canggu you can enjoy relaxing vibes on the beach, surfing, yoga studios, cross-fit gyms, Muay Thai clubs or wild parties in the night.
Canguu is very work-friendly and has plenty of cafes with great wifi and a few coworking spaces. We recommend working from DOJO office, one of the best coworking spaces in the world. They have awesome facilities, events, and big digital nomad community.
2. CHIANG MAI – Thailand
All roads of digital nomads lead to… Chiang Mai! Despite its popularity and possible rumors of "overrated" city, give it a try. Chiang Mai has always been and still is a fabulous place to catch up with like-minded people and live long-term in an exotic country of Buddhist culture.
It's a place with oodles of meet-ups, workshops, and opportunities to learn from experts. Ah, have we mentioned low living expenses you'll have here? There are not many countries in Southeast Asia where you can live by $ 500 USD monthly including rent, food, gym subscription, weekly Thai massages, and occasional outdoor activities.
---
By: Gianni Bianchini, a travel blogger from Italy and co-founder of a blog
Don't know where to stay?
Choose some of the best
Chiang Mai hostels
for the first few nights and commit to the long-term accommodation later.
3. MEDELLIN – Colombia
Once one of the most dangerous cities in the world, Medellin has since transformed itself one of the top Digital Nomad hubs worldwide.
Medellin's climate is as close to being perfect as possible, averaging 23 C (73 F) all year around.
Fast internet, an abundance of co-working spaces, a vibrant nightlife scene, and cheap and plentiful accommodation has seen the city become a magnet for nomads both long and short term.
Most nomads will qualify for a 90-day visa on arrival (easily extendible for 90 days at your local immigration office), and should you want to stay longer there are other visa options available, like getting an education visa to study Spanish.
Useful Medellín Digital Nomad Groups
---
By: Keith Commins, he started his nomad journey in 2013 when a dim and dismal Dublin afternoon inspired him to pack his bags and hit the road, and take his business with him. He started in San Francisco and hasn't looked back since.
Today he runs immovablemind.com, a site dedicated to improving your mind by using technology, diet, supplementation, and exercise.
4. LISBON – Portugal
Lisbon is a prime Digital Nomad destination and home base for a plethora of reasons.
Perhaps the starting point for many Digital Nomads who are attracted to the city is that the existing Digital Nomad community in Lisbon is one of, if not the, largest and most vibrant of all of the major hub cities. The Facebook and Meetup groups for Digital Nomads in Lisbon are HIGHLY active groups (i.e. daily events, consistently), with a fun mix of organizers who are either current or former Digital Nomads, based in Lisbon and plugged into the local scene.

Everyone who lands in Lisbon says that there's just "something about Lisbon" that makes them stay (and stay, and stay…). Well, it's more than just one "something" : Lisbon has 290+ days of sun, charming architecture, breathtaking views, a centrally-located airport, extensive public transportation, centuries of history, kilometers of coastline for beach days and watersports, healthy & delicious cuisine, a thriving nightlife, much diversity, nice and welcoming locals (English is widely spoken – and spoken well), a relatively low cost of living, excellent public & private medical care, and multiple tax incentives, like the NHR program for new residents.
---
By: Jessica Yubas a Digital Nomad-turned-Location Independent Expat who has been based in Lisbon for two and a half years and counting – ever since arriving there on Nomad Cruise IV. She is an active member of the Lisbon Digital Nomads community and Portugal "Pro."
Follow her on Instagram to see Lisbon and Portugal-related content, as well as content from her travels to 50+ other countries.
5. BARCELONA – Spain
Barcelona is currently, the 4th most visited city in Europe and definitely in top 3 most visited among the digital nomad cities.
Very popular in the spring & summer due to its weather, beaches, events, festivals, and cool vibes.
From Barcelona, you can also do amazing daily trips to mountains or other beach towns in the Catalunya region.
Barcelona is the city of freelancers and creatives with more than 300 coworking spaces. Sounds a lot? Yes, BARCELONA is n.1 in the number of coworking spaces per city in the world.
There are plenty of networking events and various communities for freelancers, digital nomads, and ex-pats where you can meet like-minded people and make some friends to hang out with.
---
By: Peter Chodelka, a digital nomad & entrepreneur from Slovakia. He is a founder of Affial.com, one of the most popular affiliate platforms in Slovakia and Czechia.
6. UBUD – Bali
Ubud is a not so hidden gem anymore, located in the middle of the Islands of the Gods, Bali where many Digital Nomads, entrepreneurs, travelers, and yogis visit all year round.
Ubud meaning "medicine, holy medicine", attracts the curious soul searchers who are willing to dig deeper into the unknown and redefine their experience of life.
It's often said that you know if Ubud is calling you and if that's the case you most certainly will find the magic you are looking for. There are plenty of events, experiences, retreats, co-working and co-living places to join, the two most exciting events coming up in 2020 will be
Bali Spirit festival and Freedom X Fest
.
---
By:
I'm Estela Kun, a Freedom-preneur, founder of Freedom Experience and host of virtual and live events and education about the freedom lifestyle. I lived in 8 countries in the past 15 years and traveled many more, while became an independent freelancer, digital nomad and eventually a freedom-preneur.
Tip:
once in Ubud, definitely check out the 1st coworking space in Bali,
HUBUD!
It's the biggest nomad hub in the area.
7. BUDAPEST – Hungary
This beautiful gem it's a mecca of digital nomads in Eastern Europe.
During the spring and summer, there are always plenty of nomads from all over the world and the community is very active. You can find events & meetups almost every day.
From Budapest, you can do many different weekend trips and discover cities like Bratislava, Kosice, Vienna, Brno or Prague. You can reach them within a few hours by train or bus.
Budapest it's quite affordable and long term rentals can be quite cheap.
Check out this: Digital Nomad Budapest Guide for more details 😉
8. MEXICO CITY – Mexico
Mexico is one of the best places for digital nomads to live and work in. This huge metropolitan city which is home to over 8.85 million people is very digitally savvy with many restaurants, co workspaces, cafes, bars and coffee shops set up directly to visitors and guests to access free data wifi and other digital services geared to online workers.
Mexico City is also a very affordable city to live in compared to other international capitals and home to many ex-pats in their neighborhoods called Colonias of which the most popular and digitally wired include: Roma, Condesa, Coyoacan and the more ex-pat digital-savvy favorite at Polanco. Most hotel rates in these hip areas can range from $60 to $100 per night and cheaper weekly to monthly rates for longer stays. But you can get even cheaper rates in the many other non-hip Colonias for affordable stays in CDMX as Mexico city is called.
You'll love staying in CDMX or Mexico City for brief stays or even longer if you use the city as a base to explore around the region and set up your digital stay here.
---
9. LAS PALMAS – Spain
Las Palmas de Gran Canaria might be an unassuming little island in the Atlantic ocean, just off the coast of Africa, but it is also one of the most bustling and lively digital nomad hubs of Europe.
With perfect weather all year round, with temperatures never dropping below 20 degrees, Las Palmas is the perfect laidback nomad destination, boasting an active remote work community, regular events, meetups, and multiple coworking spaces.
---
By: Nacho Rodriguez, a founder of local coworking space CoworkingC and digital nomad conference Nomad City that happens annually in the city.
10. PORTO – Portugal
Although Lisbon has quickly become one of the world's top destinations for digital nomads, Portugal's second city, Porto, has been mistakenly overlooked.
With warm summers and lower rents than Lisbon, Porto is a great alternative to the increasingly overcrowded capital city. It has plenty of great coworking spaces like Porto i/o, countless comfortable cafes to work from, as well as a growing international scene – including a monthly meetup for digital nomads.
---
By: James Cave has been a digital nomad for more than 7 years, having spent time living all over Europe and traveling throughout Asia and North America.
He has written extensively about Portugal's digital nomad scene, including a guide to the various coworking spaces in Porto.
11. BUENOS AIRES – Argentina
Buenos Aires is ideal for digital nomads. Culture, nightlife and an active ex-pat community are all alluring but the cost of living for those working abroad seals the deal.
Those earning a salary in dollars or euros can live very comfortably for relatively little. Set up shop in one of the city's countless cafes or co-working spaces popping up all over town. The most popular is, of course, WeWork, but there are many locally run co-working offices available. An active ex-pat community on Facebook (BA Expat Hub) makes it easy to connect with fellow digital nomads. For digital nomads, living in Buenos Aires is an easy decision.
---
By: Erin Mushaway is an ex-pat from the United States who has spent the past ten years in Buenos Aires. She blogs about her life and travels in Argentina and abroad.
12. TENERIFE – Spain
Tenerife is the island of eternal spring and it is well-known for its diversity – from the highest mountain of Spain and unbelievable trekking paths to one of the best scuba diving, rock climbing, cycling, and surfing spots- Tenerife has it all. Many digital nomads love the fact that on the same day they can be at the beach and the mountain surrounded by nature and spectacular views, and still have time to work!
At the same time, Tenerife offers all the great things a big city has such as high-speed internet, fabulous restaurants, and great shows but with a much higher quality of life and lower living costs. There is also a vibrant community of remote workers and plenty of activities are organized around the island.
Facebook groups:
Meetup group: Tenerife Digital Nomads
---
By: Elsa Rodriguez is an independent consultant with 10 years of varied international professional experience in the fields of sustainable tourism, access to finance for MSMEs and international development.
She is currently the lead advisor of Tenerife Work & Play, an initiative created to support remote workers, digital nomads and startups find an easy path to establish themselves on the island of Tenerife.
13. PLAYA DEL CARMEN – Mexico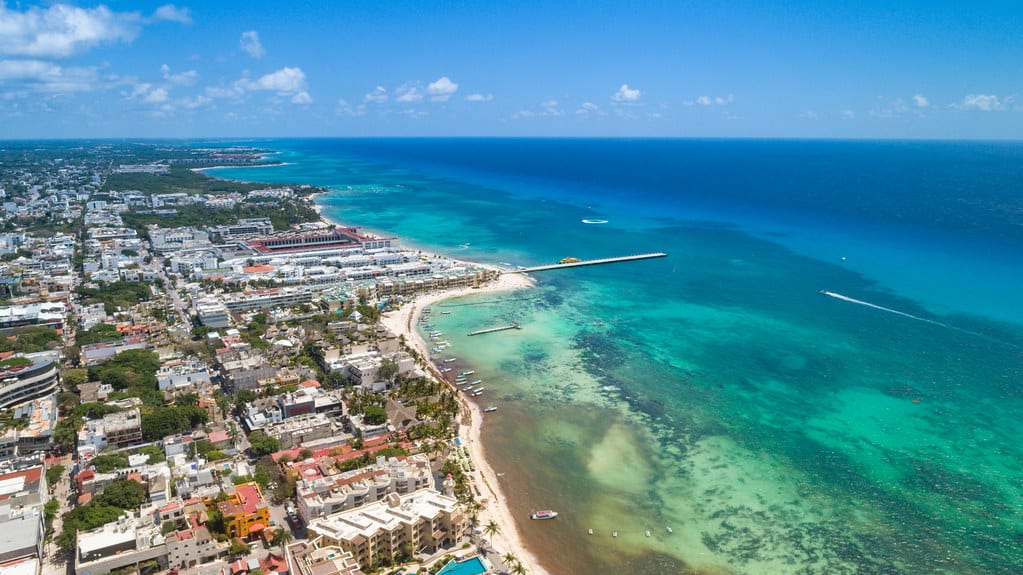 One of the most favorite places for vacation in Mexico is Playa del Carmen and definitely one of the TOP digital nomad cities! Located on the Yucatan Peninsula, this coastal resort town is beautiful and fun.
With warm weather throughout the year, the Caribbean beach is always perfect. There is a nice walking path along the beach and through the town, with its many shops and restaurants. There is always something to do in Playa del Carmen.
The cost of living is low and you can find apartments or rooms in gated communities for added security. Good food is plentiful and cheap. The wifi is great and some say it's the fastest they've experienced in Latin America!
There are many coffee shops that Digital Nomads work in, but for those who like to have a little more community, try a coworking space like Bunker. Make sure to join the Playa de Carmen "Mexpats" Facebook Group.
---
By: Whitney Kjeldsen, Designs for Travel. Whitney is a top travel blogger and has traveled to over 45 countries so far. Her goal is to help people experience the best of world travel by providing itineraries, tips, and packing guides.
14. CAPE TOWN – South Africa
Cape Town is a very affordable destination with a European vibe which means you can expect international foods, world-class wines, and a great coffee shop culture.
Its Mediterranean climate means you can expect very good weather from November to May and a very mild winter. If you like outdoor activities you will never get bored as the city is surrounded by mountains and world-class beaches. This in addition to the low cost of living means you can have a very high quality of life.
If you work for European clients and want to escape the winter Cape Town is perfect with no time difference so you don't have to upset your schedule, which is just one of the many reasons the city is attracting startups & digital nomads from around the world.
To connect with local Digital Nomads join Cape Town CoWorking Days and when you want to explore more of South Africa with like-minded Digital Nomads take a look at CoWorking Safari.
---
By:
I am

Simon

Lewis and I call Cape Town home but I have been working remotely for international clients for over 10 years.
15. TBILISI – Georgia
With costs of living matching or sometimes even lower than living in Thailand, a 1 year visa on arrival for most countries, great nature, good infrastructure, friendly people and fantastic food and wine, Tbilisi Georgia is going to be the next digital nomad hotspot, especially for those who aren't residents of the EU.
As the visa situation gets harder and harder in Thailand to stay long term, I can see a lot of digital nomads moving to and living in Tbilisi either year-round or at least for the 7-8 months of the year when the weather is good.
Places like Thailand are still cheaper if you want to live in a studio apartment, eat local street food, and skip western luxuries. But if you're like me and like to stay in nicer apartments with separate living rooms, large couches, kitchens, and flat-screen TVs while still being in the walkable city center, then it's actually cheaper to live in Tbilisi, even compared to Bangkok. When you factor in eating steaks, salads, cheese, bread, and drinking both wine and craft beer, then you'll be surprised that the
costs of living in Tbilisi
are actually lower than even Chiang Mai.
There's also a growing community of digital nomads traveling through and even basing themselves in Tbilisi long term. Join the
Tbilisi Digital Nomads Facebook group
to get connected with meetups and other people while you're there.
---
By:
Johnny FD is a location independent entrepreneur who has scoured the world to find and live in the best up and coming digital nomad hotspots. He is the host of the Travel Like a Boss Podcast and can be found on his blog at JohnnyFD.com
16. TAGHAZOUT – Morocco
Taghazout in Morocco is a great town for Digital Nomads. Many choose to come and stay in this lazy little surf town for a few months at a time as all year round the weather is great, the food is good, it's cheap and it's the perfect place to learn to surf. If surfing isn't your thing then you can also join Berber Fit, fitness classes that are run on the beautiful beach.
The town even has a great co-working space "SunDesk" with a great community and fast wifi that anyone who works online needs. You can choose to stay and work there or just use the co-working space for the day. You can also join the Taghazout Nomads facebook page.
---
Bio: I am Clare, originally from the UK, I have been traveling the world for the past 7 years and now spending most of my time living in a little surf town called Huanchaco in Peru. I have been writing on ilive4travel for the past 3 years.
17. BANSKO – Bulgaria
Bansko is a rural mountain resort in Bulgaria. In the winter it is one of the best ski resorts of the Balkans while in the summer it offers a relaxed lifestyle in a 1000 year historic village.
The growing community of 100+ digital nomads that are members year-round at Coworking Bansko ensures that there are always like-minded people around to have fun, start new projects and help each other to become the best version of themselves.
The 10% flat income tax combined with €150 apartment rentals and a low cost of living keeps attracting more and more nomads to make Bansko their base.
---
By: Matthias Zeitler is the founder of Coworking Bansko and is currently working on organizing the Bansko Nomad Fest, a week-long celebration of the nomad lifestyle in July 2020.
18. PLOVDIV – Bulgaria
Plovdiv is highly rated with digital nomads because Bulgaria's internet is lighting fast (and super cheap). Bulgaria is also conveniently located outside of the Schengen Zone, so Americans can come for 90 days out of every 180 days, making it one of the easiest places for Americans to spend significant time in while hopping around Europe.
The cost of living here is quite low. Modern, furnished apartments can be found for as low as 500 Bulgarian leva (about 250 Euros). You'll also find that it's easy to stay connected to the rest of Europe with cheap flights headed directly into
Plovdiv
Airport via Wizzair.
Digital Nomads love exploring the city's arts scene, with hipster cafes lining the Kapana neighborhood. There are tons of
things to do in

Plovdiv
, and the city is serving as the European Capital of Culture for 2019.
---
19. YEREVAN – Armenia
Yerevan, the capital of Armenia, is a great place to set up camp for digital nomads. Not only is the country highly connected when it comes to all things web, but it's also a growing nation in terms of coding and programming. Although the winters are quite cold, the rest of the year, you can expect beautiful warm weather!
Another great reason to work from here is that living expenses are quite low. Depending on how long you stay, you can expect to pay between $250-500 for a big, centrally located apartment, including all amenities. The food in Armenia is delicious and inexpensive. A typical wrap goes for $2-5 depending on what you put in it. Groceries for two will set you back about $20-30 a week. Plus, there is a booming nightlife and wine scene, if you need to take a break from work.
Great resources for ex-pats would be the RepatArmenia website, Expats in Armenia and Armenian Repatriates Network Facebook groups or a 2-weeks Armenia travel guide!
---
By: Carine and Derek are a travel couple from Canada. They spend half the year traveling the world and the other half exploring their home province of Quebec. Their goal is to inspire everyone to chase their wildest dreams and to leave a positive impact on Earth.
20. TARIFA – Spain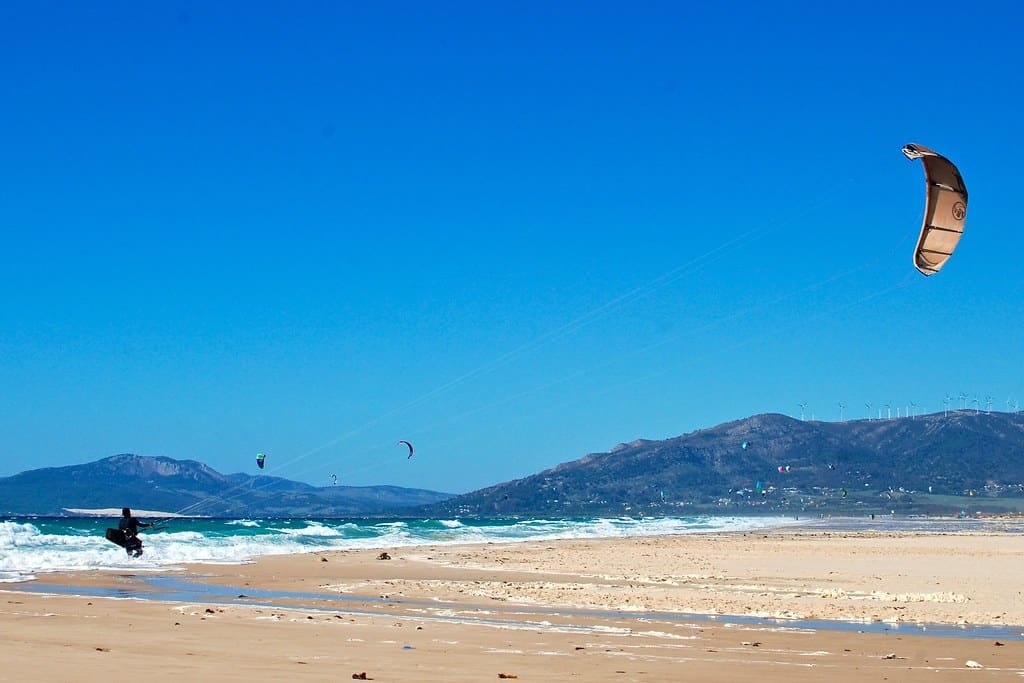 Tarifa is a little town in the South of Spain that is loved by digital nomads! The community is quite small and very seasonal by already established for a few years. The easiest way to find your tribe is to check out La Cocotera Hostels & Coworking!
The city center has an amazing lively vibe every summer evening with a few crowded restaurants and bars. During the day you definitely wanna hit some of the beach bars and cafes.
Most of the people come for kitesurfing or windsurfing since Tarifa offers some of the best wind conditions. So if that's something you are passionate about or you wanna try it, then Tarifa is your spot!
21. SANTA MARTA – Colombia
Photo Credit: tayronatourcolombia.com
When looking for a digital nomad city with lots of sea sand and sun, Santa Marta in Colombia could be the place you've been missing.
Located on the Caribbean coast you can be enjoying life on the coast within minutes from your workspace. From downtown Santa Marta you can get a speedy internet connection down at the
Flamingo Co-working space
and even get yourself a comfy room with a desk for the night.
With growing communities like
CocoHub
, the Digital nomad wave is growing in Santa Marta and an attractive place to be closer to nature.
---
By:
Daniel James from Layer Culture is a cultural traveler from the United Kingdom. Daniel dedicates his time to learning Spanish whilst exploring and learning about life in Latin America.
TIP: for the soft landing, check out some of the Hostels in Santa Marta for the first few nights!
22. KRAKOW – Poland
Krakow is an upcoming digital nomad city with great potential! It's quite affordable, very beautiful, and has an amazing vibe during the summer. Check out Krakow cost of living vlog by nomad couple Daneger & Stacey.
Digital nomad scene is still quite small but you can find plenty of coworking spaces, startup & freelance hubs and international expat communities.
What's amazing, you can reach beautiful mountains "Tatras" that Poland shares with Slovakia within 1.5 hours by car.
23. PRAGUE – Czechia
Prague has it all. Fast internet, reliable cost of living and food, lots of events for everyone, coworking spaces, culture, fun, great and cheap beer, beautiful nature. Being located in the middle of Europe, the city offers many cheap flights, train or bus options to other parts of Europe.
The best area with lots of coworking spaces and cafes to work from is Prague 2/Vinohrady. Not as touristy as Prague 1 with an interesting mix of locals and foreigners, which gives it a special vibe. If you are looking for a perfect location for coworking/co-living in the heart of Vinohrady, it is a Nomadscool Coffice. It is a new European addition to the global Nomadscool project, connecting digital nomads all over the world, offering coworking/co-living exchange also in Brazil and Argentina.
---
By: Martín Miguel is an entrepreneur and Travel PR focused on Accommodation and Travel Industry based in Prague, Brazil, and Argentina. More info on Linkedin| Facebook
24. JERICOACOARA – Brazil
Jericoacoara is a tropical watersports paradise for windsurfing, surf, SUP and kitesurfs, and especially famous for kitesurfing downwind from/to nearby spots like Prea, Guriu, Tatajuba, or super long downwind along the 600km of perfectly kiteble coast. The windy season is from July to January, and it literally means 30C and 30knots every day.
As the socializing happens over sports, there are still no coworking spaces, but there is fiber optic internet and 4G coverage and many digital nomads work from Airbnbs, hostels, beach bars. Kitesurf community provides access to diverse networking, and the reliable wind makes it super easy to organize your working day (you don't wait for the wind, the wind waits for you!).
There is a FB group for digital nomadsand an annual event in nearby Cumbuco that brings together kitesurfers and entrepreneurs interested in environmental sustainability.
---
By:Tijana Momirov. Tijana's been a wind chaser and digital nomad since 2010. With her StartupSetup she helps tech founders set up their remote startups and launch software in a super lean & agile way with remote experts.
25. PENANG – Malaysia
A UNESCO-inscribed tropical island, Penang offers the best of century-old heritage and modern lifestyle. Set around the 56-story high KOMTAR George Town has beautiful colonial architecture refurbished to cozy boutique hotels and swanky cafes where it's easy for digital nomads to both work and relax. The cost of living is pretty low, especially when abandoning western-styled comforts, and it's hot year-round.
There are many co-working spaces such as @Cat and Scoopoint, set in walking distance from the sea and the old Chinese clan jetties on Pengkalan Weld, offering fast internet connections and comfortable tables for as little as USD5 per day.
At last, don't forget the FB page Penang Digital Nomads, an established platform to meet other nomads and ask questions.
---
Bio: Marco Ferrarese is a well-established travel writer and journalist based in Penang. He covers adventure travel in Asia for some of the world's largest travel publishers and has written about Penang for a decade.
26. HO CHI MINH – Vietnam
Ho Chi Minh City is one of the best digital nomad destinations for many reasons. The most popular reason nomads like HCMC so much is because the cost of living is incredibly low. You can rent an apartment for as little as $400 per month on Airbnb.
Food and public transportation are also very cheap. Ho Chi Minh is also home to many coworking spaces- but one of the best coworking spaces that you should check out is The Hive If you are looking to network with other digital nomads in HCMC, we would suggest joining this Saigon Digital Nomads Facebook group to learn from other nomads everything about living and working in the city!
---
By: Ron and Jess started their digital nomad career back in 2014 when they moved to South Korea to be English teachers. They now run their own travel blog and digital marketing business that allows them to live and work in cities all over the world.
27. HOI AN – Vietnam
Hoi An, Vietnam's picturesque Ancient Town, plus a wide variety of great restaurants, cafes, and traditional cultural experiences draw digital nomads from around the world. While tourism has begun to overwhelm certain parts of Hoi An, there are many places where digital nomads can enjoy a good life away from the crowds.
Some unique benefits of living in Hoi An include nearby beaches; easy access to made-to-order, custom clothing at affordable prices; and massages starting at $12 US for one hour.
Hub Hoi An
, near the rice fields, is a great little co-working space to find community. Large supermarkets, movie theaters, and the international airport can be found in Da Nang, just 40 minutes away.
The ex-pat community in Hoi An has various social events, volunteer outings, and an active
Facebook group
to stay connected. But it's also easy to mingle amidst the daily life of locals, be it shopping at markets, eating at family-owned restaurants, or participating in local celebrations and events.
---
BIO:
Jedd and Michelle of Intentional Travelers returned to Vietnam four years in a row since their first visit. Each time they stay in Hoi An longer than before. After serving in the Peace Corps together, they became nomadic freelancers in 2014, offering web services, event support, and travel consulting.
28. KYIV – Ukraine
Kyiv, the capital of Ukraine, in my opinion, is one of the best cities for digital nomads and everyone else who works remotely. And there are many reasons for that.
First of all, Kyiv is a very affordable city. Everything from apartment rentals to restaurants, activities, and transportation is cheap. Here, you can live pretty comfortably under $1000 per month or like a "king" or "queen" if your budget is higher. Also, it has very fast internet, great tech scene and lots of cool places where you can work from. Choose to work either at stylish coworking spaces, quirky cafe or unique coffee shop.
Two of my favorite coworking areas are those of Creative Quarters (one located on Yaroslavskaya St, 58 and another one on Sportivnaya St, 1a) and Chasopys (Lva Tolstoho St, 3, 1st floor).
Another thing, Kyiv is in the middle of Europe. If you feel like taking a break and going somewhere to a new place, a quick flight can get you there just in a few hours.
---
BIO: Anya Kay is a digital nomad who is originally from Ukraine. Today, she is running a slow travel blog where she writes about life and travel in Ukraine, her knowledge of hospitality business, online entrepreneurship and how to become an ex-pat through finding jobs abroad.
29. PUERTO VIEJO DE TALAMANCA – Costa Rica
Puerto Viejo de Talamanca is located on the Caribbean coast of Costa Rica. It's the perfect location for the adventurous digital nomads that are looking for something different. Whether you're a nature lover or a surf addict, Puerto Viejo will charm you.
In the center of town, you'll find Puerto&Co, a coworking space, and a vegan cafe. You can work while having a view of the jungle. And if you feel like going for a dip, the ocean is only 50 meters away.
Tip: You can ditch your alarm clock as you'll be woken up at 5 am by howler monkeys. The perfect way to start the day.
Check the vibes of the Puerto&Co coworking and Puerto Viejo in this video:
---
Bio: Thomas Kanze decided to move to Costa Rica with his family in early 2018 to allow his kids to grow surrounded by nature and not concrete. He created Nomadific, a resource for Digital Nomads and is the co-owner of Puerto&Co.
30. ODESSA – Ukraine
You might have heard about Odessa as a summer destination somewhere in Eastern Europe. But what if we tell you that the Ukrainian port city is also a vibrant hub for those who've embraced a digital nomad lifestyle?
Odessa is a multi-cultural center where you'll be able to network with ex-pats in numerous cafes dotted around the city. Get ready for very affordable rents ($5 USD/night or $300 USD/month), fresh local food and visually incredible architecture.
---
31. SARANDA – Albania
Saranda is a small seaside city in the south of Albania which is perfect for digital nomads. The city receives over 320 days of sunshine a year and has some of the fastest internet speeds, better than what I have experienced in New Zealand!
Not only that but it's extremely affordable. An apartment in Saranda can cost as little as €150 per month and an unlimited internet plan is around €16 per month. There's so much to do in and around Saranda when you have a little time off the laptop too. All in all Saranda, Albania has a lot to offer the modern-day digital nomad."
---
BIO: "I'm Anita and I'm a huge fan of the Balkans, so much so, that I moved to Saranda, Albania over 2 years ago now. The Balkans is such a fast-growing region and information is limited so I decided to start Travelling Balkans to help anyone planning a trip to this incredible region.
32. BELGRADE – Serbia
Belgrade is not on the radar of most digital nomads, and yet a stay in the Serbian capital has plenty of advantages for those pursuing a nomadic lifestyle.
Firstly, it's one of the cheapest capital cities in Europe. And for American nomads who want to stay in Europe long-term, Serbia has the added advantage of not being in the Schengen area, even though it's possible to visit the country on a Schengen visa. This means that once your three months in Schengen is up, you could hang out in Belgrade for three months before heading back for another stint in Schengen.
Internet here is reliable, and phone plans with generous data packages go for as little at US$ 10 per month. Impact Hub is probably the best of Serbia's co-working spaces, although there are several others you could try out.
---
33. GOA, India
Digital nomads, musicians, yoga teachers, and other long-term travelers head to Goa for at least a couple of weeks or a few months.
But what brings so many nomads to Goa?
Goa is India's one of those rare coastal cosmopolitan towns where the climate is moderate and the cost of living suits the broke backpacker as well as the online entrepreneurs. If you want to slow down for a while or work online, Goa is easy to fit in for the city already has many other nomads to hang out with. You might want to check out this FB group of nomads in Goa.
Goa is more special than any other digital nomad city because of its gorgeous beaches, delicious seafood, and an endless number of things to do all-year-around.
---
By:Priyanka Gupta is an itinerant travel blogger from India, and she writes her best life ideas and travel stories on her blog On My Canvas. You can follow Priyanka on Instagram to get live updates on her journey.
34. SEOUL – South Korea
Seoul is currently one of the most underrated destinations for digital nomads. Often compared to New York City, Seoul has well-connected & cheap public transportation, cafes on every block, and speedy public wifi.
The city is culturally grounded but diverse, with generous visas for visitors and an active ex-pat scene from around the world. Dorm beds downtown start as low as $12USD a night, while street food will run you $3-5USD a meal and a prepaid sim card costs $16USD a month.
There are lots of ex-pat groups on Facebook, where you'll find most of the digital nomads in Seoul.
---
By:
Max Gandy travels the world researching and recording stories about chocolate & cacao. She's a certified chocolate maker, freelance writer, award-winning blogger at Dame Cacao, and host of the podcast 'Chocolate On The Road.'
35. SINGAPORE
Singaporeis unlikely to be the cheapest city in the world for digital nomads, but it has a few benefits that make it a great option.
Firstly, you can expect to be connected to high-speed internet 24/7 thanks to Singapore having one of the fastest and most reliable internet connections in the world. Getting around is fast and affordable on the MRT which costs about $1 per ride and can take you quickly to anywhere in the city.
Food is incredibly cheap at the countless Hawker Centres around the city, plus there are trendy cafes with air-conditioning in most of the shopping malls – which are perfect for getting some work done as a digital nomad.
---
Bio:
Delilah Hart is a

Singaporean

traveler, writer, and blogger from New Zealand. You can follow her at Our Travel Mix.
TIP:
If accommodation in Singapore is out of your budget, consider hostels!
36. TAIPEI – Taiwan
Taipei is a city often overlooked by digital nomads, but it's a fantastic choice. First, it is one of the best cities in THE WORLD for food lovers, and home to some of the best night markets in SE Asia.
It is also a very walkable city, coupled with affordable and easy public transportation – both withing Taipei and all around the island. Taiwan is the first Asian country to fully legalize gay marriage, so it's a great city for LGBTQ+ nomads!
With a multitude of cafes, libraries, and coworking spaces, digital nomads have no problem staying connected in this technology innovative country. Plus, combined with great nightlife and literally the best boba I've ever had in my life (I mean, where do you think boba originated??), Taipei offers an easy atmosphere to catch up with friends in the afternoon or dance the night away on the weekends.
---
By:
Kay Rodriguez is a fiction author and travel blogger that focuses on making travel more relatable, inclusive, and accessible. She founded a non-profit, The Global Dreamers Foundation, that sponsors first travel experiences for young adults.
37. KOH PHANGAN, Thailand
A great location for the health and wellness-geared digital nomads, the north of the island of Koh Phangan, Thailand is a haven for yoga, vegan food and anything pertaining to alternative health.
The "
Koh Phangan Conscious Community
" Facebook group is a bit of a tongue in cheek place where you must take some and leave some, but you will find answers to all of your burning questions for anything related to ex-pat living.
---
By:
Amelie is a Canadian Blogger based in Berlin, Germany. Her blog Mostly Amélie is about wellness and yoga travel, vegan destinations and all things pertaining to Berlin, her adoptive city.
CLOSING
Big thanks to all travel bloggers and digital nomads participating in this article.