Ecuador already opened for tourism in August and visitors from all countries are allowed to enter! They need to bring proof of the negative COVID test take within 10 days before departure.
COVID-19 continues to shake and hurt the world with more than 25 million cases and an unprecedented and, in some cases, devastating economic impact.
Nevertheless, some countries have already started to stabilize the situation within their territories while waiting for a vaccine or treatment that would allow us all to fully retake our passion for traveling.
Ecuador has been one of the hardest-hit countries in South America, with an economic loss estimated at US 16,000 million. In an attempt to help the economy bounce back, Ecuador has created "Te lo Prometo Ecuador ", an ambitious national campaign centered on the new sort of "biosafe tourism" reactivation that promises to motivate people to travel and rediscover the country. But, first things first, where does the country stand regarding COVID-19?
Ecuador Reopening – Latest Updates
As of October 15th, Ecuador has 149,083 confirmed COVID cases and 8011 deaths caused by the virus. (Source: Wikipedia)
As of September 19th, borders remain open to all countries but the COVID-19 test is required!
Ecuador has 124,129 total cases of COVID and 11,044 deaths caused by the virus. Daily rates are around 1500-2000 new cases which quite high and slightly growing in the last 7 days.
RELATED:
– Colombia Gradually Reopening Borders
– Peru Reopening Border – All You Need to Know
– List of Countries Opened to US citizens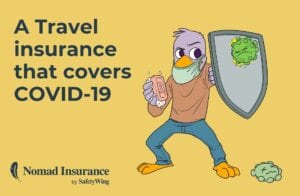 Which airlines are operating flights to Ecuador during pandemic?
Flights to Quito:
Madrid operated by Air Europa and Iberia

Panama City operated by Copa

Bogota operated by Avianca

Lima operated by Latam

Mexico City operated by Aeromexico

Miami operated by JetBlue and American

Houston operated by United

etc.
Arriving in Ecuador – Restrictions and security measures for international visitors
As in most countries that are reopening their borders to tourism, Ecuador demands visitors to bring proof of a negative COVID-19 PCR test result taken within 10 days before arrival and wear a face mask.
Visitors will also be checked upon entering but as long as they do not show any symptoms that may alert the medical staff, entrance will be granted and no quarantine will be needed.
If the traveler, however, does not bring the test results or if they have symptoms related to COVID-19 such as fever, dry cough, severe sore throat, or rapid breathing, they must immediately take a test, and quarantine for 14 days in an accommodation authorized by the government, all at their own expense.
As soon as they get a negative result, they can resume their trip.
On August 26, 2020, the Minister of Government, María Paula Romo, reportedly informed that once the state of emergency is over, (around September 12 or 13), "exceptional measures such as curfews or restrictions on the right to free association will be over and […] the country will enter into another type of controls mostly relying on citizens' responsibility and self-care."
Are Galapagos Islands open for tourists?
Considered one of the must-visit world's destinations for being the place where Charles Darwin found the inspiration to write "On the origin of species", Galapagos Islands gather a diversity of animals and plants found nowhere else on the planet as well as, up until recently, a constant flow of visitors.
Due to its amazingly particular and fragile ecosystem conditions, we have good news and bad news to people expecting to cross this destination off their bucket list.
The good news is that this national park has actually been open to tourism since July, the bad news is, however, that the Ecuadorian National Government requires visitors to provide proof of a negative COVID-19 PCR test taken within 96 hours before arrival.
In order to visit these islands, we strongly recommend you to check with your travel advisor for new requirements since those may change with little to no prior notice.
COVID-19 in Ecuador – Current situation
On August 31st, the Ecuadorian Ministry of Health reported 103,950 total confirmed cases, 80,264 cases of recovered patients, 879 hospitalized but in stable condition, and 357 still in ICU.
Although the coronavirus continues to be a matter of local concern, the current situation is far from the terrible death toll figures and painful images that made the international news a few months ago. With some provinces (States) more affected than others, tourism and other economic activities have begun to gradually reactivate.
Protected parks and beaches already opened to tourists
Beaches
Dalinda Ramírez, Salinas' Municipal Commissioner, has pointed out that 6-people meetings on the Salinas beach (one of the hot spots for tourists in southern Ecuador) are now allowed but drinking alcohol is still forbidden.
Similar restrictions are being applied to 40 other beaches that have recently opened in the provinces of Esmeraldas (13), Manabí (8), El Oro (2), Guayas (2), and Santa Elena. And yes, the internationally famous Montañita, Salinas, and Atacames are among them.
Protected parks
As reported by El Comercio newspaper, the National Emergency Operations Committee (COE) authorized the reopening of 13 protected areas in addition to 9 others that were already open. In order to achieve this safely, a biosafety protocol was approved and will be adapted to each region regarding their particular needs.
Additionally, as of August 28th, the restrictions to visit these 13 protected areas have been lifted for touristic activities such as "hiking, flora and fauna watching, mountaineering, and photography." Likewise, other ecological reserves such as El Ángel, Antisana, Manglares Cayapas Mataje, Arenillas, and the Manglares de Muisne and the wildlife refuges named Río Esmeraldas Estuary, El Morro, Pacoche are now open to visitors.
What are general recommendations and national restrictions in Ecuador?
In addition to the ones above, the Ministry of Tourism website also displays a list of recommendations and restrictions to take into account while visiting the country.
Recommendations:
Verify with your embassy all the legal and health documents required to enter the country.
Always keep an ID handy.
Keep in touch regularly with family and friends back home.
Purchase travel insurance (not mandatory).
In case of showing any COVID-19 symptoms, call 117 for medical attention.
In case of emergencies, call 911.
National restrictions:
Mass events such as music concerts or sporting events are not permitted.
It is very important to keep in mind that some areas of Ecuador are still in curfew or have interstate or even intercity travel restrictions. Lawbreakers can face fines. For further information check https://www.gestionderiesgos.gob.ec/resoluciones-coe/