The cultural beauty of Japan is a sight to see not just for its array of colors but also for the mesmerizing architecture and the natural scenery surrounding the land.
Tokyo is one of the best sources for finding a mixture of traditional as well as modern customs of the people.
Consider taking one of Tokyo's free walking tours to learn about this amazing city and make the best out of your trip!
A trip to Tokyo is one you will remember forever that is why we have listed down the best hostels in Tokyo for those budget-savvy backpackers.
Toco Tokyo Heritage Hostel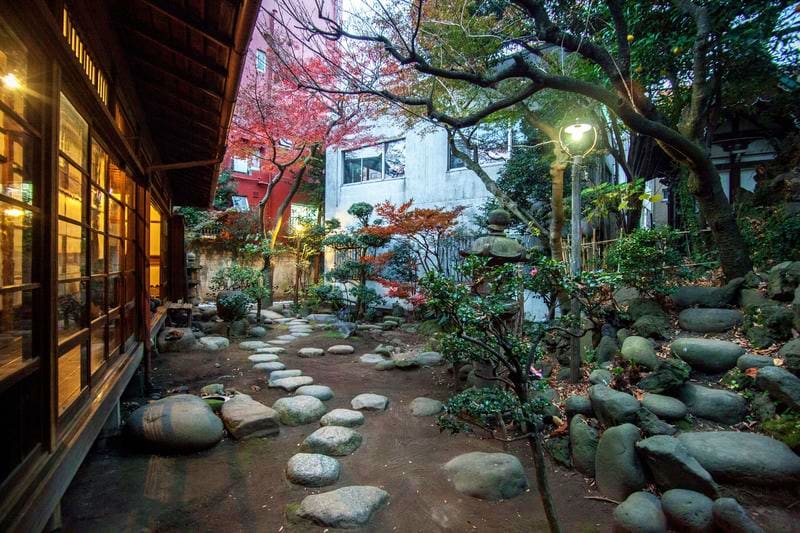 HostelWorld (*9.5) Booking.com (*8.9) Map Starts at ($31) for 8 bed-dorm
**prices are shown for weekdays in Mid-season (May)
Have you ever wanted to stay in one of the traditional Japanese houses without breaking the bank? Well, now you can. Toco Tokyo is nestled in a house built in 1920 – such buildings are nowadays rare to be found in the city center.
It features stylish private rooms and dorms. However, the main draw of Toco Tokyo is definitely its Japanese garden full of greenery, stones from Mount Fuji, and a koi pond. There is also a bar on-site where many locals hang out at.
What's more, this hostel is set in an area well-connected to other parts of the city. Iriya station on the Hibiya line is only about a minute away, while Uguisudani station on the Yamanote line, the biggest and therefore most useful line, is about 7 minutes away.
Sakura Hostel Asakusa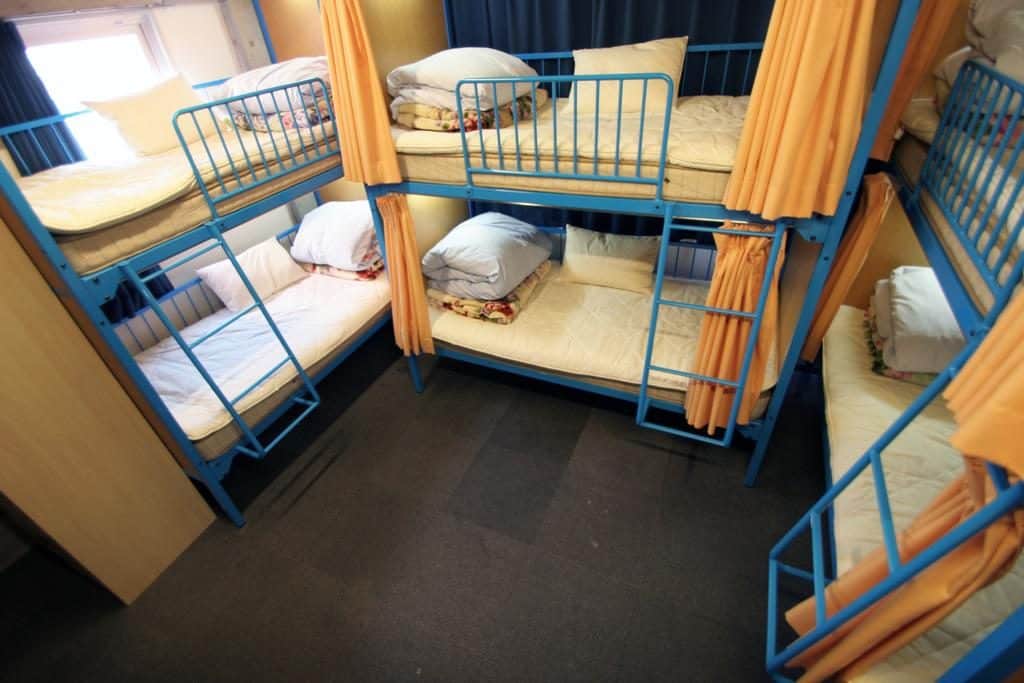 HostelWorld (*9.0) Booking.com (*8.2) Map Starts at ($18) for 8 bed-dorm
**prices are shown for weekdays in Mid-season (May)
Asakusa has subway lines running to almost every location in Tokyo making it easy for travelers to access different sights and monuments that are the pride of the city. Not only that but the hostel itself is minutes away from shrines, temples, shopping arcades, and all that is a cultural hub for tourists to explore.
Furthermore, the staff is exceptional with its customer service and multilingual; speaking English, Korean, as well as Japanese, so you don't have to worry about any language barriers.
If that's not enough, it has an internet café among many other features; not to mention entertainment planned for all guests to mingle, enjoy, and meet new people.
Plus, they have a late check-in and check-out time, so you are not rushing out early in the morning. Instead, you can have an all-you-can-eat breakfast buffet and take your sweet time before heading to your next destination.
When you are in Tokyo, the Sakura Hostel Asakusa is one you should try out.
CITAN Hostel
HostelWorld (*9.4) Booking.com (*9.1) Map Starts at ($23) for 8 bed-dorm
**prices are shown for weekdays in Mid-season (May)
It might not be in a convenient location, but the hostel has many subway lines near that give access to any of the tourist destinations across Tokyo.
The seven-story CITAN Hostel is also home to the famous coffee shop – The Berth Coffee, where you can enjoy the most delicious brews with mouth-watering aromas.
However, it doesn't just offer you your caffeine intake but also has a restaurant and bar in the basement. You can let go of your inhibitions and unwind after enjoying the natural and traditional beauty of Tokyo; not to mention, live music for low-key entertainment.
With its excellent Wi-Fi and the casual air of the café, the hostel is ideal for digital nomads out and about exploring new cultures.
Bunka Hostel
HostelWorld (*9.2) Booking.com (*8.9) Map Starts at ($32) for 32 bed-dorm
**prices are shown for weekdays in Mid-season (May)
If you're looking to escape the loud buzz of the city, then Bunka Hostel is what you need. A ways away from the city center, it is located in Asakusa, providing peace and tranquility to all types of travelers.
It offers mixed as well as female-only dormitories for the comfort of every individual. There are also bunk beds or private rooms for groups of travelers and families with kids above the age of 18.
The Bunka Hostel is your chance to move away from the party scene and enjoy life at a turtle's pace, living in the moment.
Furthermore, it is a relatively new establishment and gives you a peek into the modern architecture of Japan that is just as stunning and beautiful as the traditional inns or Bed 'N Breakfasts.
For an authentic Japanese experience, they also have a Japanese-style bar that the natives call Izakaya where you can find mouth-watering Japanese cuisines and the local-favorite sake. You can enjoy it mingling with other residents or basking in your own company at the Engawa – the Japanese Veranda.
---
Hop Step Inn
PERMANENTLY CLOSED
When you're traveling on a budget and need to save where you can, Hop Step Inn is where you stay without compromising on comfort, quality, and style. It provides you with all that you need for a comfortable stay as well as a chance to bask in the cultures and traditions of Tokyo.
The flower viewing festival is one of the most joyous occasions in the country in the spring season, and the cherry blossoms trees are a sight beyond words.
Hop Step Inn is near Asukayama Park which is well known for not just Cherry Blossom viewing but also autumn foliage. If you want to bathe in the beauty of Japan, cherry blossoms are one of the best places to start.
If you have a love for nature, then you'll like your stay at Hop Step Inn; if not for the super friendly staff and their excellent customer service.
But that's not where it ends…
The Hostel is also in the vicinity of the first-ever paper factory set up in Japan. If you are a history buff then not only will you find the factory intriguing but also learn about the history behind traditional Japanese papermaking via the Paper Museum.
Hop Step Inn is ideal for backpackers looking for adventure on a budget.
Backpackers hostel K's House Tokyo
PERMANENTLY CLOSED
This electrifying hostel is located in Kuramae and is only minutes away from the station, so it becomes very easy for travelers to reach this place. This hostel is known for its friendly staff and hospitality. They make sure you leave this place with a lot of memories of Tokyo.
They provide you with the feel of traditional and modern culture. This hostel was developed in 2006 on the concept of ''your home away from home'' and you will find every kind of comfortable environment when you're at this amazing hostel. They have a common room which allows you to socialize very easily. It is a perfect base for exploring Tokyo and the Asakusa area.
The rooms are fantastic. The sublime hostel has many options of rooms like dorms where a group of people can accommodate, twin rooms for siblings or friends, double rooms for partners or couples, and family rooms where your whole family can accommodate easily.
The facilities/services of this magnificent hostel include free city maps, free internet access, free parking, free Wi-Fi, free linens, towels, air conditioning, bicycle parking, book exchange, common room, hair dryers, hot showers, meeting rooms, outdoor terrace, safe deposit box, security lockers, self-Catering facilities, steam room, 24-hour reception, housekeeping, internet access, laundry facilities, luggage storage and so much more.
Guesthouse Fete
TEMPORARILY CLOSED
Backpackers have friends in every corner of the world. When you are meeting new people that you get along with in relatively unfamiliar locations, it is hard not to form bonds that transcend time and geographical distance.
Guesthouse Fete helps you form friendships and strengthen those bonds by organizing events and entertainment that break the ice between you and strangers.
From cultural exposure with the locals to casual hangouts at the café and bar lounge, there are tons of things for you to do to make your stay as memorable as possible.
Not only that but also the staff at the Guesthouse Fete is amiable and ready to lend a hand should you need it.
Uno Ueno
PERMANENTLY CLOSED
In the heart of Tokyo, Uno Ueno is another money-savvy hostel for backpackers. Travelers can rid their exhaustion in cozy rooms with professional but friendly staff waiting on them.
The Uno Ueno Hostel is at a prime location about an 8-minute walk from the Narita Airport and close to all the major tourist attractions including museums, parks, and more.
The comfy beds and quiet, homey atmosphere of the place provides a serene environment for relaxing after a day of enjoyment roaming the streets, exploring Tokyo.
You can stay out late relishing in the nightlife especially because the hostel has no curfew policy, and see the beauty of the city after the sun goes down.
Emblem Hostel Nishiarai
PERMANENTLY CLOSED
Meeting new people, new cultures, and traditions is the best part of backpacking, and Emblem Hostel allows you to do just that.
It is conveniently located close to all tourist attractions including shopping centers, the finest of restaurants, as well as train stations – with the closest being one minute away.
The Emblem Hostel offers you the chance to mingle with the locals, guests, or staff, as well as experience the customs of Tokyo both modern and traditional. It organizes events where not only do you get to interact with the people but also get a taste of the traditions of Japan. You can partake in Karate, or the art of Japanese tea ceremonies, sushi making or calligraphy, and more.
You can find accommodations for all age groups, whether you are a solo traveler or family on vacation. Best of all, it offers early check-in and late check-out so you can enjoy your breakfast in peace which happens around 7:30-9:30.
Besides its fantastic services, the staff there provides excellent customer service to ensure you enjoy your stay in comfort and style with fun at every corner.
Space Hostel Tokyo
PERMANENTLY CLOSED
Space hostel is one of the most stylish hostels in Tokyo. It is located in Iriya, near Asakusa, Ueno, Akihabara. This hostel is located at the ideal location as it attracts tourists, and it is only 2-4 minutes away from the station.
This place is a newly constructed hostel made in 2015 so everything used in its construction is modern and up to the mark. All the furniture used in this hostel is designed by the top craftsmen of Japan. This hostel is famous for its cleanliness, hospitality, and helpful and hardworking staff. You can do your payments in Japanese yen cash when you check in.
They have many options to select your rooms according to your requirements. The options include 4 bed-dorms which are shared rooms where all your family can stay easily. 8 beds dorm is a place for larger groups of family and friends. Dorms with 10 beds allow a very large group to stay easily without any problem. Other private rooms with 4, 8, and 10-bed options are also available for the family to assure their privacy.
The other facilities of the hostel include free city maps, free internet access, free parking, free Wi-Fi, free linen and towels, air conditioning, bicycle parking, book exchange, common room, hair dryers, hot showers, meeting rooms, outdoor terrace, safe deposit box, security lockers, self-Catering facilities, steam room, 24-hour reception, housekeeping, internet access, laundry facilities, luggage storage and so many more.
Final Thoughts
Backpackers usually have limited funds on hand, and all these hostels are pretty affordable for all budgets, but if you feel the need, you can always get coupons from PennySaviour for discounts.
So, now that you know your wallet-friendly options are you ready for your stay in Tokyo?