Vancouver might not be that old of a city, but what it lacks in age it makes up for in scenery. And, this is probably why more and more backpackers are opting to travel the city on foot and explore everything that it has to offer. The city really is a gem and has everything that you would ever want to see. Unfortunately, the only problem is that backpacking through Canada is by no means cheap and that is why most backpackers are choosing to stay in hostels. These hostels offer all the regular amenities at a discounted rate, but which ones are really the best ones worth checking out? Below, you will learn about some hostels where you can find cheap accommodations and meet some of the most interesting individuals that you will ever encounter in your life.
SameSun Hostel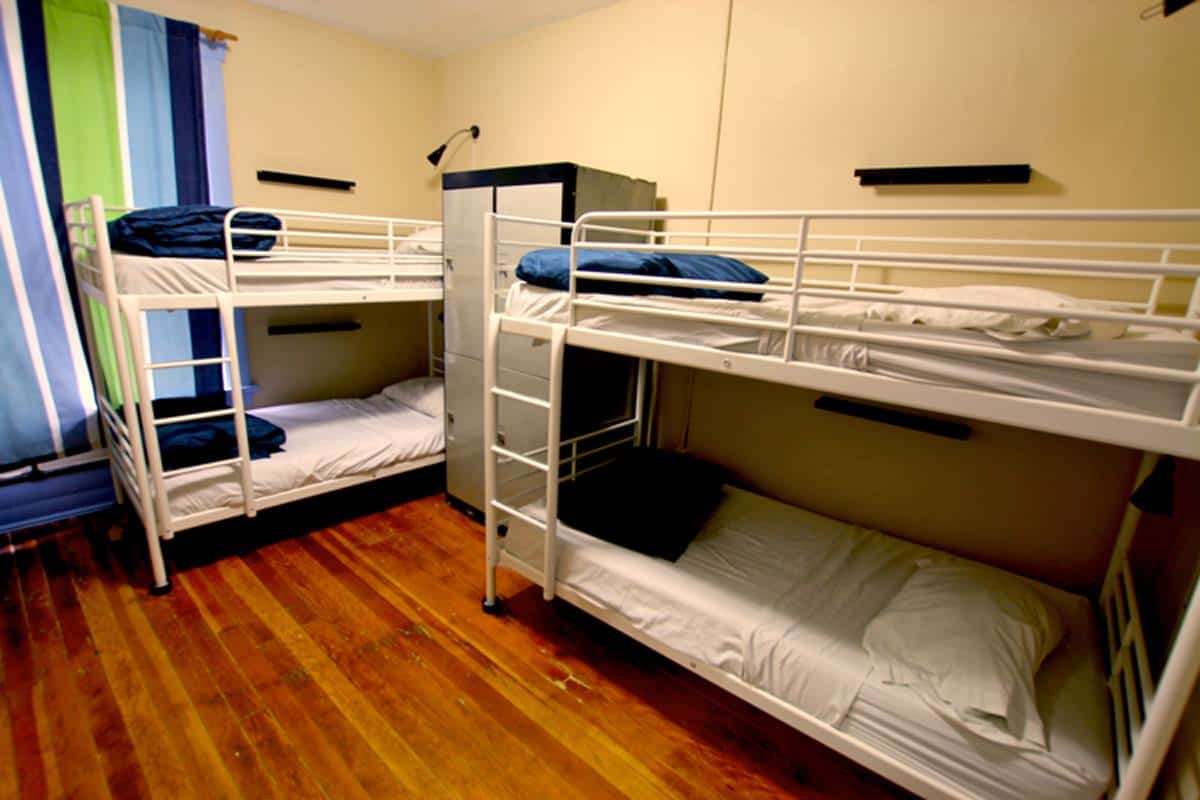 HostelWorld Booking.com G Maps
When you see everything that the SameSun Hostel has to offer, you will easily see why most backpacker is picking this as the number one hostel in Vancouver. It offers everything from free breakfast to a bar and restaurant. Hostel's bar is 100 person capacity and plays international sport and hosts bingo, trivia and games nights each week.
SameSun offers free/cheap city tours every day to see a variety of amazing places like Lynn Canyon, Lighthouse Park & Granville Island. The modern feel of the hostel makes it very accommodating and it offers a common room where guests can gather and discuss their travels and adventures. The tasty breakfast includes hearty muffins and bagels that will get your day started off right. When you combine all of this with the cleanliness and a variety of room types, you are truly looking one affordable and amazing hostel.
Hi Vancouver Central
HostelWorld Booking.com G Maps
Safe and secure is something that always must be considered in a hostel and you can guarantee that is what you are going to get when you stay at Hi Vancouver Central. The hostel is located right next to some of the most banging clubs, so if you are into the nightlife, you have to make it a point to check into the Hi Vancouver Central. While they only offer dorm style rooms, they are extremely affordable and do come with free and unlimited Wi-Fi, so you can always stay connected with your friends and family.
Panda Pod Hotel
Located in the city center of Richmond, Panda Pod Hotel is the first ever capsule hotel in Greater Vancouver that is dedicated to providing modern, cozy and convenient accommodation for backpackers at affordable rates. The total of 62 sleeping pods in the male and female pod area is carefully designed to offer the worldwide travelers a relaxing stay. They are at least 30% longer and wider comparing to the original Asian pod design, equipped with a folding table and charging station for laptops and cell phones, also featured a soft and resilient mattress with firm support. Guests can work and stay comfortably inside the pods with free WiFi. Each guest will have access to three lockers for storing their shoes, backpacks and carry-on luggage, storage for large size luggage. The lounge is a great social place to meet like-mind travelers and there are various entertainment, dining, shopping options are within easy reach. Backpackers can venture around Vancouver by Skytrain, buses, ferries, or even car and bicycle share. The Vancouver International Airport and downtown are just 13 minutes and 30 minutes car ride from the hotel, respectively. Book online at www.pandapod.ca to enjoy the best available rate!
Cambie Hostel – Gastown
HostelWorld Booking.com G Maps
There is a reason that the Cambie Hostel has been around for years. It is not only walking distance to most of the city's top attractions, but the hostel has developed quite a reputation amongst the backpackers. With it being centered right in Gastown, travelers and backpackers literally have access to anything they could want to see or do. The downstairs portion of the hostel is dedicated to a bar area and is highly known for attracting the locals.
YWCA Vancouver Hostel
HostelWorld Booking.com G Maps
Located on Beatty Street right between Georgia and Robson, the YWCA offers a unique view into the city and nearby stadium. If you want to even get more out of the view you can opt for a top floor room, which will really enhance your overall experience. When you combine this with the 24-hour reception area, cooking facilities, laundry access, and coffee bar, you are truly looking at one unique hostel that is always open and hospitable to all backpackers. With wheelchair access and 155 room, the YWCA Hostel has a little something for everyone.
Burnaby Rentals
Located just right outside of the business district of Vancouver you will find Burnbay Rentals. Due to its location, you will have a little more privacy, but still, be local enough to check out everything that Vancouver has to offer. With a cozy and comfortable lounge area, you will have a very inviting area to get acquainted and sociable with the other interesting individuals partaking in the hostel.
The Saint Clair Hostel
St. Clair Hostel is truly unique, as it used to be a heritage building that was just recently transformed into a hostel. With free Wi-Fi and cheap laundry, backpackers really have access to all the amenities that they could ever need. In fact, you can wash a whole load of clothes for just a dollar. And, this is not to even mention the free linens and towels that are included with the stay. If you are a lone female traveler, you might even feel safer with the fact that the site offers female only dorm rooms. There is no onsite bar and the common room is fairly small, but if you are looking for an affordable and comfortable night's stay, you really cannot overlook the Saint Clair Hostel.
---
Get Permission To Enter
Just remember to get your Canada eta application filled out early so that you will be allowed in the country. Before you can enter the country of Canada and take in everything that it has to offer you have to get granted permission. An eta or an electronic visa is almost the same thing as a visa. Once you apply for an electronic visa and you are approved, you will be granted access to Canada for six months over a five-year period. If within the five-year period you apply for a regular visa, the electronic visa will become virtually useless.
---
Make Most Of Your Trip
Vancouver is a truly an amazing city which is must, once you visiting Canada. A great destination in the summer but also in winter. In cold months, it's an entry point to one of the best ski resorts in the world. You will find local agencies or hostel agencies that will coordinate and organize your trip to the wild Canadian nature around the area. Take advantage of hostels and their group trips, since they can easily put together a group and make it more affordable for everybody. Vancouver is a very expensive city, so once you are on the budget, you gotta be careful.
---
We hope you'll enjoy your trip and this hostel selection is a useful source for your travels. Please leave us a comment if you recommend some other place or you got any other suggestions for the article. Thanks.