Barbados is a vacation destination that is popular with celebrities as well as everyday individuals and families. The reason for this is that Barbados is considered a safe place to visit, overall.
Almost a million people visit this island in the Atlantic Ocean. As Caribbean islands go, Barbados is one that has an abundance of features, including beautiful botanical gardens, pristine national parks, and wildlife preserves.
The beaches of Barbados are some of the most breathtaking on earth, and Barbados is not short of them. Tourists have their pick of over 80 beaches, all of which feature that gorgeous white sand that you see pictured in postcards.
Coupled with the overall safety of Barbados and the gorgeous vistas, there's little reason not to visit this 169-square-mile island in the West Indies.
LATEST UPDATES / NEWS from BARBADOS:
April 13 – Tourism health alerts to be enhanced, Barbados taking part in the pilot program.
Barbados is one of three regional sites participating in a pilot initiative to improve and implement early warning systems to promote regional and national health security.
This program, under the Regional Tourism Health Capacity Enhancement and Digitization Project, includes specific capabilities to identify, track and monitor health-related information in the tourism industry to quickly identify health threats and take swift action.
This was evident Wednesday during a symposium on health and wellness in tourism, when a representative of the Caribbean Public Health Agency (CARPHA) noted that representatives of the travel and tourism sector were occasionally hesitant to issue a warning about a viral infection among tourists.
Travel warnings in Barbados
The U.S. State Department has rated Barbados at Level 1 on a scale of one to four, with one being the safest. Level 1 means, "exercise normal precautions." For tourists, this means practicing the same kind of safety that you would practice when visiting any new place.
It doesn't get any better than Level 1 from the standpoint of the U.S. State Department, which is great for people wanting to visit Barbados.
The crime situation in Barbados
Although Barbados looks like paradise, crime does occur. The worst crime that tourists might encounter is petty theft or pickpocketing.
However, Barbados has a lower crime rate than the U.S.! So you're more likely to be the victim of a crime back home in the U.S. than you are in Barbados.
This is likely partially due to the welcoming and friendly nature of Barbados residents, as well as the strong police presence. Barbados is only 169 square miles, so it's probably not hard to police the island.
Sadly, there has been an increase in gang-related activity in Barbados, so the violent crime rate has gone up. But it's still lower than in the U.S., and for the most part, it's relegated to a small group of gang members.
A tourist is unlikely to experience any issues unless they get caught up somehow by being in the wrong place at the wrong time.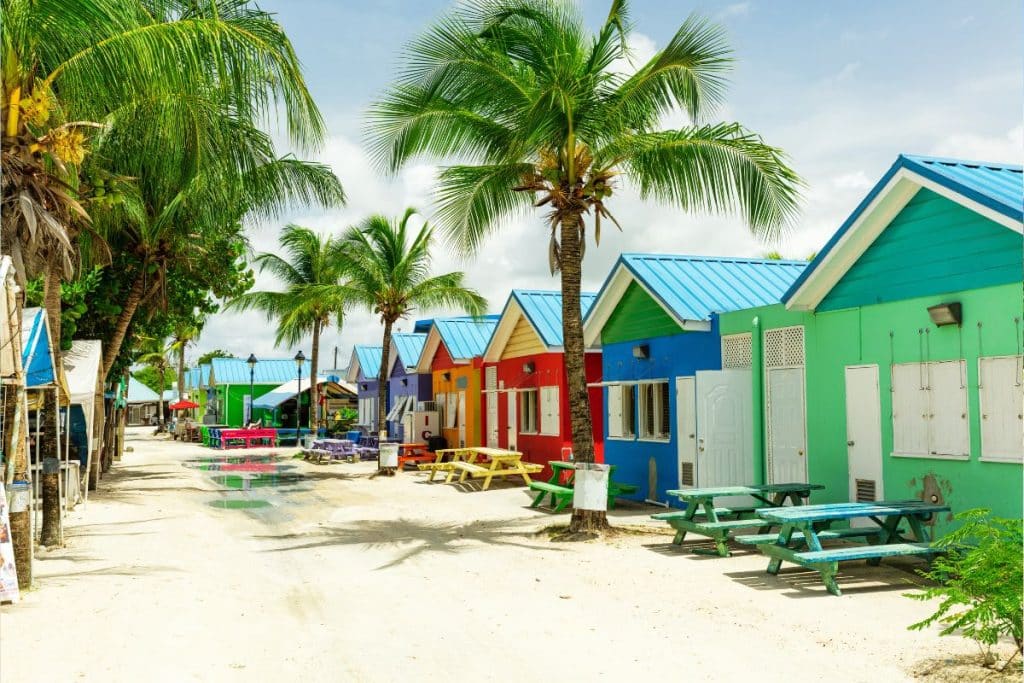 Places to avoid in Barbados
Speaking of being in the wrong place at the wrong time, there are some places to avoid in Barbados. The State Department has some insight to offer in this regard, too. They recommend avoiding Bridgetown (specifically Nelson Street and Wellington Street), and Crab Hill.
But that's okay.
There are plenty of other places to see the sights in Barbados. Just use common sense and avoid trekking out at night. Even during the day, it's always best to stick with a buddy.
Natural risks in Barbados
Although there is very little risk from your fellow human being in Barbados, there are some risks that Mother Nature poses on this coral island. They include:
Dengue Fever – Dengue fever is spread by mosquitoes, and Barbados has its share of those. It causes severe symptoms that mimic the flu, along with fever.
Hepatitis A – This is transmitted via unwashed food, undercooked seafood and water and ice cubes contaminated with Hep A.
Diarrhea – This depends on how strong your constitution is and how well your digestive system copes with Barbados cuisine.
Giant African Land Snail – This Barbados native carries a parasite that can cause meningitis or even brain damage.
Mongoose – That unfamiliar critter that resembles a cute squirrel is ferocious. Just keep clear of their territory and they'll leave you alone.
Green Monkey – Feel free to take a picture of ferocious Barbados, but then move on. You don't want to tangle with them.
Overall, Barbados offers tourists a stunning vacation destination that is considered safe to visit now.