The last of COVID-19 wave is decreasing in Florida at a much slower pace than it surged, mirroring a pattern found across the United States and around the world.
Meanwhile, mortality is increasing at an alarming rate as the virus continues to wreak havoc on the unvaccinated.
Gov. Ron DeSantis has proposed a Bill of Rights for hospital patients after many were unable to be visited by their family members and friends during the last peak of the pandemic.
According to DeSantis "COVID cannot be used as an excuse" to prevent citizens from visiting COVID patients.
You might be interested:
– Best Places To Travel During Covid in U.S.
– Countries Open To American Tourists
Florida's COVID-19 death fatalities rise by 1,000 for third week in a row
The Palm Beach Post estimates that Florida's COVID-19 case count increased by 122,428 cases this week, based on information released by state health officials on Friday.
That's down 71.5 percent from the previous record set on Jan. 14, but more than four times greater than the week of Dec. 17. The death toll in Florida now stands at 67,752 people.
In June, state health officials announced that deaths among non-residents infected in the state would no longer be disclosed.
Vaccination progress in Florida
As of February 12, more than 78% of Floridians have received at least one dose of a COVID-19 vaccine, while around 66% of Florida's population have been fully vaccinated.
Current COVID statistics in Florida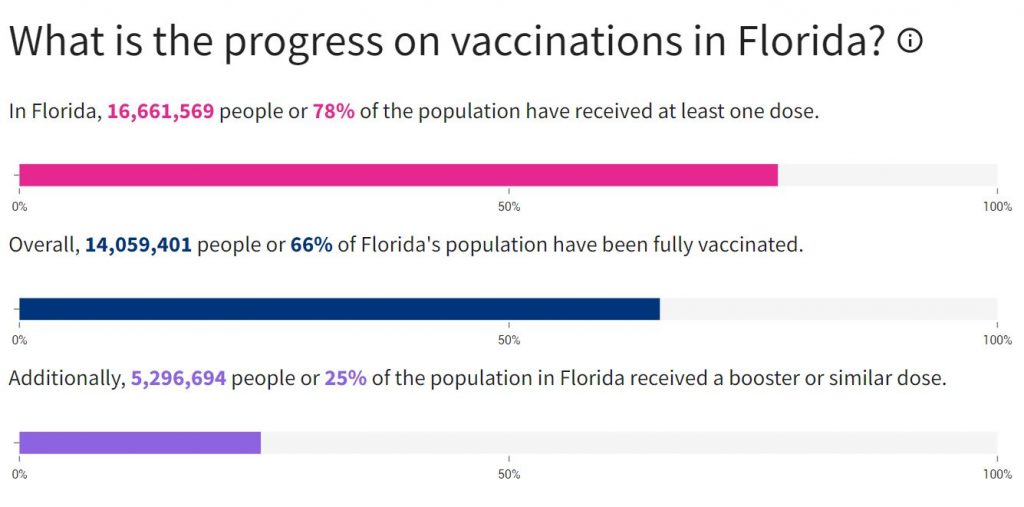 So far, Florida has reported over 5.7M positive COVID-19 cases and more than 67,572 deaths caused by the virus.
COVID-19 hotspots in Florida
Is it safe to travel to Miami now?
Miami is certainly being impacted by the new spread. As of today, February 12, the county is reporting around 40,396 in the last 14 days.
Even though the local government is taking several safety measures, such as masks, social distancing, testing, and vaccination certificates, traveling to Miami should be reconsidered.
Is it safe to travel to Orlando now?
According to the latest data (February 12), Orange County has about +15,619 new cases in the last 14 days. Therefore, traveling there now isn't recommended.
Why visit Florida in COVID times?
First and foremost – Florida has no entry restrictions!
Florida is an internationally recognized destination due to its Theme Parks and tropical weather. Travelers who love going to theme parks will never go wrong with Florida. In COVID times, when traveling has to some extent become a hustle, especially for people traveling with kids, Florida stood as one of the best destinations in 2021.
We have to be careful with the new Omicron variant. However, once the situation becomes stable again, Florida will probably once again become one of the most popular travel destinations also in 2022, especially among American citizens.
Florida's Health Care System and Response Capacity
The COVID-19 pandemic has caused massive, worldwide disruption. In addition to the millions infected and the hundreds of thousands killed, the virus has disrupted economies across the globe.
According to local media, Florida may be hiding the real pandemic situation. "At this point, it's endangering people," says Ryan Panchadsaram, former data official in the Obama administration. "We're now in the third wave, and I think our only way out is really open, transparent, and actionable information."
Florida has no travel restrictions in place as of today. However, The Florida Department of Health recommends wearing face masks if social distancing is not possible and avoiding public gatherings.
These are recommendations, though. You will not be fined if you do not comply with them.
---
UPDATES ARCHIVES
January 10 – Florida reporting record numbers of daily COVID-19 infections
Florida reported more than 126,000 new COVID-19 infections over the weekend – the highest multi-day increase since the beginning of the pandemic. The state reported 77,156 new cases on Saturday and 49,548 on Sunday.
The spike is attributed not only to the rapidly spreading Omicron strain but also to increased testing.
On the other hand, hospitalizations remain below their peak. Over the weekend, 9,888 coronavirus patients were hospitalized in Florida. Whereas in summer 2021, there would be over 17,000 new hospital admissions every day.
Source: NBC Miami, Miami Herald
December 13 – Coronavirus cases in Florida rising faster than in any other state
COVID-19 cases in the sunshine state have recently been rising faster than in any other state in the U.S. Also, three Omicron cases were confirmed in Florida last week.
According to the latest data from The New York Times, Florida recorded a 185 percent increase in daily coronavirus cases over the past two weeks, compared to the national increase that is now around 43 percent. On average, Florida is reporting nearly 2,000 new coronavirus infections a day.
On the other hand, around 1,404 people are hospitalized with COVID-19 each day. This figure has increased by six percent over the past fourteen days.
Source: Newsweek
November 18 – Florida to pass bills limiting COVID-19 vaccine mandates
On Wednesday, November 17, Florida Republicans passed four bills that would protect workers who do not wish to get vaccinated against COVID-19 to Gov. Ron DeSantis.
If he signs the documents, Florida will become the first state that can fine companies who require the vaccine for employment. However, most companies do require COVID-19 vaccines, but employees can opt out for health or religious reasons.
DeSantis is expected to sign the bills in the upcoming days.
Source: Axios News
October 5 – COVID-19 cases in Florida finally dropping
For the week of September 24 to 30, the positivity rate in Florida has dropped to 6.5%, the lowest number since June.
In the past week, around 4,600 new infections daily were registered in the county. While during August, there were more than 21,000 new cases per day reported in Florida on average.
Through September and October, the number of hospitalizations has also been dropping. In the last week of September, they decreased by around 27%.
ℹ Florida COVID-19 Update for October 1, 2021

🚨 Total Confirmed Hospitalizations: 5,146 pic.twitter.com/g3UyfmsZO6

— Florida Hospital Association (@FLHospitalAssn) October 1, 2021
Source: Local 10 News
September 6 – Florida tourism continues to bloom despite high number of COVID-19 cases
Despite the spike in COVID-19 cases, tourism in Southwest Florida continues to rise. Actually, Lee and Collier Counties have had a record-breaking year in tourism.
Brian Hamman, Lee County commissioner, indicated that August 2021 numbers had been the best August numbers in the history of tourism tracking in the region. Other months have not been behind either. 'In fact every month this year has been better than it was even in 2019.' he said.
Usually, tourism tends to slow down by the end of summer in Florida. This year, the season is not over yet. Hotels there are still fully occupied, and they are starting to get booked for winter, too.
According to Hamman, people want to enjoy a bit of time off. But are scared of the international travel restrictions. Therefore, they choose somewhere they know, like Florida, for example.
Source: WINK News
August 24 – Pediatric cases make up to 20% of new COVID-19 infections in Orange County, Fla.
According to Alvina Chu, an epidemiologist with the Florida Department of Health in Orange County, pediatric cases make up to 20% of new coronavirus infections in the county.
The trend seems to be shifting. While the positivity rate in the 25 to 44 age group remains high, children aged between 5 to 14 years old now contribute the most to the newest COVID-19 cases.
Based on data from HHS.gov, as of Monday, August 22, there were 257 pediatric cases across Florida, 176 of which were hospitalized.
The predominant strain is the highly contagious Delta variant which affects all age groups. The median is 34 years.
Source: WKMG News
August 9 – Hospitalizations skyrocketing in Florida as DeSantis defend unvaccinated citizens
The number of current COVID hospitalizations is "unlike anything the state has seen before," said the head of Florida's largest hospital association earlier today.
Even in the face of irrefutable evidence, Gov. Ron DeSantis will maintain his "no-mandate" mandate which means that zero coordinated actions will be taken to control the spread.
He also added that the media is just being "judgmental," against those who are unvaccinated.
However, DeSantis' press secretary Christina Pushaw recognized that only 6% of hospitalized people are vaccinated.
"We recognize that cases and hospitalizations have shifted to a younger demographic because we have been so successful with vaccinating seniors," said Pushaw.
Source: MSNBC News
July 15 – COVID-19 cases in Florida on the rise while Gov. DeSaints forbids companies to safely resume activities
The Department of Health of Florida has reported an unusual increase in COVID-19 activity over the last week.
Over the last 7 days, the state counted 23,747 new cases with a positivity rate of 7.8%. The trend was at about 4% positivity in the past weeks. Also, Florida reported 172 new deaths.
Even considering the figures, Gov. Rob DeSantis continues to refuse to allow companies to require customers of "risky activities" to be vaccinated against COVID-19.
As reported by The Washing Post, Norwegian Cruise Line Holdings has sued Florida's surgeon general, accusing the state of preventing the company from "safely and soundly" restarting operations.
Source: AP
June 29 – Florida to resume cruise ships with both vaccinated and unvaccinated travelers next week
Cruise ships are set to safely resume operations next week in Florida.
Local mayors of South Florida had sent a letter to Gov. Ron DeSantis asking him to reconsider his refusal to ask cruise travelers to present a vaccine certificate, but their claim was not heard.
"There aren't restrictions either way, whether you are vaccinated or unvaccinated that shouldn't limit your ability to participate," Florida Attorney General Ashley Moody told reporters.
This does not mean cruises won't be safe. Unvaccinated travelers will need to bring a negative COVID-19 test, get retested in the embarkation hall prior to boarding. Furthermore, some cruise venues will be "for vaccinated people only."
(Source: Local10Florida)
June 14 – Florida to lift all COVID-19 related restrictions on July 1
Effective July 1, Gov. Ron DeSantis will lift all COVID-19-related restrictions across the state. So far, only 48.8% of the population has received at least one jab of a vaccine, which is insufficient to reach herd immunity according to the CDC.
According to the governor, "If we have widespread vaccinations that are over 99% effective, what's the evidence basis for somebody to wear a mask now?"
Over the course of the pandemic, he has refused to follow most of the epidemiology guidelines because he did not want to "take the same approach as other lockdown governors."
With this new executive order, DeSantis will make sure that "local governments cannot arbitrarily close [our] schools or businesses." Additionally, he barred businesses from requiring employees to provide proof of being vaccinated.
Source: Florida Political review