Hiking Outdoors Just Got Easier! In this informative piece, we are going to be exploring eleven of the best minimalist hiking boots on the market.
When you're going to cross a new terrain, you don't want to be weighed down by cheap, cumbersome footwear. This is why we've composed our top choices for hiking boots from the most reputable brands including XERO or Vivo barefoot hiking boots.
After spending years hiking your favorite trails, you've likely come to expect a lot out of a new pair of hiking boots. A good pair of shoes provide traction and support; they should be made of durable materials.
Before we get into the details of our review, let's take a quick look at the list we've assembled.
We're going to examine the advantages of each of the boots on this list, and we'll answer some popular questions people have been asking about each product.
When you're running around in rough terrain, you don't want to trip over your own feet. This list is all about the hiking boots that minimalists crave. These boots are light and durable; they'll get you where you need to go while providing maximum comfort. They are the only boots you'll need to get across any terrain.
Best Minimalist HIKING Shoes & Boots
Available for: Men & Women
About this product:
Xcursion is an excellent product! It's an ultra-lightweight, fully waterproof hiking boot that's built to let your feet do what's natural. Let your toes splay and spread and let your feet bend, flex, move, and get feedback from the ground.
Xero Shoes is one of the best manufacturers of hiking footwear, barefoot-inspired shoes, boots, and sandals.
Features of this hiking boot:
Fully Waterproof — Xcursion has a seam-sealed inner bootie, a gusseted tongue, and a water-resistant membrane in the upper.
Comfortable Anatomical Design — Wide toe box, non-elevated ("zero-drop") heel for proper posture, low-to-the-ground for balance and agility, highly flexible sole for natural movement.
High Traction and Durability – 4mm lugs on the FeelTrue® rubber sole, which is backed with a 5,000-mile sole warranty. Tough-Tek toe guard for protection.
Adjustable Fit — the "inverted V" midfoot straps and huarache sandal-inspired heel strap let you adjust the Xcursion for a secure fit.
Lightweight — A men's 9 weighs only 12 ounces each.
DayLite Hiker EV – 0.7 lb (0.3 kg) – Light & Stylish!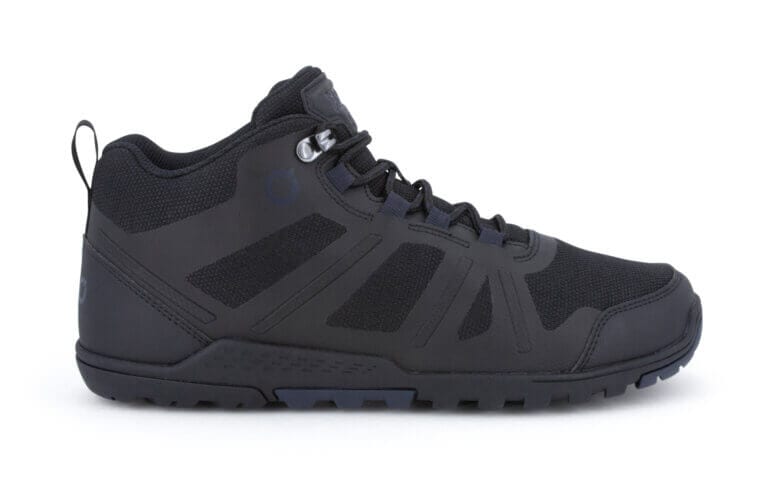 Available for: Men & Women
About this product:
Most hikes don't need a super technical boot, that's why Xero Shoes developed the DayLite Hiker.
It's everything you need for most of your treks, with the comfort and benefits that come from letting your feet do what's natural.
Features of this hiking boot:
The wide toe box

lets your toes splay; the zero-drop (non-elevated) heel gives you proper posture, the FeelTrue® rubber sole is low to the ground for balance and agility, and the dual-chevron lugs give you great traction.

Super light:

At just 11.2 ounces in a men's 9, you won't be weighed down.
Warranty: The Tough-Tek toe bumper, aggressive-but-breathable upper, and 5,000-mile sole warranty mean that the DayLite Hiker EV is made to last.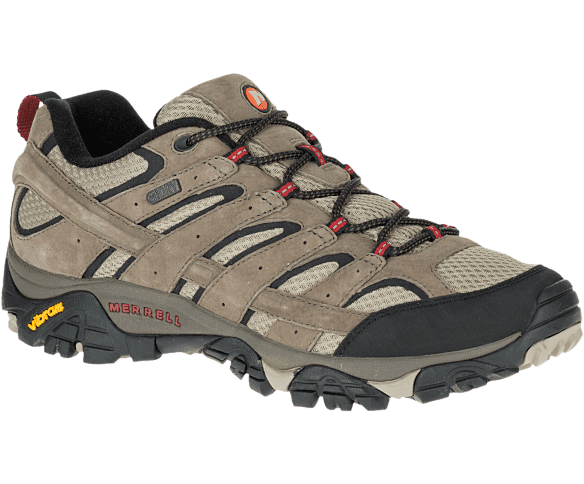 Best Boot From a Sustainable Company
Available: Worldwide
About This Product:
If you haven't heard of Merrell Moab before, you should know that this company is dedicated to providing products that match the comfort, fit, and performance expectations of its customers. They're also concerned with sustainability and community involvement efforts.
Features and Benefits:
Get ready to find out why hiking enthusiasts around the world are choosing Merrell Moab boots when they hit the trails.
Stability

– This minimalist trail shoe incorporates phenomenal side-to-side traction and stability.

Tough Soles

– The soles are made of rubber that comes from Vibram. This company is dedicated to providing high-quality materials that last a long time.

Breathable Materials

– Even though these shoes are made of durable materials, they are still breathable. The air cushion in the sole provides more comfort on long trails.

Specs:

Moab 2 hiking boots weigh under 2 lb (.91 kg). These shoes come in 10 colorful styles, including walnut, gold, and dusty olive.
Question: Do these shoes have good traction?
Answer: Yes, the grips on Merrell's Moab 2 provide phenomenal traction on all hard surfaces.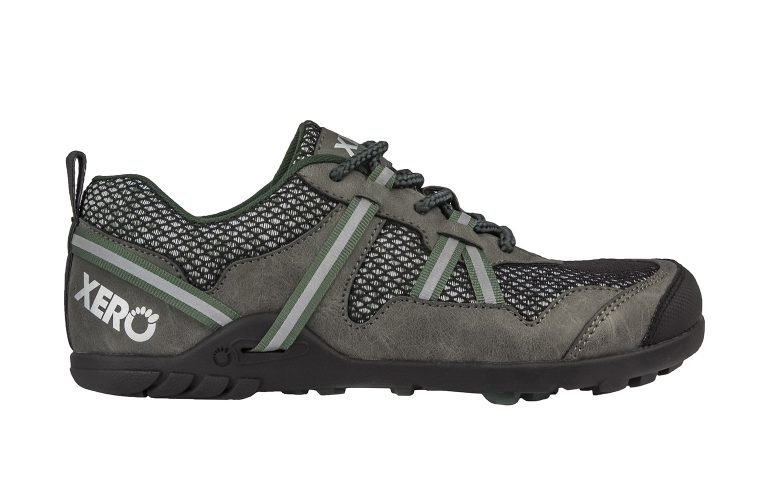 About this product:
TerraFlex products, which are made by Colorado-based Xero Shoes, have been designed to allow your feet to flex and move how they were naturally designed to, and these shoes live up to that.
Features and Benefits:
Reflective straps

– These ensure that you are not only comfortable but also safe as you make your way through the woods and near any roads.

Barefoot-friendly

– If you would rather not wear socks and feel an even closer connection with the earth short of simply not wearing shoes either, this is the footwear for you. You can also remove their insoles to enhance that feeling.
Vegan-friendly – If you are vegan or aim to be as animal-friendly as possible, note that no animal products are used to create these shoes.

Travel-friendly

– If these will be your second pair of shoes while traveling, rest assured that they can be rolled up and take up little room in your bag.
Question: Does Xero Shoes offer a return policy?

Answer: Yes. However, they must be returned within 45 days and not been worn outside or experience a manufacturing issue within 24 months of the purchase.
Softstar's Megagrip Primal RunAmoc is a barefoot hiker's dream. It is made from premium full-grain leather uppers, Vibram's rugged zero-drop Megagrip soles, and features the widest toe box on the market.
Softstar designs and handcrafts all of its shoes at a workshop in Oregon, USA and has received several awards for its ethical and sustainable business practices.
Features and Benefits:
Simple Design

—The Primal RunAmoc strips a shoe down to its basic essentials: lightweight premium leather draped over your foot and attached to a durable sole. This keeps the shoe light and flexible.

Durable and Grippy Soles

—This shoe uses Vibram's Megagrip Zegama soles, which are designed specifically to endure the demand of extreme hiking and trail running while providing superior grip in wet and muddy conditions.

Foot Friendly

— not only is the Primal RunAmoc already designed to allow toes to spread out naturally, but the leather uppers of the shoe will stretch to adapt to the shape of your foot as you break them in. This is the opposite of more rigid footwear that forces your foot to adapt to the shape of the shoe.

Breathable

— the simple design and natural leathers of the Primal RunAmoc allow more breathability than most shoes, which also significantly reduces foot odor.
Best Durable Minimalist Boot
About This Product:
This company sells the perfect minimalist hiking boots. After all, the founder (Tim Brennan) started VivoBarefoot as a minimalist running shoe company. This company is part of a large British shoe conglomerate, known as Terra Plana.
Features and Benefits:
The unique features of these leather hiking shoes are worth a closer inspection.
Premium materials

– are you looking for shoes that will last? You're going to love these shoes from VivoBarefoot. They're made of premium leather that will provide a long life on the trails. The soles are made of a durable rubber material that will cushion every step you take.

Warm Lining

– These boots will be comfortable in most weather conditions. However, they're specifically designed for cool weather; the heat regulator technology will keep your feet warm, and the hydro guard will keep them from getting too moist.

Comfortable

– These boots can be broken in without much difficulty.

Specs

: These boots weigh around 1 lb (.45 kg). They come in three colors: dark brown, cement, and brown.
Question: Which seasons are these boots designed for?
Answer: These barefoot hiking shoes are great for fall, spring, and winter. Your feet might get sweaty wearing these boots in the hot months of the summer.
Best for water sports and hiking
Great shoes for getting your feet wet! The Aqua X Sport – Men have a broad protective toe box that allows your toes to spread and relax; high grip soles, perfect for walking on slippery pebbles or mud, and a mesh layer with holes all the way through that allows water to drain quickly.
These ultra-lightweight sports shoes are ideal for paddleboarding, mud runs, and anything in between.
About this product
Traction Soles: The Aqua X Sport uses a flexible 5.5mm FeelTrue® sole and 3.5mm dual chevron lugs, providing all-terrain traction.
Breathable Upper Mesh: Built with a breathable mesh upper, a quick-dry lining, a non-absorbent tongue, and toe guard drain holes that help you rapidly shed water.
Comfortable Design: Comfortable Design: The low-to-the-ground design and non-elevated "zero drops" heel allow for optimal posture and balance, as well as a snug fit with the included speed laces.
Be Lenka Ranger 2.0 – 1.1 lb (0.5 kg) – Best for cold-weather
Available for: Men & Women
About this product:
The improved version of the popular Rangers by Be Lenka is a great choice for those who enjoy hiking in the colder months. They feature grippy rubber soles and are lined with fleece inside to keep you warm. There is also a protective membrane that makes them waterproof.
Thanks to the sleek design – they are made with premium oiled nubuck leather –, you can also use them for regular urban wear.
Features of this hiking boot:
Fully Waterproof — You can wear them on a rainy day and even in the snow thanks to the waterproof, protective membrane. What's more, the oiled nubuck leather prevents them from water stains.
Comfortable Anatomical Design — Wide foot-shaped toe box, ultra-flexible sole, and zero drop (flat from heel to toe).
Warm — Fleece lining for extra warmth.
Handcrafted — From high-quality nubuck leather in Europe.
Lightweight — Only 0.5 kg, which is very little for winter shoes.
Best Synthetic Hiking Shoes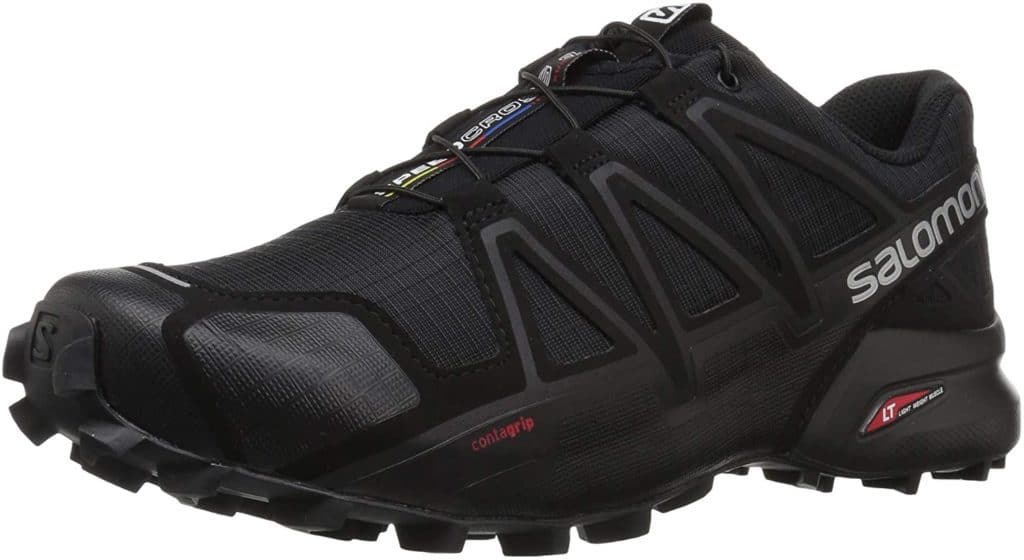 About This Product:
This company has been around since 1947. They started as a French ski company. Over the years, Salomon has had plenty of time to test and develop new gear for backpacking enthusiasts throughout the world.
Features and Benefits:
Let's take a close look at what makes Salomon's Speedcross shoes outshine other synthetic footwear on the market.
Breathable Fibers

– The materials that make up these impressive minimalist hiking shoes are 100 percent synthetic. Unlike thick leather, synthetic fibers are more breathable, so they'll feel comfortable in the warm months when your feet tend to sweat.

Great Warranty

– For products that come from Salomon, you should expect a two or three-year warranty. Check with the manufacturer about the exact details, but this warranty should cover basic assembly defects.

Phenomenal Gripping Soles

– The bottoms of these hiking shoes are lined with a high-quality rubber grip that will give you great traction on any terrain.

Specs:

Speedcross 4 shoes weigh .70 lb (.30 kg). These shoes come in 10 exciting colors, including yonder blue, metallic black, and sulfur spring.
Question: Are these good running shoes?
Answer: Although these shoes are built for any terrain, the grips might wear out quickly if you run on asphalt.
Best Anti-Microbial Technology
About This Product:
This company is known for making supercharged athletic shoes. New Balance has been around since 1906, so they've had plenty of time to figure out the mechanics behind creating the perfect shoes for minimalist hiking enthusiasts.
Features and Benefits:
Let's get to the main reasons why we've chosen these sleek New Balance Minimus 10v1 shoes.
Quality Construction

– These shoes are made completely out of synthetic fibers, so you know they'll be a lot easier to wear in the hot summer months. Synthetic material breaths better when you take long hikes.

Keep Away Foot Odor

– If you're looking for a way to reduce the odors that naturally occur from strenuous activities, these hiking shoes offer a practical solution. The manufacturers have treated their materials with an anti-microbial technology that's designed to minimize odors.

Impressive Design

– These shoes are designed for comfort and long-lasting performance. The flex grooves on the sides of each shoe will help with maintaining a healthy stride throughout your hike.

Specs:

These New Balance shoes weigh under 2 lb (.91 kg). They also come in five exciting colors, including varsity yellow, and black.
Question: How are these shoes cut?
Answer: Some consumers recommend buying the next 1/2 size bigger than you normally wear.
Best Low-Cost Hiking Shoes on the Market
About This Product:
This company makes impressive running shoes that look great, and they perform magnificently under tough conditions.
Features and Benefits:
Let's take a look at why Oranginer shoes are great for minimalist backpacking enthusiasts.
Affordable Price

– Do you want to go for a hike without breaking the bank? Oranginer offers high-quality footwear that is available at an affordable price.

Lightweight Design

– If you're worried about carrying too much weight in your backpack, Oranginer's shoes are the lightest pair on the list.

Nice Size Toe Box

– The wide area of the toe box is more comfortable than some of the more narrow footwear on this list.

Specs:

These shoes weigh .23 lb (.10 kg). Oranginer's hiking shoes also come in 12 fun colors, including beige, green, and blue.
Question: Will these shoes be comfortable throughout the year?
Answer: This footwear should be comfortable in most weather conditions, but you might need a thick pair of socks during the winter.
Best Thick Sole for High-Quality Hiking Boots
About This Product:
Teva came from the "shores" of the southwest; this company has been striving to make its products from natural sources since 1984.
Features and Benefits:
Let's take a close look at why hiking enthusiasts crave the minimalist design of Teva Arrowood sneakers.
Soft Fit

– The interior of these shoes is soft, resembling a sock, yet they still have a tough, modern look.

Float-Lite Sole

– The midsole of these shoes is made to withstand rocky trails without causing pain on your heels.

Outsole Gripping Technology

– The manufacturers have placed pods along the outsole in order to assist with gathering traction on the toughest trails.

Specs:

Teva Arrowood sneakers weigh under 3 lb (1.36 kg). These shoes come in two colors: walnut, and black.
Question: How are these shoes cut?
Answer: Some consumers have claimed that Teva's shoes are cut larger than most, so you should buy a half-size smaller than you normally purchase.
Features:
Made of fabric
Rubber sole
Your toes can spread out and relax in the wide-toe box.
Made with no-animal materials and methods
If you wish to feel "more barefoot," you can remove the sock liner (insole).
The genuine rubber sole gives you great protection and a sense of the ground at the same time.
You can't beat these for the price. They're really nice running shoes if you're into zero-drop, minimalist running shoes. Be warned, these are so much different than your average running shoes. But once you put a few miles on these you will notice that they are better than your Ultras and for a lower price.
These shoes have no splitting of the shoes in between which makes them more comfortable and easier to use. They also have a bit of cushion on the back for your heel which makes them great for those with Haglund's deformity which is an abnormality of the bone and soft tissues in the foot. This is the kind of shoe you could very easily go for a run on gravel or anything- no problem!
Don't waste your money on super-expensive name brands, these comfy shoes are the ones for you!
Note: if between sizes, order the next size down.
If you need greater ankle support, this is the pair for you.
They are recognized for providing plenty of cushioning and toe room. It's also completely waterproof and has reinforced toe caps. This means that if you accidentally kick rocks while hiking, your toes will not get hurt.
What we love:
Although this is a pair of lightweight boots, the ankle lockdown is excellent.
Our feet are delighted when we walk through puddles and mud because they are truly waterproof.
With the features it offers, it is comparable in price to most hiking boots.
What we don't like:
Sizes run slightly smaller, so despite the recommendation to take one size larger, it may still be a bit too tight.
So which ones are you taking home? We love all of them and hope we helped you choose the best shoes for your 2023 wanders.