After peaking in the early 1990s, crime overall in California fell to a 50-year in 2014 and has stayed relatively stable since then, according to the FBI's crime report. The types of crimes that are on the rise over the past couple of years, however, are homicides (up 41.2% in 2021) and aggravated assaults (up 18%).
On average, a crime occurs somewhere in California every 15 seconds. The most common crimes are:
Theft
Drug-relates crimes
Vandalism
Burglary
Vehicle Theft
Assault
So, where are the most dangerous cities in California? Here's the top 10 list:
10. Red Bluff
Red Bluff is a smaller community in northern California, located between Chico and Redding. The town has a population of about 14,200, yet reports 6,427 crimes per 100,000 residents. According to the FBI statistics, there is a 1 in 87 chance of becoming a victim of a violent crime for those living in Red Bluff.
9. Modesto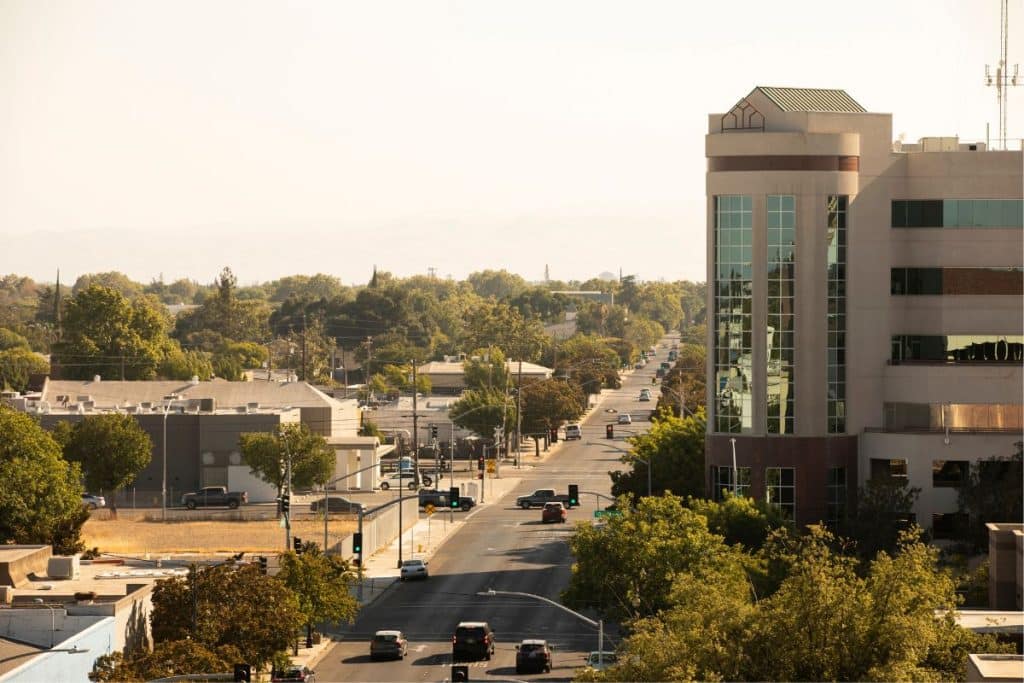 Modesto is to the north of Merced and has its own crime concerns. Crime here is 37% above the national average and has one of the largest numbers of vehicle thefts in the state. More than 23,000 cars are stolen each year.
8. Merced
Merced is another Central Valley city with a high crime rate. Murders have been on the rise over the past three years, doubling from 2019 to 2020 and continuing at that rate. The crime rate in Merced is 599 per 1,000 people.
7. Richmond
Located to the east of San Francisco, Richmond has a crime rate that is 82% above the national average. Violent crimes, in particular, are nearly 150% of the national average. Vehicle and property thefts are among the most highly reported crimes, however.
6. San Bernadino
San Bernadino comes in at number five on the list but has the distinction of being a city with one of the highest murder rates in the country. Murders and robberies have risen nearly 40% over the past five years. Aggravated assaults are up 145%.
5. Stockton
Stockton has been through some rough economic times and is one of the most dangerous cities in the Central Valley. Violent crime rates are 12.6 per 1,000 residents. Property crimes are among the most highly reported crimes.
4. Bakersfield
With a population topping 400,000, Bakersfield's crime rate is nearly twice the national average. While the homicide rate has dropped over the past two years, gang activity has increased. Still, Bakersfield and surrounding Kern County have more homicides than almost anywhere else per capita. With a violent crime rate of 48 per one thousand residents, the odds of becoming a victim of violent or property crime is about one in 21.
3. Commerce
Commerce residents have a one in 11 chance of becoming a crime victim. Murder, rape, robbery, and assault rates are all well above the national average. Property crimes are twice the national average. On average, a crime occurs in Commerce every 12 hours.
2. Oakland
Oakland rates 1,274 violent crimes per 100,000 people, 235 times the national average. Gun violence and gang activity are at the center of many crimes. The 8th largest city in California, Oakland has seen a decrease in crime over the past decade but still ranks as the second most dangerous city in California.
1. Emeryville
Emeryville tops the list of most dangerous cities in California. The city has about 12,000 residents and a crime rate of more than 18,000 per 100,000 people. With the highest violent crime rate in the state, it ranks 272% higher than the national average. However, there have been no murders reported in the past two years.
Safest Cities in California
What cities are safest in California? Six cities made the top 50 list of safest cities in America:
Fremont (#17)
Irvine (#26)
Chula Vista (#38)
Santa Rosa (#39)
Glendale (#40)
San Diego (#48)
While some larger cities like San Francisco and Los Angeles didn't make either list, that doesn't mean they are considered to be safe. Homicides in Los Angeles are up sharply in the past three years to the highest level since 2010. While violent crime is 40% above the national average in San Francisco, it's less violent than many other major cities in the U.S. Like most major metro areas, some pockets are dangerous while other areas tend to have lower crime rates.