Myanmar (Burma) officially known as the Republic of the Union of Myanmar is one of the Southeast Asian countries, rich in jade, gems, oil, natural gas, and other mineral resources. Myanmar has almost 54 million inhabitants and, as many other countries, it has been closed for tourism since the COVID-19 pandemic struck earlier this year.
The Ministry of Hotels and Tourism has recently updated its Tourism National Guidelines for COVID-19 Safe Services (Beta Version – V) foreseeing the country's reopening on September 30th.
Still, hesitating if you should visit or not? You may be wondering if Myanmar has COVID-19 issues under control, if airports and hotels are open for business and what restrictions apply to foreign visitors. Lucky for you we have answers to all of those questions.
RELATED:
– Thailand Reopening Borders 1st October – All You Need to Know
– India Reopening Borders – All to Know
– Laos Reopening Borders to Tourism
Myanmar Reopening to Tourism – Newest Updates
As of Sept 24th, Myanmar's date for reopening to tourists is still September 30th but the country has seen an increase in the new COVID cases. At the moment Myanmar is getting 500-600 new daily cases.
Myanmar is making important efforts for safety but what does this mean for you?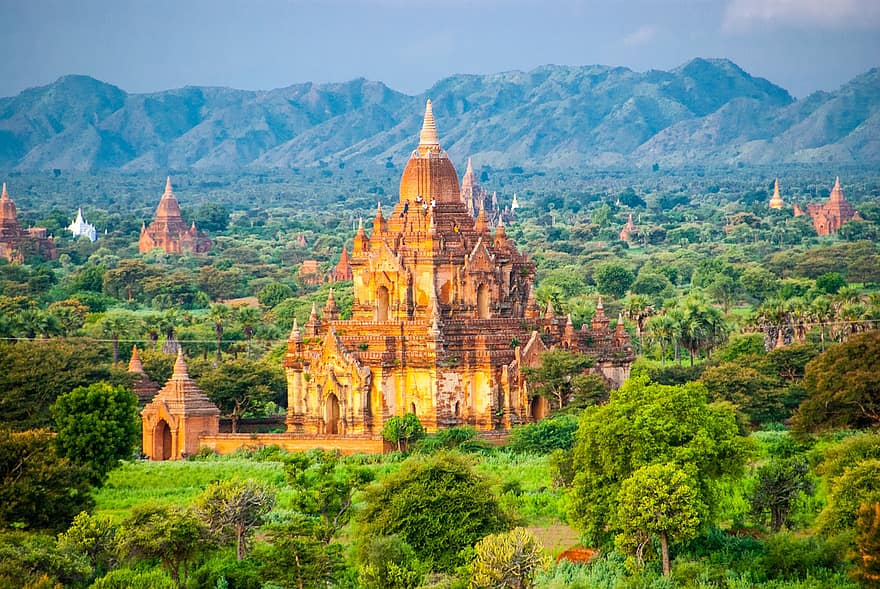 As with most countries that already have or plan to open soon, Myanmar has devised protocols and policies that would allow it to do so safely.
If you have come this far, you are probably considering, even slightly, a trip to this beautiful country. Below you will find the requirements and restrictions you should follow if you finally make the choice to visit.
Entry and exit requirements and restrictions you might want to be aware of.
How to get there? The best option is by plane:
International flights will retake operations on September 30th
In order to be granted entrance the national health authorities will conduct temperature and travel history screening at all ports.
Myanmar citizens are required to present a medical certificate showing that they have no symptoms of acute respiratory illness before boarding.
What would you be allowed to do once you are admitted to the country?
All hotels, motels, guest houses, inns and restaurants are permitted to reopen as long as they comply with the tourism national guidelines of the Ministry of Hotels and Tourism.
However, Amusement parks, national parks, museums, recreational areas will remain closed until further notice.
Likewise, all mass gatherings, festivals and entertainment events are currently forbidden.
What are the general restrictions and recommendations to stay and travel safely? 
Wearing a face mask is mandatory in all public places, take into account that the violation of the measure makes subject to potential punishments, as set out in the Prevention and Control of Communicable Diseases Law according to the Minister of tourism. 
For updates about domestic and international flights, visit the Ministry of Foreign Affairs.
National authorities recommend you to download the official "Saw Saw Shar" Application for Coronavirus Prevention at www. Sawsawshar.gov.com
In case of any emergencies, find here the contact details of embassies and consulates in Myanmar. 
Friendly warning! A several day quarantines might be enforced upon arrival. We recommend you to keep in touch with us for updates on this matter.
Are U.S. citizens allowed to enter Myanmar? 
Absolutely! You are also welcome! Check the full list of countries opened to Americans!
First of all, what do we know about Myanmar's management of the Covid-19 situation?
According to the World Health Organization (WHO) Myanmar has reported 1,133 positive cases and 7 deaths. When compared to their neighboring countries these figures looked rather optimistic. However, since last August 16th the country has been experiencing a constant –low but still- infection increase. Last Monday, the health authorities reported the highest single-day spike in the country so far, with 107 positive cases.
In order to continue with their reopening plans, the government has strengthened its containment measures by sending back home 1.2 million students and applying local curfews and semi-lockdowns in some areas, which goes to show the country's commitment to both reactivating the economy and offering the safest of espaces to visitors and locals.
Don't be discouraged though, these policies are actually put in place to make your trip easier and safer. These policies may look extreme in a country with so few cases, but it becomes clear when you realize last year, international visitors reportedly spent over $2 billion dollars in the country creating 300,000 new jobs for locals. The vice president considers that in "new normal" post-COVID-19 times, travelers might choose to experience some sort of natural ethnic, and environmental tourism overcrowded city life. 
Conclusion
Don't think twice. Myanmar is a country definitely worth visiting. If their strict protocols to keep you safe haven't convinced you just yet, its culture(s), spectacular views, astonishing natural wonders and delicious food will do for sure!