Does it get any better than New Year's Eve – the night the world celebrates new beginnings, no matter what else is happening on this crazy planet?
Party animals heading to Bangkok (and those already there) will find themselves in a quandary: Simply said, there's too much to do. That's where we come in. If you can't find the perfect NYE experience on this list, it may not exist!
If you are planning to travel solo or looking for some party friends, we recommend staying in one of the best Bangkok hostels or Airbnb apartments.
Bangkok NYE 2022-23: Best Countdown Places, Parties, And Dinners To Celebrate
Thailand Tourism Board is teaming up with ICONSIAM to throw an amazing NYE 2022 Bangkok celebration event. You will be able to join the epic dinner and countdown on the boat cruises on The Chao Phraya river.
The quintessential way to usher in Bangkok's new year? At a high altitude! There are so many rooftop parties throughout the city, choosing just one could prove impossible. Breathtaking views of Bangkok at night paired with every type of cuisine and drink imaginable make New Year's Eve a festival of eye-popping experiences.
Dance, listen to DJs spin, imbibe in delicious treats and drinks and overdo it! Top clubs for your lofty experience:
Vertigo and Moon Bar,
Three Sixty,
Cloud 47,
Octave Rooftop Lounge and Bar,
Above Eleven,
Three Sixty,
At the ultimate Sky Bar, light colors change every 90 seconds. Don't worry that you've drunk too much when they do.
Khao San Road – Famous NYE street party
For folks who believe that a street party is the only way to ring in a new year, Khao San Road regularly tops "must-see" lists for Bangkok citizens and tourists. No reservations are required, nor will the fashion police serve warrants to guests wearing their most comfy outfits.
Revelers on tight budgets flock here for the electric-charged environment that outdoes most clubs and restaurants. Who knows how many partiers will "buy around" for the crowd? Roam the neighborhood. Cruise street bars or elegant nightclubs.
King Power Mahanakhon – The Highest View Point in Bangkok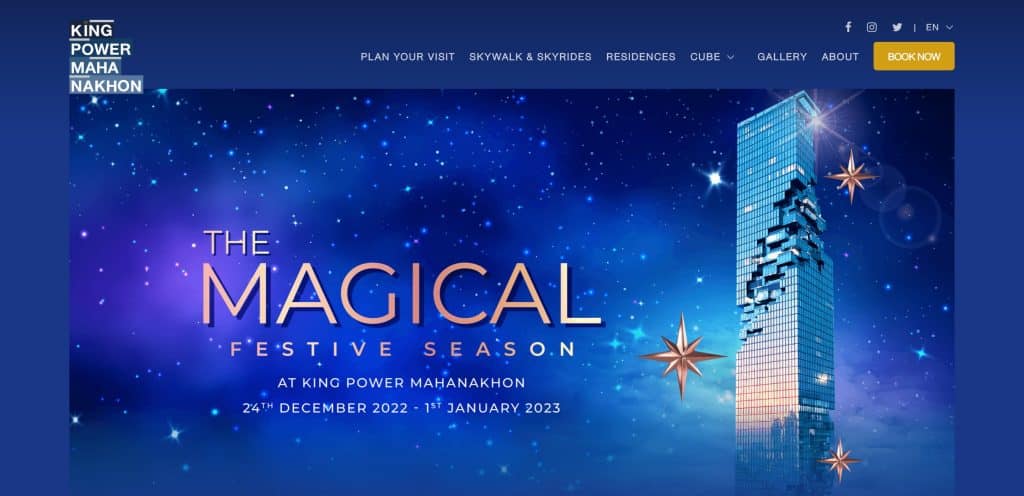 Would you like to experience the best views in Bangkok? Then you should put King Power Mahanakhon on your bucket list, especially for NYE. Check all events and tickets here.
This popular party place is ready to throw another New Year's party in Bangkok with a bunch of amazing DJs, great vibes and lovely crowd.
Great party for electronic music lovers with plenty of talented DJs through out the night. More info on FB event.
Would you like to welcome New Year 2023 with some good music and tasty greek food? If the answer is yes, you should give a go to this amazing venue! The Fox is ready for you.
orm fun, letting go and making it a night to remember.
Secret Bar Havana Social
This secret bar isn't anymore that "secret" but can certainly drop an amazing party in a luxury vibe with SOHO hospitality!
Royal City Avenue (RCA)
check out this complete VIDEO guide:
This neighborhood is the place to see and be seen, say the city's trendsetters. In fact, the Huai Khwang district is an epicenter of action throughout the year, but the area goes into overdrive on New Year's Eve. Live concerts, DJs, performers and entertainers are all on hand to light up the night.
Stop at these hot spots and see which one matches your personal vibe: Route 66, Slim and Cosmic Café. Alternately, show off your party stamina by hitting them all. It's an ideal way to welcome 2020 and a great way to launch your reputation as a trendsetter, too.
Insanity Nightclub
Insanity Nightclub is definitely the place to go a little crazy on New Year's Eve, as frequent guests of this hot spot attest. There will be something going on in every inch of the premises, including non-stop spinning by most-favored DJs and even aerial dance performances so don't forget to look up.
Expect baptism by glitter by the dance crew, and Glitter and Glam promise a one-of-a-kind countdown leading to the magic hour. Don't worry if you come solo. Revelers will find plenty of company. Dudes get in for 1000 (1 drink included); 800 Bahts for ladies. Getting lucky could be in the cards for partiers at this wild and crazy place.
Apsara Dining Cruise (Romantic Option)
Apsara Dinning Cruise is a proper romantic Bangkok experience. You will experience great Thai hospitality and traditional food in a royal way. If you are traveling with a partner, this can be a great option how to spend NYE in Bangkok.
It's no secret that Thailand is front and center when it comes to social issues that include LGBTQ+ rights. If you want to celebrate this enlightened social perspective, make plans to attend Bangkok's White Party, a gay bash that lasts four days and takes no prisoners!
This outrageous, sexy, joyous celebration happens to be one of the city's most high-profile affairs, which is why getting your hands on tickets could be problematic if you don't book early. Must you wear white? That depends entirely on you, but if this will be your first time attending this shindig, wearing white certainly can't hurt your image.
No full moon is required since this party goes on no matter what's happening in the night sky over Bangkok.
Be forewarned: this celebration isn't for the staid and formal. It's a wild, wonderful party held at Haad Rin Beach. Like crowds? Partiers usually number in the hundreds.
The fashion police won't show up to judge outfits nor will guests be asked to leave before dawn if they want to stay.
But the Full Moon Party is not without protocols. Guests are expected to dance, drink, eat, mingle, party, drink more and navigate the sand while staying upright. This is one hot, happening New Year's Eve party.
Chinatown, Bangkok
Who says you have to wait until 25 January 2020 to celebrate Chinese New Year when you can get a head start on the night of 31st December 2019? By day, this beautifully eclectic community is abuzz with shoppers eager to snag bargains, trade gold, visit temples, market stalls and indulge in street-side eateries.
Once the sun goes down and lights go on, who needs fireworks? Where to go to get your New Year's Eve bar fix? El Chiringuito; Soy Sauce Factory; Teens of Thailand; Tep Bar and Soul Bar. Called the 5 coolest drinking holes in Chinatown, you can audition all of these places and revisit the scene in January for the lunar New Year celebration.
Eager for a posh New Year's Eve? Make the House on Sathorn your preferred venue. This 130-year-old Bangkok landmark building hosts movers, shakers, celebs, ambassadors and other folks who love to see and be seen year-round. On New Year's Eve, the party is open to guests eager to be part of a luxe experience.
Be prepared to open your wallet as this venue is far from inexpensive (From B5,200/7,400 with wine pairing for two). Make it a spectacular 2020 start by indulging in the 14-course tasting menu that offers gourmands exotic dishes they likely won't find elsewhere. Leave the kids home with grandma. This isn't their scene!
Make Your Hotel Room Party Central
Wear what you like (or nothing at all). Call room service. Who says partying all night in crowded clubs, neighborhoods or pricey restaurants is the only way to get your New Year's Eve celebration on?
For romantics who value their privacy and seek fireworks other than the pyrotechnic kind, these seven luxury hotels make idyllic havens for couples who get all of the excitement they need from each other:
Shangri-La Hotel Bangkok;
The Peninsula Bangkok;
Pullman Bangkok Grande Sukhumvit;
Anantara Siam Bangkok Hotel;
Hotel Muse Bangkok;
Lebua at State Tower
Novotel Bangkok on Siam Square
Check more of the Best Luxury Bangkok Hotels!
Makeshift parties
No invitations necessary to be part of the Bangkok New Year's Eve celebration because there are always makeshift, impromptu parties springing up on street corners during this magical night. All you need do to be part of the scene is to show up at the right place and right time then get your party on.
Bangkok citizens are eager to share their night, but on NYE, they go to the extreme when it comes to sharing and hospitality. If you are offered a drink and New Year's greetings, take them up on their offers. You may learn a thing or two about the art of friendship on a night that is celebrated by the entire world.
Just one Rooftop: Sirocco (Romantic)
Celebrants who neither want to put up with crowds nor spend so much money they empty their bank accounts find Sirocco the ideal place to see a brand new year in. Located atop the Banyan Tree Hotel, you get bragging rights by dining here. It's the "world's highest alfresco" eatery.
Discriminating partiers look forward to a seven-course dinner under the stars that becomes pure drama when fireworks throughout Bangkok go off at midnight. Come for the food. Stay for the ambience. You can always go clubbing once you're fortified with some of the most divine food Bangkok has to offer.
Asiatique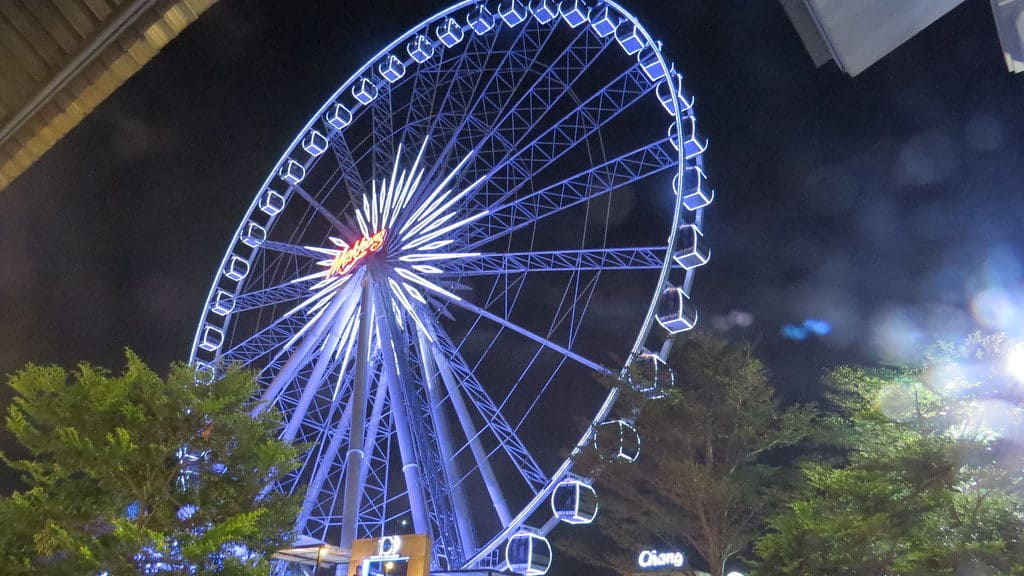 New Year's Eve gives all hipsters chances to strut their stuff. Located on the Chao Phraya River bank, entertainment choices are eclectic-even quirky. And when the clock strikes midnight, savvy revelers know that it's the best vantage point for watching iconic fireworks burst into the midnight sky.
Asiatique is designed to meet the needs of singles, groups and entire families. There's something to do for everyone while waiting for midnight: Bars; music venues; boutiques; restaurants; classic Thai puppet shows plus the ever-popular Calypso Ladyboy Cabaret. It's a one-stop party on a very grand scale!
Central World (Family Friendly)
Savvy fashionistas dedicated to shopping until they drop already know that Southeast Asia's most spectacular mega mall, Central World, is open for business on New Year's Eve.
Partygoers needn't feel obligated to buy a thing when they will show up to see and be seen at the venue often compared to New York City's Times Square NYE bash.
Turn the kids loose on the venue's ice skating rink to work off their own excitement as adults myriad experiences on this auspicious night on the Roman calendar: Shows; yummy foods; a beer garden; live music and the ubiquitous fireworks show, of course.
New Year's Eve Bangkok FAQs
Where should I go for New Year's Eve in Bangkok?
Khao San Road, Chao Phraya River, or Hotel Rooftops are highly recommended NYE experiences in Bangkok. Pick the right one.
Is Thailand good for New Year's Eve?
Yes, Thailand is one of the best countries in Asia to welcome a New Year because of its diversity and endless options to celebrate.
Where are the NYE fireworks in Bangkok?
You can see NYE fireworks all over Bangkok but the best views you can get from one of the Chao Phraya River cruises or rooftop hotels.
Where will you go?
Party animals admit to having a hard time deciding which of the aforementioned approaches to take when it comes to New Year's Eve.
The city already has a reputation of being a top party destination on the planet and on this particular night, the experience morphs into a celebration on steroids.
Whether you're consulting your wallet or intend to ignore it and go all out for a once-in-a-lifetime experience, New Year's Eve in Bangkok fulfills a promise that the city makes every year: You couldn't get or stay bored if you tried!