Disclaimer: The travel rules and official government instructions are changing rapidly during the pandemic times and this article might NOT be up to date within a matter of hours. Therefore, you should always double-check the information with local authorities or your embassy in a given destination. Traveling Lifestyle does not take any responsibility for your decision to travel during pandemic.
Nicaragua officially reopened to tourism on July 14th, 2020, and visitors from all countries are welcome.
Whereas literally most countries around the world are struggling to decide whether they should reopen their territories for tourism or not, and airlines are begging authorities to open to avoid bankruptcy, Nicaragua, a Central American country of almost 6.5 million inhabitants, has been open for international travelers since July 14th, but it seems no airline wants to risk landing due to concerns regarding their sanitary protocols.
For now, the three airlines that were willing to reactivate commercial flights have just decided to put off their decision until October.
RELATED:
– Guatemala Reopening Internationally – First Flights Starting on 18th
– Mexico Reopening States for Tourists – All to Know
– Costa Rica Reopening for 12 US States
Nicaragua Reopening – Latest Update (Oct 17)
Flights to Managua (the capital of Nicaragua) are starting to resume in second half of October. Here is the list:
San Salvador operated by TACA – direct
Fort Lauderdale by Spirit Airlines – direct
Miami by Eastern Airlines and TACA – direct
& connection flights to Panama, Brazil, Spain, etc.
(Source: Skyscanner)
Can US citizens travel to Nicaragua?
Yes, US citizens are allowed to enter Nicaragua but proof of negative PCR test is required. (source)
Which countries are allowed to enter Nicaragua during a pandemic?
All countries are allowed to enter Nicaragua but a negative PCR COVID test is required to grant entry.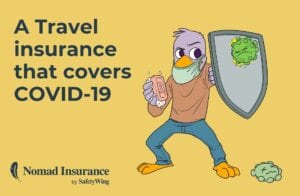 ---
Whether you are a traveler interested in learning more about this destination or a Nicaraguan national trying to go back home we have some answers for most of your questions and concerns.
What are, if any, the restrictions for visitors entering the country? Is the pandemic situation under control? Is Nicaragua a safe destination to travel?
How is Nicaragua doing regarding COVID-19 and other internal affairs?
Disclaimer: although according to the World Health Organization (WHO), Nicaragua reports a relatively stable contagion and death toll, with 3773 confirmed cases and 44 deaths, it is impossible to say these are accurate figures because Daniel Ortega's highly criticized government does not display much in the way official information that would allow us to reconfirm if the situation is as good as it looks at first glance.
Human Rights Watch, the international non-governmental organization that conducts research and advocacy on human rights around the world, gives us an insight into the reasons why this lack of information and secrecy seems to go apparently unchecked in the country.
According to this organization, ever since Daniel Ortega took office, almost every single official institution has been undergoing a dismantling process with the purpose of re-shaping government units to be more in tune with the political ideals of the president. Regarding the freedom of speech, (HRW) makes serious allegations about the violation of journalists' rights, including, but not limited to threats, insults, physical attacks, detentions, arbitrary searches of documents, and forced closures which may offer a plausible explanation on the lack of information about the country's current situation.
So, are there any restrictions in place or not?
Right now it would be hard for us to tell you what Nicaragua's national plan is regarding COVID-19.
The official websites for their Ministry of Transportation and Ministry of Health seem to contain very few articles, press releases, or other announcements regarding the situation, and those which do refer to the virus are not specific or thorough and do not provide a clear picture of the government's policies or even a general statement of where the country stands in terms of fighting the disease.
Moreover, Nicaragua has not officially regulated in any way in-country traveling, and it hasn't imposed quarantines or other types of curfews within its borders, as reported by the U.S. embassy in Nicaragua.
Due to the perceived mishandling of COVID-19, the U.S Department of State issued a Level 4 travel advisory (the highest) on August 6 for their nationals and instructed American diplomats working in Nicaragua to leave the country if they noticed a serious threat for themselves or their families.
What if I still need to travel?
The outlook is not so good. Even though locals and foreigners can freely travel domestically without any intercity or interstate restrictions, the situation to enter and leave Nicaragua is entirely different since all commercial airlines have suspended service from Nicaragua.
Below you can look at the updated list of airlines and estimated time for the suspension of their services to or in the territory:
Delta Airlines service suspended indefinitely
United Airlines service suspended until October 1, 2020
Avianca Airlines service suspended until September 19, 2020
AeroMexico service suspended until October 1, 2020
American Airlines service suspended until October 7, 2020
Spirit Airlines service suspended until October 2020
Copa Airlines service suspended until October 2020
Requirements
A lot of what is allowed or not is still uncertain. What we do know is that you will be expected to provide a negative COVID-19 test (PCS and/or serology), and will most likely be screened upon entering the country.
---
Nicaragua is definitely a hidden gem of Central America worth visiting with or without the COVID situation. It's a paradise for backpackers, surfers and budget travelers. You can enjoy some world-class beaches, island hopping, surfing, or climbing volcanos.