The Philippines reopened to most countries on February 10 and keeps easing the entry and local restrictions.
The Philippines is admitting fully vaccinated travelers from countries that do not require a visa, such as the United States.
Arrivals must submit a negative COVID-19 test result taken within 48 hours prior to boarding and a vaccine certificate.
Join our COVID-19 Travel Support FB Group
RELATED:
– Bali Reopening Borders For Tourism
– Thailand Reopening to Tourism – All You Need to Know
Disclaimer: Travel restrictions and governmental regulations can change rapidly and the information below might be outdated within a few hours. Therefore, double-check all information with your embassy or on official websites. Traveling Lifestyle does not take any responsibility for your decision to travel.
Philippines Reopening – LATEST UPDATES
May 13 – The Philippines to become a hub for international "medical" tourism
The Department of Tourism regards the Philippines as an "attractive medical tourism destination," according to health and industry.
"With world-class hospitals and facilities, skilled doctors and nurses, and the Filipino brand of hospitality, the Philippines is poised to become an attractive destination for medical tourism," Tourism Secretary Bernadette Romulo-Puyat said.
The Philippines, according to Juergen Steinmetz, a delegate at the recent World Travel and Tourism Council Summit, has the capacity to become a top medical tourism destination.
"It's a secret to be revealed and in the making to come out and go viral. The Philippines will become the number one destination for medical tourism," Steinmetz told reporters.
COVID-19 Situation in the Philippines
The CDC has ranked the Philippines as a level 2 travel risk. (Moderate high risk).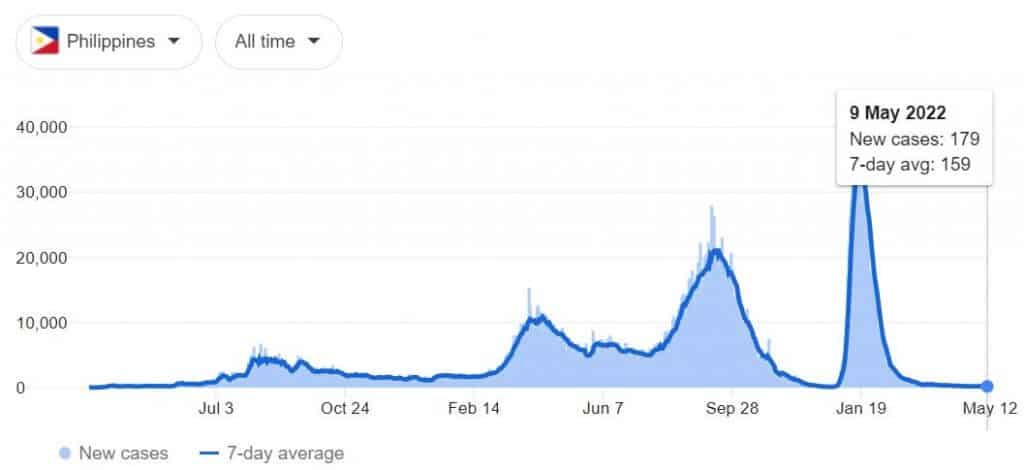 As of May 12, the country has reported 3,687,748 cases of COVID-19 and 60,455 deaths.
Why Visit the Philippines?
The Philippines is a wonderful place for a tropical escape. It's warm and, with more than 7,000 islands, has miles of white sand beaches for visitors to relax on.
The waters are crystal clear and provide opportunities for snorkelers, divers, kayakers, and fishermen.
Some of these locations, such as Boracay, Palawan, and Siargao, constantly make it into the top beach destinations in the world.
There are also other natural wonders, such as the Puerto Princesa Subterranean River National Park.
It's a UNESCO World Heritage Site and is the longest navigable underground river in the world. Travelers can take a tour through a cave system filled with impressive formations.
Tourists can also enjoy unique cuisine, vibrant local festivals, and some of the friendliest people in the world. Because the locals usually speak English, visitors find it easy to communicate.
Filipinos are proud of their country and love to answer visitors' questions.
It's also an inexpensive travel destination. Travelers can get a day tour for about $20 and decent meals for under $5.
---
Philippines Reopening: Update Archives
April 7 – Philippines has reopened to all tourists as it lifts the arrival quota for unvaccinated passengers
Beginning April 1, all international visitors must provide a negative laboratory-based antigen test taken within 24 hours prior to travel. A negative RT-PCR test performed 48 hours prior to departure is no longer required.
On April 1, Philippine embassies and consulates will resume issuing visas, coinciding with the lifting of all arrival quotas.
In addition, Covid 19 vaccination certificates from Croatia, Cyprus and Nepal, which are among the 157 countries whose citizens can enter the Philippines without a visa, will be mutually recognized.
"We at the DoT thank our colleagues in the IATF for approving such measures that will help sustain the recovery of the sector in the coming months," Puyat added.
March 25 – The Philippines set to reopen to ALL vaccinated tourists from April
Filipino authorities have agreed to welcome fully vaccinated travelers from all countries back again starting April, officials announced Friday.
Berna Romulo-Puyat, the Tourism Secretary, expressed optimism that more people will visit the nation now that entry criteria have been simplified and Covid 19 instances have reduced dramatically.
"We thank our colleagues who have worked with DOT since the onset of the pandemic to ensure that the reopening of the country is carefully planned and carried out with health and safety in mind," she said in a statement.
March 2 – Philippines expects a boost in tourism as restrictions relax
Some 25,000 tourists have arrived in the country since it opened last month, Malacañang has reported.
The Tourist Department predicts a surge in tourism after the government relaxed COVID-19 rules on Monday.
Pandemic restrictions in Metro Manila and 38 other areas across the country have been lowered to alert level 1, the lowest on a five-point scale, allowing for increased economic activity.
"The tourism department anticipates with optimism the revival of many tourism jobs and opportunities that were once lost to the pandemic," Puyat added.
February 17 – Philippines has welcomed nearly 10,000 international tourists in 3 days of reopening.
More than 9,000 international tourists have arrived in the Philippines since it opened up its borders on Feb. 13, according to Tourism Secretary Bernadette Romulo-Puyat, who expressed surprise by the unexpectedly great number.
"I was quite surprised when we reopened Feb. 10, I thought that only a few would come. But then I was so surprised that a lot came," Puyat said in an ANC interview on Monday.
The Department of Tourism is anticipating a steady increase in tourist numbers, which will contribute to the recovery of the local tourism industry.
January 31 – The Philippines set to reopen to most fully vaccinated travelers on Feb. 10
The Philippines plans on reopening to fully vaccinated tourists on Feb. 10 after nearly 2 years of closed borders due to the pandemic. Quarantine is not required.
For the time being, only visitors from the 157 countries that do not require a visa to enter the country will be welcomed.
"We are confident that we will be able to keep pace with our Asean (Association of Southeast Asian Nations) neighbors who have already made similar strides to reopen to foreign tourists," Tourism Secretary Berna Romulo-Puyat said last week.
Read our full post: Philippines Plans To Reopen For Vaccinated Tourists On February 10
January 25 – The Philippines to review its quarantine policy says government
The Department of Health (DoH) is set to consider a proposal from the Presidential Adviser for Entrepreneurship to mandate home quarantine rather than quarantine in government-designated facilities.
"We are not also suggesting that we implement the 'no quarantine' immediately. What I am proposing to our IATF-EID members is a gradual move toward the removal of quarantine in the Philippines, and moving toward home quarantine rather than facility-based quarantine," the Adviser said.
According to the Health Undersecretary, the Inter-Agency Task Force for the Management of Emerging Infectious Diseases (IATF-EID) has already authorized its specialists to examine the suggestion.
January 11 – The Philippines has delayed reopening plans but will focus on other tourism models
With record COVID-19 cases in the last week, the Philippines will focus on "sustainable tourism development," and a "workcation" model to boost domestic tourism.
"Our focus is on providing guests with high-quality experiences rather than mass tourism and short-term gains," said Tourism Secretary last week.
The Philippines continues to be open for a number of visitors from "green" countries who agree to spend a 3-day mandatory quarantine at a government-run facility followed by 7 days of home quarantine.
December 17 – The Philippines will remain under alert level 3 until Dec. 31 as it reports its first Omicron cases
The Philippines will remain under alert level 3 from Dec. 16 to Dec. 31, said the country's Health Secretary.
"The entire country will continue under Alert Level 2 beginning tomorrow, December 16, until December 31," due to the threat of the Omicron variant, the acting Presidential Spokesperson said at a press briefing.
Regardless of the travel alert, the Philippines is seeing the lowest caseload in nearly 19 months. On Dec. 15, the country only reported 47 new cases.
However, also on Dec. 15, authorities recorded the first two imported cases of the Omicron variant, announced the Department of Health.
December 3 – The Philippines has suspended its reopening for tourism on Dec. 1
Everything was in place for the Philippines to reopen on Dec. 1 after being closed for most of the pandemic. Then, the new Omicron variant happened.
Authorities have decided to put off the reopening for at least two weeks or until the scientific community has more information about the real threats posed by the fast-spreading strain.
For now, fully vaccinated Filipinos and rightful residents returning from "green" and "yellow" regions are allowed to enter the country.
Read our full post: Philippines Suspends Reopening for Tourism Due To a New Variant
November 4 – The Philippines might be getting ready to reopen its borders
"More Fun Awaits," the recent campaign unveiled by the Philippines' Department of Tourism (DOT) promoting new tourism products and packages appears to be strong evidence that the country might be preparing for reopening in the coming months.
But that's not all; according to the plan, fully vaccinated tourists will be welcomed and transported directly to tourist spots, bypassing hotel quarantines.
"That is why we prioritized the vaccinations of tourism workers so we can start accepting domestic tourists and eventually foreign tourists," Tourism Secretary Berna Romulo-Puyat told reporters recently.
October 21 – the Philippines started to ease domestic COVID-19 restrictions on Oct. 16
The Philippines has started to lift the lockdown restrictions as of Oct. 16, 2021, allowing more businesses to operate in Manila at reduced capacity.
Meetings, conferences, and exhibitions are now permitted, as well as social events such as weddings, and tourist attractions such as museums, parks, and others.
"We are almost out of the tunnel and beginning to see the light," Manila Vice Mayor Honey Lacuna, said it would help create more jobs and accelerate the economic recovery.
October 5 – The Philippines further eases COVID-19 restrictions amidst worst spike of coronavirus in Asia
The Philippines eased its COVID-19 restrictions allowing more business to resume activities as the country struggles with record numbers of daily cases.
With 38,294 total deaths, the country has the second-highest casualties in Southeast Asia.
Regardless of the negative pandemic numbers, the government had to make such a decision due to the economic hardship millions of citizens are facing, said Manila Development Authority Chairman Benjamin Abalos Jr., in a T.V. interview.
Despite the new policy, there are still no signs from the government that it is ready to reopen for foreign tourists this year.
September 13 – The Philippines lifted travel restrictions for other 10 countries including the UAE
Last week, Duterte's government decided to lift travel restrictions on visitors from the UAE, India, Pakistan, Bangladesh, Sri Lanka, Nepal, Oman, Thailand, Malaysia, and Indonesia.
The country remains closed for tourism. This step in Vietnam's international reopening process only includes some categories of travelers.
For now, only Filipino citizens, foreign spouses, and parents or children of Filipino citizens, diplomats, and foreign nationals with valid visas are permitted entry.
Source: NTravel
August 31 – Philippines will reopen economy when vaccination rate reaches 70% to 80%, says government
Local lockdowns will end as long as local government units (LGUs) are able to vaccinate 70 to 80 percent of their population.
Presidential adviser Joey Concepcion stated that the country could start creating "mall and restaurant bubbles" for fully vaccinated people to help recover the economy.
"We can only do this in an LGU once we have achieved the target of getting 70 to 80 percent vaccinations in that LGU," Conception said.
On the other side, Moody's Analytics Chief Economist Steven Cochrane considers that the Philippines' policies to face COVID-19 will create delays on the economic recovery.
Source: Business World
August 16 – Philippines extends travel ban on the UAE and other 9 countries until August 31
The Philippines has extended its travel ban on passengers visiting from the UAE, India, Pakistan, Bangladesh, Sri Lanka, Nepal, Oman, Thailand, Malaysia and Indonesia.
Presidential spokesman Harry Roque Jr confirmed the President's decision and also added that "this is a proactive measure amid the implementation of international border control
because of Covid-19 Delta variant," Roque Jr said.
Last Saturday, hundreds of hospitals reported to be reaching full capacity. Indeed, some of them have already run out of intensive care unit beds for COVID-19 patients.
August 2 – The Philippines' capital to go under total lockdown from August 6 to 20
The Philippines will return 13 million Manila people to lockdown to curb the spread of the Delta variant of the coronavirus, said government on July 27.
For 14 days, dine-in services in restaurants will not be allowed, and religious gatherings will be suspended. Other essential businesses such as barber shops can operate at 30% capacity.
Additionally, President Rodrigo Duterte warned that those who refuse to get vaccinated will not be allowed to leave their homes to protect other citizens' lives.
He stated he's ready to keep people who are "throwing viruses left and right" off the streets. "Well, for all I care, you can die anytime," said Duterte.
Source: SCMP News
July 22 – The Philippines might enforce new additional restrictions this week
The Philippines has garnered a reputation for having one of the toughest and longest lockdowns in the world.
Trade and Industry Secretary Ramon Lopez said that he will not recommend enforcing any more restrictions at the government's pandemic task force meeting this week due to concerns related to the economy.
However, President Rodrigo Duterte said it could be necessary "to reimpose stricter measures" as Delta cases rise and according to Lopez, Duterte has the final say.
Source: CNN
July 2 – Philippines to allow fully vaccinated visitors from 57 countries from July 1.
First and foremost, the Philippines is not open for tourism just yet. However, this is a major change in the country's rather strict entry requirements.
Until June 30, only people who were vaccinated – in the Philippines – could visit. Now returning nationals and those visiting for compelling reasons from 57 low- risk countries are also allowed with a reduced 7-day quarantine.
"To those who received full vaccination outside the Philippines, you need to bring the official documents stating you were already vaccinated," said Harry Roque in an online press conference on Tuesday.
Source: GulfNews