Qatar is open to tourists from 23 countries. It has also reviewed its travel policy and has relaxed some of its previous exit and entry travel restrictions.
Keep reading to learn about the countries that made the "green list" and the requirements for those that did not.
RELATED:
– Is Dubai Open for Tourism – Latest Update!
– Seychelles open to tourists from 43 countries
– Maldives opened for tourists
Who is allowed entry to Qatar?
Foreign citizens from low-risk countries are currently allowed entry for general purposes. Those coming from other countries are allowed only for essential travel.
Green-listed

countries or low-risk countries* –
Updated by Qatar government on November 20.
Australia

Brunei Darussalam

Canada

Chile

China (Hong Kong and Macau)

Estonia

Finland

Greece

Iran

Japan

Latvia

Malaysia

Maldives

Mauritius

Mexico

New Zealand

Norway

Singapore

South Korea

Sweden

Thailand

Turkey

Vietnam
Can I transit through Qatar?
Yes. you can. Please double-check with your airline since multiple flights have been canceled lately.
Do I need to submit my contact information to the government of Qatar?
Yes, you do. You must download Qatar's track and trace app, Ehteraz, and show it to the authorities when you arrive.
What are the travel restrictions for entry to Qatar?
If arriving from a

low-risk country
You will be required to take a Coronavirus test upon arrival at the airport
You must sign a formal pledge to adhere to quarantine at home for a week
You must download the Ehteraz application
After the 7-day quarantine, you must go take another COVID-19 test at an approved health center. If you test positive, you will have to self-isolate, but if you test negative your quarantine period will end and you will be free to resume your trip.
Visitors from low-risk countries must submit proof of a negative COVID-19 test result taken within 48 hours before arrival.
If arriving from a

high-risk country
Visitors from high-risk countries must adhere to the home quarantine for a week upon arrival in Doha if they bring a valid COVID-19 test. If their test is considered not valid by the authorities they must quarantine in a hotel at their own expense for one week.
This accommodation should be booked through the "Discover Qatar" website before arriving in Qatar. The quarantine period will depend on the result of your COVID-19 test.
What about Qatari citizens, their spouses and children, and permanent residency holders?
They are now allowed to travel outside the country and return at any time but they need to comply with all the requirements mentioned before.
I am a Qatar resident – Am I allowed to return home?
If you are a resident returning home, you must ask for a permit via "Qatar Portal".
Can I quarantine at home in Qatar?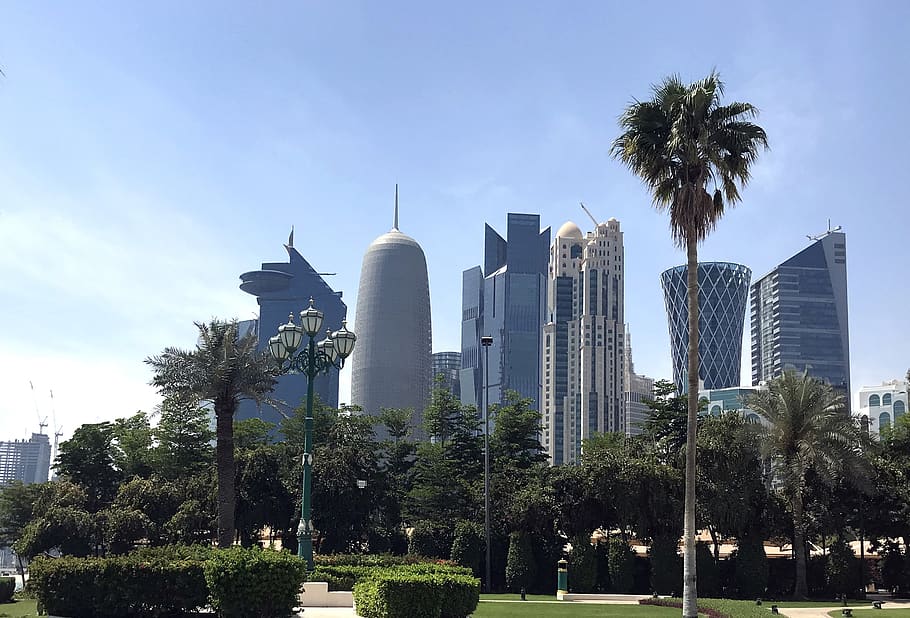 If you fall under one of these categories, you will be allowed to quarantine at home regardless of the country you are visiting from.
If you are over 55
If you have had an organ or spinal cord transplant
If you have received immunosuppressive therapy
If you have a heart disease
If you suffer from moderate to severe asthma
If you are receiving cancer treatment
If you are pregnant
Babysitting mothers with children up to five-years-old
If you have kidney failure
If you have chronic liver disease
If you have a lower limb amputation
If you have any disabilities that require support to carry out activities
Disabled children and their mothers
If you suffer from epilepsy and receive treatment
If you have diabetic foot
If any of your immediate relatives died in the 10 days prior to their arrival
If you are receiving treatment for mental and psychiatric illnesses, and people suffering from claustrophobia
If you have diabetes and receive treatment
If you have high blood pressure
What is the COVID-19 situation in Qatar?
The Qatar government has managed to control the pandemic in the last few months. As of today, the country has reported 136,441 positive cases, 133,691 of them already recovered, and 235 deaths.