Surfing is an amazing sport which can result in addiction very easily. Check out some cool reasons why you should try it out and why surfing is good for you! For travel inspiration check out TL quotes!
Cool surfing culture
Surfing as a sport has its own culture! Surfers community is truly friendly, cool and very chilled 🙂 who wouldn't want to be all that at once?
Chasing waves around the world
You always meet other surfers out there talking about different spots & waves. Hearing about it will push you to go and try. You might end up traveling around the world and chasing the waves in different corners of our planet.
EDITOR's RECOMMENDATION: Check out

best surf spots in Europe
Understanding the nature

To become a good surfer, you need to understand the ocean! You need to understand how waves, winds, currents and weather works together.

Living the moment in the ocean
Photo Credits: Mariss Balodis
CONNECTION WITH THE OCEAN! … when surfing, you put all your consciousness into it and focus only on the present. You need to get in a deep connection with the ocean and your body to paddle through the waves, get to the line-up, plan the timing and then enjoy the ride. When this is happening in wild waves, there is no past, there is no future… just the present moment and your clear mind!

Surfing makes you modest
You have to go through so many tough moments to get just a small satisfaction, but it's always worth it. No matter how experienced you are 🙂 You learn how to appreciate small progress (success)!

Good surfing session can make your day!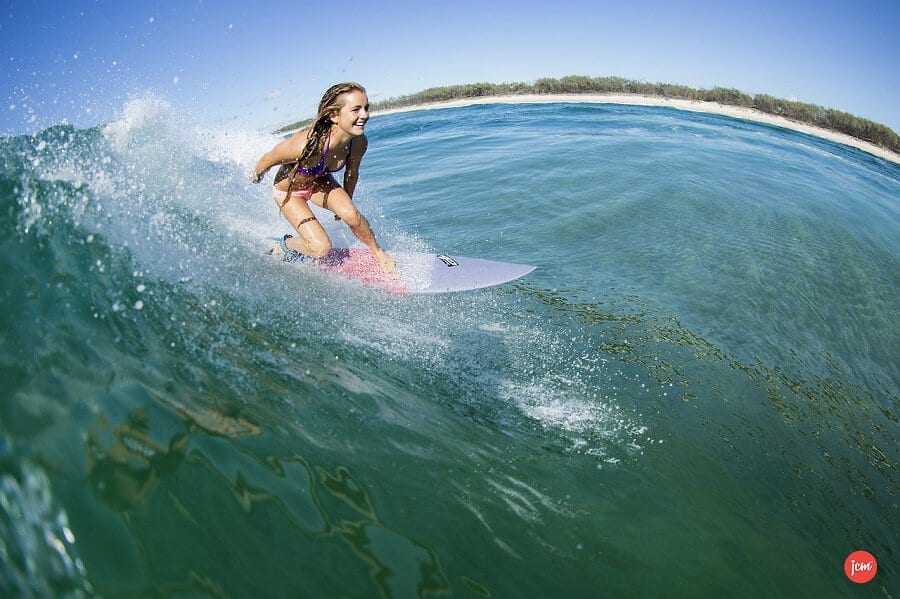 Photo Credits: Tarnea O'Meara
As I said above, there are many tough moments vs. small satisfactions. Every ride makes you happy, harmonised and can be mood changing.
"I found myself plenty of times … going to the water sleepy with a bad mood and getting out fresh and happy." – 🙂
Overcoming your fears
There are plenty of situations when you have to overcome the fear and kind of fight with the ocean. No matter how careful you're, it's not always a smooth experience.
Free gym
Surfing builds up and shapes your body. There are plenty of muscles involved in surfing + it's a good cardio for burning calories as well. Every time you go surfing, you paddle way too much.

Healthy lifestyle
Moving your body is definitely one of the best ways to keep you healthy. What is more, breathing fresh salty air cleans your corpus as well.

You make cool friends while surfing
Surfer are mostly very cool and relaxed people and who doesn't like to meet those types, right? It's very easy to open up conversation on line up about the waves, weather etc. When you arrive for surf holiday in a new place, getting out there and chat with people in the water is one of the best ways to make friend.
Best sunsets EVER!
TL in Morocco (Surfing in Taghazout) – February 2016!
This is my favorite part: surfing during sunset 🙂 It's always stunning to see the sun going down reflecting on the surface of the ocean. It's the most peaceful moment when I don't even need to surf, just watch, sit & chill on my board.
---
MY TIP for great surfing movie:
Hopefully, you've enjoyed this article and you will hit the waves soon. Don't worry, you'll love it.
P.S.: don't try if you can't swim! 🙂