Disclaimer: Travel restrictions and governmental regulations can change rapidly and the information below might be outdated within a few hours. Therefore, double-check all information with your embassy or on official websites. Traveling Lifestyle does not take any responsibility for your decision to travel.
December 19. Russia is open for 16 countries without quarantine if proof of a COVID-19 test is submitted upon arrival.
Russia has been slowly reopening its borders after months of closure due to the coronavirus pandemic.
Russia Reopening
– Latest Update (Dec 19)
December 19 – Current COVID-19 situation
Russia is experiencing a severe spike in COVID-19 cases. According to local authorities, medical services have come under a new strain as the death toll is reaching 600 cases per day.
November 28
On August 1, Russia resumed direct flights to Tanzania and Turkey. The U.K. Cuba, Serbia, and Japan were allowed to resume their flights from November 1 and Seychelles joined the club a few days later. As of Today, foreign nationals and residents from 15 countries are allowed entry.
Russia has been gradually reopening its borders after more than 7 months of closure due to the coronavirus pandemic.
Who can travel to Russia?
Russia is looking to strike a reciprocity agreement with other governments to resume air travel reopening flight routes.
Nationals and residents from the following list can enter Russia without quarantine if they show proof of a negative PCR negative test. Otherwise, they must undergo a 2-week mandatory self-isolation.
Belarus

Cuba

Egypt

Ethiopia

(recently added)

Japan

Maldives

Kyrgyzstan

Kazakhstan

Seychelles

(recently added)
South Korea
Switzerland

Serbia

Tanzania
Turkey
United Arab Emirates
United Kingdom
What are the entry requirements for Russia?
Must present proof in English or Russian-language that they have tested negative for the coronavirus in the past 72 hours to be allowed entry.
If foreigners or returning Russian citizens do not have proper test results, they will be required to submit to a PCR Covid-19 test within 72 hours of arrival. If the PCR outcome is positive, self-isolation for 14 days will be required.
Russians returning to their home country from other countries are expected to comply with a 14-day quarantine.
Russian nationals are required to complete an entry form on the gosuslugi.ru portal and then upload their PCR test results within 72 hours of arrival in Russia.
Is it safe to travel to Russia now?
Only essential travel is recommended by the CDC. Travelers at increased risk for severe illness from COVID-19 should definitely reconsider their travel plans to Russia.
Who can return to Russia, and what are the requirements?
The categories listed are meant to help transition to normalcy incrementally as the government monitors any shifts in Covid-19 cases.
They are currently allowing specific categories of people to travel if they have proper documentation and follow health and safety protocols:
Diplomats as well as their family members,
Intergovernmental committees, commissions, or exclusive delegation members,
Relatives of a deceased person, if proper documentation is provided to confirm the relationship,
Foreigners in need of medical treatment,
Foreigners studying abroad in Russia,
Foreigners who have jobs that are categorized as "highly qualified specialists" professions,
Covid-19 Situation in Russia as of
December 19
Russia is the 4th most infected country with 2,791,220 positive COVID cases and 49,762 confirmed deaths caused by the virus. Daily contagion rates are ranging from 25,000 – 27,000.
---
Covid-19 Situation in Russia
COVID-19 related restrictions
People should continue to practice known infection control methods even though Moscow does not require residents to wear a mask while walking on the street.
Residents can walk around Moscow without Contact Tracing or a Digital Pass to identify if they have had any close contacts with positive Covid-19 patients.
However, residents are encouraging residents to maintain a social distance of 1.5 meters (6 feet). Visitors could be fined for noncompliance.
Masks and gloves are required on public transportation, inside stores, or inside any public buildings.
Schools, including universities, and many businesses are open. Tourists can expect movie theaters and concert halls open with limited capacity permits.
For questions or concerns, the Moscow Department of Health hotline posts updates at +7 495 870-45-09.
Tourism in Russia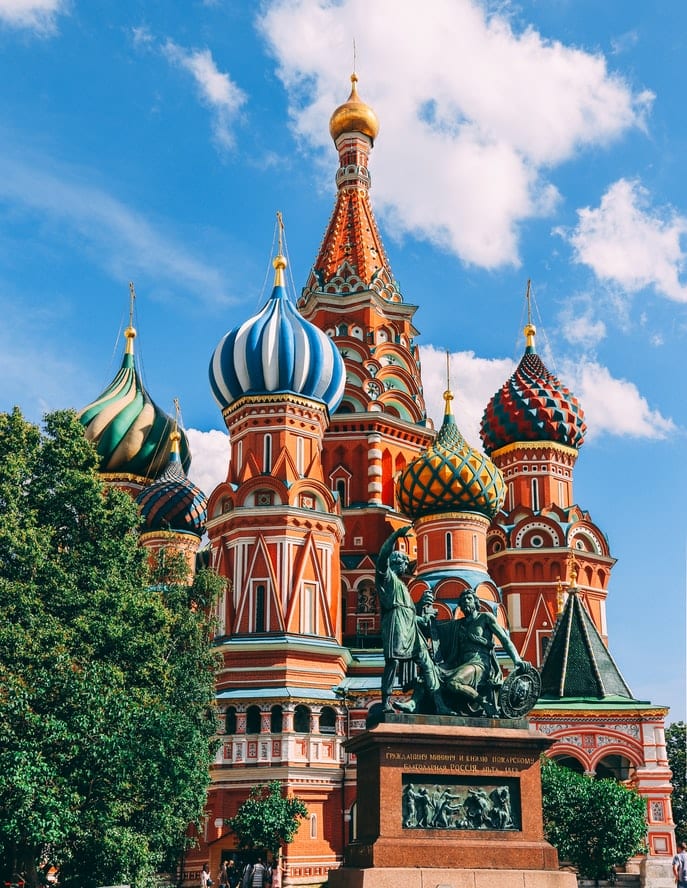 In early 2020 the Azerbaijan Tourism Board reported that the country's tourism sector was growing. That year alone, 426,000 tourists from 149 countries had traveled to Russia, accounting for 17 percent growth in tourism from the previous year.
The pandemic plummeted the growth of international tourism. Whether it was to see Moscow or the countryside Russia drew tourists worldwide.
Painted in history but with all of the modern amenities. Tourists come to Russia to be swept away. In Moscow, the Kremlin and the Red Square will not disappoint by their unique tours and color architecture.
Saint Petersburg attractions are walkable and concentrated around the Winter Palace. Cities like Moscow and St. Petersburg have convenient public transportation options. The adventure seekers will head out to Mount Elbrus.
Reasonable flights and an array of accommodations are available to fit every budget.
Sputnik Vaccine up to 95% effective
Related:
– Is China open for tourism?
– Is Ukraine Open for tourists?
– When is U.S. reopening? – Who Can Enter?