RV camping is one of the best activities that you can enjoy with your family.
Why do I say so? Because, when you go RV camping, it will give you and your family to go down the road, spend time together and the sites will be cool to observe. Things like the motorhome solar panel kit and vacuum cleaner are a must carry on board.
25 Best RV Camping Hacks 2022
Here are some of the hacks you can use that will make you a happier camper aboard an RV as it will ensure that your trip is easier.
25 RV Hacks You Must Know When Camping in 2022
Go ECO-friendly and get a power station / solar generator. Ideal for people that work while they travel with their campervan.
2. Portable generator – Charge up! (GAS)
Check out our COMPARISON REVIEW of Best Portable Generators for Camping
Having a portable generator can be very useful for more techy travelers but also a great addition to your camping gear. It will make you much more flexible with charging and can be also a great backup solution for auto-battery! You will be able to for a remote.
Solar panels have been heating many of our homes since they became more popular in the mid-2000s. However, that is not the only place where they can be used. This solar panel RV kit allows you to use a solar panel on your motor vehicle, powering many items within it as it makes its way around the world.
This panel has been specially designed to provide power in an off-grid setting, and it has been designed to withstand the high winds that you may experience on your travels as well as heavy snowfall during your winter trips.
It will power most everyday electronics. Users have reported that it can do things such as charge electronic devices, operate a fan and power lights. However, a refrigerator may be too much.
This panel weighs 33 pounds, and its dimensions are 42.2 inches by 19.6 inches by 1.4 inches.
Installing tension rods in your RV will help organize it. An RV fitted with tension rods has a well-used space.
Tension rods hold curtains thus can be used to divide one part of the RV from another. This creates privacy in your small RV space for changing clothes or staying alone.
5. Keep flies away – Make your own anti-fly spray!
Keep fly away with Pinesol. These guys recommend it for the household but it can be used for camper one as well.
Put it in a spray water bottle and mixed 50:50 with clean water. Spray your furniture and caravan to keep flies away.
Controlling moisture in your RV is vital in ensuring no mold growth. Little packets of silica gel moisture absorber are fit in RVs to absorb and hold water vapor. When you visit places with high humidity, put the water-absorbing packs in the pill storage box and cookware drawer.
7. Folding Table – Minimalist & Practical
One of the best camping hacks to take advantage of is a camping folding table that is both light and highly functionable. This one is just that. It only weighs 2.8 pounds while it provides a sturdy surface and a dependable base as it extends to 15.8 inches height by 21.7 inches length by 16.2 inches width. Its size and ultralightness also allow you to easily carry it in your backpack.
This camping folding table can withstand 50 pounds of objects placed on it before it may buckle. You can even place hot pans and plates on it as it has been designed to be resistant to hot temperatures.
Meanwhile, its sturdiness protects it from damage by pointy objects while its hard-top surface allows you to much more easily clean it than is possible with other types of camping folding tables.
8. Bottle Sleeves
Protect your bottles of wine and spirits with mesh bottle protectors. The mesh sleeves fit perfectly on the bottle to create a protective shield that prevents the glass from a brokerage.
The mesh sleeves can also be used for cooking oils and vinegar bottles. The bottle sleeves also prevent the bottles from chattering while on the road.
Most of the lights in the RV are incandescent bulbs, which burn very hot. It is best to install RV LED lights as they use less power to shine and produce more light than the regular incandescent bulbs. RV LED lights can be fitted at the underside of a shelf or even inside drawers.
10. Cast iron skillet
The cast-iron skillet is a multi-use RV cooking tool. The cast-iron skillet can be used for stove top cooking, broiling, and oven baking, which is aided by its non-sticking surface. Cast iron pans don't need a lot of water to clean hence ideal for camping.
11. Preventing ants from getting into the RV with a Baby Powder
It is annoying when ants try to make themselves at home in your RV. This is not only annoying but unsanitary, unsafe, and may damage your RV.
Sprinkle generous amounts of baby powder on where the ants are entering from and on the ants. Baby powder kills ants by clogging their breathing as they breathe through their skin.
12. Turn a watermelon to a giant jello mold
Jello is the ideal summer snack for adults and kids. The watermelon jolly is the perfect dessert to have while RV camping as it is refreshingly sweet and fun for adults and children. Adults can add vodka to the watermelon to make jello shots.
13. Rub an onion to the grill
To make you RV grill non-stick, cut an onion and rub the cut inside on the grill grates. The onion removes grime and grit that have built up on the grill grates. The onion should be stuck at the end of a grilling fork
14. Camping Cot – Hand outside of your camper van
Another great addition to your camping gear can be camping cot which can be stored easily and can be very handy for spending a nice time out of your camper van by the lake, park or on the beach.
It's very practical and takes only a few seconds to put it together.
15. Get microfiber towels, save space & dry fast!
Microfiber towels will save you up plenty of space and time as well! Why time? Because they absorb very well, dry very fast and can be used for washing, beach or camping.
Get your towel and head to a beach!
Editor's note: we use microfiber towels for personal travels and we can 100% recommend them. They are suitable for any kind of travel from backpacking, camping, family travel or even business trips.
16. Get DIY travel cup – No more spills!
You can turn any cup into a travel cup using the press and seal to minimize the spills when you are pouring something into it. The disaster area can be minimized by using a press and seal wrap.
You will just wrap it in whatever cup you are using and you will be shocked how you will minimize the mess from spills. Good, this is that it works on almost all the cups.
17. Utilizing the RV oven
It is possible to achieve nicely baked dishes using the RV stove. RV stoves run on propane, which does not heat as accurately or evenly as every camper hopes for.
To prevent your baked dishes from being burnt in the bottom, purchase a baking stone that fits the RV oven.
18. Get hanging travel gags for your toiletries to save space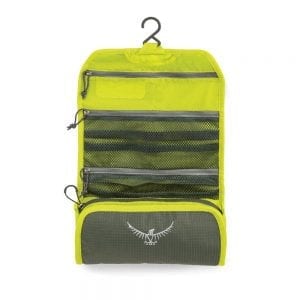 Hanging toiletry travel bags are a very popular backpacking hack. They are very useful when you pack/unpack very often but they are also great for saving space. You just simply stuff them with your toiletries and hang them on the wall.
19. Command hook curtains
If you need to create a curtain that will serve temporarily in your RV for separation, you don't need to drill holes into the frame.
In need of a super-easy way to hang curtains, you are better off using command hooks which will help in holding your curtain rod.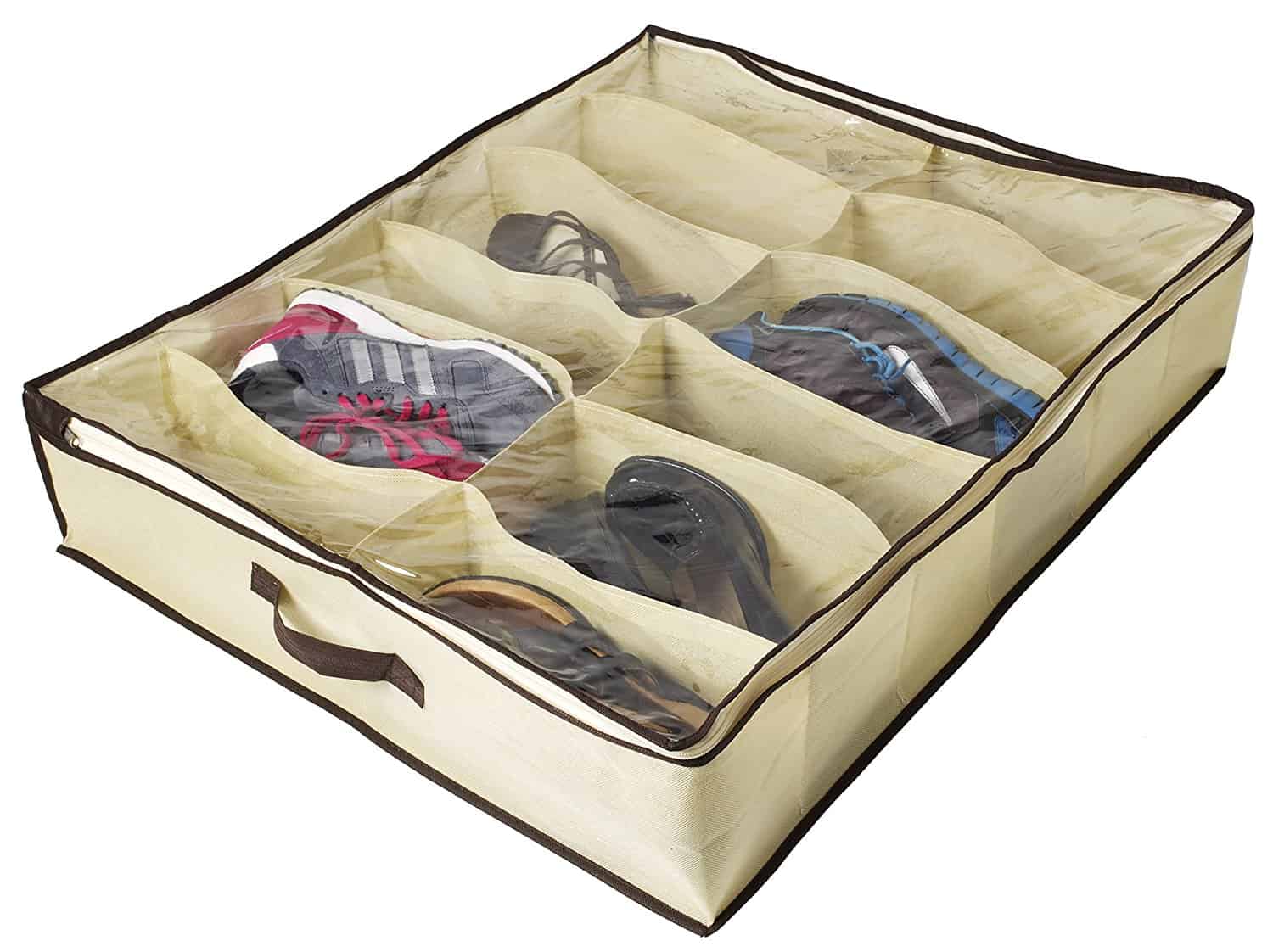 Did you know that the bed can serve as one of the greatest storage while camping? All you will need is a shoe holder, cut it and using a heavy rod, wire it. It's very strong and it will be able to hold several shoes in the frame of your bed.
21. PVC pipe hammock
Everyone likes a hammock and especially when outdoors. So after you are set at your campsite, be ready to set one for both the small and big kids to enjoy their time while out there. Did you know that, apart from using it as a hammock, it can double as an extra bed?
All you need to have are a two-inch PVC pipe to use for the main span and the cross pieces at 1.5 inches. Sew the sleeves of the fabric and then slip the PVC through and connect together. Create a hole in the pieces (the 1.5-inch ones) and run a rope through it.
It is easy to get wifi by purchasing it from the various companies who offer it, but at times, when you are inside the RV and on the go, it might be tough to get signals. In order to improve the signal, use a wifi reception booster which costs around $20.
This is a great solution for people traveling long term and working from their caravans / RVs. You should not hesitate when getting this!
23. Blackout curtain trick
.. you can find plenty of color variations/colors on AMAZON
When RVing, blackout curtains are a must-have. After you have traveled a long distance, your body will require some rest and at times, it might still be shining outside as the sun doesn't always cooperate when you want to sleep.
We recommend also, Velcro the blackout curtains which are nice curtains. So they will serve you as normal curtains and come in handy during those moments you want to sleep during the day. This will save you on the need to have more curtain rods.
24. DIY tank cleaner hack
RV toilets are a pain in the neck when it comes to cleaning them. You can fix this by using a ½ cup of a water softener and a detergent.
The use of the softener is to prevent waste from remaining on the waste tank walls while the detergent will help control the odor. Doing this will help keep the tank clean and the RV bathroom looking good.
25. Space saving containers
Did you know those square containers are efficient when it comes to space occupation as compared to the round containers? They also piece together well and don't seem to move around easily while you are on the go. Get as many square containers as you can and avoid carrying the round ones.
Pinterest
We hope these tricks were helpful and your camping experience improved. Feel free to share some feedback or thoughts in the comment section below. We would love to hear from you and help campers "to keep them happy" with our tricks.
---
Disclaimer: This article about the RV camping hacks might contain some affiliate links and we might earn a bit of a commission from some of the purchases. This income helps us to provide more articles and content.