The very thought of traveling to Africa has a connotation of adventure & culture attached to it. The plethora of National Parks, the ecological abundance, the local culture, and of course, the wildlife.
The world's second-largest continent has much to offer to adventure-seeking tourists worldwide. Choosing a country to visit within Africa can also be quite confusing, especially considering every place has something unique to offer.
However, for most, the thought of visiting Africa rarely comes to fruition and in most cases, it is because one can get easily intimidated by an alien land. The issue is further exacerbated when a handful of the countries in the continent also report some of the highest crime rates in the world which also affects the image of the safer countries in the continent.
That is not to say that all of Africa in plagued with crime. In fact, most of Africa isn't, and this article will dispel the myth entirely as we list the safest countries in Africa that one can visit.
RELATED:
– 10 Most Dangerous Countries in Africa by GPI Rank
10 Safest Countries in Africa by GPI Rank
We have ranked the countries below in terms of their global peace score (Source: Wikipedia) (a lower score indicates more safety). Purely based on peace index, it turns out that Ghana, Sierra Leone, Gambia and Senegal are safer than South Korea.
"Each indicator's results are then merged to create a single unified GPI value for each country. The lower the GDI score, the more peaceful—and by extension, the safer—the country is considered to be."
Safest Countries in Africa to Visit in 2022
1. Mauritius (1.54)
Mauritius is the safest country in Africa and the 28th safest country in the world.
Mauritius is a cosmopolitan tourist paradise with beaches and lagoons, coral diving, water activities, the "Seven Colored Earth" of Chamarel and beautiful forests full of wildlife.
The overall crime rate in Mauritius is quite low and the crimes that do occur are mostly non-violent, such as petty theft.
Mauritius offers a wonderful combination of cultures, friendly people, varied cuisine, and a diverse ethnic community. There are activities for all types of travelers in this natural wonderland. Honeymooners often enjoy sunbathing on the beach or going out on the town in the evening.
2. Ghana (1.72)
Ghana is pretty much located in the centre of the world map. Although Ghana does not host too many of the other attractions that its African counterpart countries host – like Safaris, Wildlife, Eco-tours and more. It does have a lot in the way of cultural heritage that dates back to the 18th century. The capital city – Accra has negligible instances of crime reported and the city is always bustling with locals and tourists alike.
There are a few attractions that one can indulge in Ghana. Surfing in the beaches of Accra, discovering Jamestown, Cape Coast Castles and visiting a few national parks here and there are a few of the activities that make Ghana a great visit!
3. Botswana (1.75)
Botswana is the safest country in Africa and 30th safest country in the world. A 1.676 Global Peace Index score makes it safer than the UK or Spain.
The land of the Okavango Delta, Kalahari Desert & the Makgadikgadi Salt Pans, Botswana is one of the hidden Jewels in Africa and is known not just for the flourishing wildlife but also the extraordinary views that each of the destinations has to offer.
Crime in Botswana is at an all-time low, the popular towns Francistown, Gaborone & Maun rarely experience any instances of serious crime.
If you're really concerned about safety in Africa, Botswana should be the number one pick. Safaris to Botswana tend to more expensive than a regular African Safari trip, so you may want to keep an eye on the prices.
4. Sierra Leone (1.81)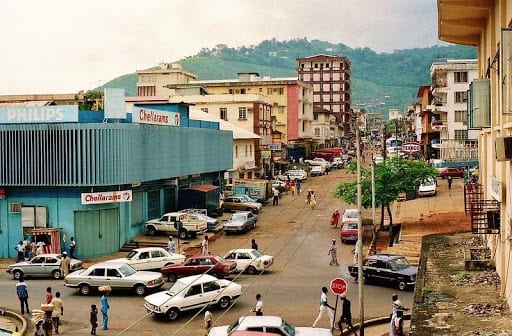 This tiny coastal country (at 71,740 Sq. km) is another haven for tourists who have Safety as their topmost concern. However, unlike the other countries mentioned previously, Sierra Leone does have a bit of a crime problem.
Over 60% of the country's population live below Poverty Line and as the saying goes "poverty breeds crime". Sierra Leone is known for its nightlife and parties especially during occasions like Christmas and Easter & the urban areas is where most of the crime takes place, the rest of the country is relatively crime-free.
As per the Government of UK, most trips to Sierra Leone are relatively risk-free, however there have been few instances of tourists being robbed at Gun Point. If you're visiting the country for a short duration, make sure that you avoid strolls after 10 PM & ensure you're always traveling in groups. Traveling with a local is an added safety measure. Source (https://www.gov.uk/foreign-travel-advice/sierra-leone/safety-and-security)
5. Gambia (1.85)
Tourism in The Republic of The Gambia is booming, and it's easy to understand why. The Gambia is known for its hospitality, sunny beaches, and diverse wildlife. Inexpensive safari tours give travelers a unique opportunity to observe leopards, monkeys, hyenas, hippos, crocodiles, and rare birds in their natural habitats, and world-renowned Kotu Beach is the perfect place to unwind after a long day spent exploring Banjul, the Gambian capital city.
Fishing, boating, and horseback riding are all popular beach activities in The Gambia.
The Gambia is one of the safest travel destinations in West Africa. Violent crimes in The Gambia are rare. The biggest threats are pickpockets and Bumsters. Bumsters approach tourists and offer to be their guide or promise to introduce them to The Gambia social scene. Some Bumsters target older women, offering romance in exchange for a new life in America or Europe. These men are con-artists, and they should not be trusted.
Fraud and scams are also common in The Gambia. Travelers should be wary of any unsolicited investment opportunities.
All in all, these countries are a standing testament that not all of Africa is riddled with crime. These countries remain unexplored by the international community largely due to inherent misconceptions but are a haven for adventure-seeking tourists worldwide.
6. Senegal (1.86)
Senegal does experience some petty crime and few instances of violent crime – most commonly mugging and robbery at gunpoint. But these instances are quite uncommon and at 1.883, the country fares better than France when it comes to country-wide safety.
Speaking of France, safety will most likely be the last of your concern since some of the biggest issues the tourists face has to do with language – which is almost exclusively French, few locals do speak broken English but it would be a great idea to hire a tour guide who is fairly adept at English.
Additionally, Senegal has a ton of attractions that tourists can fearlessly indulge in since these tourist attractions are not riddled with crime. The pink lake of Senegal is a tourist hotspot so is the town of Casamance where tourists can unwind and relax.
Birdwatchers will certainly enjoy places like Madeleine Island, Lagoon La Somone and the national park of DjouDJ.
Steer clear or remain extra cautious of places like Dakar and avoid late night walks in the beaches. Also, keep an eye out on the newspapers before your travel, Senegal is known to have a lot of protests and while most of them are peaceful, some of them do get ugly and result in riot police having to use aggressive tactics.
7. Tanzania (1.89)
Tanzania is the hotspot for an African Safari at the moment. The country offers the most diverse experiences in Africa. From Safaris in the Serengeti to Treks in the Kilimanjaro Mountains. From Wildlife and bird watching in the Ngorongoro to relaxing beach vacations in the Zanzibar Archipelago, Tanzania has it all, and travel to the country has been made simple due to policy initiatives by the Government.
When it comes to safety, Tanzania is generally considered safe. The country has had close to 1.8 million tourists visiting the country during 2019 and very few of the tourists have reported any crime.
However, while Tanzania is a safe country overall, it would pay to be extra cautious in the below-listed crime hotspots of the country
Arusha Town: The Gateway town between the Kilimanjaro Mountains and the Northern Circuit (Serengeti, Ngorongoro, Lake Manayara). Arusha is a fairly populous town and is also a layover town for tourists visiting the Northern Circuit– It is advised that tourists should not wear manifestly expensive attire/accessories and should avoid strolling out of the hotel area after dark.
Stone Town: The centrepiece of the Zanzibar archipelago also reports few instances of crime especially after dark during night-time parties. Tourists are advised to stay clear of this town during after hours
However, most of the tourists hardly ever spend any time in any of these places. Most victims of crime in Tanzania are locals are tourists hardly ever face any trouble. Tourists tend to linger around popular attractions like the Serengeti, Ngorongoro, Kilimanjaro Mountains & the Zanzibar islands. All of these places are relatively crime-free.
As a bonus, Tanzania is not as expensive a safari destination as most of the other countries in this list. Most of the safaris are layered into different types and you can choose one based on your requirement. For more details, click here for details on Tanzania Safari costs.
8. Malawi (1.91)
Malawi, the eighth safest country in Africa in 2021, has a GPI rank of 59, placing it between France (55) and Greece (66). Malawi was included in Lonely Planet's list of top ten countries for 2022 for its "lakes, scenery, wildlife and culture."
Crime is generally minimal in Malawi. The biggest risks are handbag snatching and petty theft.
The country is known for its friendly, smiling inhabitants. It boasts an exceptional freshwater lake that dominates this landlocked country. The pristine waves and peaceful islands make for an ideal beach vacation.
9. Equatorial Guinea (1.92)
Equatorial Guinea is the ninth safest country in Africa, ranking 62nd on the Global Peace Index for 2021. The U.S. State Department issued a Level 1 travel warning in April 2022.
These islands are known for their beautiful blue waters, sandy beaches, and densely forested interiors. They are accessible by ferries departing from the capital Conakry.
Monte Alen National Park, a 2,000-square-kilometer (772-square-miles) park with lush rainforest vegetation, lakes and waterfalls, and animal species ranging from gorillas to elephants, is one of Equatorial Guinea's most popular destinations.
10. Namibia (1.93)
While crime in Namibia is relatively low when compared to other African Countries, the country is still the most unsafe on this list. The country is safe for the most part but tourists are quite likely to be victims to either petty or violent crime crowded towns/cities like Windhoek.
Tourists should refrain from staying in these areas unless necessary, for the most part Namibia is quite picturesque and safe. The population density in places other than the urban areas is quite low, which is an effective deterrent to crime.
The country is bordered by the Atlantic Ocean to the west and the world's oldest Desert in the east, the vast plains in the country also make it a great destination for a road trip.
Other relatively safe countries in Africa
Zambia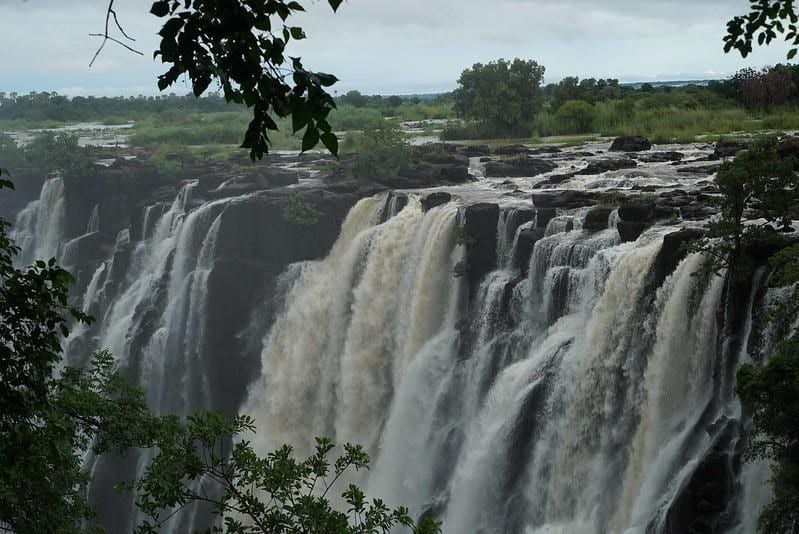 The US department of state in its annual report on Travel Advisory has marked Zambia at level 1 for traveller safety. Which means, travellers ought to exercise regular precautionary measures and need not go overboard with the panic.
A few areas in Zambia like the Copperbelt and Lusaka province do experience higher rate of crime than usual but none of them are considered "unsafe" as per international standards.
The Victoria falls, Kafue National Park & the lower-Zambezi National Park are must-visits during your visit to Zambia, all of them are relatively crime-free. A Zambia Safari is notoriously "wild" with very few traces of modernity, even the number of Safari Camps in Zambia is fairly limited.
Madagascar
Apart from the recent uptick in crime in the urban areas due to rising unemployment and political instability, Madagascar is considered one of the safer countries in Africa. The island nation has many friendly residents and the nation's rich, natural bounty makes it a very lucrative destination for vacationers.
The Avenue of the Baobabs – a huge trail of Baobab trees is a strong candidate for becoming one of the 7 natural wonders of Africa. Tsingy de Bemaraha national park & the Ranomafana national park are among the few destinations in Madagascar that one can visit without worrying too much about safety.
Apart from this, the Ile Saint Marie & Ifaty are popular beach destinations are popular beach destinations that are regular for tourists. Crime rates here are also negligible and these places also host some unique activities. You can fancy a boat trip to spot humpback whales in the Indian ocean once you've seen too much of land animals in its many National parks.
Liberia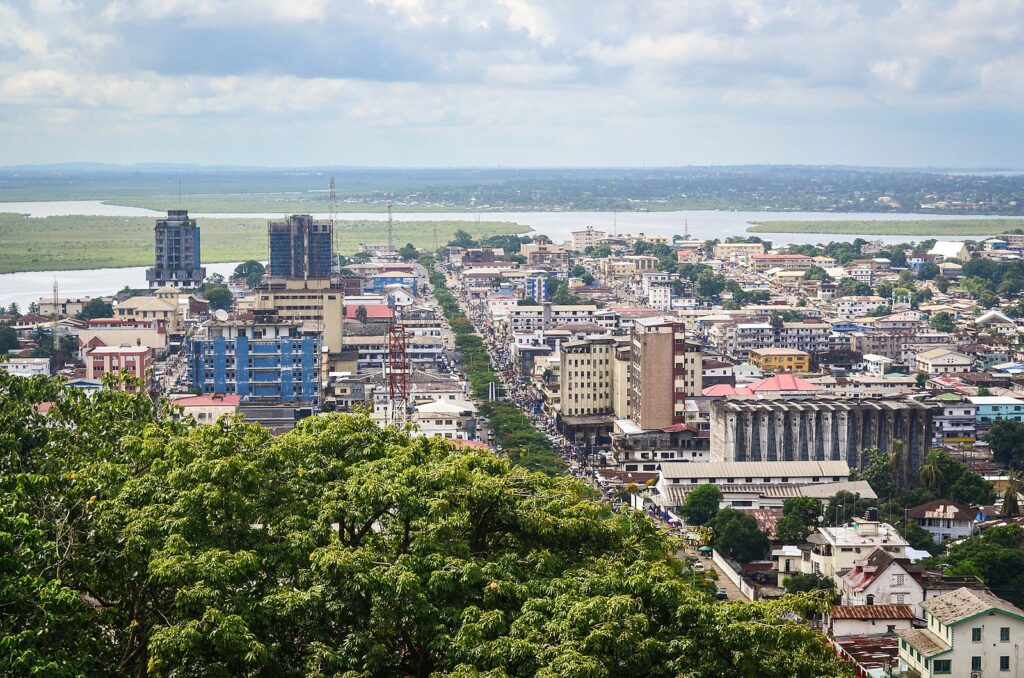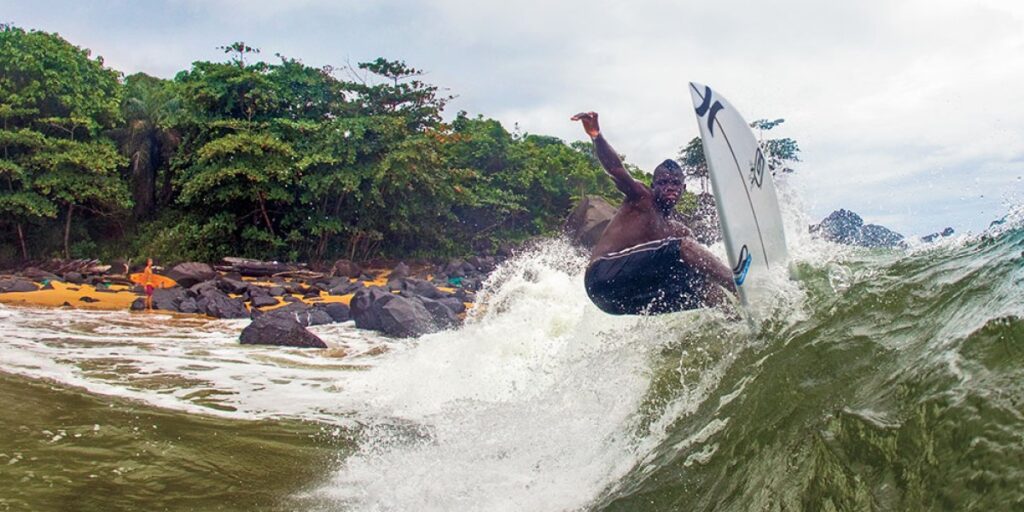 Liberia offers travelers the chance to experience West Africa's vibrant culture firsthand. The bustling capital city of Monrovia is home to dozens of markets where artisans sell their finest handcrafted wares, and the Liberia National Museum provides insight into the history of Africa's oldest republic.
Surfers from around the world flock to Liberia's palm tree-lined beaches to catch the perfect wave, and the inland jungles are home to leopards, elephants, chimpanzees, and the pygmy hippo. Liberia may sound like a dream vacation destination, but there are safety concerns to take into consideration before applying for a Liberian Tourist Visa.
Petty and violent crimes are common throughout Monrovia, especially in densely populated neighborhoods. Most crimes in Liberia are crimes of opportunity. Pickpockets frequent known tourist attractions, and armed carjackings often take place in broad daylight. It's wise to make travel arrangements through a reputable taxi company instead of hailing a cab on the street. Foreign tourists have reported being robbed by their taxi drivers.
Women travelers are especially vulnerable to crime in Liberia. Traveling to unsafe neighborhoods and walking alone at night is strongly discouraged.
Visiting Liberia can be a safe and memorable experience, but only if travelers take the proper precautions. There are always risks associated with foreign travel, and African countries like Liberia are working to improve upon safe travel policies.