Biosafety is the new trendy keyword in the hospitality industry. Travelers from all corners of the world look to find a comfortable place where they can spend the holidays without the constant threat of COVID-19.
Official agencies like the United States Centers for Disease and Control (CDC) as well as multiple embassies keep people informed of the development of the pandemic worldwide.
Thanks to the data provided, governments and people can assess the level of risk and plan accordingly.
We have gathered 10 of the safest destinations to travel, work, and live.
Azores
Relatively safe
The Azores is an archipelago in the mid-Atlantic and one of the autonomous regions of Portugal.
The tourism industry at this place focuses on outdoor activities such as hiking, diving, and whale watching. The Azores also has unspoiled nature, breathtaking landscapes and incredible lagoons and beaches.
How safe are the Azores to visit during Covid-19? With 300,462 confirmed cases and 4,577 the Mainland Portugal is still dealing with the second COVID-19 wave. Azores is different. This blessed location relatively away from the continent has kept their people also relatively safe.
To visit the Azores, the SARS-CoV-2 screening test is mandatory. Local authorities will advise you to take COVID-19 CPR test within 72 hours before departure.
Barbados
Level 2: Moderate Level of COVID-19
Barbados is a longtime favorite destination for travelers. Its decision to offer one-year long visas for digital nomads last July, in addition to positive ratings on its management of the pandemic have kept the country at the top of everyone's travel lists this year.
How safe is Barbados to visit during Covid-19? – The CDC has ranked Barbados as a level 2 country, meaning that the threat of COVID-19 is moderate in their territory.
Island authorities have been able to maintain their numbers low, and there has not been a single death since April, so the figures support their claim as a safe destination.
Barbados is currently receiving visitors from all countries, but they have strict restrictions and requirements for travelers coming from high-risk territories.
Also read: Barbados open for tourism with restrictions – [Updated]
British Virgin Islands
Level 1: Low Level of COVID-19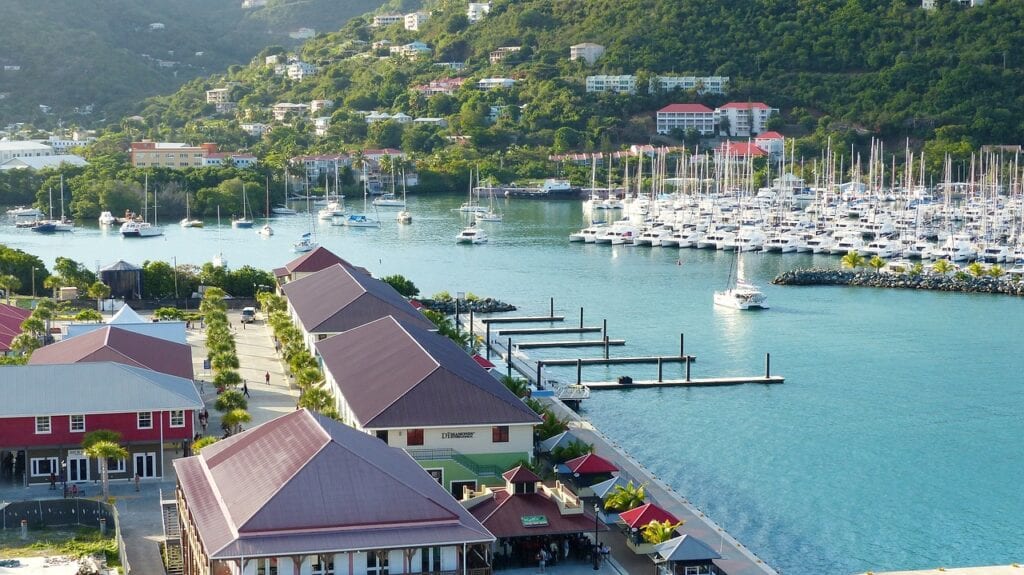 The British Virgin Islands are made up of 60 naturally preserved islands that gather the best of the Caribbean into one convenient destination for travelers trying to escape COVID-19.
How safe are the British Virgin Islands to visit during Covid-19? – According to the CDC, these Islands are a very safe place to travel. The rate of infection is incredibly low with only 1 case over the last couple of months. So far, 73 cases have been confirmed and only 1 person has lost their life to the pandemic.
Most venues are open for business. Beaches, resorts, bars and restaurants are open but subject to current social distancing measures.
Cambodia
Level 1: Low Level of COVID-19
The people, the culture, the food, the landscape; there are a million reasons to visit Cambodia. You can confidently add safety from COVID-19 to the list.
How safe is Cambodia to visit during Covid-19? – With the lowest possible risk level from the CDC and 0 COVID-related deaths, Cambodia is one of the safest places to travel to right now.
It all sounds pretty good, but before you book your trip you should know that Cambodia is enforcing a mandatory visa policy for all visitors. Also, port authorities are asking for proof of health insurance that covers COVID-19, and requesting visitors pay up a deposit for USD 2000 to be granted entry, so travel costs can start accumulating fast.
Also read: Cambodia is open for tourism as one of the safest destinations by CDC
Cayman Islands
Level 1: Low Level of COVID-19
The Cayman Islands are like no other place on earth. On one hand they offer adventure, natural beauty and luscious landscapes, and on the other all the luxuries of the modern world. Without a doubt, a perfect spot for digital nomads.
How safe are the Cayman Islands to visit during Covid-19? – According to the CDC, the Cayman Islands rank among the places with the lowest level of risk for travelers. From the 258 cases reported up to November, 243 had already made a complete recovery and there are very few new ones.
Right now, the islands are only open to a selected group of travelers. Hopefully in the weeks to come, they finally take the plunge and open their borders to all countries.
Also read: Cayman Islands started opening borders for selected visitors
Dominica
Level 2: Moderate Level of COVID-19
This small island in the Caribbean is well known around cruise-traveler regulars. Usually they are the ones that enjoy its natural diversity, native history and culture, and water activities. Although, the island also receives a good number of other tourists each year.
How safe is Dominica to visit during Covid-19? The CDC has ranked Dominica as having a moderate risk level. Despite a recent spike in cases starting December, the total number of people with COVID-19 is still very low (88) and there have been 0 fatalities in the country since the beginning of the pandemia.
Dominica's requirements and restrictions depend on the level of risk of the country you are visiting from. Visit Discover Dominica for more info.
Fiji
Level 1: Low Level of COVID-19
With over 330 islands, Fiji offers its visitors an unlimited source of enjoyment. This country has always been at the top of the wish list for digital nomads, and it is not hard to know why. Its warm beaches and warmer people captivate travelers from every corner in the world.
How safe is Fiji to visit during Covid-19? – The CDC currently rates the country as a very safe place to visit. On November 4, the country marked 200 days without any transmission of the coronavirus disease in the community. A great milestone worth celebrating. (Source: WHO)
On December 2, 4 cases were confirmed for a total count of 42 positives over the course of the whole pandemic.
Also read: Fiji is open for tourism but only to high spenders
Grenada
Level 1: Low Level of COVID-19
Grenada is a place that organically mixes nature, sun, relaxation, gastronomy and paradise beaches to work from.
How safe is Grenada to visit during Covid-19? – The CDC classifies this country among the safest in the world regarding COVID-19 infections and transmission.
With devastating news coming from all over the world about the unstoppable contagion rate and the daily death toll, it is hard to believe that this small island country only has 5 active cases and 0 deaths.
Thanks to the optimal epidemiology situation, the national curfew was lifted and visitors are now allowed to move freely around the country. Social distancing measures and wearing a face mask are still mandatory when in crowded or closed spaces.
Mauritius
Level 2: Moderate Level of COVID-19
With fast internet connection and the possibility to easily meet other travelers or local friends, Mauritius, one of the East African island nations has everything remote workers and tourists need to feel safe during COVID-19.
How safe is Mauritius to visit during Covid-19? – The CDC ranks Mauritius a safe place to travel. Over the course of the pandemic, Mauritius has only reported 500 cases and 10 deaths to the virus. So it's safe that community transmission is not a really concerning issue at the moment.
Additionally, the island just announced its new Premium Travel Visa which will allow remote workers to live in the country for up to one year.
Saint Kitts and Nevis
Level 1: Low Level of COVID-19
The two islands that make up this country offer a multitude of the regular landscapes and sea activities you think of when you dream of the Caribbean. It also has a growing bridal industry that offers magical destination weddings.
How safe is Saint Kitts and Nevis to visit during Covid-19? The CDC ranks Saint Kitts and Nevis as a destination posing the lowest level of threat to travelers. With only 28 cases to date and 0 related deaths it is fair to say that the country has managed the threat of COVID-19 quite effectively.
Saint Kitts and Nevis opened its airports to international travelers back in October. To check the requirements for travelers visit their tourism website.
Seychelles
Level 2: Moderate Level of COVID-19
Are you planning to escape this winter to a paradise island? The Seychelles offer you over a hundred of them! This African destination is ready to accommodate all kinds of budgets and travelers.
How safe is Seychelles to visit during Covid-19? – The CDC has ranked the Seychelles as a moderate-risk travel destination given their low rate of COVID-19 cases and death toll of 0. As most countries with a level 2 travel advisory, the Seychelles have achieved this by a combination of biosafety measures, testing and contact tracing.
Visitors should expect to be held to the same safety standards so we recommend checking the Seychelles Travel website to learn the policies currently enforced on the islands.
Also read: Seychelles as one of the safest holiday hotspots to visit during COVID-19
Thailand
Level 1: Low Level of COVID-19 in Thailand
Thailand has topped the rankings as a favorite destination for digital nomads and remote workers for a while now. This country not only offers a fascinating Buddhist culture and friendly people, but also an affordable comfortable living and plentiful of work resources.
How safe is Thailand to visit during Covid-19 – The CDC considers Thailand as one the safest destinations to travel to as of now. With only 4,008 confirmed cases and 60 deaths, the country managed to flatten the curve back in May when most countries around the world were just starting to experience the coronavirus hit.
Another good news is they started issuing 60-day tourist visas back again on November 1. If you have the chance, it's a no-brainer, just book your tickets!
Also read: Thailand fully open to tourism with a new 60-days travel visa