Disclaimer: The travel rules and official government instructions are changing rapidly during the pandemic times and this article might NOT be up to date within a matter of hours. Therefore, you should always double-check the information with local authorities or your embassy in a given destination. Traveling Lifestyle does not take any responsibility for your decision to travel during pandemic.
Seychelles is reopened to 42 countries! Department of Health updated the green-list of countries allowed to enter the islands on October 23rd.
The 115 islands that makeup Seychelles are known for their stunning sandy white beaches that are contrasted by lush rainforests. It's ideal for romantic vacation getaways or adventurous diving expeditions.
Seychelles quickly contained and responded to the COVID-19 pandemic that reached its peak of total cases in early April with no known deaths. Schools were reopened in Mid-May, and soon after, Seychelles deemed it best to reopen to tourists gradually with safeguard protocols in place.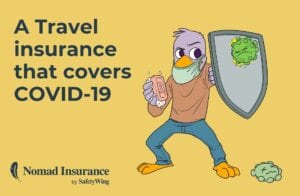 RELATED:
– Maldives Reopening for Tourism – All You Need to Know
– Sri Lanka Reopening Borders for Tourism
– Fiji Starts Reopening Borders to Turists
Seychelles Reopening – Latest Update
Seychelles reopening has been successful so far! Since the reopening, they've welcomed over 2000 visitors which added $31 million to the economy. (source)
Covid cases are still down to a minimum.
Tourists from 42 countries are allowed to enter Seychelles. (Scroll down to see the full list).
What Countries Can Enter Seychelles?
When can a wanderlust traveler expect to explore any of the 115 islands that make up the Republic of Seychelles? Well, it depends on where you are a citizen.
Seychelles initially reopened to tourists from 19 countries, and another 17 other countries being considered as 'medium risks.' Who are these lucky 19 'low risk' countries, and how did they make-the-cut?
At the moment list is extended to 42 countries in total.
The countries are not from any particular region, but they are classified and listed as 'low risk' due to responsiveness from their health system and low incidents of cases.
List Updated as of 23 of October (source)
Australia

Austria

Botswana

Burundi

Cambodia

Canada

China

Cote d'Ivoire

Cyprus

Denmark

Egypt

Estonia

Finland

Germany

Ghana

Iceland

Ireland

Italy

Kenya

Latvia

Liechtenstein

Lithuania

Malawi

Malaysia

Mauritius

Monaco

New Zealand

Niger

Norway

Pakistan

Portugal

Qatar

Rwanda

Singapore

South Africa

South Korea

Sri Lanka

Sweden

Switzerland

Thailand

Vietnam

Zimbabwe
What are the Rules and Restrictions for Entry into Seychelles?
A negative PCR test is required!

Visitors from the 'Low Risk' countries can bring an approved rapid test, but preferably a negative PCR test must be taken 72 hours from the travel date.
All visitors must fill out health Travel Authorisation Form.
Visitors can only stay / reserve accommodation that has been approved by the Public Health Authority. (Check here)
Insurance that covers COVID-19
Traveler's Insurance and Accommodations
Before departing for Seychelles, your entire stay must be covered by travel and medical insurance. For your safety, the public health authority will verify that your accommodations are booked at a certified facility.
Safe tourism experience is essential, so Seychelles developed a taskforce and certification system to verify safety protocols called the Safe Tourism Certification for industry service providers. The easily recognizable green-ticked badge will demonstrate to guests that a business has adopted hygiene and health protocols and standards mandated by the public health department. Over 200 establishments are currently certified and receive the stamp.
Arrival Protocols and Safeguards
Regardless if you arrive via a private jet or commercial passenger flight, multiple health evaluations such as symptoms scans or questionnaires, random swabbing, and temperature scans will be administered to all incoming tourists and crew.
Tourists are required to email negative test result certificates, all accommodation, and flight details to the Seychelles Public Health Authority at [email protected] before arrival. Failing to do so will result in a COVID-19 PCR or a Rapid Antigen test when you arrive.
What about cruising to Seychelles?
Cruise ships are currently not allowed to dock in Seychelles. According CNN, they are banned till 2021.
A private yacht's crew may be allowed to enter Seychelles waters and onshore only if they have been at sea for more than 14 days and at Seychelles Department of Health discretion.
Can American tourists enter Seychelles?
No, American tourist are not allowed to enter Seychelles at the moment.
What Activities Are Reopened in Seychelles?
Beginning in June, locals and tourists can enjoy the following activities:
Beaches – 65 beaches on the island of Mahé alone (but no beach parties)
Bars and Restaurants
Casinos
Cinemas
Gyms and Fitness Centres
Marine leisure crafts – host of great excursions
With its diversified economy, characterized by the public sector, service, and tourism activities, there is something for everyone and every budget in Seychelles.
Are you looking for an activity off the beaten-path yet socially distant? You should check out Copolia Trail in the Morne Seychellois National Park on Mahe Island. The trail has been upgraded to enhance the hiker's experience with steps, information boards, benches, and a new facility.
Let's Go!
If you are looking to avoid the peak tourist crowds, then definitely do not schedule a trip to Seychelle in December, January, July, and August.
Sunbathers can enjoy a more temperate, less humid beach experience with warm temperatures in the transition months of April, May, October, and November. These months are also ideal for wildlife watching and scuba diving.
Transportation
The principal island, Mahé, hosts the international airport and most of the islands' tourism facilities. These include a wide variety of cultural and eco-tourism hotspots, unique restaurants, bars, accommodations, casinos, dive shops, and car, fishing & sailing boat rentals. Creole, English, and French are spoken in Seychelles.
Mahé airport is serviced by many well known international operators such as Emirates, Qatar Air, Turkish Air, and many more.
Accommodations
Think the gorgeous islands of Seychelles are out of your budget? Sixteen of Seychelles' 115 islands currently offer charming accommodations. Lovely B&Bs or chalets can be rented for under 80 USD a night, or splurge on a 5-star resort, spa hotel, or beachfront villa for around 400 USD per night.
No matter when you visit the enchanting islands of Seychelles, you'll encounter temperatures averaging in the 80s. Look at your calendar! Book a trip and have a wonderful holiday.