Disclaimer: Travel rules and official government instructions are changing rapidly during the pandemic times and this article might NOT be up to date within a matter of hours. Therefore, you should always double-check the information with local authorities or your embassy in a given destination. Traveling Lifestyle does not take any responsibility for your decision to travel during pandemic.
South America is home to dozens of different countries and cultures. From the Amazon rainforest and river that stretches four-thousand miles long to the mountains and hillsides of Peru, South America is a great destination for tourists who need a little rest, relaxation, and a lot of sunshine.
The COVID-19 pandemic of 2020 caused many countries to ban travel across the borders in an attempt to prevent further spread of the unfamiliar virus, but countries have recently begun opening their borders to travelers again, which is great news for anyone who needs a break from life during this current pandemic.
However, each country still retains a certain amount of rules and procedures to prevent another spike in cases. Some South American countries are willing to receive visitors from anywhere around the world, while others will only allow travelers from moderate to low-risk countries.
COVID-19 tests are required a few days before, and sometimes even upon arrival in certain countries.
After taking all pre-travel precautions, South American countries are still taking social distancing precautions very seriously and require a mask in public areas. If any country in South America is on your next travel destination list, continue reading to discover what each beautiful country has to offer as well as precautions to take before and during your next much-needed vacation.
QUICK ANSWER:
Which South American countries are open for tourism?
Brazil, Ecuador, Colombia, Bolivia, and Paraguay are the only South American countries open for tourism at the moment. Various entry restrictions apply.
Brazil is open to all countries,

no quarantine or PCR testing is required

Colombia is open to all countries,

no quarantine or PCR testing is required

Ecuador is open to all countries,

PCR testing is required

Paraguay is open to all countries,

PCR testing or quarantine is required

Bolivia is open to all countries,

PCR testing is required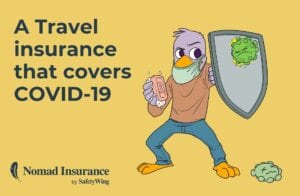 Keep on reading for more updates on South American countries reopening tourism.
Argentina Reopening
Argentina is home to many captivating attractions, but it's most famous is Los Glaciares National Park, where you can find the largest ice cap outside of Antarctica and Greenland. However, with all of it's many tourist attractions, Argentina has one of the strictest travel bans in the world during the COVID-19 pandemic.
Buenos Aires, the country's capital city, and the greater surrounding area have been isolated from the rest of the country. Public transportation was even banned for anyone who was not an essential worker, and Buenos Aires residents were only permitted to be out in public for basic needs, lasting until mid-July.
Travel to and from Argentina has been banned since late April and was expected to revamp on the 20th of September. The nationwide quarantine has now been pushed back until the twentieth of September, currently only allowing permanent residents to re-enter after traveling.
Check out full post on Argentina Reopening Borders.
Bolivia Reopening
Latest update: Bolivia reopening borders
Bolivia has reopened borders to tourism on October 12th but there is a national quarantine until October 31st You'll have to quarantine if you enter the country. Only a few exceptions can avoid quarantine.
For more information check full article on:
—–
Older updates:
Bolivia's quarantine procedures and travel restrictions are a lot more varied depending on the city of entry. The country as a whole remained off-limits to travelers during the initial phase of the pandemic as the Bolivian government announced a total quarantine until the end of August.
The country's water and land borders will remain closed until further notice, but air borders have reopened. Initially, no flights are leaving or entering the country, but foreigners are now allowed to enter the country as long as they have proof of a negative COVID-19 test before boarding their flight.
Brazil Reopening
Latest update: Brazil reopening borders
Brazil reopened borders for tourists from all countries on July 29th with almost no restrictions. You can freely travel around the country and no testing is required but insurance that covers COVID is mandatory. The land borders of Brazil still remain closed.
For more information check full post:
—–
Older updates:
With a population of over 200 million people and almost 4 million confirmed cases of COVID-19, it comes as no surprise that Brazil is being very careful and strategic in reopening its borders to travel. Brazil faces a unique set of challenges, being home to the indigenous populations of the Amazon Rainforest who are at a much higher risk of mortality after contracting the virus.
Despite Brazil's more than 100,000 confirmed deaths from the virus, the country lifted its travel ban on foreigners at the end of July. Brazil's land and water borders will remain closed until the 24th of September, but all foreigners are allowed to enter by air as of the end of August.
Travelers will not be required to show proof of a negative COVID-19 test before arrival or quarantine while in the country, but they will need proof of health insurance that is valid during the entire time of their travel with a minimum coverage of $5,600.
Upon arrival, travelers will not be required to follow any quarantine procedures or guidelines, as President Jair Bolsonaro insists that they are only put in place to be followed by elderly and other high-risk demographics.
Chile Reopening
Only Chilean citizens are allowed to enter the country, and a nationwide curfew is set in place from 11PM to 5AM daily.
The Chilean government closed its borders to foreign travel on the 18th of March, and required anyone returning to the country to be subjected to 2 weeks of self-quarantine. As of the 1st of September, the Chilean government has extended the state of emergency for another 2 weeks, ending on the 14th.
For more information, check our full post on Chile reopening borders to tourism – NEWEST UPDATE.
Colombia Reopening
Latest update: Colombia reopening borders
Colombia has reopened its borders to international tourism on September 21st. From NOVEMBER 4th, the PCR test is no longer required for entering Colombia.
Only filling out a travel health form and tracking app are required!
For more info read full article on:
—–
Older Updates:
Colombia starts resuming international flights on Sept 17. Borders are still closed but are expected to be reopened to foreigners soon.
At the moment you can find flights to these destinations:
USA,
Ecuador,
Mexico,
Bolivia,
Brazil,
The Dominican Republic,
Guatemala.
Colombia's travel banned also ranked highly among the world's toughest, initially closing borders to foreigners from mid-March to the end of August. The Columbian government has now extended lockdown until the first of October.
Water and land borders will remain closed for the time being, and it is currently unknown when international air travel will resume.
Columbia is only allowing travelers to visit for humanitarian matters, banning U.S. citizens from entering the country for recreational purposes. Permitted travelers will be expected to quarantine for 2 weeks.
Ecuador Reopening
Ecuador reopened its borders to foreigners as of the 1st of June, permitting the continuance of commercial flights. Travelers are required to provide negative COVID-19 test results within 10 days of entering the country, and self-quarantines will not be enforced unless visitors are showing symptoms.
—–
Test results are expected to be provided before your trip, and travelers will be required to take on at their own expense upon entering the country and must quarantine until receiving negative results.
If a foreigner is traveling from a country that does not have COVID-19 testing available, they are required to sign a document allowing Ecuadorian officials to test them upon arrival.
Though airports have reopened, U.S. officials still urge citizens not to travel to this South American country in the midst of this pandemic.
French Guyana Reopening
French Guyana opened its border and international flights but only for essential family and work travel purposes.
Paraguay Reopening
Latest update: Paraguay reopening borders
Paraguay started reopening its borders to tourism on October 21st. Visitors from all countries are welcome but they need to either go through testing or stay in quarantine for at least 7 days,
For more details check full post:
—–
Older updates:
The country has recently begun easing its lockdown procedures, however some bans will remain in place. The majority of commercial flights are suspended with the exception of cargo transport.
Paraguay has been under strict quarantine, as many of its confirmed COVID-19 cases are believed to have come from its neighbor Brazil. The Paraguayan government has even limited the number of persons in a vehicle, only authorizing groups of 4 in SUVs and private cars.
For more info check: Paraguay reopening borders.
Peru Reopening
Latest update: Peru reopening its borders to tourism
Peru has reopened its borders on October 5th but only with 7 countries. Chile, Bolivia, Colombia, Ecuador, Panamá, Paraguay, and Uruguay are allowed to enter Peru but will need to undergo 14-day quarantine and submit proof of negative COVID (PCR) test.
For more details check full version:
—–
Older updates:
Peruvian airways reopened for domestic travel back in July, but international travel remains closed with the exception of returning flights back to the U.S.
Peru was among the first South American countries to enforce quarantine procedures, but despite the country's its early action toward preventing the spread of the new virus, Peru had the 5th highest number of confirmed COVID-19 cases worldwide at the beginning of September.
As of the end of August, the country expanded quarantine procedures to include a nightly curfew and complete ban of social gatherings both in public and inside of homes.
Check for the more information on Peru reopening to tourism.
Suriname Reopening
Suriname borders remain closed for all tourists and also local lockdowns and curfew are being extended!
Flights with the Netherlands will resume soon but negative COVID tests will be required! (source: travelbans.org).
The governments of Guyana and Suriname are reviews the opening protocols for their mutual border. (source: caricom.org)
Uruguay Reopening
Latest update: Uruguay reopening borders
Uruguay might not start reopening its border until March 2021, said the local government on the last press conference.
For more details visit:
—–
Older updates:
Uruguay will not reopen borders its border to international tourism until Oct 31st but, says the government. (source: travelnext.news)
As of August 14th, Uruguay had 1,400 confirmed COVID-19 cases and 37 deaths.
These figures were some of the lowest in all of South America, yet the Uruguayan government will prolong its ban on foreign travel until further notice.
Uruguay's borders with its neighbors Argentina and Brazil will remind closed, but some flights transporting passengers to Brazil are permitted.
The government is considering to start reopening for Europeans, check the full post here.
Venezuela Reopening
Venezuela has extended its ban on commercial air travel until the 12th of September. U.S. citizens currently residing in Venezuela and permanent residents have been advised to be prepared to stay indefinitely until further notice.
According to reports, many Venezuelan medical professionals and patients alike have been avoiding COVID-19 testing out of the fear of dealing with the harsh conditions of mandatory government quarantine facilities.
While it is certain that we are living in a time of worldwide panic, uncertainty, and fear, it is crucial to remember not to stress over situations we have no control over and enjoy life as much as possible. The answer for many of us would be a break from the hustle and bustle of American life, a nice trip somewhere we can be surrounded by our loved ones, sunshine, different cultures, great experiences, and much more.
If you are planning to take a quick vacation somewhere in our neighbors to the south, make sure to check all official government and travel websites to ensure you strictly follow policies and are aware of any bans. While no one is entirely sure when we will see the end of this global health pandemic, this storm will certainly pass soon and life will again flow as it did beforehand. Until then, stay healthy, safe, and help prevent the further spread of COVID-19.
Sources: