Fall is just around the corner, and many people are trying to squeeze in one more sun-filled vacation before cooler weather arrives.
The good news is that, if you work remotely, you might not need to hurry back. By turning part of your trip into a working holiday, you could stay in paradise a little longer and extend your summer.
All you need is a cooperative employer and a solid internet connection.
So pack up your laptop, grab some sunscreen and check out these top warm-weather destinations for remote workers.
The Canary Islands – Gran Canaria, Tenerife, Fuerteventura
Lush forests, imposing volcanoes, desert-like dunes and hidden beaches make the Canary Islands, a Spanish archipelago off the coast of northwestern Africa, the perfect location to extend your summer.
September and October are warm and dry on the islands, making it a spectacular time to enjoy the outdoor adventures and vibrant nightlife available in Tenerife and Gran Canaria. If quiet beaches and sleepy fishing ports are more your style, check out Fuerteventura.
What's more, on October 28-29, 2021, Las Palmas de Gran Canaria will host Repeople conference, one of the biggest gatherings for remote workers!
Entry travel restrictions are relatively easy and most of the travelers can get in with a vaccination certificate, antigen or PCR test.
Portugal – Madeira, Algavre, Lisbon
While sometimes overshadowed by nearby France, Italy and Spain, Portugal is one of the loveliest places to visit in Europe. Its pristine beaches, cobblestone villages, medieval castles, dramatic landscapes and world-class food scene should not be missed.
The country's pleasantly warm September and October days are wonderful for whale watching on Madeira Island, surfing in the Algarve or exploring the royal palaces of Sintra when in Lisbon.
In fact, Madeira also known as "Hawaii of Europe" became hotspot for digital nomads this year.
Entry Covid restrictions are easy and most of the visitors can get in with a vaccination certificate, antigen or PCR test.
Colombia – Cartagena, Santa Maria, Medellin
Once overlooked due to its dark past, Colombia is now emerging as a top tourist destination. Ecologically and culturally diverse, its lively cities, amazing landscapes and incredible wildlife offer something for everyone.
Colombia is warm all year round, but September is part of its rainy season. On sunny days, explore the colorful streets of Cartagena, the ancient ruins of Santa Maria or the flowery gardens of Medellin. When rainclouds threaten, take shelter in the phenomenal museums of Bogota.
Big advantage is, NO COVID TRAVEL RESTRICTONS.
Greece – Kos, Crete, Santorini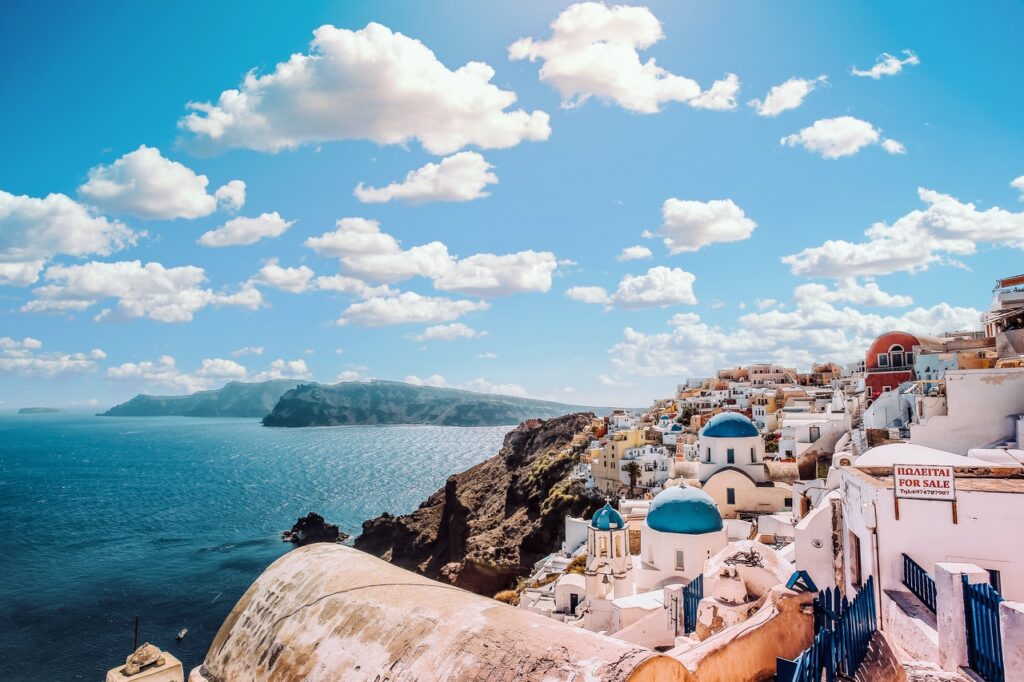 Greece needs no introduction. Its crystal-clear waters, archaeological treasures, stunning natural beauty, amazing culture and delicious cuisine make it one of the world's most beloved vacation spots.
In September and October, the weather is warm and clear, making it the perfect time to enjoy the beaches of Kos, the ancient ruins of Crete or the stunning clifftop villages of Santorini.
Entry restrictions are easy and travelers can get in just with a vaccination certificate, antigen or PCR test.
Costa Rica – Puerto Viejo, Guanacaste, Tamarindo
With its splendid beaches, enchanting rainforests, exotic wildlife and stunning national parks, Costa Rica is one of the most popular destinations in the world. Add to that its array of top-notch restaurants, bars and hotels, and you can't go wrong.
Coastal beach towns Puerto Viejo and Guanacaste are wonderfully steamy in September and October, while the volcanoes and coffee plantations of the Central Valley offer a break from the heat.
No travel restrictions.
Mexico – Baja California, Mexico City, Oaxaca
Mexico is a world-renowned tourist destination for a reason. Its vibrant cities, unbeatable beaches, ancient ruins, dynamic culture and amazing cuisine make it a must-visit destination.
Late summer is a great time to hit the beaches of Baja, see the colonial architecture of Oaxaca or explore the thriving art scene of Mexico City. However, you might want to avoid coastal hot spots Cancun, Tulum and Playa del Carmen due to hurricane / rainy season.
No restrictions required to enter Mexico.