A rise in Cancun-area violence has prompted the U.S. Secretary of State to create a travel advisory about the area. Cancun and its surrounding state of Quintana Roo have seen a sharp increase in violent crime, which has affected tourists in some cases.
The travel advisory suggests that tourists should be extra cautious when visiting the region.
Recent Update (January 24, 2023)
U.S. issues another travel warning for the Cancun area due to attacks/harassment of Uber drivers and tourists
The U.S. State Department has issued a travel warning for tourists visiting popular Caribbean coast towns in Mexico due to clashes between taxi drivers and Uber drivers and customers.
The warning comes after taxi drivers in Cancun have been attacking and harassing Uber drivers and passengers due to competition from the ride-sharing service.
The taxi drivers even blocked a major road leading to the hotel district in Cancun, causing tourists to walk or catch rides with police to the airport. The State Department has advised travelers that past disputes between the two groups have occasionally turned violent, resulting in injuries to U.S. citizens.
---
The information below is relevant to a travel warning from June 22, 2022
The Secretary of State's website notes that gang shootings in the area have hurt and even killed tourists. Even when visitors from the U.S. aren't affected by gang violence, many criminals see them as easy targets.
A tourism surge is related to the crime wave. Gang members view the area as fertile ground for selling drugs.
Though rival gangs usually aim their violence at each other, it's easy for tourists to become accidental victims. In some cases, gang members have purposely hurt or robbed foreign visitors.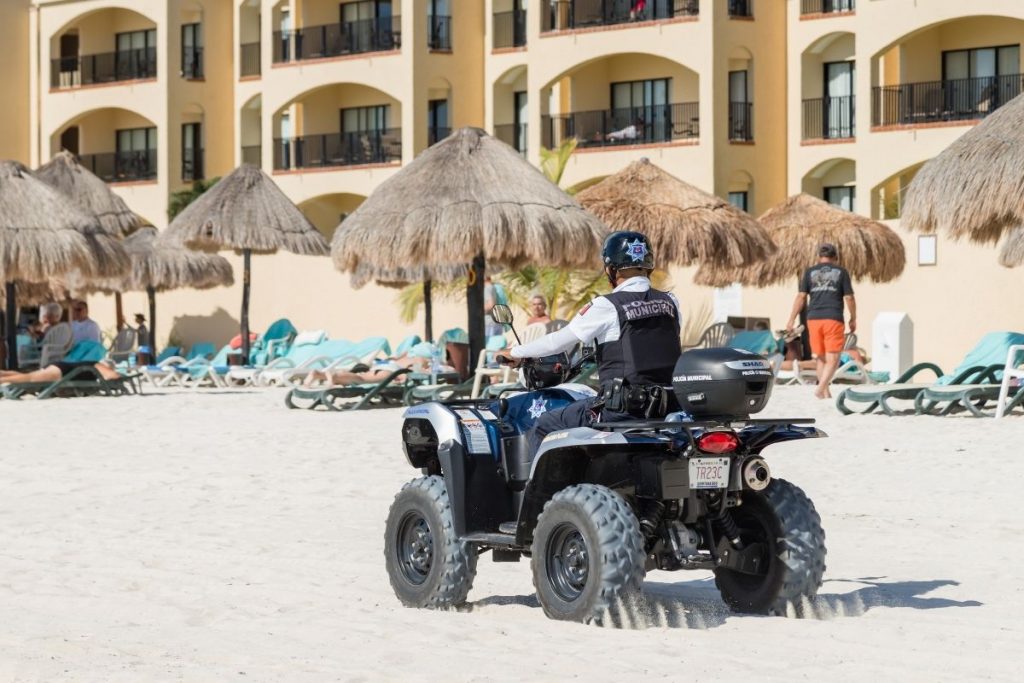 The new advisory states that, though there aren't any Quintana Roo travel restrictions for employees of the U.S. government, such workers should be particularly cautious after dark — particularly in downtown Cancun, Playa del Carmen, and Tulum. If employees go out at night, they should stick to popular tourist areas with good lighting.
Not all victimization of tourists happens at night, though. Last week, men with guns used Jet Skis to get to an Isla Blanca beach before committing a robbery during daytime hours.
The robbery turned into a horrific scene when the armed men attacked one victim and shot a second. Fortunately, neither victim died.
Local businesses have also suffered violent attacks after resisting gang-related extortion.
On the bright side, most tourists in the region have safe, enjoyable vacations. Millions arrive in Quintana Roo each year, and almost none become victims of violence.
Avoiding the drug trade is one of the best ways to stay safe. Seeking out drugs dramatically increases a tourist's chances of experiencing violence.