One of the most popular Caribbean destinations is Punta Cana, a jewel of a vacation spot located on the east coast of the Dominican Republic at the juncture of the Atlantic Ocean and the Caribbean Sea.
Although Punta Cana is considered a safe place when it concerns potential civil disturbances or street protests, visitors should be aware of a slight risk of being victimized by pickpocketers and thieves. A good rule of thumb to follow that eliminates the chance of having your purse or wallet stolen is to leave these items in your locked hotel room when exploring shops or enjoying the Punta Cana nightlife.
Many people who visit Punta Cana regularly prefer staying at Los Corales or another gated residential complex for added security. This type of lodging will need to be booked months ahead of a planned vacation because they are so popular.
Also, since public transportation isn't available in all areas of Punta Cana, it is helpful to have your own vehicle if you want to travel outside Punta Cana. Buses are known hotspots for pickpockets throughout the Dominican Republic.
Suggested: Is Cancun safe to visit?
LATEST UPDATES / NEWS from PUNTA CANA:
May 16 – U.S. Embassy recommends its tourists not to show signs of wealth
The US Embassy has advised its nationals to take a number of safety precautions before visiting the Dominican Republic. The Embassy urges visitors to avoid flashing their affluence, such as pricey jewelry or watches, and to be aware of their surroundings in an official statement published on its website.
The Embassy also advises travelers to adhere to any safety and security precautions advised by their tour guides and accommodations. Additionally, they advise tourists to sign up for the Smart Traveler Enrollment Program (STEP) in order to receive emergency notifications and make location tracking simpler.
The Embassy also advises tourists to follow the Department of State on social media websites like Facebook and Twitter to stay informed.
Why traveling to Punta Cana
Punta Cana is a popular vacation spot for people from the East Coast and other parts of the United States because of its sunny weather, sandy beaches and all-inclusive accommodations. Even Mastercard chose the tourist location as its top international destination for leisure travel in 2018.
According to the Punta Cana International Airport, you will need a valid passport to enter Punta Cana if you are not a citizen of the Dominican Republic.
In addition to being the second largest nation in the Caribbean, the Dominican Republic welcomed five million foreign visitors in 2021, making it the second most popular destination in all of Latin America.
According to U.S. News & World Report, there are more than 24,000 hotel accommodations in Punta Cana, many of which are all-inclusive resorts.
Is it safe to visit Punta Cana now?
Yes, it is safe to enjoy the sunny, tropical ambiance of Punta Cana, as long as you follow these basic rules for traveling to any foreign country:
Avoid traveling alone whenever possible.
Always take note of extreme weather advisories when planning your trip.
Don't walk around the area by yourself, especially at night.
Keep in contact with family and friends. Inform them of your location when you are not at the hotel.
Never let a stranger watch your bags or other personal property while at the airport, on the beach, etc.
Avoid relying on public WiFi connections unless an emergency arises
Don't keep all your cash in one pocket when you go out. For example, if you take $60 with you when dining out, put your $20s in three separate pockets.
Don't wear your most valuable jewelry in public, especially in crowded places.
At this time, there are no travel warnings issued by the U.S. Embassy or other government agencies. The Dominican Republic as a country is under warning level 2, meaning Exercise Increased Caution.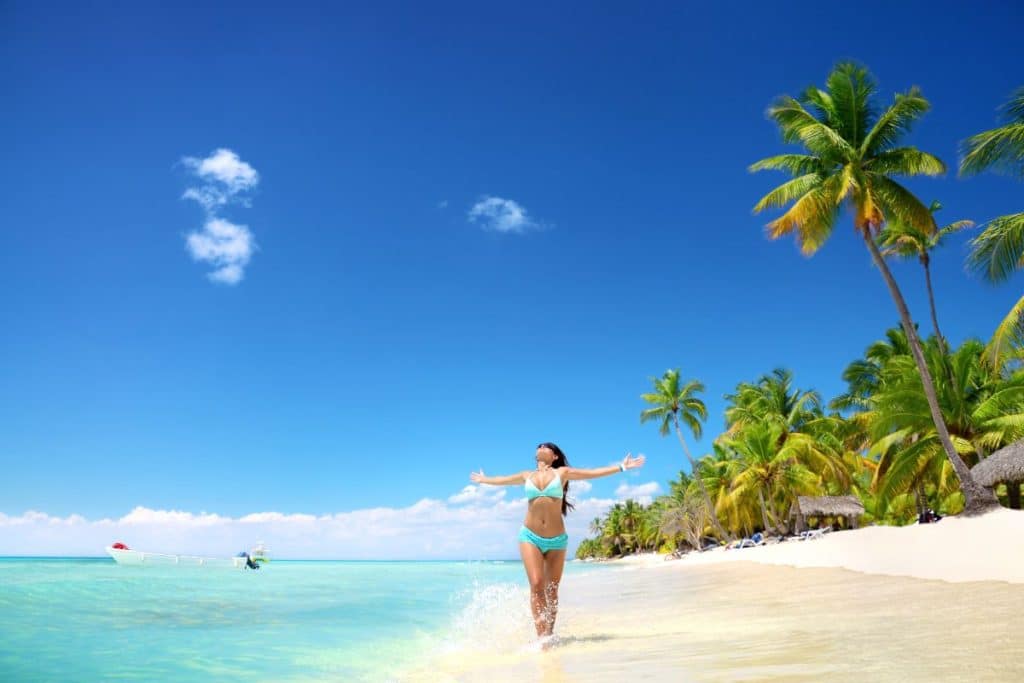 More safety information to know when planning your trip to Punta Cana
Weather Forecast
Although the Dominican Republic is part of the Caribbean hurricane alley, the odds are remote of a hurricane hitting Punta Cana. The hurricane season for Punta Cana starts June 1 and ends November 30. If you plan to visit Punta Cana during hurricane season, always check the 10-day weather forecast for that area. Otherwise, Punta Cana's climate is magically warm and sunny most of the year. Rainy seasons are short–September through November and April through June. Rain showers occur in the afternoon and typically last just a few minutes.
Swimming in the Ocean
Naturally, the ocean is filled with creatures that could sting or bite a person while they are swimming. However, the risk of needing medical attention due to an encounter with a jellyfish or sea urchin while swimming in Punta Cana is nearly nonexistent. These animals do not attack humans and only sting or bite when threatened.
Health Risks
The CDC recommends that adults traveling to Punta Cana or other Dominican Republican locations take medication to prevent malaria. The female Anopheles mosquito is the only mosquito that can transmit the malaria parasite to humans.
Malaria symptoms include high fever, fatigue, and chills. Getting malaria medicine from your doctor before leaving for Punta Cana, wearing long sleeves at night if outside, and using insect repellant eliminates the slight risk of becoming ill with malaria while vacationing in the Dominican Republic.
Punta Cana is safe to visit, so enjoy your trip!