Alabama boasts several beautiful white sand beaches along the Gulf Coast. Though small, these beaches are surrounded by some of the state's best restaurants, parks, and hotels. Alabama has perfect beaches, whether you're looking for a big seaside town with lots of activities or a quiet getaway to spend time with your family.
Alabama's Gulf Coast is lined with beautiful beaches, and the state has some of the best in the country.
Best Beaches in Alabama MAP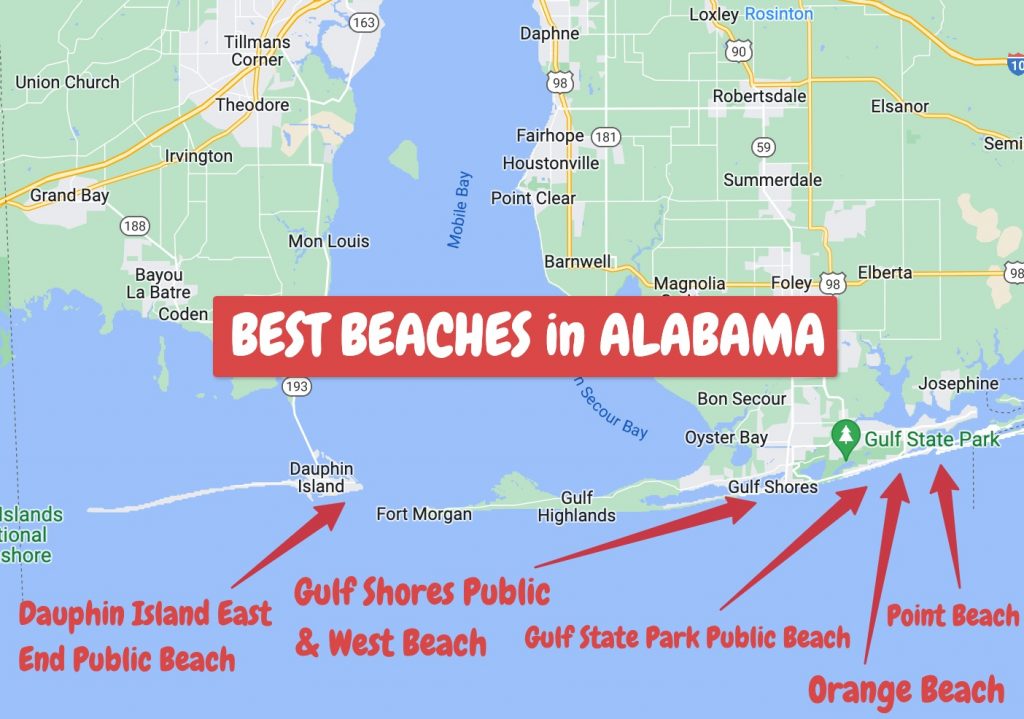 Fall temperatures in Alabama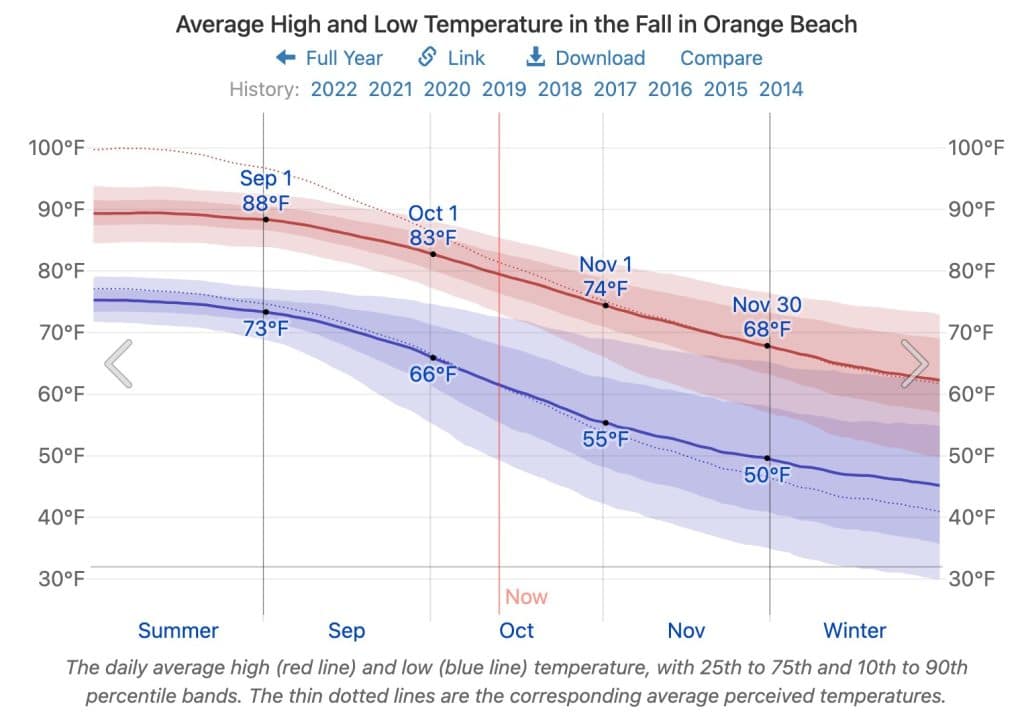 It can be hard to choose which ones to visit with so many options. That's why we have listed 10 of the best and most popular Alabama beaches in this article:
Fort Morgan Public Beach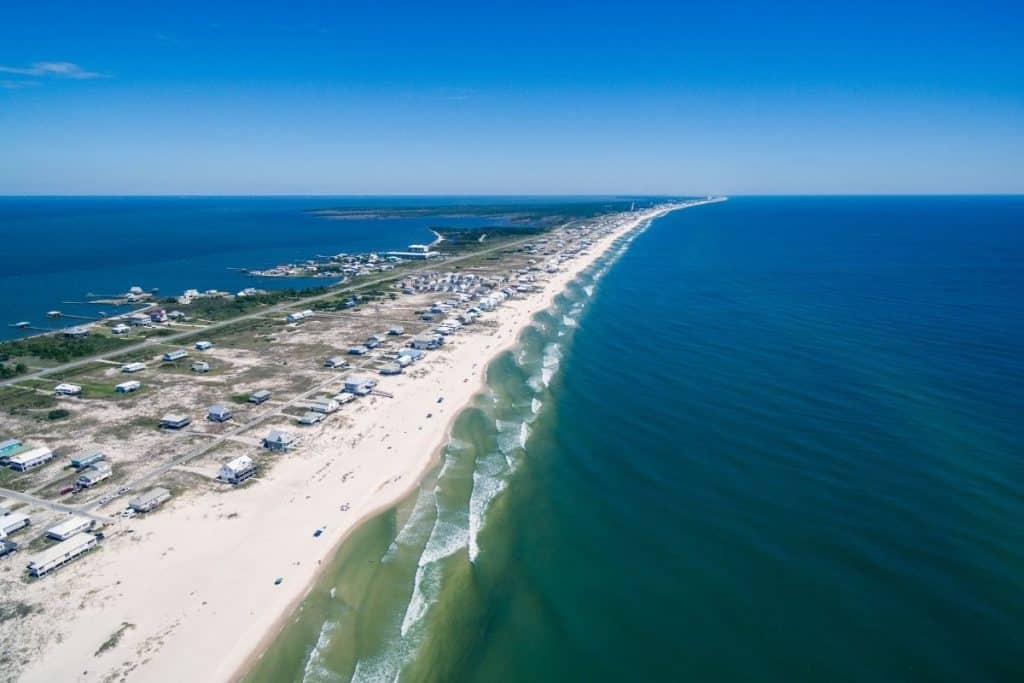 You and your friends will love the Fort Morgan area as a holiday destination. Gulf Shores has something for everyone, whether you are traveling with your loved one or the whole family.
There are entertainment alternatives for every budget, including an abundance of beautiful public beaches that are either free or inexpensive to visit.
The peninsula of Fort Morgan is home to one of Alabama's most unique beaches. The historic fort, which was an active military site during several wars is surrounded by shoreline. It's a little farther out than other beaches but the scenic drive and secluded beach are worth the effort.
Fort Morgan can be made into a full-day excursion by combining a tour of history with time on the beach. The quiet beach, less than an hour from Gulf Shores, is a wonderful alternative to some of the crowded public beaches.
Orange Beach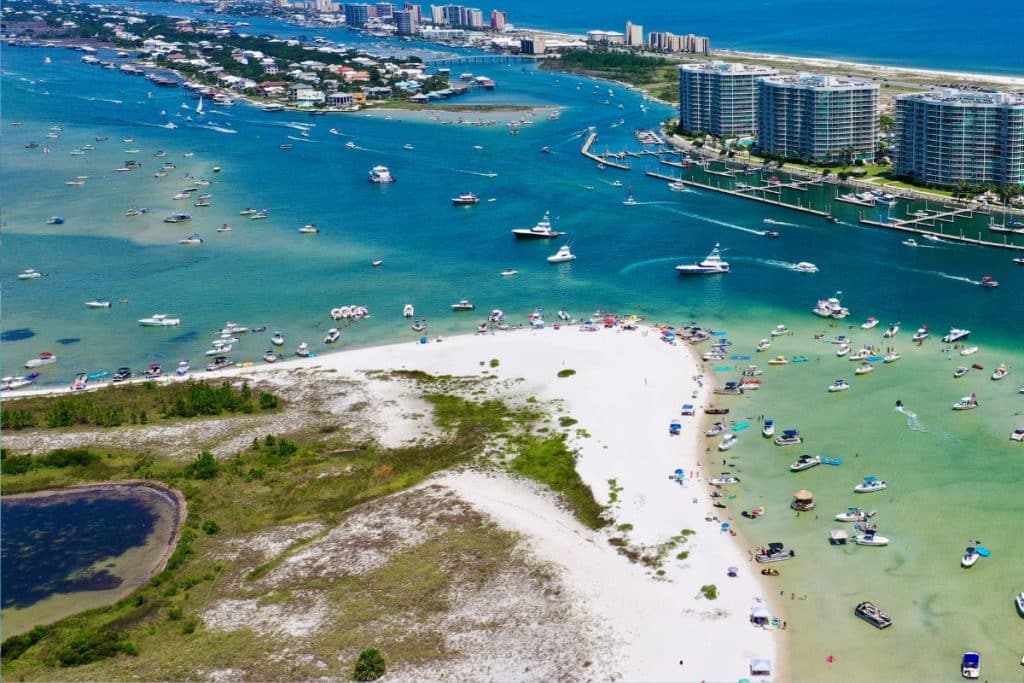 Orange Beach is simply a beach lover's paradise! Home to over 27 miles of white sand beaches and the clearest, emerald waters, this Gulf-front city is the perfect place to build a lifetime of memories. As one of Alabama's top family vacation destinations, the shores are packed with exciting things to do.
Relax on the beach as you soak up the sun or take a dip in the calm waters of the Gulf of Mexico. If you're looking for adventure, cast your line into the deep blue or speed through the waves on a jet ski. There is always one thing or another to do in Orange Beach with its endless attractions.
Orange Beach is known for its proximity to Florida. Because of that, it attracts a lot of vacationers. You'll find plenty of hotels as well as restaurants with mouth-watering local and international cuisines.
Orange Beach prides itself on its natural beauty and preservation efforts. From their gorgeous shoreline to protected wildlife habitats like Wolf Bay and Graham Creek Nature Preserve, they strive to maintain the natural setting and ensure it stays that way for generations to come.
If you love deep-sea fishing, you'll want to visit Orange Beach. Many different charters are available for hire, with captains who know where all the best fish hang out. It's a great way to spend a day when you're not into soaking up the sun on the beach.
Several private beaches are also available at resorts in the area.
Robinson Island
If you're looking for a more secluded beach, try Robinson Island. It's only accessible by kayak, standup paddleboard, or boat from Orange Beach. However, you will be rewarded with clear waters and pristine nature.
After all, Robinson Island doesn't only offer recreation to its visitors, but it's also a bird and wildlife sanctuary. It's a significant nesting area for herons and terns, which makes it a popular spot for birding.
Even though the island can sometimes get busy with boaters and sun seekers, it's definitely worth a visit. Yet, there are no facilities, so make sure to bring your own food and drinks.
Gulf State Park Public Beach, Best for Families
The Gulf State Park Beach is located in the Gulf State Park which is home to the Hugh S. Branyon Backcountry Trail. The beach itself is public and is considered one of the best beaches in Alabama. This is because the sand is soft, and the water is clear.
Many tourists visit this beach every year to enjoy this white sandy beach that has calm and clear waters. There are lifeguards ready to assist, so you can feel safe while swimming.
You can also book a fishing trip from this beach or rent a kayak to paddle along the shoreline. The Gulf State Park Beach is one of the best beaches in Alabama for families, couples, and even kids.
If you want to spend some time on the beach at night, go camping at the Gulf State Park Campground, where you will find many amenities, including picnic areas, restrooms, and playgrounds.
This beach also has a pier that allows visitors to fish or walk along just for fun. In addition to the pier, there are plenty of picnic tables and pavilions, making it easy for families to visit. There are also many hiking trails there, so you can do so at this beach location if you feel like exploring nature a bit.
This beach is amazing for a relaxing day at the beach with your family. In addition to the beautiful scenery, you can swim in the Gulf of Mexico and play sports on the sand. There are also several places to take-out food and drinks to have an inexpensive meal or snack.
Gulf State Park Beach is one of Alabama's most family-friendly beaches. It has 35-foot-tall dunes that lead down to a beautiful stretch of white sand. Several vendors set up along the boardwalk, offering everything from snacks to sunscreen.
Gulf State Park offers several other amenities beyond its beautiful beaches, including an 18-hole golf course and an Audubon Bird Sanctuary.
Dauphin Island East End Public Beach
According to Coastal Living, Dauphin Island East End Public Beach is one of the best beaches in Alabama. Located just west of Mobile Bay, this barrier island is home to Fort Gaines, a 19th-century fort involved in the Battle of Mobile Bay during the Civil War. The island near the beach is also known for its abundance of bird species and migratory birds.
There are no high-rise condos or fancy restaurants on Dauphin Island, just quiet stretches of sand where you can relax and unwind. The beach is family-friendly, and you'll find plenty of space for kids to play. There are a couple of hotels on Dauphin Island, but most people stay in beach houses.
Dauphin Island is also one of the few places along the coast where you can get your feet wet without walking down a long flight of stairs. Even a paved path takes you from the parking lot down to the beach, making it accessible for those who need it.
Once you're on the beach, there's plenty of space to spread your towel or set up an umbrella. And if you want more shade than what's provided by your parasol, several pavilions are scattered along the shore that offer protection from both sun and rain.
Many more activities are available on Dauphin Island, including fishing charters, jet ski rentals, and parasailing tours.
West Beach
West Beach is one of the beaches of Gulf Shores and is one of the most beautiful in the country. The sand is fine and white, and the water is clear and clean. You'll find many activities to enjoy on the beach, including fishing, swimming, snorkeling, boat tours, sailing, kayaking, and more. Anytime you plan to take a break from the beach, check out one of the local restaurants or visit one of the historic sites in town.
West Beach is one of the most popular beach destinations in Alabama, and for a good reason. The beaches are beautiful, and offer tons to do in the area.
You can spend your sweet time lounging on the beach or take a relaxing stroll along the pier. If you're feeling adventurous, try parasailing or jet skiing.
Visiting West Beach is like taking a vacation that has something for everyone in the family. Kids will enjoy spending time at one of the local water parks, while adults can explore unique shops and restaurants. If you are looking for a getaway from it all, you can't go wrong with West Beach!
The water there is calm, so it's a great place to bring young kids or anyone who wants to float and relax. You can also walk, take a stroll along the coast or stroll through nearby Gulf State Park.
Gulf Shores Public Beach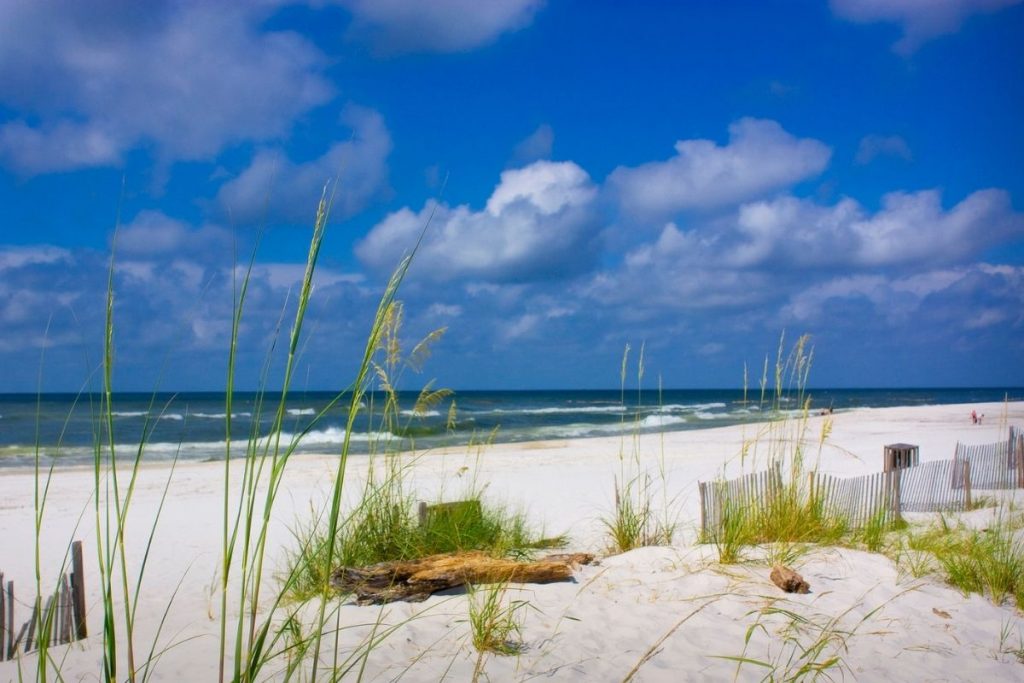 There's nothing like the warm feeling of sand and crashing waves on your toes! Gulf Shores is known for its warm, cloudless days and white sandy beaches, ideal for relaxing in the sun or playing in the surf.
The best thing about the Gulf Shores Public Beach is the ease of access. The parking lot is large, and the beach is long so that you won't feel cramped by crowds. There are also plenty of public restrooms, showers, and changing stalls, which help make a day at the beach easygoing.
Gulf Shores Public Beach has lifeguards on duty seven days a week during the summer months. It is open from sunrise to sunset throughout the year, and you can drive your vehicle on the beach if you have a permit.
The average water temperature in Gulf Shores ranges from about 68 to 78 degrees year-round, but it can go as low as 50 degrees or as high as 90 degrees. The water is warm enough for a nice swim from May to October, but swimmers should be aware that dangerous rip currents are present.
Alabama Point Beach
Alabama Point East Beach is located at Perdido Pass and is the only beach in Alabama located directly on the Gulf of Mexico. This beach is one of the most popular spots for families and offers some of the best fishing, surfing, and boating experiences along the Gulf Coast.
There are plenty of things to do at Alabama Point Beach. You can go fishing, swimming, crabbing (with a permit), and enjoy the view from your boat or the shore. There is a boardwalk along the beach, picnic areas, and a few outdoor showers. You can also rent a sunbed with an umbrella there.
Note that this beach gets very popular, especially during the summer months, but it's definitely worth a visit if you are around.
Fairhope Beach
Fairhope, a vibrant community on the Alabama Gulf Coast, is known for its beautiful beach and its vast views of Mobile Bay. Before you hit the beach, be sure to visit the neighborhood's fantastic seafood restaurants, stores, boutiques, cafes, art galleries and gift stores.
If you are looking for a lively beach scene and more activities than just lying by the waves, Fairhope should be on your itinerary. This beach is a popular swimming spot because of its shallow waters and low waves. Picnic areas and trees can be found in a grassy area behind the beach. The atmosphere at Fairhope Beach and the surrounding area is tranquil.
The fact that Alabama's beaches are litter-free will appeal to tourists concerned about the environment, as will the continued efforts of coastal communities to promote environmentally friendly tourism.
Cotton Bayou Beach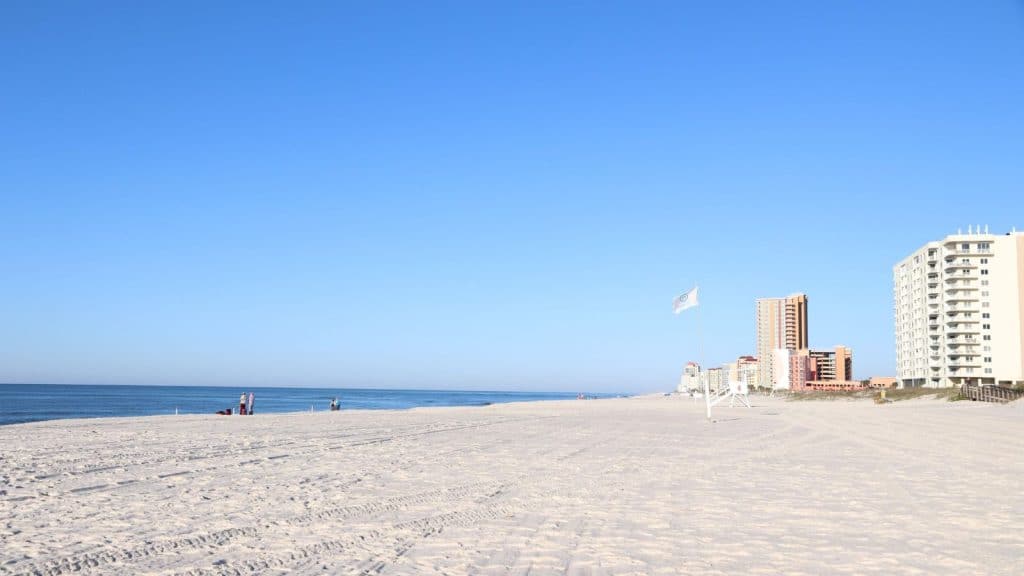 Cotton Bayou Beach is a short strip of beach sandwiched between two boardwalks, two highways, and residential homes. This secluded getaway offers the same pure white sand as other stretches of beach in Orange Beach but is less crowded than some public beaches.
Cotton Bayou Public Beach is one of three public beaches in Orange Beach, Alabama, and has a variety of restaurants, stores, and services to suit your needs. It's no surprise that this easily accessible beach is popular with tourists, as it has lifeguards and free parking.
It is also a suitable place for all typical beach activities such as swimming, sunbathing, walking, having a family picnic, or building sandcastles with the kids.
This beach is convenient because it has on-site restrooms and showers. Staying at The Tides Hotel (Best Western Premier), allows you to experience the pulse of Orange Beach and neighboring amenities while having easy access to Cotton Bayou Beach.
Romar Beach
During the day, Romar Beach is an iconic beach scene with sand castles, kites, volleyball and one of the best places to see the spectacular Gulf Shores sunsets. Romar Beach requires parking, but it is easily accessible and ideal for an after-dinner beach walk or an afternoon picnic by the ocean.
The beach is small, which is why so many people enjoy it. If you visit it, you should remember that parking is limited. So it is better to visit this beach if you are staying in a nearby residential complex, such as the Phoenix V, which is one of many residential complexes owned by the same company and offers a variety of options depending on the size of your group.
This beach area is easy to get to. It's located 6.8 miles east of Highway 59.
North Beach Park
North Beach Park is a beach with vast expanses of sand and plenty of trees, making it ideal for relaxation.
Locals advise bringing a hammock if you have one, as you can hang it from a few of the trees that line the beach. On a hot, sunny summer day, however, you can enjoy some much-needed shade even without a hammock.
For a change of pace from the waves, you can take a short break and head to a nearby pond to enjoy watching the ducks. Each morning, beachgoers are greeted with a meticulously maintained and pristine shoreline. What's even more fascinating is that many people love to visit the beach during the nighttime to indulge in stargazing.
Alabama Beaches FAQs
What is the prettiest beach in Alabama?
When it comes to pretties beaches in Alabama, it's definitely some of the beaches located in Gulf Coast Park such as Orange beach or Cotton Bayou Beach.
What beach has the clearest water in Alabama?
Fort Morgan beach is considered a hidden gem of Alabama with the clearest blue water from all of the State's beaches.
What is the most popular beach in Alabama?
Orange beach is undoubtedly the most popular and crowded beach in Alabama due to its variety of activities, hotels, and restaurants.
Conclusion
Alabama has a lot of hidden gems and its beaches are surely some of them. Thousands of tourists flock to the Gulf Coast and Orange Beach every year, searching for sun and sand.
There's no shortage of public beaches along the coast; the above-mentioned are just a few special places you shouldn't miss out on if you ever find yourself visiting Alabama.