The number of digital nomads, professionals who choose a remote and location-independent career is growing crazy.
We've prepared a list of the coolest catch-ups, camps, and conferences across the globe where you can meet like-minded people. It's time to make yours for your future WORK & TRAVEL plans.
Check out our latest posts about Best Digital Nomad International Insurance Plans
---
UPDATE: 29th of MAY (most of the events below were canceled or postponed due to COVID19 pandemic, check for official statements on their website).
We are listing 1st CONFIRMED post-coronavirus events here:
Join group of professionals, entrepreneurs, digital nomads for 8 days in Algarve in Portugal. Stay close to the beach and join group masterminds, skill-sharing and networking.
Location: Algarve
Dates:

8 Aug – 15 Aug

22 Aug – 29 Aug

5 Sep – 12 Sep

19 Sep – 26 Sep

Price: starts at €749 (Early Bird)
Celebrate your independent lifestyle and nomadic existence with others who share your experience while picking up a few new skills and learning some things too! Built by digital nomads, for digital nomads, this conference is sure to delight.
Location: Bansko, Bulgaria
Date: June 29 – July 5, 2020
Price: Starting at €199
A "mastermind group for business owners", this retreat in Bali uses the connection with other like-minded business owners, exposure to new ideas, and a unique setting to inspire entrepreneurs to zoom out and expand the vision for their companies.
Location: Bali
Dates:

27 Oct – 16 Nov: 3-Weeks Business Mastermind Retreat
19 Nov – 2 Dec: 2-Weeks Business Mastermind Retreat

Price: in average starting at €3,885
---
DISCOUNT COUPONS:
NOMAD TRAIN COUPON – use "TRAVELINGLIFESTYLE" when applying to get 50 euros discount
FREEDOMXFEST – in BALI – use "TravelingLifestyle" when applying to get 30% discount
WORK WONDERERS – use coupon "LIFESTYLE10" for 10% discount on Tbilisi retreat
---
Work Wanderers – Tbilisi, Bansko, Bali, Cape Town
Join the ultimate workation for 3 weeks in various nomad hubs around the world. Live & work together, learn new skills, give back to the local communities and stay productive. Calling all remote workers, freelancers & entrepreneurs who want to find community when traveling.
Locations:
Cost:
Tbilisi from $850

Bansko from $550
Bali from $850
Cape Town from $950
Camper Retreats is the most adventurous event for freelancers, remote workers and digital nomads who want to try van life or want to join with their own van.
During this epic 14-day road trip you're free to decide if you join activities. Apart from all the road-tripping, masterminds and we will make sure for the one who wants to work, there's enough time to work, too.
Count on 25 hours per week to work. Our itinerary is packed with cool activities, masterminds and we'll also visit some special events. It's the perfect balance between Work, Love and Play!
The program price includes yoga, meditation, breakfast, sim card, outdoor activities, campings, and a few dinners.
Location: from Malaga tot Malaga with stops in Tarifa, Bolonia, Ronda, Nerja and Granada.
Date: May 22 – June 04, 2020
Price: Starting at €695 
All aboard the Nomad Train! Travel to several destinations in a Tran Siberian train that takes you across Russia and into Mongolia with other digital nomads, working at coworking spaces along the way.
Location: Russia to Mongolia
Date: September 8-23, or anytime!
Price: Starting at €1270
Discount coupon: use "TRAVELINGLIFESTYLE" when purchasing to get a 50 euros discount.
Location: KYIV, Ukraine
Date: 19 September 2020
Price: soon
Attracting 600-800 delegates each year, the TBEX conference is the largest network for travel bloggers and others in the travel industry. Don't miss 2020's biggest networking and professional development opportunity in the deep south of the United States.
Location: Cajun Dome & Convention Center, Lafayette, Louisiana
Date: October 7-9, 2020
Price: Starting at $247
Connect with others, learn new skills, and grow as an entrepreneur in a beautiful, remote, setting. Coworkation offers some of the best retreats for small business owners to step out of their day-to-day and step up their game.
Location: Kingfisher Bay, Fraser Island, Australia
Date: October 14-18, 2020
Price: TBD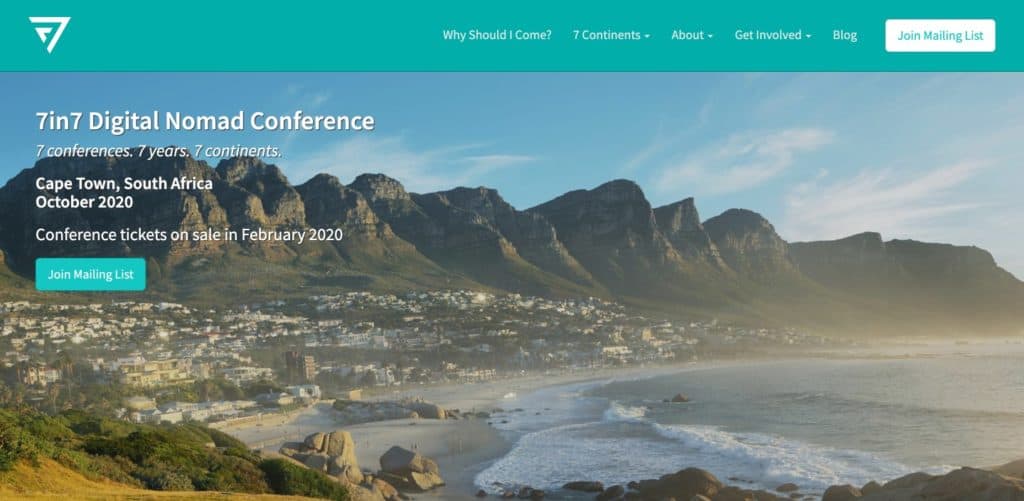 The most exclusive digital nomad conference, the 7in7 experience is capped at the participation of 100 digital nomads. Boasting incredible speakers, an inclusive space, and entertainment venue, the 7in7 is ideal in every way.
Location: Cape Town, South Africa
Date: October 2020
Price: TBD
4th edition of well-established conference/event in LAS PALMAS, one of the most popular digital nomad winter destinations. Attend amazing keynotes, talks, and workshops that will lead you to the right direction to become a digital nomad.
Location: Las Palmas de Gran Canaria, Spain
Date: November  6-8, 2020
Price: TBD
---
Check out latest post on Best Cities for Digital Nomads 2020
---
List of Organizers (websites) providing regular digital nomad events/conferences:
Nomad Cruise is not only a cruise where 200 people aboard on a boat, it's a journey of a lifetime. All-inclusive comfort, beautiful destinations, and facilities creating an environment to share, learn, meet, connect and inspire. Where you can be introduced to 200 like-minded people in just few minutes?
"You might be surprised but the price is very affordable.. you can get spot for around 620 euros (13days)"
Have a look at the list of experts facilitating workshops and you'll understand why this cruise is so popular between independent entrepreneurs. Big names bring value to your business while you're having an experience of a lifetime.
Nomad Cruise is a community, because the contacts and friendships which start on the boat may have unlimited lasting.
Coworkations – around the world
Coworkations are inspirational retreats that take place in various destinations around the world. Coworkations connect people who have chosen location independent lifestyle and freedom which comes from a desire to design the lifestyle they want.
The trips have a different length (from weekends up to 2 weeks) and each of them takes into consideration the code of Coworkation.
DNX creates a platform for freedom-preneurs who decided to change the conventional job and set up new life with own rules in time schedule, job and life.
DNX speakers are successful internet business owners. Currently, the DNX vibe was spread across more than 4.000 attendees and as the reviews on the official website say, it's an amazing and inspirational adventure.
Each DNX Conference or Camps welcome incredible experts who share their best practices and advice on business and nomadic lifestyle.
In September Sunny Office organizes another hang out for a small group of digital nomads from different parts of Europe. An Andalusian escape will take place in a coastal village of Zahora. Freelancers and entrepreneurs will be exploring this beautiful part of Spanish coast for 10 days.
Located only 300 meters from the beach makes it a perfect spot to enjoy the best sunsets and sunrises every day. If September it´s too tight date for you, Sunny Office has upcoming events through the whole year. Check out their website for updates.
Codino – Digital Nomad Meetups / Events in Barcelona and Spain
CODINO – is a community for meeting digital nomads and people interested in the location-independent lifestyle with base in/around Barcelona. CODINO organizes meetups, workshops, the "nomad-talk" speaker series, coworking days, mastermind groups and offers workstations around Barcelona and other parts in Spain and Europe.
CODINO network also cooperates and organize events with other digital nomad international communities, organizations, workstations, and online-entrepreneur groups coming to Barcelona and Spain.
According to previous attendee Rus Huges, "The best thing about staying in The Entrepreneur House is that my productivity has increased 500%."
The Entrepreneur House is connecting people who are in the business 2 – 10 years, some of them 10+ years. The month will be filled with activities, such as private masterminds, presentations facilitated by advisors and more. Rus Huges is one of the many examples of how effectively these activities and environments of successful entrepreneurs can boost your productivity and profit. If you want more reasons why you shouldn't definitely miss DCBKK conference, check out the official website of The Entrepreneur House with profiles of advisors and more updates.
Refuga – Workations and Adventures for Entrepreneurs
361 entrepreneurs from 32 different countries have joined adventurous trips to 6 different countries organized by Refuga. The mission is to create the world's best networking experiences, by getting ambitious people together for workations and expeditions across the globe. Among the trips organized by Refuga can be found Kilimajaro, Spain, Costa Rica, Marocco, Thailand – everything from different corners of the world. Find out what fits you the best.
Coboat.org – Coworkation on Sailing Boat
Running a business as a nomad definitely comes along with adventurous personality. What would you say for a week or two with like-minded people cruising the ocean waters and stopping in beautiful destinations?
Coboat is new concept of coworking camp that brings together community of nomads on board a catamaran and treat them with cured program full of inspirational talks, workshops, skill sessions. Along with business side comes discovering. At anchorages, you can get closer to villages, local people, beaches and coworking communities.
Obviously, at the end of the day you can't leave this unusual coworking office. Instead, you interact, discuss and brainstorm with fellow nomadic mates who can enrich you with new ideas or notes towards pitched product/service.
Coboat also cares about the balance between work and relaxation. After you unplug from projects, there are plenty of cool activities that bring the community even tightly together. From yoga sessions, scuba diving, movie nights, cooking classes to pitch night and TED talks.
The environment of open-minded entrepreneurs force you to think, evaluate, be authentic and share your passions. As many coboaters said, it is an incredible experience that re-inspired them, made think about new possibilities and gave them valuable input, feedback, and confidence to go on with their projects.

Added value of Coboat is a unique mission underlining sustainability and the aim to come up with solutions on how to fight ocean pollution. The boat itself is also designed in order to represent sustainable values – it has electric motors using energy from solar panels.