Whether you're seeking out a hard-to-reach, desert island, a party beach, great swimming opportunities, a wide range of activities or a family-friendly location, you're sure to find your perfect beach in Koh Phangan below.
Here are our top picks for the 8 best beaches on the beautiful island of Koh Phangan that you should definitely check out:
8 Best Beaches in Koh Phangan
FAQ
How to get around Koh Phangan?
Koh Phangan is not walkable and you will need some sort of transportation. The most common and convenient way is to rent a scooter and drive around. If you can't drive a scooter, your next options are the taxies.
Is Koh Phangan safe?
Koh Phangan is a very safe island in general and you won't encounter any problems. Most of the arrests on the islands happen because of drinking & driving or drug consumption. If you stay away from those, you'll be safe!
Which beach is Full Moon Party Koh Phangan?
The main beach for the famous Koh Phangan full moon party is Haad Rin beach. It's located in the South of the island, 25 minutes drive from Koh Phangan ferry port.
Haad Rin is a little and walkable village with plenty of bars, restaurants, hotels, or backpacker's party hostels. It stretches in between two beaches on the east and west side. For the full moon, parties head to the west side but you'll know, you'll hear it 😉
Best Beaches in Koh Phangan
1. Haad Seekantang (aka Leela Beach)
Situated on the very southern point of the island, Leela Beach is just a stone's throw away from the much more popular, Haad Rin Nok. It takes approximately 30 minutes to reach it from Thong Sala Pier. Being somewhat secluded, it is the ideal spot for travelers looking for peace and quiet, while taking in the picturesque landscape.
Besides a few small bungalows directly on the beach (including the 'Leela' resort from which it gets its nickname), it is relatively empty and undeveloped. With lush green foliage, tall palm trees, and white sandy shores, it is the very thing that postcards are inspired by.
Leela Beach's, or Haad Seekantang's, crystal blue waters are extremely clear and calm but also quite shallow. So, if travelers are looking to swim, they may need to go out for many meters before being able to do so with ease.
The resorts nearby boast beautiful beach swings and a walkway – the ideal opportunity for some scenic holiday snaps. Sumptuous sunsets and a superb view of Koh Samui make it the perfect spot to end your day.
2. Srithanu Beach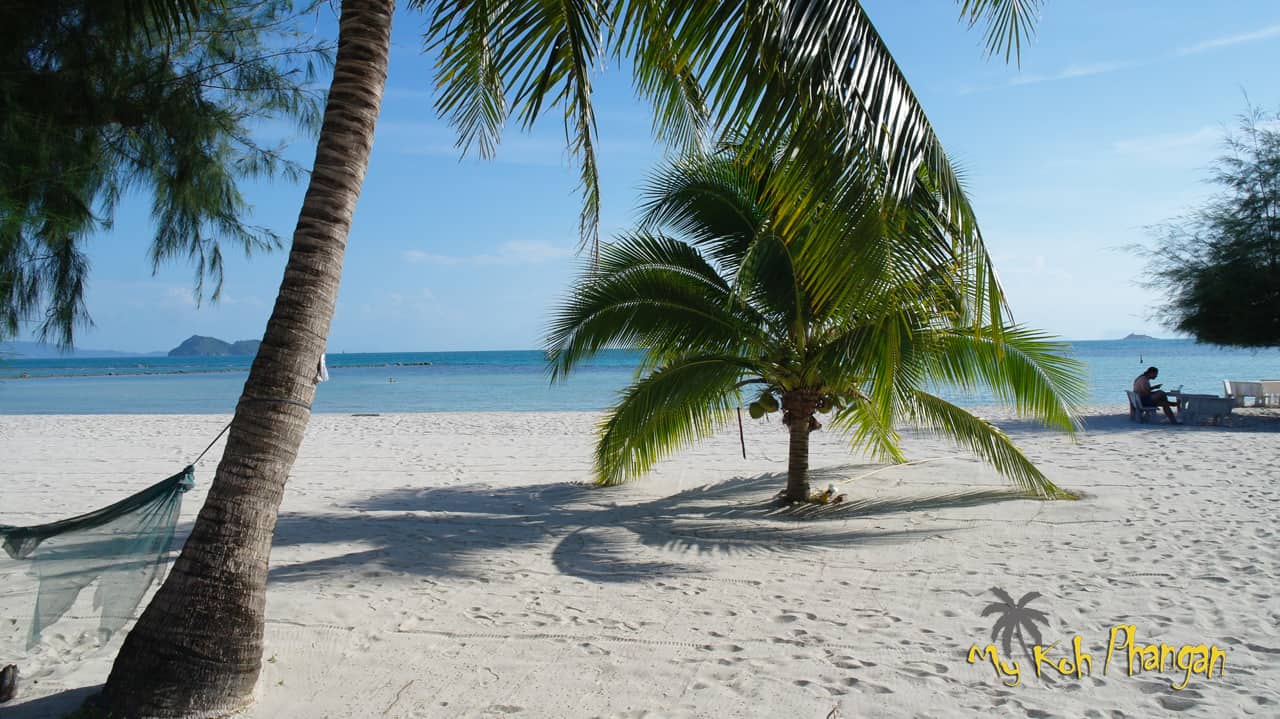 Credit: My-kohphangan.com
Ao Srithanu is located on the northwest side of Koh Phangan, approximately 12 kilometers by bus from Thong Sala Pier.
Its local village, Ban Sri Thanu, is a quaint fishing port, which acts as the market center for the west and northwest parts of the island. With quite a bit of activity, including several great-value bars, restaurants, and a market, it is becoming increasingly popular for tourists.
Leam Sri Thanu is a picture-perfect peninsula between Hin Kong and Ao Sri Thanu that extends far out from the coast. The small beaches on its coastline are close to a coral reef, and the beach is split by a river estuary on the northern end. It is only accessible via a footbridge, which may be an issue for some.
The mix of freshwater and saltwater creates sea life that is rich in diversity and abundance. Thus, it is the ideal spot for swimming, snorkeling and beach fishing. Sri Thanu Bay, or Ao Srithanu, boasts a 150-meter-wide beach and plentiful sandy shores, making it one of the largest on Koh Phangan.
3. Haad Mae Beach and Koh Ma
Haad Mae Beach is on the very northwest point of Koh Phangan, near Salad beach. It is about 15 kilometers by bus from Thong Sala Pier and is one of the most popular hot spots for tourists.
Haad Mae itself is a beautiful big beach, complete with resorts, bars, and massage booths. Tall palm trees, laden with beach swings and hammocks, line its front. Despite its popularity, its sheer size creates a sense of spaciousness and privacy.
The main attraction of Haad Mae Beach is its close proximity to the small, offshore island of Koh Ma. During low tide, one can even walk along the sand bar straight to the island. Not only does this offer spectacular views, but its surrounding coral reefs and secret coves create ideal opportunities for swimming, snorkeling and exploring.
The areas are even classified as a Marine Park due to its rich sea life, which includes turtles and small reef sharks.
4. Haad Rin Nok (Full Moon Party Beach)
Credit: Phangan.info
Situated on the southeastern tip of the island, the popular, Had Rin, is approximately 12 kilometers south from the District Office in Ban Thong Sala. It is also possible to get there by taking a ferry directly from Koh Samui.
Rin Beach can be divided into two distinct sections – Rin Beach Nai has a quieter, bohemian feel to it, while Haad Rin Nok is an energetic party beach. Depending on your preference, either could be a great choice; or perhaps both for a wide range of activities and options.
Haad Rin Nok is one of the biggest beaches on Koh Phangan, with an extensive collection of resorts, bars, clubs, activities and accommodation options to suit any budget. It boasts sandy white shores, crystal waters and is surrounded by lush green mountains.
The beach also faces east, and thus experiences the illusion of the moon rising directly out of the sea. It plays host to the biggest and most famous beach party in the world, The Full Moon Party, with up to 20,000 revelers descending on its coast each month.
If travelers are looking to be a part of the action, Haad Rin Nok is recommended in the high season between November and April. However, for those wanting some peace and quiet, visiting the beach in the low season or visiting its neighbor, Rin Beach Nai, maybe a better option.
5. Thong Nai Pan
Credit: Thontapan Resort
Thong Nai Pan is located at the northeast of Koh Phangan in Mu 5, Ban Tai Sub-district. It is approximately 23 kilometers from the District Office, reached either by boat or songthaew (pick-up trucks) that run regularly from Thong Sala Pier.
The beaches of Thong Nai Pan divide into idyllic twin coves, Thong Nai Pan Noi and Thong Nai Pan Yai. They're separated by a coastal headland where the Panviman hotel is situated. The entire area is surrounded by steep forested mountains, tall palm trees, and lush foliage, providing the perfect tropical backdrop.
The water is crystal clear with interesting rock formations and hidden waterfalls to be discovered. Bungalows, hotels, restaurants, and bars line the edge of the beach, providing many opportunities for activities and entertainment.
Thong Nai Pan Yai is longer and wider than Thong Nai Pan Noi. Here, the ocean floor slopes away dramatically into the reef-free, deep blue, providing ample space for excellent swimming and water sports conditions. On the other hand, the narrow and tightly packed shops, bars and restaurants of Thong Nai Pan Noi create a sense of activity and a village-like, bohemian atmosphere, which may be preferred by some.
6.Haad Khuat (aka Bottle Beach)
Credit: Travelandy.com
Located in the northwestern part of the island, Bottle Beach's inaccessibility means that, despite its increasing popularity, it is unspoiled, spacious and tranquil. Travelers usually reach the beach by boat taxi from Chaloklam or Malibu Beach, or via a 2-hour jungle trek towards Haad hom.
As one of the most famous beaches on Koh Phangan, many consider Bottle Beach, or Haad Khuat as the locals call it, the most beautiful on the island. Its wide, golden shoreline, mountainous surroundings, and countless palm trees really emphasize the feeling of peace, quiet and blissful isolation.
It also only has a small handful of accommodation options, so it is advisable to book your favorite bungalow far in advance. Its crystal blue waters and sense of privacy make it an ideal spot for swimming and snorkeling. Despite a few restaurants, bars, and a mini-market, Bottle Beach is relatively quiet, serving as the perfect escape from the hustle and bustle of city life. This is one picture-perfect tropical paradise that is not likely to disappoint!
7. Haad Yao
The beach is situated on the west side of Koh Phangan, approximately 13 kilometers from Thong Sala Pier. Local buses are available and depart regularly to the beach. Haad Yuan, or Long Beach, is renowned for its 1 kilometer stretch of shoreline, which is also wide enough to provide a feeling of spaciousness and ample opportunities for sports, sunbathing and long beach walks.
Yao Beach is a scenic secluded bay with white sand and some of the most pristine waters on the island. Its coral reef supports rich sea life, making it ideal for swimming, snorkeling, and diving. A few restaurants, bars and only two resorts (generating their own power) dot the coastline, creating a real 'desert island' feeling.
The amenities and beach, in general, evoke a cozy, warm and laid-back feeling. It is also said to have some of the most beautiful sunsets on the island and, when coupled with its scenic vistas and spectacular views, provide a truly picturesque and romantic setting.
8. Haad Salad (aka Salad Beach) – Diving & Snorkeling
Credit: Kosamui.com
Salad Beach is on the northwest coast, on the quieter end of the island. It can be reached from Samui via boat towards Thong Sala Pier. Alternatively, a catamaran leaves Koh Samui at regular intervals and takes approximately 20 minutes to get there. There is also Seatran Express that leaves from Bophut.
Despite its accessibility, Haad Salad is a beautiful, tranquil and secluded beach. It is known by the Thai locals as an old place for pirates who would seek refuge there until their ships were full of booty, before moving on to trade. So, it is steeped in history, intrigue and the lure of hidden buried treasure. The beach itself is a stunning coastal strip of pure white sand, clear blue waters and a reef of 150 meters just offshore.
In the high tidal season of November to April, Salad Beach provides good swimming, snorkeling, and diving opportunities. The area is really cozy and calm with a family-like atmosphere and just a handful of restaurants, bars and accommodation options. Ample space, peace, and quiet is sure to be found, even during peak times. Especially picturesque is the northern section of the beach, where an impressive palm tree juts out dramatically into the turquoise ocean.
---
We hope you find the information you were looking for! If you think some of the Koh Phangan' beaches is missing on the list, feel free to suggest it in the comment section below.