Planning for a vacation to beautiful Portugal soon? Don't miss out on the exceptional capital city of the country – Lisbon!
It is an ultimate hub of amazing things to do, friendly people to meet, soothing Fado to listen to, and refreshing Porto to drink. Moreover, one of the best things among everything about Lisbon is that you don't have to spend huge on finding the right accommodation for yourself.
There are many such budget-friendly hostels present in the city which are just perfect for backpackers. While being cozy, secure, and comfortable enough, these hostels in Lisbon are much more than just the cheap dorm beds. Also, when it comes to an amazing ambiance, and friendly staff, several hostels in Lisbon simply excel!
Are you on Euro Trip? Get HostelPass and SAVE 40% on hostels, tickets and tours!
Quick Lisbon Hostels Overview
Heading north also? Check out: Best Hostels in Porto
Here are the coolest Lisbon hostels you are looking for:
The Independente Hostel & Suites
HostelWorld (*9.1) Booking.com (*8.7) Map Starts at ($42) for 12 bed-dorm
**prices are shown for weekdays in High-season (July)
Set in a 19th-century palace that was originally built as an ambassador's residence, Independente might look a bit too opulent from the outside. However, it's a stylish hostel with a restaurant, bar, and a secluded beer garden.
Thanks to the high ceilings, all dorms are very spacious. Some even have balconies with stunning river views. Amenities include custom-made bunk beds, individual lockers, A/C, and heating. Private rooms are available as well for those who prefer a bit more comfort.
On top of that, Independente boasts the best location. It's set in the popular Bairro Alto district right in front of Miradouro Sao Pedro de Alcantara viewpoint. Therefore, you can easily reach all the points of interest the city has to offer.
Breakfast is included in the price and is known to be very tasty. If you fancy a drink later on, the bar has happy hours.
Selina Secret Garden Lisbon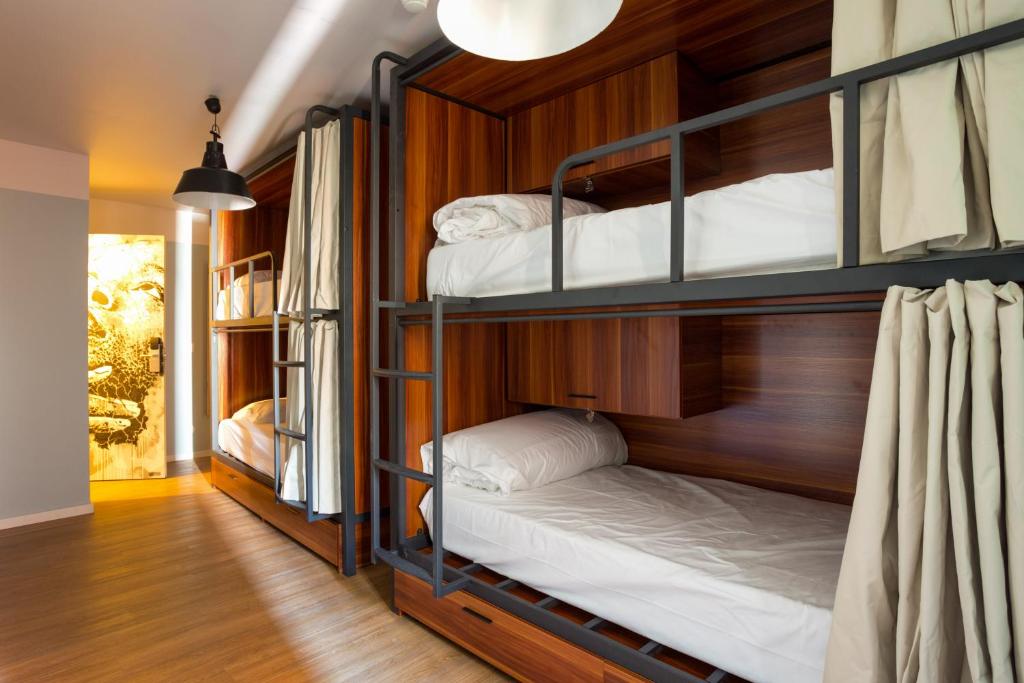 **SPECIAL 10% SELINA DISCOUNT* Use Our Coupon: "TRAVELING-SELINA" while Booking on Selina's Website to Get Exclusive Discount.
HostelWorld (*8.6) Booking.com (*8.3) Map Starts at ($50) for 10 bed-dorm
**prices are shown for weekdays in High-season (July)
Nestled in the trendy Cais do Sodre, Selina Secret Garden is a unique facility for travelers, backpackers, digital nomads, as well as couples, and families.
It is set just a walking distance from Rossio Square, Lisbon Cathedral, and other cultural hotspots, providing you with the opportunity to easily get to know this stunning European capital. Explore local vintage shops, galleries, independent cafes, or the riverfront. Selina Secret Garden has got you covered.
And not only is it popular for its convenient location, but it also boasts plenty of extraordinary amenities, including a swimming pool, wellness area, on-site bar, co-working space, and movie room.
Moreover, there are plenty of staff-organized events each week. From yoga and dance classes, social nomad meetups, tours, and live music. It's not a party hostel as such but you definitely won't be bored!
One simply can't miss out on anything in Lisbon while staying at Selina.
Yes! Lisbon – Best Party Hostel
HostelWorld (*9.6) Booking.com (*9.3) Map Starts at ($47) for 6 bed-dorm
**prices are shown for weekdays in High-season (July)
Yes! Lisbon is located right in the middle of the historic center. Most of the special attractions of the city which include Alfama, Bairro Alto, and Chiado are just some steps away from the hostel. So, you can save huge on bus and train fares. One of the special attractions of this hostel includes a custom-made bunk in your room where you can get a good night's sleep. Also, the overall ambiance is too comfortable!
Moreover, Yes! Lisbon Hostel could be the best option for you if you are out for a solo adventure. It's because you can find a number of people in their lobby during special events who will be ready to go with you for free walking tours, pub crawls, etc.
So, if you want to get indulged in super fun along with a relaxing environment to stay, Yes! Lisbon is definitely your cup of tea.
Sunset Destination Hostel Lisbon – Best for Solo
HostelWorld (*9.1) Booking.com (*8.9) Map Starts at ($39) for 10 bed-dorm
**prices are shown for weekdays in High-season (July)
Situated in the beautiful train station of the Cais do Sodré, Sunset Destination Hostel is the only hostel in Lisbon with an amazing rooftop pool.
With a huge terrace with a riverside view, this hostel has an ideal location for travelers and backpackers. It is perfect for those who like to party and to have animated holidays, as Bairro Alto, where most of the bars and nightclubs are in ​​Lisbon is only a 10-minute walk and Rua Cor-de-Rosa, the new trendy spot for nightlife is only a 1-minute walk.
Plus is just a 2-minute walk from the most trendy place to eat, Time Out Market in Mercado da Ribeira, a place that is full of chefs and restaurants at an affordable price. Lisbon's airport is just a 20-minute drive from this sublime place on the riverside. For all the active guests there is an option for surfing and party tours, like the Pub Crawl.
The room options at this hostel are vast. The venue consists of 20 rooms, most of them with ensuite bathrooms, featured with private safes or lockers, a sitting area, and lots of windows! They offer a lot of charming double bedrooms, some twin rooms, and lots of mixed and female dormitory rooms with comfortable individual beds made with custom-made furniture. Every room has free linen and private rooms have free towels as well as a mini-bar and other amenities included.
The facilities/services of this fantastic hostel are city maps, free Wi-Fi, bicycle parking, a large living room with board games and entertainment, hairdryers, hot showers, self-catering facilities, 24-hour reception, daily housekeeping, laundry facilities, luggage storage, bar, vending machines, outdoor terrace and don't forget the pool!.
Lost Inn Lisbon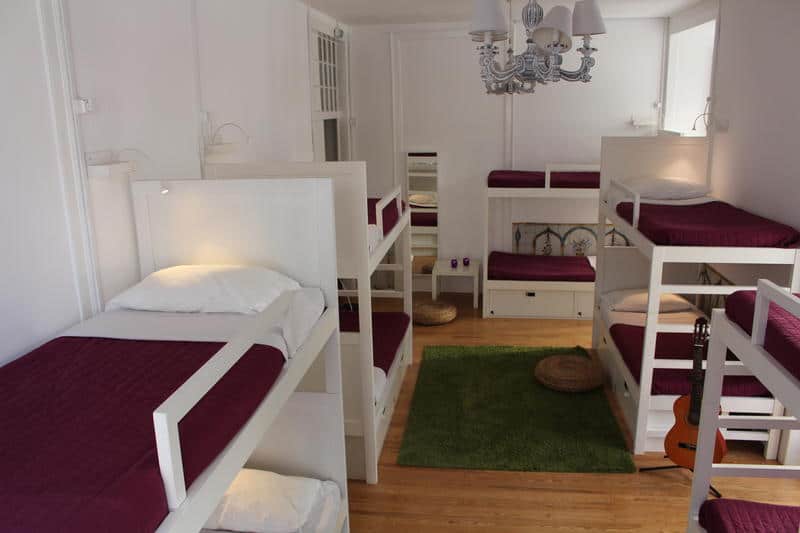 HostelWorld (*9.6) Booking.com (*9.4) Map Starts at ($35) for 10 bed-dorm
**prices are shown for weekdays in High-season (July)
Lost Inn Lisbon Hostel is again having a perfect location in the city center!
It is an awarded hostel by Trip Advisor, Booking, and Hostel World itself. Located in a marvelous palace of the 18th century in Lisbon downtown, it has been one of the most striking attractions for travelers.
When you wake up in the morning, there will be a free breakfast waiting for you followed by joyous surprises at night. Whether you are interested to stay in a private room or a four, six, or eight bedded dorm, all such options are available for you.
Next, when it comes to the look of the hostel, it is simply commendable! The vaulted ceilings, casual decor, modern amenities, and wooden floors altogether make it a splendid place to stay.
We Love F. Tourists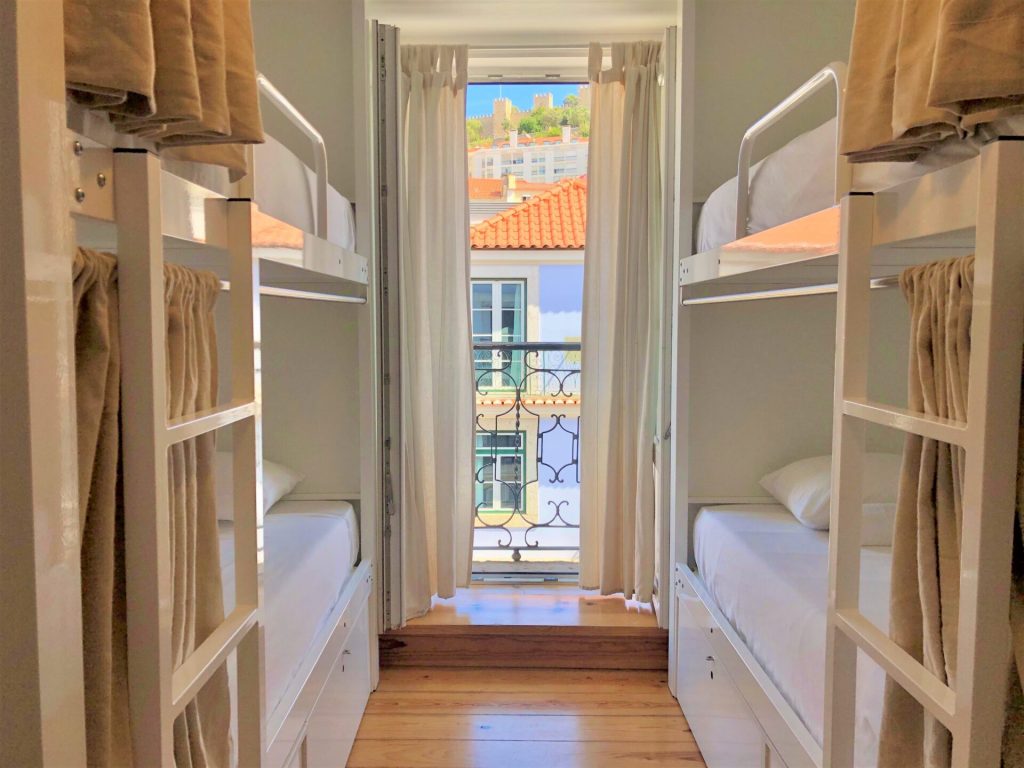 HostelWorld (*9.6) Booking.com (*9) Map Starts at ($36) for 8 bed-dorm
**prices are shown for weekdays in High-season (July)
Set in a refurbished 250-year-old building in the heart of Lisbon, this hostel boasts a unique atmosphere and the highest level of comfort. Defo is one of the best hostels in Lisbon when it comes to comfort and unique style!
You can stay in both private rooms and dorms, some of which offer views of the famous São Jorge Castle. All dorm rooms are equipped with fresh linen and towels, lockers, as well as individual bed lights. On the other hand, private rooms feature flat-screen TVs, hairdryers, vintage record players, and coffee machines.
The hostel also provides two common areas with a library, a 24-hour reception, a shared kitchen, and a restaurant, where free breakfasts are available every morning.
Once you set off exploring the surroundings, you will notice that everything is truly right at the doorstep. The Rossio historical area is just a 3-minute walk away, while Lisbon's main bar area – Barrio Alto – is within 20 minutes' distance.
Home Lisbon Hostel
HostelWorld (*9.6) Booking.com (*9.3) Map Starts at ($50) for 6 bed-dorm
**prices are shown for weekdays in High-season (July)
Home Lisbon has been successful in receiving outstanding reviews and ratings from people around the world always. It is again standing tall in the historic center of Lisbon for years. The atmosphere of the hostel is quite extraordinary with various activities like tours and parties. The free services which are present in Home Lisbon include city maps, internet access, etc.
Located in a classy 200 years old building, Home Lisbon has a comfy living room, lavish dining room with a bar, a modern kitchen, a patio, and spacious rooms with huge beds and windows. Also, there are lockers available in the rooms to secure your valuables.
Moreover, the 'THE MOST INTERESTING' feature of Home Lisbon is nothing but the Mamma's dinner. The guests really love that! Actually, it is a delicious meal cooked by the owner's mum. It is the best food that you can taste in Lisbon for a guaranteed price.
Lisbon Destination Hostel
HostelWorld (*9.7) Booking.com (*9.1) Map Starts at ($40) for 10 bed-dorm
**prices are shown for weekdays in High-season (July)
Lisbon Destination Hostel is from the same family as Sunset Destination Hostel and is situated in the most classy and romantic icon of the late XIX century, the Rossio Railway Station, right in the center of Lisbon.
An authentic indoor urban jungle, this hostel has a large glass roof, which gives a unique magical feeling with all the lighting and the green from the plants. Only a 2-minute walk from downtown Lisbon, this hostel is at the center of the action, with lots of activities and shops nearby and only a 15-minute drive from the airport.
This unit has 30 rooms with lots of female and mixed dorms, family rooms, and private rooms like double, twin, and even single. All of the private rooms have great design furniture, free linen, towels, and security lockers and most of them are ensuite and have mini-bar and other amenities included. The dorms have free linen and are all spacious and bright with lots of light coming from the huge windows.
This magical place also has a bistro cafe, a bar, lots of comfortable couches, bean bags, sleeping nets, a ping-pong table, chess, a free pool table, and more. Lisbon Destination Hostel is really an incredible setup that you can ever come across.
Lisboa Central Hostel
HostelWorld (*9.4) Booking.com (*9.3) Map Starts at ($30) for 10 bed-dorm
**prices are shown for weekdays in High-season (July)
If you intend to stay in a fresh and friendly place, Lisboa Central will be the best option for you. The hostel is basically known for its extremely friendly staff and their vast knowledge of the city. It is also located absolutely in the heart of the city- between Marques de Pombal and the popular Avenida da Liberdade.
While staying at Lisboa Central, you can easily explore the quintessential sights of Lisbon and go for some fun party nights too. Lisboa Central Hostel is simply perfect for all kinds of travelers starting from student backpackers to couples and families.
Additionally, there happen some continuous fun activities in the hostel. Whether it is a weekly film night or exciting cultural events, a lot of fun is obvious! Also, there is Milkshake Monday in Lisboa Central where you can expect a free, tasty milkshake from them!
Lisbon Lounge Hostel
HostelWorld (*9.4) Booking.com (*8.9) Map Starts at ($20) for 10 bed-dorm
**prices are shown for weekdays in High-season (July)
One of the best hostels in Lisbon – The Lisbon lounge hostel. It is located in the downtown area of Lisbon between beautiful Chi ado and Bairro Alto.
The major attractions of the city are just a walk away from this hostel. With the help of design specialists, they have combined their talents to create two unique homes for art and traveling life.
With perfect comfort, cleanliness, style, and security, the multi-award-winning Lisbon Lounge Hostel is the perfect place for your stay in this beautiful city.
The rooms in this boutique-style hostel are simply amazing and they are kept clean all the time. Room options range from mixed dorms for a group of friends to private rooms for a pair of friends or for a couple. Rooms come with attached sharing bathrooms.
The facilities/services of this truly amazing hostel include free city maps, free internet access, free parking, free Wi-Fi, free linen and towels, air conditioning, bicycle parking, book exchange, common room, hair dryers, hot showers, meeting rooms, outdoor terrace, safe deposit box, security lockers, self-Catering facilities, steam room, 24-hour reception, housekeeping, internet access, laundry facilities, luggage storage, bar, cafe, and vending machines.
Heading north? Check out also: Best Hostels in Peniche
WOT Lisbon Patio
HostelWorld (*8.8) Booking.com (*8.1) Map Starts at ($25) for 10 bed-dorm
**prices are shown for weekdays in High-season (July)
With an outstanding atmosphere and fantastic features, Hub Lisbon Hostel is one of a kind. Firstly, while being located near Marquês de Pombal and Avenida da Liberdade, this hostel entices a large number of travelers during all seasons. Also, Hub Lisbon Patio is just a few minutes away from the two most stunning marvels of Lisbon which are Avenida da Liberdade and Parque Eduardo VII.
When it comes to infrastructure, it is definitely an awesome one! The hostel is placed in an absolutely remodeled building that has a picturesque outdoor area. Globetrotters are free to relax there and even do some exciting barbecues after a tiring day.
The facilities of this hostel seem to be pretty convenient too. You will get a free breakfast every day from 7:30 am to 10:30 am. Also, you can cook your meals in an entirely equipped communal kitchen at your disposal.
OUR FOOF TIP: When you're in Lisbon / Portugal don't miss out one of the BEST burgers in the world! Hamburgeria Do Bairro is a network with few restaurants in Lisbon and around Portugal. GO FOR CACO BURGER and taste some real Portuguese beef;)
---
About the Author: Clara Decker is the marketing manager at CouponsMonk.com, a deals and discounts provider company. She is passionate about money savings, investment, and the finance industry. In addition, Clara also supports non-profit agencies that provide healthcare solutions to handicapped and disabled people.
— Pinterest —