Backpacks are must-have gear for carrying your belongings easily during hiking, camping, or other types of on-foot travel.
Not all backpacks are created equally, however, so you'll want to be careful in your consideration of the perfect backpack for you.
If you suffer from back pain, then you want to choose a backpack that is secure, comfortable, stable, and not hard on your spine or the muscles in your back.
Below, we have reviewed the 10 best backpacks for back, neck, and shoulder pain so that you can enjoy your hike or camping trip without worrying about any type of discomfort.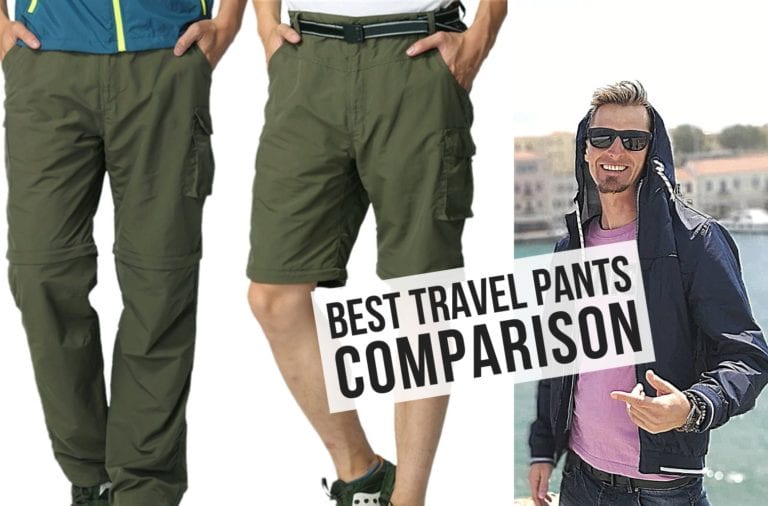 If you want to find a durable, effective backpack that supports your back, keep reading to learn more.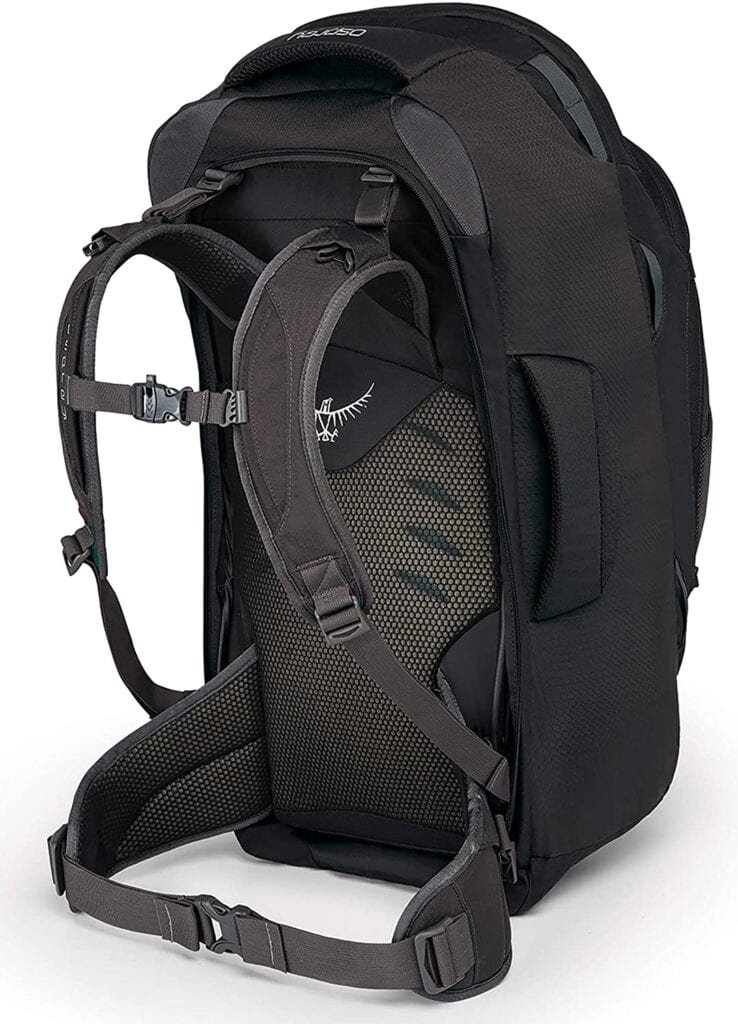 Lightweight frame suspension

Compression straps

Breathable and cool
This travel backpack from Osprey is perfect for hiking with heavy loads without putting excessive pressure on the spine or lower back.
While the backpack itself is designed to handle loads of up to 50 pounds, the LightWire frame suspension makes sure that this weight is distributed evenly from the harness to the belt around the hips.
The backpack features compression straps around the front side. With these, you will be able to keep the contents of the pack securely in place. Without them moving around in the bag freely, the weight won't shift as you walk. This is far easier in your back than the weight that pulls you backward.
This bag also features a completely zip-off day pack, meaning that you can choose to travel with a smaller bag for shorter distances rather than taking the entire travel bag everywhere you go.
With a hip belt and a buckle across the chest, this backpack can be secured to the body in a way that is stable and flat against the back. It is made additionally comfortable with a breathable mesh material along the inside, keeping you cool and preventing excessive sweating during use.
Up to 15-inch laptop
Lightweight
Shoulder straps
The North Face Borealis backpack has been specifically recommended by users as not causing any back pain, even when it is filled with heavy items.
In addition, you can easily carry it via its top handle or use its custom-fit waist belt or sternum strap and whistle buckle to further protect your back.
However, do note that its shoulder straps are placed in a manner that can cause some initial mild rawness on your shoulders, but this appears to be a minor issue.
It has a 28-liter capacity and includes a protected laptop compartment that comfortably fits a 15-inch device in addition to a larger area for books, clothes or other belongings. You can place a tablet in its front compartment as well while it also has places where you could put a water bottle.
This backpack weighs 2.5 pounds, and its dimensions are 15 inches by 10 inches by 5 inches. Several users have reported that it offers tremendous value for that size, and many are particularly impressed by the number of storage compartments that it has. With that said, do note that it is not water-resistant.
It comes in a wide assortment of colors, ranging from blue to black to red to tan.
3. Original PRVKE – Best for Daily Use or Travel
Quick side camera access
Weather-resistant zippers
Expandable Roll Top
Checkpoint-friendly 16'' laptop sleeve
Expandable water bottle/tripod pocket
Secure passport pocket
Removable camera protection
Carrying heavy photograph equipment is not an issue with PRVKE, thanks to its thick shoulder straps and comfy padded back panel.
Externally adjustable chest and waist straps can be utilized to help distribute weight or removed when not in use.
A central component is the optional camera cube with different compartments, which can be removed when not on a photographic trip.
The Original PRVKE also features two points of access to all of the main pockets, removing the trouble of having to unpack and pack your stuff all over again when you only forgot to take some batteries out!
On the lower side is easy to accommodate a tripod. The backpack also includes a rain cover for extra protection from all kinds of weather.
Long durability
Water and damage resistant
Can be attached to luggage
This cushy backpack is perfect for carrying your laptop and other assorted items while protecting your back.
It has perforated, mesh-covered shoulder straps, a back panel that is padded, and a chest strap to help it easy to carry.
In fact, you do not even necessarily need to carry it on your back. Its additional strap on its back allows you to also have the option of placing it over rolling luggage that you may be taking with you and carrying it that way.
It is also designed in a manner that ensures that it lasts. It is sturdy, and the materials that have been used to create its handles, zippers, and other features are top-notch. Meanwhile, your laptop will be gently protected while inside.
Any other objects that you place inside, such as glasses or phones, will also be protected, by padding in its interior and its water-resistant exterior. Additionally, you can place some objects, such as a water bottle, on the outside of it.
This backpack weighs 2.6 pounds while its dimensions are 23 inches by 16 inches by 5 inches.
Frameless suspension for comfort and stability

Even weight distribution

Extremely lightweight
The Granite Gear Virga Backpack is extremely lightweight at only 1 lb 4 oz thanks to its frameless suspension.
You don't need extra weight on your back when what you're carrying in the bag is likely heavy enough as it is.
Despite being frameless, the sturdy inside material, molded shoulder straps and hip belt, and chest and hip buckles make this backpack exceptionally stable and secure.
The tall, 24-inch backpack stays firmly in place against your back, never pulling on your back in a way that is uncomfortable or harmful.
Compression belts along the front side of the backpack make it easy to keep contents snugly in place, even if the pack isn't full to capacity. A roll-down opening allows for easy access to your belongings while also keeping them safe from inclement weather.
Contoured, tuck-away shoulder straps

Removable day pack

Lockable zipper pulls
The Thule Landmark Travel Backpack is great for people who want to keep their belongings safe.
It features lockable zipper pulls and has a safety compartment for fragile items like glasses or electronics.
It even features hidden, waterproof pockets for your cash or small valuables.
The contoured shoulder straps are padded for your comfort and perfectly distribute weight at the top of the bag, which is easy on the back. These straps, along with the hip belt, can be tucked away into the bag when you aren't wearing it.
This is actually two bags in one. A second-day pack can be removed from the backpack when you have reached your destination or need to travel with a lighter bag option, so there is no need to carry extra weight unnecessarily.
The hip belts and the contoured shoulder straps can be fastened securely and snugly, which takes uneven pressure off the back for longer hikes. By transferring weight away from the areas prone to back pain and damage, this bag allows for longer and safer trips or hikes.
Water repellent material

Keeps belongings well organized

Extremely durable outer material
The flat and structurally supportive back side of this Nomatic bag rests firmly against the back, evenly distributing weight in a way that prevents back pain.
Despite the large 40L capacity, you'll be comfortable traveling with this backpack no matter how full it is.
This is a great backpack option for travelers or hikers who need to stay well-organized.
]It features no shortage of storage pockets, including passport and phone sleeves in the hip belt, a pocket with a removable laundry bag, a laptop and tablet sleeve, a shoe compartment, a cord and wire organizer, and more.
The incredibly durable outer material of the bag can withstand a lot of wear and tear. It's also water repellent, so you can be comfortable traveling with all of your important or valuable items in rainy weather.
Thanks to the size, shape, and weight of this backpack, it is TSA-compliant and can easily be fit in an overhead compartment. It is a great option for airplane travel and can easily fit all of your vacation or business trip essentials into one compact bag.
Organizational storage pockets throughout

Large, luggage-like capacity

Large hip belt and front buckle straps for back support
This Outerbreaker Travel Backpack features a great wide and supportive hip belt, taking some of the stress and weight off of your lower back and shoulders while you wear it.
With the front buckles at the hips and chest, you can attach this bag securely and snugly so that it doesn't pull backward with weight and cause any pain or discomfort in the back.
There is no shortage of pockets in this well-organized backpack. It features enough sleeves and internal pockets for all of your important belongings, and the internal capacity works more like a luggage suitcase than your standard hiking backpack. It is a great solution for longer trips and even vacations.
With padding along the inside, shoulder straps, and wide hip belt, you can wear this backpack comfortably for long periods of time. In fact, this padding helps the bag transfer 80% of the weight away from the shoulders and upper back.
Waterproof cover included

Plenty of varying size pockets

Snug and secure fit
This OutdoorMaster Backpack was designed with back comfort in mind.
Despite its incredible durability, the materials used to construct this backpack are all extremely lightweight.
Foam padding is featured along the hip belt and the shoulder straps, protecting your back at the areas the weight will be the heaviest.
A pocket at the bottom of the backpack contains a waterproof cover, allowing you to quickly and easily protect the backpack's contents if you get caught in the rain. With pockets of varying sizes all over the backpack, including spots for a hydration reservoir and a laptop, you'll be happy to have the protection.
Buckles along the padded shoulder straps and hip belt allow you to fasten the backpack snugly and securely against your body, keeping the weight stable and protecting your spine and shoulders – even on longer travels.
The mesh ventilation material along the inside of the bag keeps you cool and comfortable despite the snug fit.
10. GOT BAG Daypack – ECO-friendly
Made from ocean plastic
Water-resistant
13'' laptop sleeve
Compact & versatile
GOT BAG is the ultimate urban classic. Not only it's compact and stylish but it's also the first backpack made entirely from ocean plastic! For maximum comfort, the back and the adjustable straps are padded.
The integrated 13-inch laptop compartment makes GOT BAG a great companion for the office. The plastic fabric is water-resistant, so the backpack is suitable for rainy days and even short hiking trips. It also features a top handle and a luggage strap – GOT BAG is a great option as a carry-on for your trips.
It comes in various colors, from black and violet to beige and green. If you need a bigger backpack, the company makes spacious roll-tops. Daypacks for kids are also available.
Closing Thoughts
Hiking, backpacking, or traveling of any kind doesn't have to be hard on your back. With the 6 backpacks listed above, you can travel with all of your important belongings without causing or worsening back pain. They are designed with the health and safety of your back in mind.
When you're looking for a good backpack, you want something that is secure, incredibly comfortable, durable, and with a large enough capacity to carry all of your important belongings for your trip or hike.
These 6 backpacks are the best across the board for all of these considerations, so check them out for yourself and find the best one for your personal needs.