Are you planning a trip to Georgia, the southern state of the US? If so, you probably heard that Georgia is home to some of the most breathtaking beaches in the whole world. Some of these beaches are more famous than others, and some are more crowded than others, but they are all amazing places worth visiting.
When spring arrives, Georgians rejoice in the opportunity to emerge from their freezing homes and head to the beaches. After all, is there anything better on a sunny day than sitting on a beach and listening to the soothing sound of waves crashing on the shore?
The eternal summer sun, friendly people, and exciting thrills available for everyone make Georgia's beaches ideal for family vacations, romantic getaways, and even days spent having fun with friends.
Whether you like to sit back and relax on a long stretch of sandy beach or prefer to get up and get active, Georgia's beaches have something that will keep you happily entertained all day long. If you're looking for things to do, there is no shortage of fun activities like kayaking, stand-up paddleboarding, kiteboarding, and parasailing to try out.
Check out also: Best Beaches in Florida to Visit in 2022
Best Beaches in Georgia MAP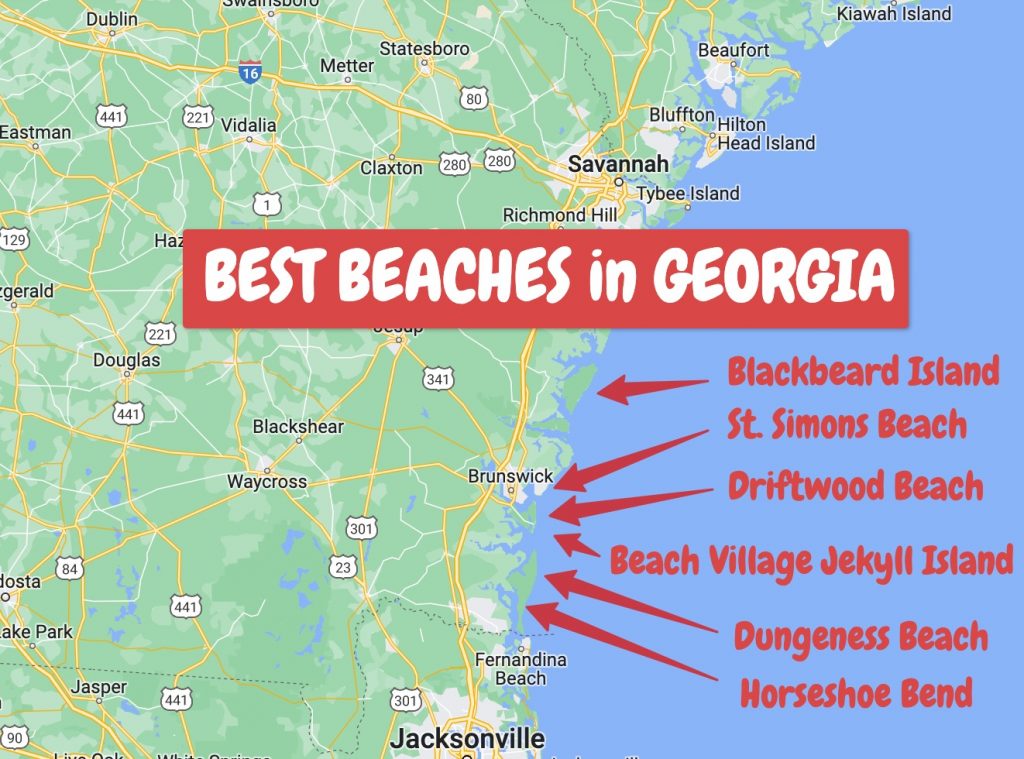 In this article, we are revealing the eleven best beaches in Georgia.
Nannygoat Beach, Sapelo Island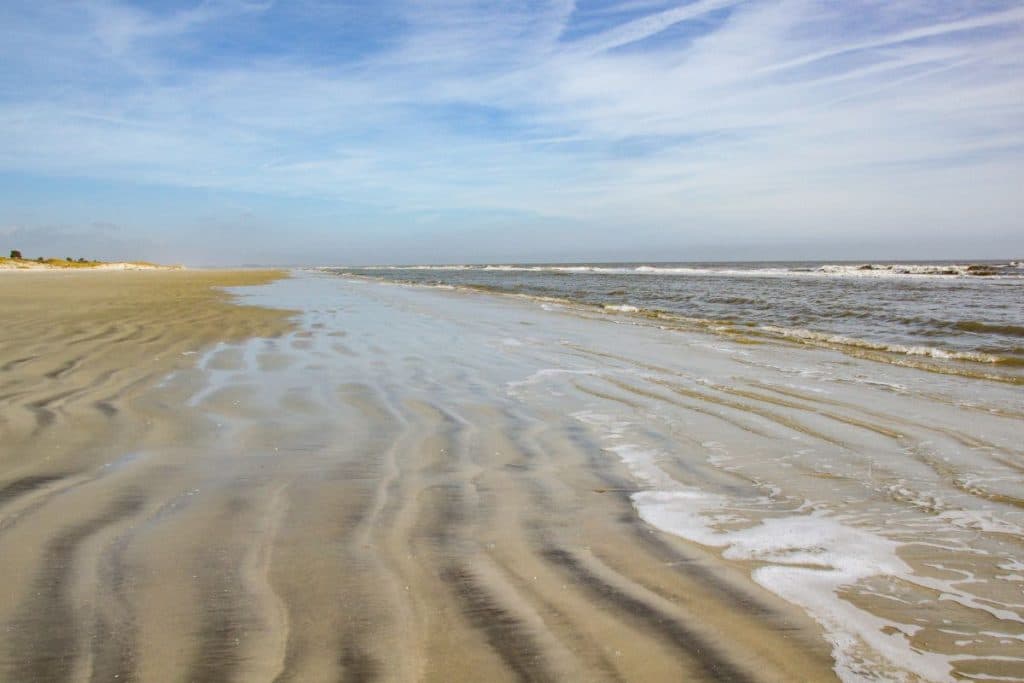 If you're looking for a secluded beach with no crowds, Sapelo Island is a must. It is home to Nannygoast Beach, a two-mile-long stretch of powdery sand famous for its dunes, nesting turtles, and a multitude of shells, such as sand dollars.
As the island is isolated, the wildlife there is truly rich. Visitors might spot American alligators, white-tailed deer, and various species of birds, including blue herons, bald eagles, and ospreys.
Once a site of a cotton plantation, it's not only nature that draws visitors from all parts of the world. Explore RJ Reynolds Mansion which served as the Spalding Plantation Manor or discover the culture of the African-American Hog Hammock community.
Note that you have to pre-register to visit the island. Book a public tour, arrange a private trip with a resident of the local community, or reserve a stay at the Reynolds Mansion or Cabretta campground. Sapelo Island will not leave you disappointed.
Driftwood Beach, Jekyll Island
Jekyll Island is an amazing beach destination. It has stunning and diverse beaches that are perfect for swimming, surfing, fishing, kayaking, and other water activities. The beach at Driftwood is one of the best places to visit because of its unique character.
The shoreline is full of driftwood that can be used as shade from the sun or as a seat as you enjoy the view of the Atlantic Ocean. It can also help restore dunes.
When storm surges hit beaches, dunes can be eroded or washed away entirely. Driftwood can help play a key role in rebuilding dunes by trapping sand on the beach in its crevices so that plants can grow on it again.
Jekyll Island offers many beach houses and hotels where you can stay if you plan on visiting this beautiful island more than once in your lifetime.
There are many things to do on Jekyll Island, such as visiting nearby Sea Turtle Hospital, a rehabilitation facility that provides medical care for endangered sea turtles in need.
Moreover, there is the Historic District where people come to celebrate St. Patrick's Day and other holidays, like Christmas and New Year's Eve. You can even see a parade on July 4th! There are plenty of things to do in this area: shopping at local boutiques or eating out at one of many fantastic restaurants.
You can also consider going for bike rides through their many trails, shopping in their quaint shops, dining at restaurants ranging from casual to elegant, or playing golf on one of their three courses.
Driftwood Beach is also a popular spot for weddings because of its natural beauty and romantic setting. This place offers everything you need to plan your wedding ceremony or reception, including catering services provided by local restaurant The Wharf: cake cutting with fresh strawberries dipped in chocolate fondue, ice-chilled champagne on hand when guests arrive at this private venue overlooking ocean waves crashing against rocks below, and many more.
Sea Island Beach Club
Looking for a luxurious vacation resort in Georgia? Book a stay in Sea Island – this private beach club has won over 65 Forbes Five-Star Awards and offers a plethora of activities to choose from.
First and foremost, there is a 5-mile-long pristine beach where you can access multiple watersports, including kayaking, sailing, and kiteboarding. As it's private, it's never too crowded plus it's always very clean.
Traveling with kids? In the resort, you will find three pools with waterslides, Sea Island Nature Center, a game room, and bowling. There are also golf courses, tennis courts, or you can set off for a horse ride. In the evening, indulge yourself in the spa or try some extraordinary meals in one of their restaurants.
The only downside is certainly the price but you will surely leave relaxed and with lifetime memories.
Tybee Island's Beaches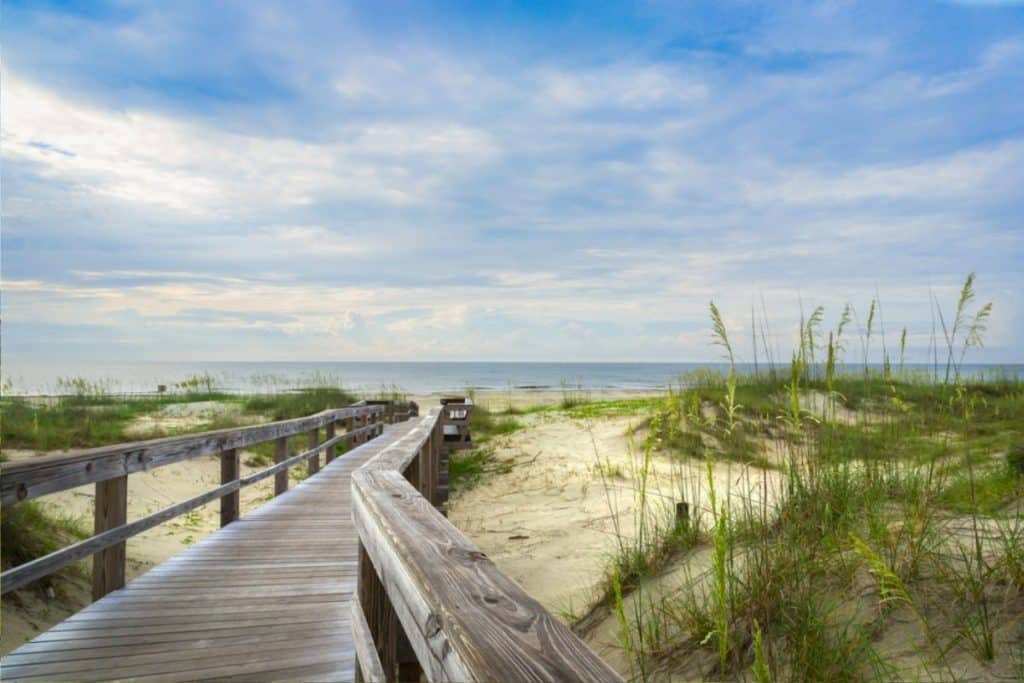 Locals refer to this barrier island located 18 miles southeast of Savannah as "Savannah's Beach."
Tybee Island has five beaches. The most popular is South Beach, the busiest one with the largest parking lot between 14th and 18th streets.
North Beach is the closest beach to Savannah and is located across from the Tybee Lighthouse. It is a beautiful area to walk in nature.
The second most popular beach is located across from the Tybee Lighthouse, while Mid Beach is more centrally located and quiet.
Rent a kayak or take a boat to the beach on nearby Little Tybee Island, a wildlife sanctuary just across the Back River and if you are lucky, you might spot some dolphins!
Watch out for this police warning: "While many people don't realize alligators reside on Tybee, they are present in many bodies of freshwater throughout the American southeast… Though they generally go out of their way to avoid contact with humans, alligators can be dangerous if provoked.
Dungeness Beach, Cumberland Island
This is an excellent place for locals and people visiting the area to enjoy a day at the beach. St. Mary's Beach is on Cumberland Island in Georgia. But it is a very short boat ride from the mainland. The beach is tranquil and secluded, ideal for those seeking to get away from the hustle and bustle of city life and get back in touch with nature.
This island has some of the best beaches in Georgia and is worth exploring if you are nearby. It is one of the most beautiful beaches in Georgia, with lots of water activities, including kayaking and canoeing.
There are also a lot of places to camp on this beach where you can bring your family or friends for a weekend getaway. The camping areas do fill up quickly during the summer months, so be sure to make your reservations early.
The long stretch of golden sand provides plenty of space for campers, sunbathers, and even those who want to go for a swim in the calm waters of the Atlantic Ocean.
Like most of Georgia's beaches, St. Mary's has a lot of wildlife that visitors can enjoy. You can spot dolphins frolicking in the ocean and sea turtles laying eggs on the beach during nesting season.
Blackbeard Island, Darien
This island is about 5 miles long and is located off Darien, GA. On the island, you'll find a wide variety of wildlife, including alligators, bald eagles, dolphins, and loggerhead sea turtles.
The island has a campground to pitch a tent or park your RV. Primitive cabins are also available for rent. There are no stores or restaurants on the island, so bring food and water with you.
The southern end of Blackbeard Island's beach is accessible by boat, but you'll have to walk or paddle to reach the northernmost reaches of the beach.
The beach also has several shops, restaurants, and hotels; so whether you want to enjoy a drink at a beach bar or try some local cuisine on the boardwalk, this beautiful beach is sure to please you to make this a day trip or an overnight vacation.
Beach access is free, but there is a parking fee for the lot on the island's north end and another in the middle of the island.
You can also explore ruins from the late 19th-century plantations that once dotted the island. And don't forget your bug spray — this is a popular spot for mosquitoes and other insects.
St. Simons Beach, St. Simons Island
St. Simons Island has been a popular vacation spot for generations that are now bringing their own families to enjoy the beautiful scenery. The weather in Georgia can be unpredictable at times, but fortunately, St. Simons Island has fantastic weather all year round.
This island offers plenty to visitors of all ages, including historical attractions, nature activities, and a thriving nightlife scene.
The beach at St. Simons Island is long and wide with beautiful white sand that is ideal for children to play in or families to spend the day relaxing and playing together.
This beach is one of the most popular on the Georgia coast and offers a boardwalk running along with it and covered picnic areas where you can eat lunch and enjoy the sea views.
There are also several restaurants within walking distance from the beach, so you do not have to go far if you need to grab a bite to eat.
St. Simons is a barrier island off the coast of Georgia, and it's a beautiful place to visit for many reasons — the beaches, the historic lighthouse, Fort Frederica, and the oak trees dripping with Spanish moss all make for great photo ops.
One of the best parts about this beach is how accessible it is to visitors. There's plenty of parking and very minimal development, so you'll still feel like you're in nature. You can't drive on the beach itself, but there are public areas where you can park, set up your chairs and umbrella, and enjoy some sun and sand (or watch other people doing so).
Jekyll Island State Park and Beach Village Jekyll Island
Jekyll Island is a barrier island off the coast of Georgia, located halfway between Savannah and Jacksonville. It's one of Georgia's Sea Islands and is part of the Golden Isles along with St. Simons Island, Sea Island, and Little St. Simons Island.
This beautiful state park includes beaches on both the Atlantic Ocean side and the calmer waters of the Jekyll River and Jekyll Creek.
The beach area features a series of public pavilions, volleyball courts, showers, restrooms, playground areas for children, and a wide boardwalk for walking or biking. The above-mentioned Driftwood Beach area is located near the island's northern end in the Great Dunes Park area.
Jekyll Island is also one of the most popular areas for photography in Georgia. You can capture a great view of the water with the pier and ships in the background.
The Jekyll Island State Park and Beach Village is a popular destination for locals and travelers alike. The island features miles of bike trails, dunes, and beachfront amenities.
After exploring the island, grab some ice cream from the nearby Whippy Dip Ice Cream shop or hop on a ferry and have a wonderful experience: the Jekyll River is beautiful, and the ocean view is excellent. You can see the dolphins swimming near the ship.
Glory Beach, Jekyll Island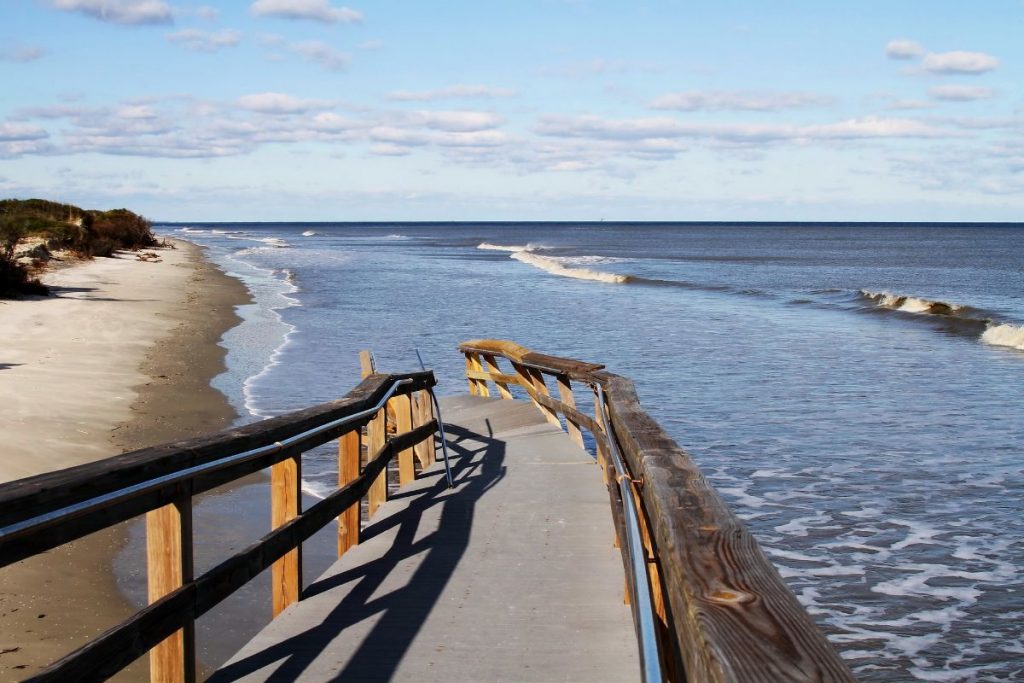 Glory Beach, like the other beaches on Jekyll Island, has beautiful sand and crystal-clear water. The beach is flat and windy, making it ideal for flying a kite or riding a bike. The warm, blue sea is just glorious!
To reach the beach, you have to cross a long wooden boardwalk that rises above high sand dunes, lush beach grass and freshwater pools.
This place is especially interesting for movie fans because in 1989 scenes of the Civil War drama "Glory" starring Morgan Freeman, Cary Elwes, Denzel Washington and Matthew Broderick were filmed here. This is where the name of the beach comes from. In addition, the boardwalk leading to the beach was built specifically for the filming.
Thanks to the miles of firm sand, you can easily explore the wide beach on foot or by bike without sinking too deep. Ocean breezes make it easy to fly a kite. Point your gaze to the horizon for a beautiful view of Cumberland Island.
Little St. Simons Island Beach
At Little Saint Simons Island, you can reconnect with nature while spending time with your vacation partners. This Golden Isle, an isolated utopia, is home to some of Georgia's most breathtaking flora and fauna. It can only be reached by boat and is also free of tourists.
This beautiful island has seven kilometers of immaculate beach, inviting you to lie on the fine sand and let the waves gently lapping against the shore sway you. Visitors to this protected ecosystem are likely to see turtles, various birds and even armadillos.
Explore the rivers by canoe or kayak, walk along the sand or ride a bike, look for shells, go swimming or cast a line in the deep, dark ocean. Activities abound on the beach at Little St. Simons Island.
Only 32 people are allowed to stay at the island's only eco-lodge, and daily visitors are limited, so you'll never feel crowded. Book early to secure a spot.