The United States has 50 states. North Carolina is the 28th biggest of them with a shoreline of 322 miles and more than 25 distinctive beaches. Each beach offers a unique experience that makes North Carolina exclusive for vacation homes.
Clear waters and sparkling sands in Carolina fascinate millions of locals and tourists alike each year. So when you think of summer in North Carolina, you should not forget to include its beaches in your travel list as well.
Here we go, 11 top beaches in North Carolina
Atlantic Beach
Bald Head Island
Corolla Beach
Carolina Beach
Emerald Isle
Ocracoke Island
Oak Island
Topsail Island
Wrightsville Beach
Hammocks Beach State Park
Cape Lookout National Seashore
Check out also: Best beaches in Virginia to Visit in 2022
North Carolina Weather in Spring
Best Beaches in North Carolina MAP
Atlantic Beach
Atlantic Beach is located on the state's famed Crystal Coast, making it a preferred destination. Its position facing the south protects it from winds and waves from the Atlantic Ocean.
Of all the beaches, Atlantic Beach tops the list on the entire coastline. It prides itself in having beautiful and sparkling waters, and its magnificent Boardwalk is a great place to take a walk any time of the day or to relax while taking amazing ocean views.
Atlantic Beach has also got a rich history and values. It's home to Fort Macon, a prevalent state park and civil war fort, making it draw thousands of guests every year.
On the beach, guests can tour the old fort, take hikes, go swimming, or even lounge on the nearby beaches. From the beach, it's also possible to enjoy fresh seafood while at the same time engaging in fun activities like boating and scuba diving with a guide.
Visitors at Atlantic Beach can enjoy panoramic ocean views from the Oceanana Fishing Pier. The pier is also a good fishing spot. Moreover, the entire coastal region boasts a wide selection of vacation rentals.
Cape Lookout National Seashore
Cape Lookout National Seashore has a lot to offer visitors, including 56 miles of beach spread across multiple barrier islands.
Shackleford Banks is a great beach for relaxing and swimming, and there are around 100 wild horses living there.
Visitors can climb the diamond-painted Cape Lookout Lighthouse in the summer.
Learn more about Cape Lookout and its wildlife by going on a ranger-led tour, paddling a canoe or kayak around the islands, or going birdwatching.
Bald Head Island
Bald Head Island is a small township located on the eastern side of the Cape Fear River in North Carolina. It's somehow considered small and remote, but it's truly unique.
Getting there and around requires a little planning since cars aren't allowed on the island. This makes it a peaceful and quiet island. Luckily, the beach has affordable accommodations facilitated by local companies.
It's noteworthy to say that one of the best things to do on Bald Head Island is to visit its conservancy. You will fall in love with Bald Head Island from educational tours and talks of all ages. You get connected to the ecology and learn why it's always important to preserve natural treasures like these.
Bald Head also offers turtle walks, kayaking tours, fishing tutorials, night surf fishing, and kid camps, making it a great recreation place for families.
Corolla Beach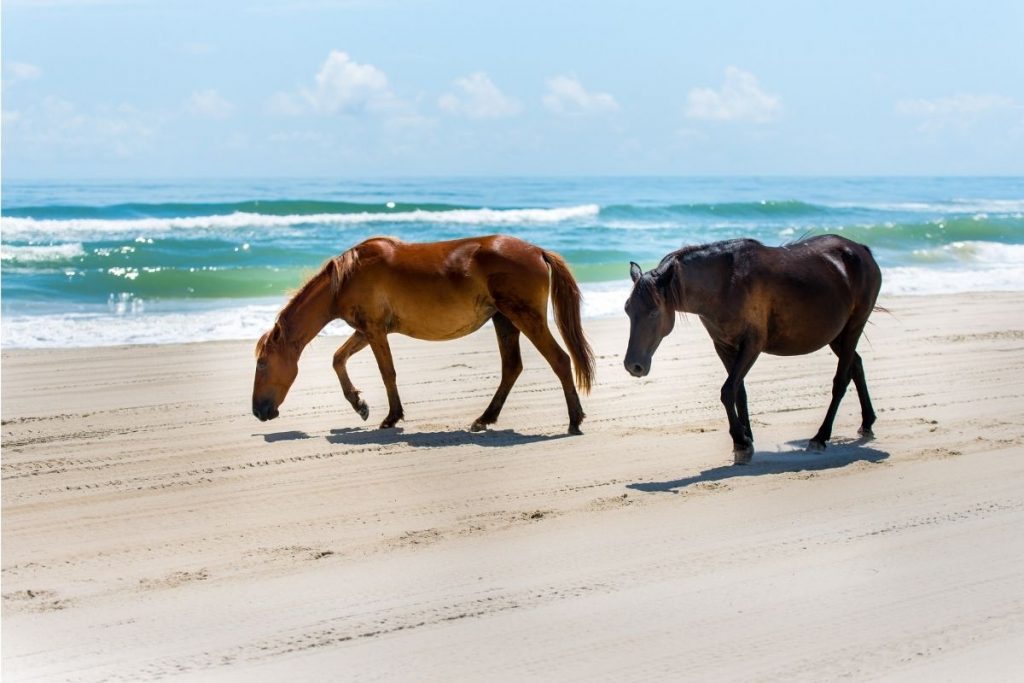 Corolla Beach prides itself in offering a plethora of sporting activities and great places to eat after spending your day on the beach. It provides a good opportunity for visitors to train in golfing; this is done on the outer banks of the beach.
Animal lovers will appreciate this quintessential trip to view beautiful wild horses roaming freely on the beach. You only need to take your 4-wheel drive vehicle to the beach in search of the horses or you can even take a tour guide.
Corolla is also a great spot for swimming and surfing when the weather allows. Are you traveling with your dog? Don't worry. Pets are welcome at Corolla Beach but remember they must be on a leash.
Carolina Beach
Think about a safe kid-friendly beach? You don't have to look further than Carolina Beach. It has a shallow coastline as well as ocean floors. The waves are usually calm and lifeguards are always present.
All this makes it safe for visitors of all ages like children and the elderly to engage in recreation activities like swimming, playing in the sand, or just strolling around.
The beach also has an Aquarium at Fort Fisher. The presence of the towering two-story open ocean tank with giant sharks, rays, and eels gliding through the waters also attracts visitors of all ages.
Visitors can also make memories by taking photographs while laying their hands on the rare albino alligators.
Plenty of activities like daily diver feeds, educational programs, and annual events like Valentine's Day and Halloween makes this beach a blast.
Emerald Isle
Emerald Isle Beach is known for its remarkably clear waters. It offers visitors a paradise-like feel, which is exactly what Crystal Coast is. It's, therefore, a fantastic place for visitors to spend their day relaxing.
Visitors can also spend their time boating by renting a pontoon from Emerald Isle adventure shop. They can spend their time cruising the intercostal waterway in the thrilling water sound while at the same time watching birds, swimming, and beachcombing.
From Emerald Isle, you can connect to Atlantic Beach and stop in several towns in between. Staying in Emerald Isle offers visitors a great opportunity to travel and socialize with other communities, too.
At Emerald, you can also enjoy a variety of fishing opportunities, like casting from the piers, surf, kayak, or even out of the deep blue sea. Great time and maybe a fish for dinner are guaranteed.
Ocracoke Island
Ocracoke is a secluded and tranquil island offering a calm escape to untouched shores and a charming town worth exploring.
It offers a conducive environment for visitors seeking to take a break from the current tussles of the world. It's the southernmost island s of the Outer Banks, and it's separated from the rest of the world more than 20-mile-wide Pamlico Sound, making it only accessible via a personal vessel or a plane.
The island is a perfect beach for fishing, beachcombing, swimming, surfing, and exploration. It's also a great destination to enjoy your day in the ocean.
The island has some amazing local seafood restaurants and boutique shops where visitors can pick unique souvenirs. Many visitors also love the historic seven lighthouses as it gives them an awesome picturesque view.
On Ocracoke Island, bikes and golf carts are available for rent. This makes the island an incredible bicycle-friendly and golf-cart-accessible community. Visitors can also drive to see the Ocracoke Pony Pen.
On top of everything, watching the sunset over the harbor in the Ocracoke village or on the beach is stunning.
Oak Island
Oak Island is a stunning and easily accessible island on the southern end of the North Carolina coast.
If you are looking for a natural vacation spot, you are undoubtedly looking for Oak Island. This beach offers one of the most pristine regions in North Carolina and there are miles of those here.
The rivers and creeks are beautiful, with sweeping estuaries.
Since you can find friendly sea turtles on this magnificent beach, you should not miss the opportunity to visit Oak Island!
Topsail Island
Topsail derived its name from folklore stories that pirate ships used to hide behind inlets making their topsails visible. However, Topsail Beach is a serene, perfect place for a family's vacation.
The place is not overcrowded as it's not a big city. Things are just easy in this city, with no big-city horns honking on traffic and tall massive buildings making the skyline busy. This makes it a perfect place for relaxing and enjoying life.
It's also a good place for visitors to have their pets since pups are allowed; however, visitors must read and follow the town's doggie beach rules.
Topsail also offers a scenic experience from its beauty. The locals have vowed to keep topsail as beautiful as possible by protecting and educating each other on the need to preserve their environment for future generations.
Local wildlife is also present, and it's almost impossible not to see dolphins splashing in the ocean. Visitors are advised not to get too close to the wildlife and take personal responsibility.
Looking for an unconventional spot to watch the sunset? Check out at the southernmost of the island known as the Serenity Point for amazing sunset views.
Wrightsville Beach
As we have mentioned already above, Wrightsville Beach is one of the most popular beaches in South Carolina. It offers various sports activities like scuba diving, kayaking, jogging trails, surfing, and golf courses. Don't worry, it has more than 40 access points offering showers and restrooms.
After your workout, you can stop by in one of the many recreational areas for live music, a meal, or a drink.
Wrightsville Beach has also been voted the best family beach. Kid's programs keep young visitors busy and learn new crafts and games. The beach trains kids on environmental education, guidance from experienced counselors, and field trips. All this is meant to make the kids have an all-around holistic vacation. All the activities revolve around a daily theme that ends with a dinner and a movie. At different times kids are also trained in martial arts.
Adults and children are fascinated by this beach for the exotic feel to visitors. Don't miss this amazing experience if you plan to have a vacation with your children.
Hammocks Beach State Park
Visit Bear Island and you will be rewarded with unforgettable memories of one of the most pristine beaches on the Atlantic coast. Hammocks Beach can only be reached by passenger ferry or private boat. Hammocks Beach is busy in one way: the list of things to do!
The beach is a pristine gem on the North Carolina coast. Taking the ferry to the beach is especially popular with families with children. Young couples and families with teens will appreciate renting kayaks from Walter Mayo (Paddle NC) and paddling across the Intercoastal Waterway to the beach.
The wide beach is interrupted only by basic campsites and a small concession/picnic area. There is a full-service visitor center at the mainland entrance to the park.
You will not find rows of restaurants or beach bars on this relatively undeveloped beach, and that's exactly why people love it. You can also spend some time learning about the park's wildlife.
FAQs
What's the weather like in North Carolina?
In North Carolina, beaches are warm in summer, while in winter, they are offensive. The temperatures typically vary from 40° F to 87° F and rarely go below 27° F or above 91° F.
When to visit North Carolina?
The best times of the year to visit Carolina beaches for warm-weather activities are from mid-April to early June and mid-September to late October. That's when the beaches are less crowded. From May to mid-October, the water stays warm, and most people enjoy swimming.
What's the best beach in North Carolina?
Wrightsville Beach is the most popular and best-known beach in North Carolina, treasured by both locals and tourists.
North Carolina Weather In Fall
---
Beaches in North Carolina are important to the local communities and the ecosystem. The beaches help sustain the coastal communities in the states and enable them to thrive.
When the communities along those beaches protect and preserve them, it results in a healthier, natural, well-balanced ecosystem. We encourage conservative measures to be put in place to ensure damages from soil erosion from the shoreline don't occur.