Welcome to Nebraska, a state known for its lush prairies and wildlife, as well as abundant rivers, streams, and reservoirs. Right in the heart of the Great Plains, it also boasts epic waterfalls, rugged cliffs, caves, and fossil beds.
Home of the famous Chimney Rock and Scotts Bluff National Monument, Nebraska isn't just land to drive through from one city to another. But a state which can offer numerous activities and adventures even for the most demanding campers.
Its Midwestern climate brings hot summers and harsh winters. On the contrary, springs, and falls there are gentle and are definitely worth a visit. If you want to escape the mundane and spend some time outdoors, there is no better time and place to do it.
Check out also:
– Best Camping Sites in Colorado
– Best Camping Sites in Iowa
Here we go, Best Camping in Nebraska
Camp A Way – Best Family Camping in Nebraska
EAST NEBRASKA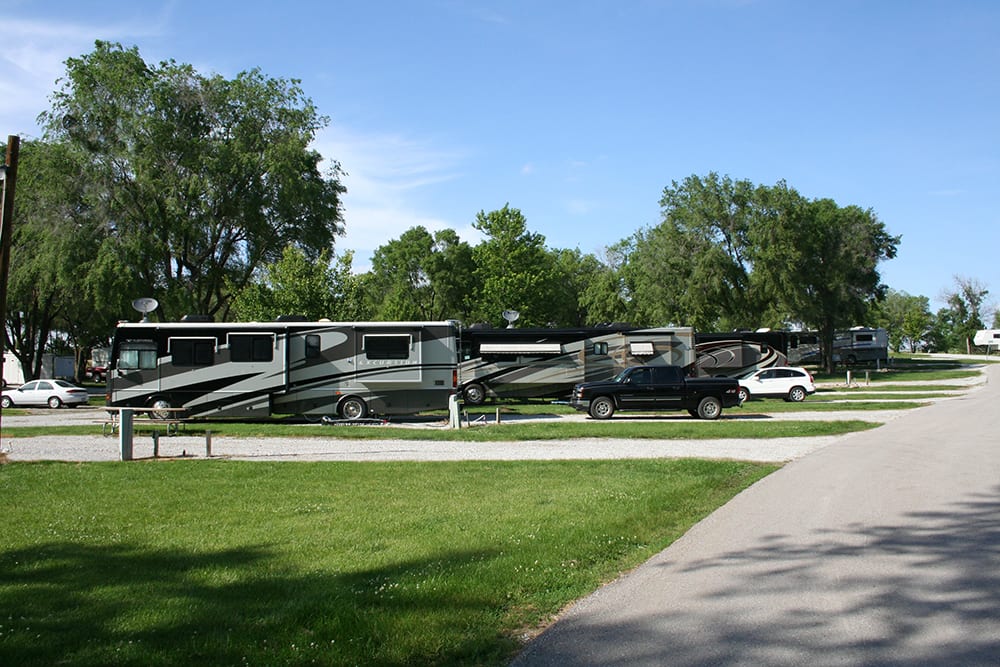 Located at the crossroads of Interstate 80 and Highway 34 in Lincoln, Camp A Way is one of the most popular campsites in Nebraska. Not only because of its accessibility to all the major roadways, but also for its numerous facilities, such as a heated pool, indoor spa, and various playground and sports areas.
It is a sought-after campground, especially among families. Parents can enjoy themselves in the wellness while leaving their kids getting bouncy on the jump pads or trying Zoom Floom.
All Camp A Way's RV sites are full hook-up. It can accommodate various RV's, from pop-ups and class Bs to toy haulers and luxury coaches. If you don't own one, there are also cabins and tent sites available on-site.
Reservations are not required but are recommended in the peak summer season from May to August and also during the football weekends in fall.
The winter rate for a 30 amp full hook-up starts at USD$ 46, while a 50 amp hook-up begins at USD$ 50 per night. Lodging in the cabins starts at USD$ 87.74 per night.
Double Nickel Campground
CENTRAL NEBRASKA
Located just off Interstate 80, Double Nickel is a family-owned and -operated campground suitable for both an overnight stay while on a road trip or a fun weekend with the family.
You can stay at one of their large pull-thru sites, grassy tent sites, or in a cabin. Amenities include a pool, mini-golf, basketball, volleyball, horseshoes, playground, and a dog park.
There are also plenty of places to visit nearby, such as Lee's Legendary Marble Museum, Wessels Living History Farm, Indian Cave State Park, or the worldwide known Henry Doorly Zoo in Omaha. Golf lovers will appreciate the close-by Sandy Meadows Golf Course.
Whatever type of adventure you're looking for, Double Nickel Campground has got you covered.
Lake Ogallala State Recreation Area
WEST NEBRASKA
Set on the east side of Kingsley Dam and bordering the massive Lake McConaughy, Lake Ogallala is often referred to as 'the little lake.' Compared to its brother, it lacks sandy beaches. However, it won't disappoint you, as it is a renowned fishing destination.
You can catch rainbow trout, yellow perch, channel catfish, and, occasionally, wiper. If you're not much into fishing, you can engage in paddling, boating, biking, birdwatching or try some of the hiking trails.
There are two campgrounds in Lake Ogallala State Recreation Area. The East Campground is located at the east entrance to the park. It features hard surface roads, 82 padded electricity sites, showers, and restrooms. On the other hand, the West Campground spreads around several areas on the west side of the lake, and it offers grassy sites with tables and grills.
Lake Ogallala State Recreation Area is a perfect spot for those who seek a peaceful location with the option of water-based activities.
Eugene T. Mahoney State Park
EASTERN NEBRASKA
Set between Lincoln and Omaha, Eugene T. Mahoney State Park is a family-friendly park with a modern campground boosted with a plethora of facilities.
Visitors can engage in swimming, fishing, hiking, tennis, tubing, or paddle boating, while kids will appreciate the pool with water slides, petting zoo, indoor playground, and art and craft workshops. In the winter months, guests can enjoy sledding and ice skating. Yes, the campground is open all year round!
The sites are shady and suitable for both tent and RV camping. For extra comfort, you can also stay in cabins. There are picnic tables, shelters, grills, as well as group facilities. This spot is simply a great choice for a family vacation or friendly gatherings.
Prairie Oasis Campground & Cabins
EAST / CENTRAL Nebraska
This family-friendly campground is an ideal place for those who want to rest and relax after a long day of travel. There are 30 and 50 amp full hook-up sites as well as tent sites and furnished cabins in the Prairie Oasis Campground.
The area itself has plenty to see and do. There is the Kirkpatrick North Wildlife Management Basin just a couple of miles away, a perfect spot for bird watching. In the town of nearby York, you can find Lee's Legendary Marble Museum, which boasts the largest collection of marbles in the world!
The prices of Prairie Oasis Campground vary between USD$ 39.50 and USD$ 60. Reservations at are not needed but recommended.
Victorian Acres RV Park
EAST NEBRASKA
This quiet RV Park sits right by the historical Nebraska City, home of Morton Salt, and part of the Lewis and Clark trail. There are 12 museums in the city, but should you get bored during your stay, the border with the state of Iowa where you could explore more is just a stone's throw away.
The Victorian Acres RV Park offers full hook-ups and water and electricity pull-thru sites.
Overnight prices vary from USD$ 40 to USD$ 44. The park has also got advantageous weekly (USD$ 264) and monthly (USD$ 490) rates.
Even though there is no option of neither lodging facilities nor tent camping, there is plenty of open space for kids and dogs to run and play around. There is also a camp store on-site. It's a good choice for modest clientele who seek serenity and peace and enjoy being surrounded by rural orchards.
Country View Campgrounds
WEST NEBRASKA
With easy access to interstate highways, Country View Campgrounds is a great place to stay en route. It offers 24-hour check-in, Wi-Fi, cable TV, as well as renovated bathroom showers. There are 48 full hook-up spots and 4 back-ins on 30/50 amp service on-site.
The campground offers a quiet country setting with picnic tables and an antique store. Nearby, there is the lake McConaughy, where you can dip in or take part in thrilling water sports during the season.
The prices start at USD$ 39.75 per night. Tents are also welcome to be pitched on the ready-to-use grassy site for USD$ 30 per night.
Louisville State Recreation – Best for Kids
EAST NEBRASKA
Located on the south bank of the Plate River, the picturesque Louisville State Recreation Area has become a well-liked spot, especially among outdoor enthusiasts. Anglers can find bass, catfish, and bluegill in the five sandpit lakes in the area, and swimmers can take a dip in on the designated beach.
Louisville State Recreation Area offers numerous amenities, such as picnic tables, grills, and modern restrooms, as well as a brand-new floating playground. Campers can also take advantage of the facilities at the adjunct Platte River State Park, which they can access by a non-powered boat or a canoe through the waters.
Full hook-ups start at USD$ 35 per night, whereas electric ones at USD$ 25 per night. Tent accommodation is also available.
Note that a park entry permit is required to access the area but can be purchased directly at the park.
West Omaha / NE Lincoln KOA Holiday
EAST NEBRASKA
This dog and family-friendly KOA is just a short drive from downtown Omaha and Lincoln. It offers plenty of free amenities, like a mini zip line, sand volleyball, and badminton. Jumping pillow, swimming pool, and horseshoes are not to be missed either. The area offers wineries, golf courses, and both hiking and biking trails. Bikes can be rented on-site.
The campground provides both RV and tent camping, as well as lodging. The RV sites' electricity ranges from 20, 30, and 50 amp. There are full hook-up and water/electricity spots available. The latter is a good option for overnighters who don't want to unhook a towed vehicle.
There is a selection of cabins in the West Omaha / NE Lincoln KOA Holiday — both classic and deluxe, and all of them are heated and air-conditioned for maximum comfort.
There is a cable TV on all the RV sites and in the cabins. You can also order a freshly baked pizza to enhance your movie night!
Rates begin at USD$ 36.50 a night for an RV site but vary depending on the season, type, and size of the vehicle.
Pawnee State Recreation Area
EAST NEBRASKA
Right by the second largest lake in the Salt Valley, the Pawnee State Recreation Area features a full range of facilities and some of the best spots for ten camping in Nebraska.
The vast 1,800 acres of land are open for anglers, boaters, hikers, hunters, shutterbugs, and anyone else who enjoys the outdoors. Also, hunting is permitted in the season from the first Tuesday after Labor Day.
Four docks provide easy access to the lake for boaters. You can enjoy windsurfing, kayaking, and sailboarding on the lake too. Furthermore, the area provides an equestrian loop trail with some spectacular views. Wine lovers can visit the close-by winery.
Full hook-ups start at USD$ 35 per night, whereas electric at USD$ 25 per night. There is also plenty of room to pitch your tent for as much as USD$ 10 per night.
A park entry permit is also required to access the area and can be purchased at the park.
Grand Island KOA Journey
CENTRAL NEBRASKA
Right in the center of Nebraska, Grand Island KOA Journey has something to offer for everyone looking for camping in Nebrsaka.
It offers both RV sites and grassy tent sites, as well as classic and deluxe camping cabins. Also, you can rent an RV equipped with a full bathroom.
The campsite is an excellent spot for families thanks to its abundant fun amenities, such as bike rentals, a game room, horseshoe pits, and basketball courts. In the spring, you can watch migrating Sandhill Cranes. It's suitable for both quick getaways and long-term stays.
The price for an RV site starts at USD$ 39.89 per night for a full hook-up and USD$ 37.89 for a water and electricity spot. The rates vary depending on the season, type, and size of the vehicle.
The price for a lodging cabin begins at USD$ 59.89 per night. You can also rent an RV starting from USD$ 74.89 per night. Tent sites are available from USD$ 21.89.
Conclusion
There is definitely something for everyone in Nebraska, and each of the 11 campsites has something unique to offer. Whether it's fishing or playing horseshoe, camping in Nebraska can't be missed. Pack your bags and come enjoy the blooming spring, the best season to visit the state.
FAQs about camping in Nebraska
When does camping season start in Nebraska?
Camping season in Nebraska starts around April. While the campgrounds don't tend to be busy at that time of the year, it might still be a little bit too cold. But don't worry, the temperatures get higher already by mid-May.
What is the largest state park in Nebraska?
With its 22,000 acres of land, Fort Robinson State Park is the largest state park in Nebraska. Moreover, it features exceptional scenery, fantastic lodging facilities, as well as plenty of activities to do.
How much does RV camping in Nebraska cost?
Campsite fees vary depending on the season, location, and facilities of the campground. But generally, the rates for RV camping fall between USD$ 30 and USD$ 80 per night in Nebraska.
Which are the most popular state parks for camping in Nebraska?
Indian Cave State Park, Mahoney State Park and Chadron State Park are some of the most popular and most visited state parks in Nebraska State.