No matter where you plan on having your next adventure, the question of which luggage to take will always come up. The top factors to consider when choosing various camping bags are weight, storage capacity, organization, handiness, aesthetic, and versatility.
Different types of trips have different types of luggage that you'll need, for instance, you wouldn't take the same travel bag camping that you would take to a 5-star hotel. The only type of bag that is usually an exception to this is hanging travel bags.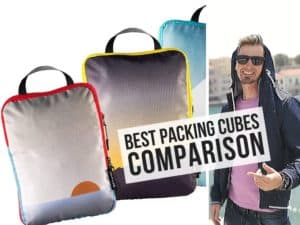 Whether you are in a tent, camping in RV, cabin, or hotel room, having all of your toiletries neatly organized and easy to use is a necessity. Nothing beats the ease of being able to pack and unpack your most used items in an instant.
Best Hanging Toiletry Bags for Camping
This bag has a large variety of compartments to ensure that you always have enough space for all of your indoor and outdoor adventure needs.
It comes with a mirror that can be used to check how you're looking on the go – or if you're in the wilderness, it could be used to start a fire.
This hanging travel bag is extremely light and you can barely feel the weight of the actual item when it is empty.
Due to this bag being extremely lightweight, it is the ideal travel companion for those who enjoy traveling to remote locations or those who just enjoy outdoor activities, such as camping and hiking.
At first glance, this bag may appear small, however, it has numerous multi-sized compartments that will allow you to arrange your belongings meticulously in order to ensure that you have the necessary tools for any task that is thrown at you while out in the "wild"!
Whether you have a few big items or tons of small ones, the one thing you can be assured of is that you will have plenty of space for all of your belongings. This hanging travel bag also includes a nifty roll-up feature which means that you can hang it up basically anywhere when you no longer wish to carry it on your person.
Keep all toiletries organized and accessible with 6 pockets!
Excellent for maintaining compactness while packing a lot. Several pockets to keep clean and orderly, such as keeping toenail clippers away from your toothbrush.
Why travelers Trust it worldwide:
With six pockets, you can keep all of your toiletries organized and easily accessible.
Safeguard yourself from shampoo explosions.
With an adjustable hidden strap, you can hang it wherever.
Travel tested – long-lasting and readily cleanable
Lifetime guarantee
Deep Mesh Pocket – Excellent for products like fingernail clippers, flossers, mustache wax, q-tips, and beard oil.
Deep Water Resistant Pocket – To avoid arriving at your destination with a shampoo explosion all over everything, store your liquids here. Suit products like cologne/perfume, shampoo, 3 oz+ travel liquid containers, pomade, etc.
Large Outer Pocket With Soft Fleece Lining – Spans the length of the rear of the backpack and can be used to protect valuables, a phone cable, or a small first aid kit.
Secret Small Pocket – Rings and other tiny objects fit within to prevent them from slipping around in a larger pocket. Condoms fit perfectly.
Stowaway Adjustable Strap With G-Hook – your toiletry bag can hang anywhere.
Any product damages, repairs needed, or defects found,

will be sorted out for you under warranty – free of charge!

Perfect for toiletries and other small items.

Extremely lightweight and small.

Quality zippers
At some point in time, we're sure that you've felt that feeling that you are missing something when you are getting ready to go on a big adventure..
Well, that feeling can be thrown away with the Osprey UltraLight Zip Organizer.
This hanging travel bag ensures that all of your toiletries have a space to be stored safely and neatly.
Although it doesn't need to be used for toiletries alone, it can also be used to store many other small items as well.
This particular hanging travel bag was made especially for those who love to pack light while traveling, or even those who are just visiting a backpackers club or hostel for an overnight stay.
With so many nifty compartments, it could even be used to store snacks and treats that you might want to share with your fellow travelers and friends that you meet on the journey!
No matter what you plan on using it for, this hanging travel bag is perfect for smaller objects that you would like to keep grouped together while you are on the go.
Sturdy 360-degree swivel hook
Comes in black, blue, gray, green or purple
Includes TSA-compliant zipper bag
If you are looking for a hanging travel bag to be with you throughout your upcoming years of travel, this is one to consider.
It has been designed to be sturdy and to withstand a variety of environments while its design allows it to sit up, great for places where you do not have anywhere to hang it from. Meanwhile, the water-resistant nylon that it is made from helps protect your toiletries in wet conditions, whether from rainstorms or from splashes of water in campsite bathrooms.
Inside this toiletry bag are numerous pockets and zippers that are strong enough to protect toiletries and ensure that they do not fall out. It also has elasticized and meshy areas to ensure that stored cosmetics are protected. The bag is large enough that you could place large shampoo bottles in it as well.
Of course, toiletries are not the only things that you need to place in this toiletry bag. Some use it for items such as earbuds as well.
Empty, the bag weighs 11 ounces.
Elegant Design – made from high quality and strong nylon material
4 separate compartments
WET and DRY separati

on

of compartments
Lewis N. Clark hanging toiletry bag is a more elegant option comparing to previous listings.
It has a huge capacity so it's an ideal option if you a traveler who carries a lot of toiletries than it's a product for you!
It comes with very smart compartments separations that keep you WET and DRY items separated.
Lewis N. Clark toiletry bag comes with a strong attachment hanger which makes it easy to hang in a bathroom shower. door rod or a classy towel rack.
Made with polyester, so there is no need to worry if you spill something on it – it will dry quickly!
Easy to clean with just a quick couple of damp cloth wipes.
Nice mix of compartments – large compartments for bigger items and small compartments for smaller objects.
This hanging travel bag is perfect for all genders, especially in the sleek black color which is our personal favorite option. Best used as a toiletries bag – it comes with numerous compartments that will be able to accommodate any male or female's toiletry needs.
If you are wondering whether a specific toiletry item that may be too big could fit in there, the chances are that it definitely will. The large center compartment was designed to fit everything from hairbrushes and toothbrushes to curling irons and electric shavers.
The Basics Hanging Travel Toiletry Kit Bag has a built-in hanger that can be hung on any sort of rod, hook, or handle. This makes it easy to keep nearby at all times. If it is hung in your bathroom, you won't need to worry about water damage as it is made with durable polyester and will be able to withstand most common bathroom or shower spills.
Another huge perk is that unlike other hanging travel bags that may require a lot of searching to find your items inside, this bag comes with more than enough space to keep your items organized and separated, thus making it easier for you to locate all of your necessary items when you need them.
Extremely waterproof and durable.

Multiple compartments that are perfect for toiletries.

A unisex hanging travel bag designed for both men and women.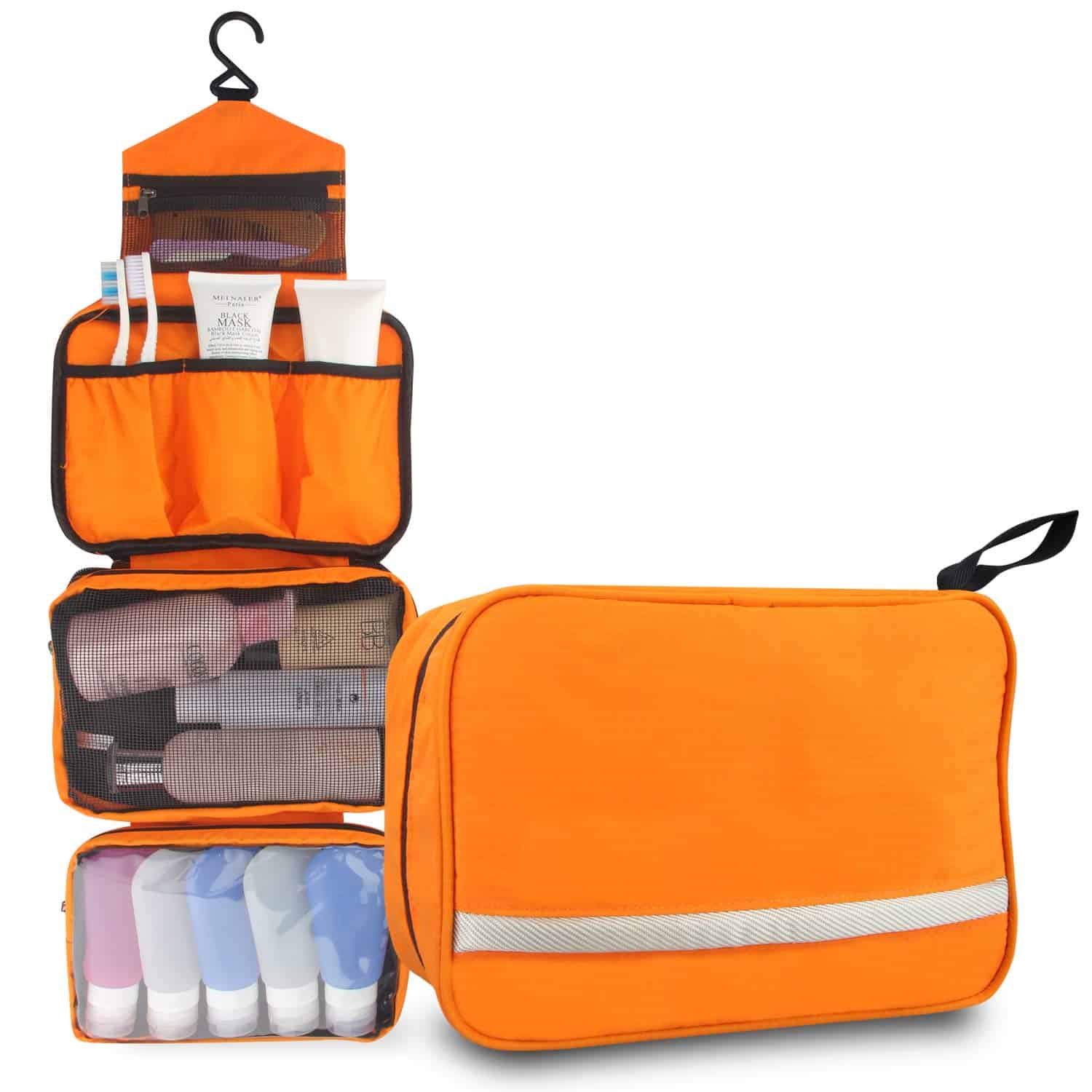 Having a limited amount of space to pack efficiently is a thing in the past, this hanging travel bag comes with 6 separate compartments to ensure that all of your items have a designated spot in this bag.
One of the most useful and beneficial perks of this specific hanging travel bag is that it is completely waterproof, so whether you are camping or hanging it in your hotel shower, you will never have to worry about your items becoming waterlogged. The clever 'roll out and display' design of this item allows you to hang this bag anywhere that you please.
When this hanging travel bag is rolled up and zipped though, it compacts itself extremely small and will take up barely any space in your suitcase – despite how much it can contain! The perfect toiletry bag for all genders let it be for makeup or your basic gym gear.
Available in a large range of colors, this hanging travel bag is the perfect travel companion for a variety of trips all over the world. The fact that it is also very visually pleasing is just another great benefit of this versatile travel bag!
Extremely water-resistant and durable.
Multiple size compartments and dividers.
Both spacious for larger items and very organized for smaller items.
When you think of the Gonex brand, most people usually think of outdoor sports products, however. Gonex has taken its expertise for durable sporting goods and extending it to providing top quality travel gear. The Gonex Hanging Toiletry Bag is made up of strong durable material and is unlikely to get damaged under any normal conditions.
This bag comes complete with a plastic hook to make sure that you can hang it up wherever you please for easier access to all of your goodies. A perfect traveling companion, this Gonex hanging travel bag not only works hard at keeping your valuables safe from damage but will also ensure that wherever you go, you will be traveling with style and class.
Their designs come in a variety of colors to suit all tastes, with many compartments so you can be sure that your items will always be organized to the best of their ability. So, for all your expeditions, including business conferences, backpacking adventures, and holidays, we recommend that you give this hanging travel bag a try – you won't be disappointed.

Bago Hanging Toiletry Bag – starts at $25
A large variety of pockets and compartments for the best organization of your products.
Lightweight and waterproof.
Available in more than 7 different colors.
Looking for a stylish travel bag with numerous pockets and compartments? Bago Hanging Toiletry Bag is possibly the best one on the market.
It features two mesh pockets, two side pockets, as well as multiple compartments to store smaller items.
It is made of both lightweight and durable Rip-Stop Honeycomb waterproof fabric and is equipped with heavy-duty zippers so it would last you for years without worrying. Also, it is available in more than 7 different colors, from grey to blue or pink.
Thanks to its versatility, it can be used as a lunch bag, baby bag, or electronic gadgets bag. Designed to provide options, it will please everybody, even the most demanding travelers.
Available in 4 different colors

Built with quality material that is very durable.

10 different pockets/compartments of various sizes to keep everything organized.
No matter where in the world you are planning on going – a business trip, holiday with the family, or even backpacking in Europe – this hanging travel bag is exactly what you need to ensure that your travels unfold smoothly.
It comes with 7 adjustable pockets and 3 fixed pockets, perfect for organizing both bigger and smaller items.
With its slim fit design, it is the perfect traveling partner to take with you, because when folded it fits perfectly in any suitcase without taking up too much space.
his bag was built to withstand constant folding and is guaranteed to stay intact even with frequent use.
A nice bonus feature of this bag is that all of the compartments have clear plastic on the outside which makes it easier to see where an item is without the hassle of having to search through each pocket.
---
So this was a list of the best toiletry hanging bags and organizers for travelers in 2022! If you love the comfort and organized way of traveling this is the TRAVEL GADGET you should definitely have.