When backpacking to anywhere in the world, or even when staying at home, having a clean towel is a must – both a privilege and a right. You might be thinking towels are usually readily available at hostels or hotels for free or for rent but can you really trust the cleanliness of these offered towels?
One great traveling (and hygiene) tip we can offer is to always have a couple of facial and bath towels in your backpack. While sharing can be fun with most things, a shared towel isn't one. So when preparing your packing list, make sure you include one of these microfiber towels for your next trip.
Why? Just by the term "microfiber," anyone should get the idea that this type of towel has fine strands which are approximately half as fine as the human hair. Also in general, microfiber towels are soft, water absorbent, quick-dry, lightweight and extremely reliable.
I personally am not a fan of bringing bulky cotton towels on trips, because they take too much space and do not dry quickly. I remember one time when I first went backpacking with my peers. I had to hand-carry my wet towel in a plastic bag. It's heavy, damp, and a little stinky after a few hours. And when you want to bring home some souvenirs from your chosen destination, saving every ounce and inch matters.
**Check out also: Best Mosquito Nets For Backpackers
So we have listed my top 5 favorite microfiber towels perfect for anyone. Whether you're a traveler or a homebody, there's always a towel made for you.
Quick Dry and absorbent.
Lightweight and ultra Compact.
Perfect for Camping, Gym, Beach, Swimming, Backpacking use.
The Rainleaf microfiber towel is perfect for travel, the gym, or at home. It comes in 6 sizes and seven colors, and each towel is made compact and space saving.
(X-small Microfiber Towel 12 x 24 inches
Small Microfiber Towel 16 x 32 inches
Medium Microfiber Towel 20 x 40 inches
Large Microfiber Towel 24 x 48 inches
X-Large Microfiber Towel 30 x 60 inches
XX-Large Microfiber Towel 40 x 72 inches)
No need to rent towels at your hostels or share large bath towels with your travel buddies. You should have enough space on your backpacks to carry a couple of Rainleaf towels minus the bulk and weight. With seven colors to choose from – army green, blue, gray, green, orange, purple, rose – you can always select a travel towel to match your personality.
No matter the size or color, each Rainleaf towel should keep you dry. These towels dry fast, absorb water efficiently, and skin-friendly but tough on germs. Leaving a suede feel on your skin on each use, these microfiber towels keep you fresh and dry, without eliminating too much moisture on your skin and face.
Each towel comes with a breathable mesh carrying bag, making it extremely portable and for-the-go. With Rainleaf towels, you can go camping, break a sweat on the gym, swim on the pool, jacuzzis, or the beach, and more – and still be as clean and dry as possible.
All Rainleaf towels come with snap loops for air drying and carry bags for easy packing. The hang loop makes sure you don't run after your towel when the wind blows. All Rainleaf towels also come with a 40*70 in corner zip pocket for storage.
Ultra absorbent and Quick Dry

Perfect for Sports, Backpacking, Beach, Yoga or Bath

Set of 2 microfiber towels, XL Swimming Towel (58″ X 30″) with Hand/Face Towel (24″ X 16″)
The Wolfyok 2-pack microfiber towel set is perfect for any traveler. These towels contain a premium quality microfiber – soft, absorbent, water-repellant and easy to wash and dry. The high-quality materials used on these towels dry up faster than terry cloth and cotton bath towels, absorb a significant amount of water and dries quickly.
When you can, always get two for the price of one. One thing I like the most about this brand is that when you purchase this Wolfyok set, you get two microfiber towels in different sizes. One is an XL swimming towel while the other is a smaller towel (24″ X 16″). Both towels are made perfect for multiple uses daily, and highly suitable for backpacking, travel, boating or camping, swimming and gym, and outdoor sports.
All Wolfyok towels come with a mesh carrying bag for portability and easy packing. These towels are compact and lightweight, too. Weighing only 8 ounces (8oz), the XL bath microfiber towel folds down to an 8″ X 3″ roll, saving space in your backpack. A hanging loop with the brand logo makes it easy to hang and dry the towel and secures it from falling off the ground.
The microfiber towels give a soft and suede-like feel to the skin, so there's no need to worry about getting "too dry" or scratching yourself with the towel fibers. This towel set is also antibacterial, so you can trust that you and your skin are protected from unwanted pathogens.
Fast Drying and ultra absorbent
Space-Saving High-quality fabric
Multi-Use – Perfect for any activity, sport, or adventure
Waves Micro Towel is not your typical microfiber towel. This beach towel comes with a high thread count which makes it stronger and more durable, yet softer to the skin. Like what is expected from travel towels, this microfiber beach towel is made lightweight, highly absorbent, and quick drying – perfect for multiple uses while on-the-go. Ideal for just any activity, sport, or adventure.
What makes this full-size microfiber towel even more desirable for backpackers is its capacity to be 78% smaller than a cotton or terry cloth towel when folded. The Waves Micro Towel surely saves space for other essential things to include on your packing list. So there'll always be enough room for a towel each for you and your friends when traveling.
This ultra-absorbent towel dries faster than traditional bath towels, usually twice as fast as your cotton towels. Its microfibers allow users to wring the towel and soak up moisture, so you can always pack up your bag without getting other things wet. And because it dries faster than most fluffy towels, you can imagine how you can save yourself from the inconvenience of carrying a damp backpack.
The Waves Micro Towel made it to my list because it is just great to use anywhere. Its soft yet absorbent microfibers dry your skin off quickly while providing an extra layer of protection from the UV rays and sunburn. When on the gym or the trail or just basically anywhere, it wicks away sweat or water and is delicate on our skin. This towel also works great when cleaning and polishing delicate surfaces and patting dry our furry pets after bathing.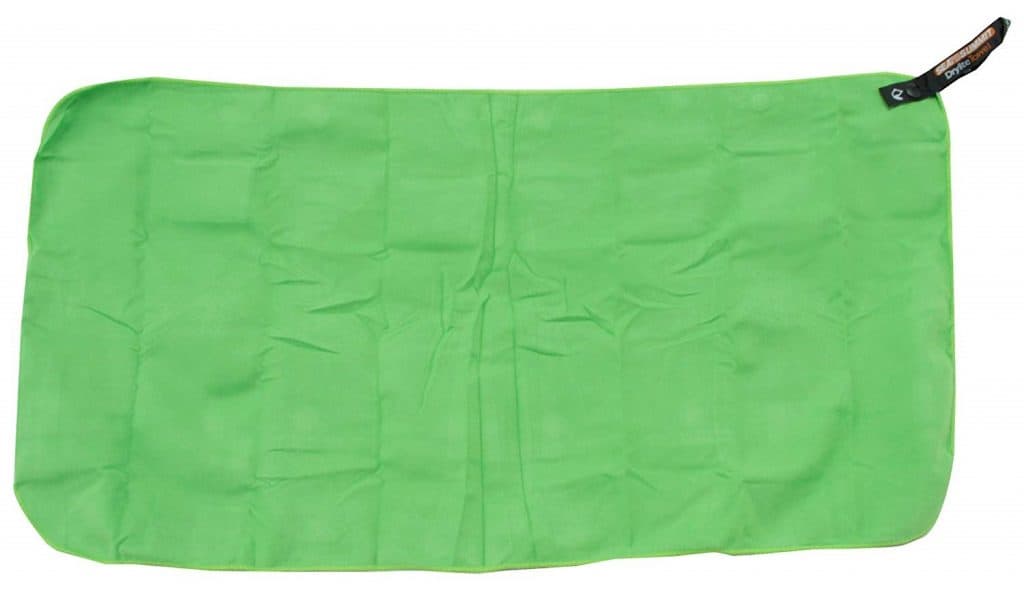 Microfiber with super soft ultra-suede finish
Remarkably absorbent and fast drying
Machine washable
Available in five different sizes, ranging from hand-towel-size up to a beach-towel-size.
When traveling, especially when backpacking, you would want a towel that can efficiently dry you up without taking too much space on your backpack. This is precisely what the Drylite towel does.
Each Drylite towel uses soft microfibers for a compact drying solution, ideal for backpacking, traveling, boating and camping. There are multiple towel sizes available so you can always choose the best one for your needs. Sea to Summit towels uses an ultra soft microfiber, a mix of 30% nylon and 70% polyester.
These microfiber towels are also ultra absorbent, far better than towels made with natural fibers. While these towels are machine washable, perfect care for these towels ensures its durability and effectiveness over time.
What makes the DryLite towel extra special is that it combines features such as quick drying, minimal weight and packed volume, and optimal absorption all in one towel. It also comes in 5 different sizes and a suede finish for a soft feel to the skin.
There is absolutely no need to fret about not having enough towels for your trips. No need to rent, no need to borrow, and absolutely no excuse to share bulky and wet hotel towels when you're on the go. Drylite towels are here to keep you dry and clean, and because it is lightweight and compact, you know you can always include one or two microfiber towels when you leave.
The Sunland Microfiber Towel uses a combination of 80% polyester and 20% polyamide to create a soft, lightweight and definitely one of the best travel towels. And if you want to make sure you don't interchange it with anybody else's, there are several towel colors you can choose from to meet your preference. Each microfiber towel also comes with a net carrying bag for easy packing.
When your towels dry three times faster than regular cotton and terry cloth towels, you know you can enjoy as much hassle-free adventures as possible. With so many things to enjoy in your destination, having a compact and lightweight microfiber cloth is an advantage.
Like the other products featured on this list, one feat of using the Sunland microfiber towel is its hang loop on a corner of the towel, allowing us users to hang it and dry it as quickly as possible. We can definitely expect fewer episodes of going back to your room finding your towel still wet from the previous use. No need to call for an extra one, no need to rent towels that may not be thoroughly washed, and definitely no need to pretend to dry up with your wet bath towels.
The Sunland fabric can also absorb water fast and support rapid evaporation, and because it has a suede finish, you know you won't overdry your body. You won't need to pat yourself dry back and forth. A few runs should be perfect.
You can get this product a la carte, in different sizes and colors to match your taste, or you can always purchase the 2-pack towel kit that includes a hand/face towel and a full-size bath towel convenient on the go.
Check out some video reviews:
Conclusion:
Check out: 13+ LIGHT BACKPACKING TIPS + AIRPORT CARRY-ON TRICKS
Microfiber towels are perfect if you'd like to bring a towel that can keep up with your daily adventures, dry up quickly, and fit on your backpack as you travel. These are nifty alternatives to the cotton and terry cloth towels that can take up a considerable amount of space in your luggage, get too heavy when soaked up, dry after a few hours, and too bulky when packed wet.
To be honest, even when I don't travel, I still use microfiber towels at home. When bathing, washing the car and furniture, and patting dry our dogs, I prefer having these towels with me. And because there are different colors to choose from, I can assign a towel to myself, my partner, our pets, and household chores. Somehow, when I see a microfiber towel folded around the house, I get reminded on the tasks I need to do next. Color-coding works for me!
My favorite out of these five brands is the Sunlanamad microfiber towel. It dries fast, especially with the hang loop. It feels good on the skin and is quite convenient to use. Just a few dabs on the skin and I'm completely dried out. I also liked its 2-pack towel set. For someone who can be forgetful like me, having one bag for a face towel and a bath towel is a plus. Both towels can sit at the bottom of my backpack, waiting for me to use them.