Work from paradise! Caribbean nations offer digital nomad visas to remote workers and families seeking a tropical change of scenery. These visas have become increasingly popular since their introduction in 2020.
Caribbean nations boast simple visa application processes and attractive tax schemes, making them an attractive destination for digital nomads. Live near a tropical beach and work remotely with these digital nomad visas.
Explore all the available and upcoming digital nomad visas in the Caribbean in this article, to help you make the right decision for your next remote work adventure.
Anguilla
Gorgeous beaches, sunny weather, and friendly people make Anguilla a top destination for digital nomads. The island is proud of its exceptional wifi network and offers a relaxed atmosphere for those who enjoy tropical nature and water sports.
To secure a 1-year digital nomad visa in Anguilla, applicants need a valid passport, proof of remote work or remote studies, an entry visa (if required), health insurance coverage in Anguilla, and a clean criminal record. An immigration officer may ask for bank statements to ensure self-support on the island.
Antigua and Barbuda
Antigua and Barbuda offers over 300 stunning Caribbean beaches, perfect for relaxation after a day of remote work. Explore small cities like St. John's and Saint Philip or opt for the more tranquil English Harbour Town.
Apply for the Nomad Digital Residence Visa with a simple online process. Keep in mind, the application fee is steep at $1,500 for individuals and $2,000 for couples. To be eligible, applicants must be 18+, have a valid passport, work remotely, earn $50,000 per year, have health insurance in Antigua and Barbuda, and have a clean criminal record.
Barbados
Escape cold winters and live in the sun with Barbados' digital nomad visa. Ideal for North American remote workers, to stay in the Atlantic time zone. The application process is easy and online only, with no need to visit embassies or consulates.
Enjoy tax-free living, as there is no local income tax requirement for digital nomads in Barbados. To be eligible, you must have a valid passport, work remotely, earn $50,000 per year, have health insurance coverage in Barbados, and have a clean criminal record.
Experience a tropical lifestyle with a 1-year digital nomad visa in Barbados.
Bermuda
Bermuda Joins Caribbean with Easy Digital Nomad Visa. With 15-min online app and 5-day response, digital nomads can enjoy a tropical vibe and efficient work environment in Bermuda's capital, Hamilton. Great wifi and coworking spaces balance work and play for productive digital nomads.
1-year visa requires 18+ yrs, a passport, remote work/education, substantial income, insurance, and a clean record.
Curaçao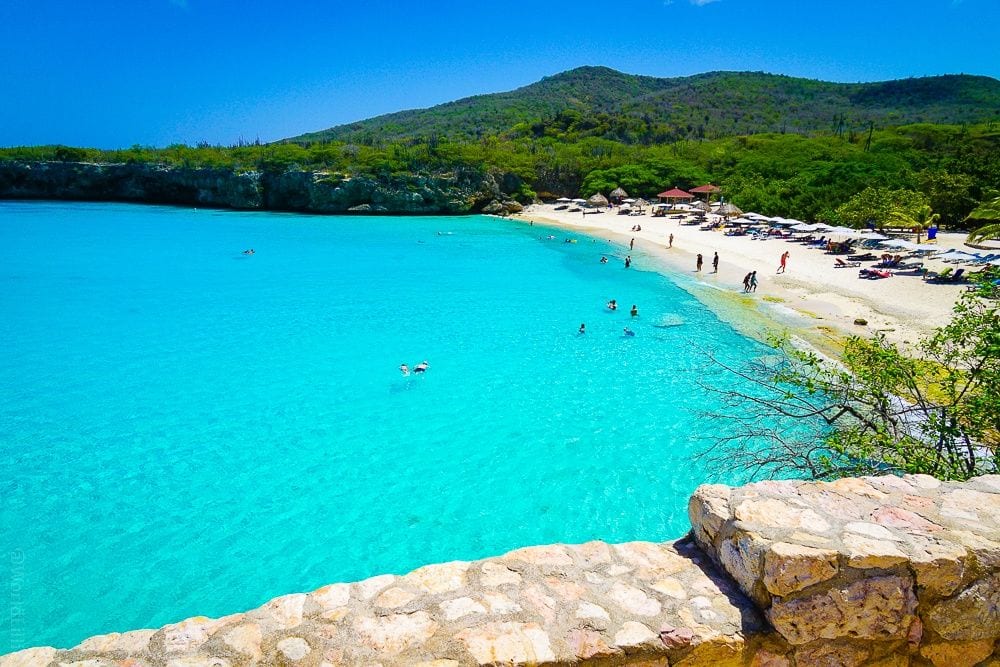 Curaçao, a Dutch island in the Caribbean, is a popular destination for digital nomads seeking a mix of European culture and tropical life. With a simple and lenient visa application process, this Caribbean digital nomad visa offers an attractive option for remote workers looking for a change of pace and scenery.
@Home in Curaçao visa allows digital nomads to work remotely from the island for up to 6 months, with the option to renew if desired. This is an ideal option for couples and families looking to escape the harsh winter months and experience a unique blend of culture and tropical living.
In addition to the standard visa requirements of a valid passport, proof of remote work, and health insurance coverage in Curaçao, applicants must also provide their address of accommodation on the island.
Grenada
Transform your digital nomad dream into reality with Grenada! This Caribbean island offers stunning beaches and a thriving remote work community in the capital, St. George's. Enjoy the stunning architecture, cafes, and outdoor adventures while residing in Grenada.
To apply, simply mail your application and supporting documents to the Grenada embassy in D.C.
Visa Requirements: Valid passport, Remote work, $37k annual income and Health insurance in Grenada