A road trip across the enormous area of the US is a great way to explore this country. It lets you take advantage of the US busy cities and also allows you to explore the countryside and get flabbergasted by the amazing natural sights you will drive along. Therefore, definitely consider and plan your road trip wisely and in advance, before you travel to the US, it's a truly remarkable experience.
This does come at a cost though. Long cross-country road trips can become quite expensive. You have to rent a car, pay for gas (prices are low in the US but it will still add up) and you also have to find a place to sleep at, not to mention all the other expenses that you will encounter along the way.
Cheap US motels for your road trip can be friendly to your wallet, while also providing you with a comfy bed to rest after a long day in your car. This article will help you find cheap motel chains in the US with hopefully the best price to comfort ratio.
10 Best Motel Chains in the USA
Motel Chains in the US for Road Trips
1. Motel 6 – BEST PRICE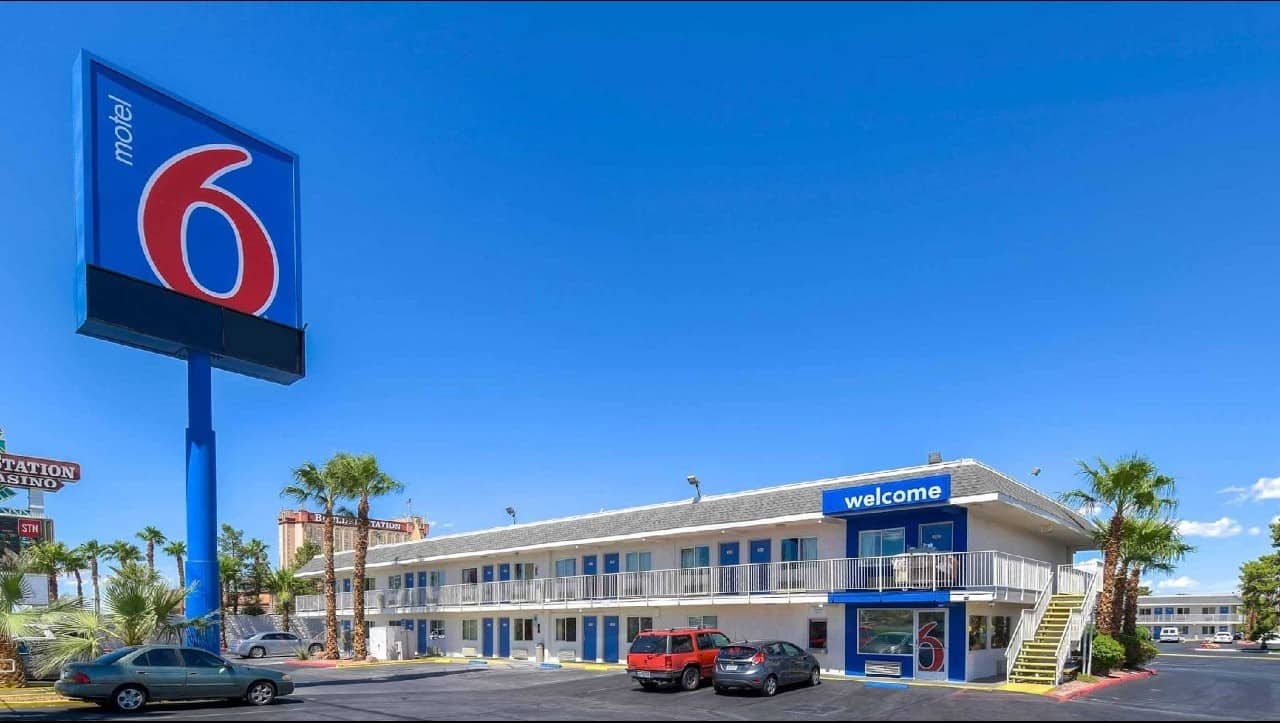 PRICES & AVAILABILITY -> BOOKING.COM
Motel 6 is one of the most popular cheap motel chains in the US. Motel 6's motels are focused on keeping the price as low as possible, while also providing their guests with the comfort they need after long days spent in a car or walking.
Motel 6 has implemented a countrywide renovation program that aims to keep guests satisfied and to make all the motel rooms modern, stylish and functional. However, that's not all. Another goal of these renovations is to make the rooms more energy-efficient and easy to maintain, which helps Motel 6 keep prices as low as possible and make budget travelers happy.
Motel 6 is focused on keeping its prices low, so they include only the really necessary things. For instance, you will have to pay extra if you want to have access to a motel's wireless internet. You also don't get a little shampoo bottle and other amenities you might be used to getting for free. Breakfast is not included nor offered but you can get free coffee in the morning.
It is clear that Motel 6's motels are really a budget option, however, there is one upside in addition to the low price. If you are traveling with a pet, you can keep it in your room with no additional costs.
2. Super 8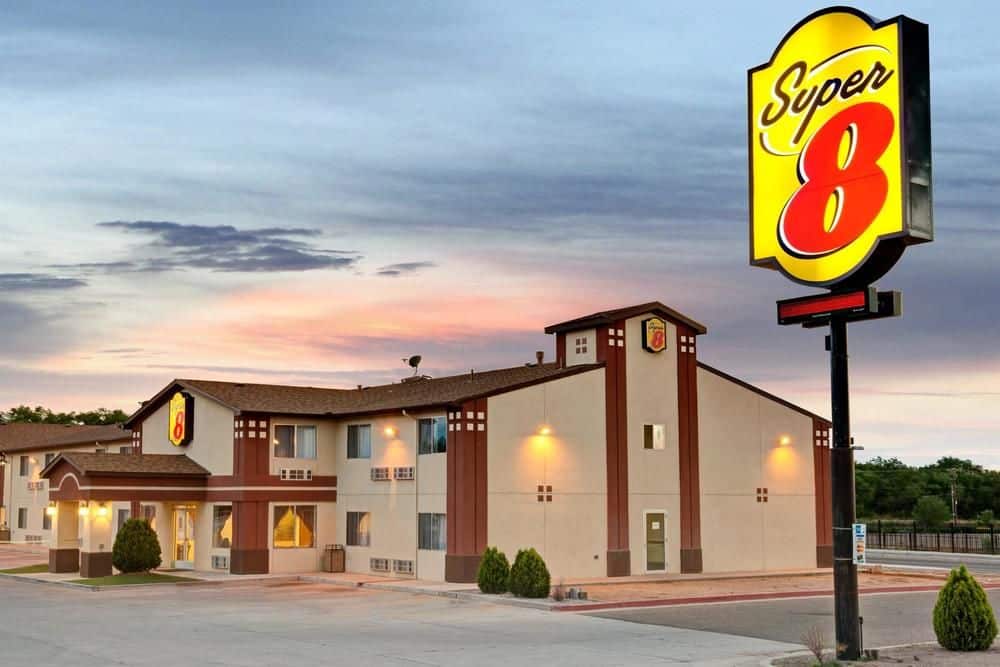 PRICES & AVAILABILITY -> BOOKING.COM
Another greatly popular budget motel chain is called Super 8. In fact, there are more than 2 000 Super 8 locations in the world, most of which are in the US. It's part of Wyndham Worldwide, which incorporates many other hotel and motel brands.
Super 8 is also keeping its prices as low as possible, however, unlike at Motel 6's locations, you get more for your money. The Internet is included in the price and you can also enjoy a continental breakfast at each Super 8 motel.
If you are willing to pay a bit more for a much more comfortable stay (generally speaking), you should probably opt for Super 8 instead of the aforementioned Motel 6.
3. Travelodge
PRICES & AVAILABILITY -> BOOKING.COM
Travelodge offers amazing accommodation all over the US and around the world as well. They started in 1935 when building contractor Scott King opened the first one. It caught on immediately and it was fully booked for an entire year. Because the demand was there he slowly started expanding and now the chain boasts more than 40 000 guest bedrooms. Most of them have an on-site bar/cage restaurant and are always centrally located, they are the ideal base for travel, hence the name Travelodge.
They are also located around National parks. Their quality is superb and they aim to provide the best value motel. Everything is modern and stunning. Their standard rooms offer comfortable king-size beds for your leisure.
They treat your experience with utmost care so they do everything to make sure your room is perfect for your needs. They include a beautiful clean shower room, a spacious desk and a TV with Freeview and WIFI. You even get coffee and tea making facilities. Some rooms include blackout curtains, led lighting and plenty of power throughout the room with USB desk and bedside charging points. The employees are kind and friendly and ensure your stay is the utmost enjoyable. We definitely recommend staying in Travelodge.
4. America's Best Value Inn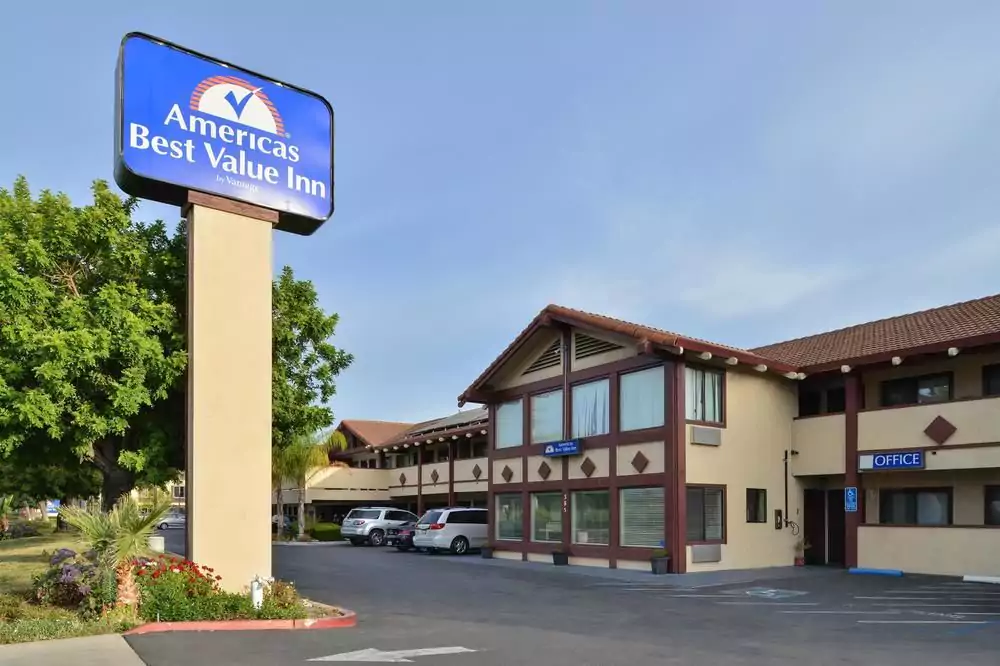 PRICES & AVAILABILITY -> BOOKING.COM
In the past 13 years, they have grown from 2 properties to more than 1000 locations throughout the whole of North America. Even though they have grown so fast they haven't placed quantity over quality, which is rare nowadays. It is perfect for all types of travelers including families, senior citizens or business professionals.
Definitely a stay you won't regret. The staff is very kind, understanding and goes out of their way in order to help you out, it is truly remarkable. The rooms are extremely clean and beds are comfortable. What else could you wish for? They have one of the best breakfast offers around and the housekeepers are amazing with charming personalities as well. If you need a place to crash, this is the perfect option.
Free parking is included, the internet is really high speed so it is suitable for businessmen. It is perfect for non-smokers and there is also a self-serving laundry machine where you can wash your clothes. Pets are allowed and they even have an outdoor pool for your leisure. They even have a room for business meetings.
Wheelchair access is available and every guest is treated with exceptional comfort, quality and service at the most affordable rates. It is the best bang for your buck and you have them all over America.
5. InTown Suites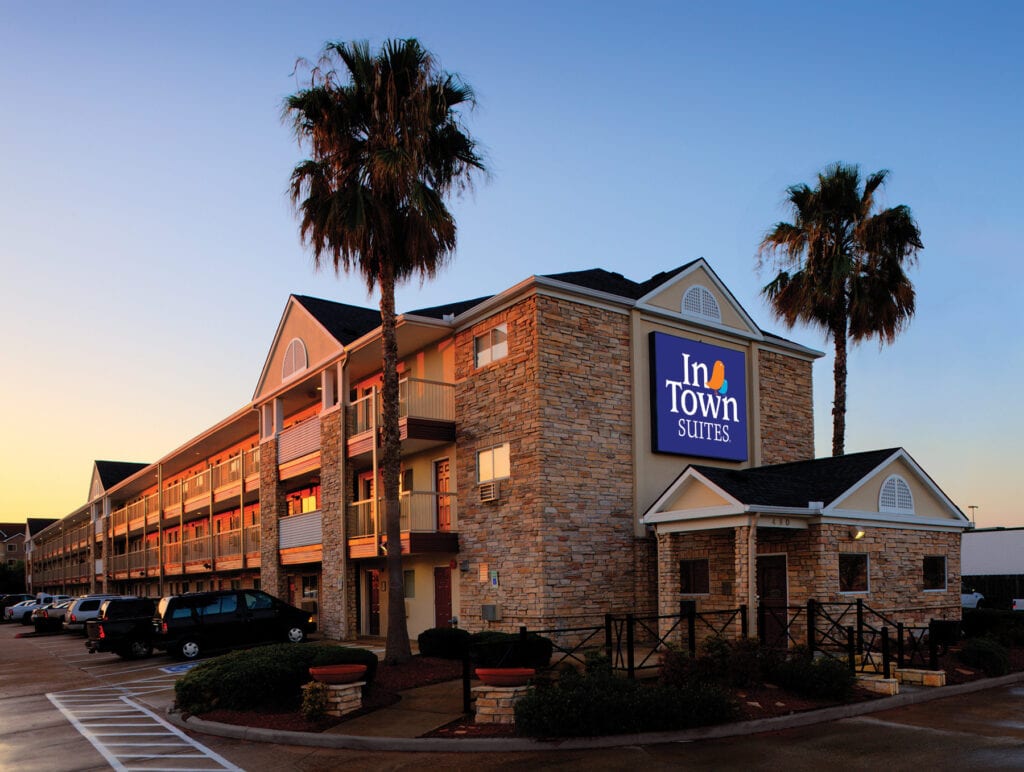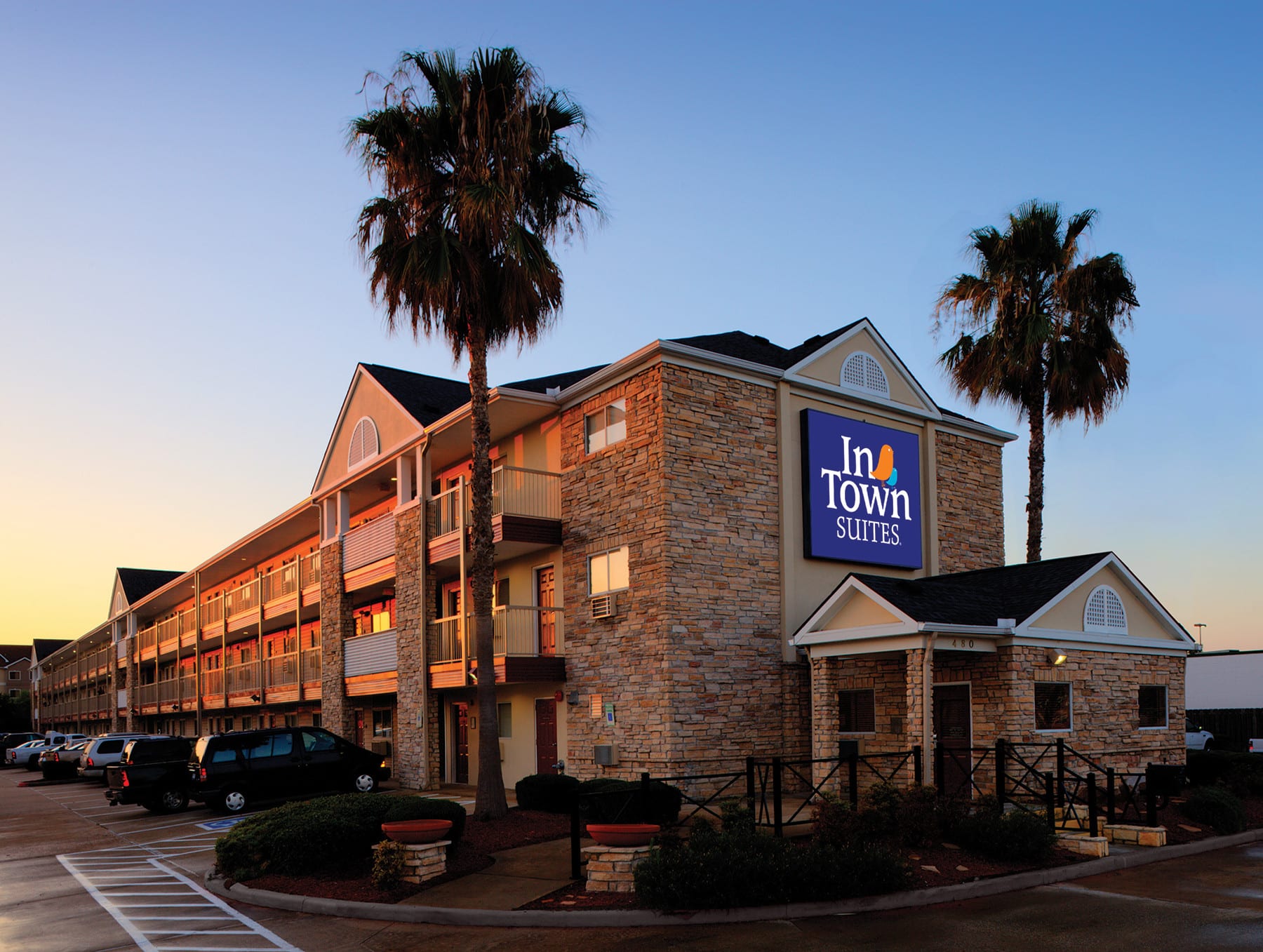 PRICES & AVAILABILITY -> BOOKING.COM
This motel chain is a widely-known extended stay accommodation with approximately 200 locations found in 22 states across the U.S. The staff at InTown Suites fully expects their valued guests to settle in for a while, ensuring their comfort with special touches throughout their stay.
When you stay at InTown Suites, you'll receive weekly housekeeping service, free local calls with voicemail and high-speed internet access. All basic utilities are included with your stay. You will be able to tend to business or simply rest and rejuvenate, knowing that these important details are taken care of by InTown Suites' attentive staff!
Several InTown Suites locations have been recently renovated, adding built-in closets, upgraded mattresses, redesigned kitchens and other comforts of home throughout their Standard, Comfort and Premium accommodations. Even the exteriors of several locations have been refreshed so that the feeling of coming home begins before you step into your suite.
While long-term guests at InTown Suites enjoy an elevated extended-stay experience, they also enjoy reasonable nightly, weekly or monthly rates.
InTown Suites strives to be the lowest-priced extended-stay brand. They continuously monitor their competitors to ensure that InTown Suites always offers the best rates with the finest amenities in the business.
6. Microtel Inn and Suites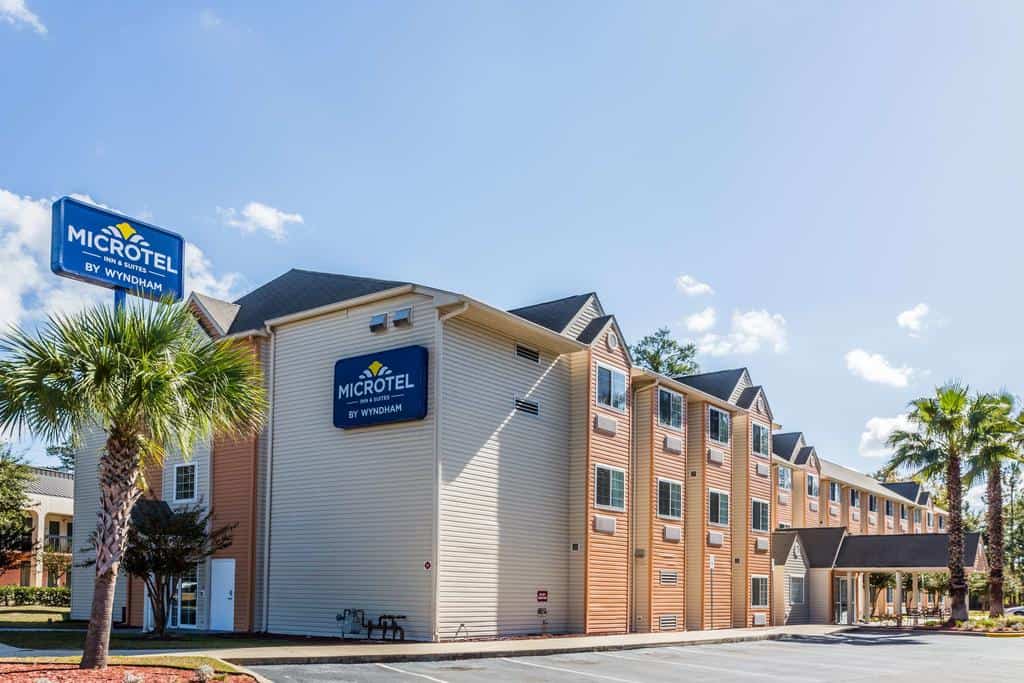 PRICES & AVAILABILITY -> BOOKING.COM
Microtel Inn and Suites is another hotel chain owned by Wyndham Worldwide. Microtel often ranks at the top of consumer satisfaction surveys and is also a great option to stop during your road trip.
Yes, it is a hotel chain, not a cheap motel chain, but Microtel's rooms are still very affordable. Microtel Inn and Suites is considered a budget option, however, it's not nearly as cheap as Motel 6 for instance. Good news is that the price difference will most likely be noticeable as soon as you enter your room. Rooms are generally smaller but also nicer and more luxurious.
7. Red Roof Inn
PRICES & AVAILABILITY -> BOOKING.COM
All Red Roof Inn hotels and motels are easily distinguishable thanks to their red roof, which gives this budget US motel chain its name. The brand covers more than 500 locations across the US, most of which are southern and eastern parts of the country.
Like Motel 6, Red Roof Inn is also pet-friendly and a great option if you are traveling with your loyal animal companion.
8. Econo Lodge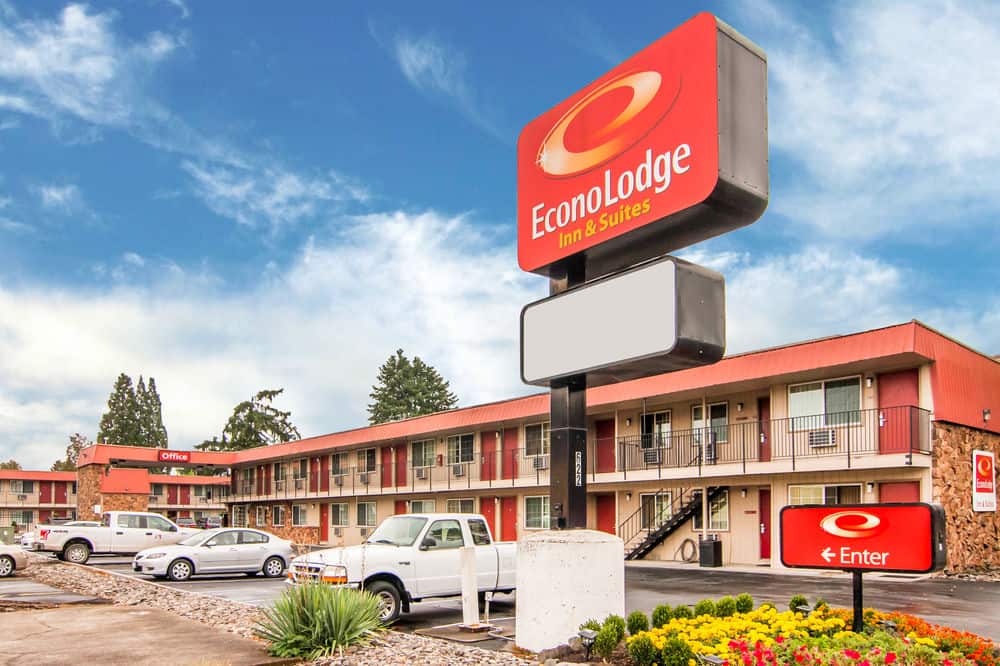 PRICES & AVAILABILITY -> BOOKING.COM
Econo Lodge is another great option for a budget traveler seeking for a great value. It has almost 1000 locations across the US, most of which are located conveniently very close to major roads you will find yourselves on during your road trip.
All Econo Lodge locations offer free breakfast that will give you the energy you need for another long day spent traveling and exploring.
9. Jameson Inn and Suites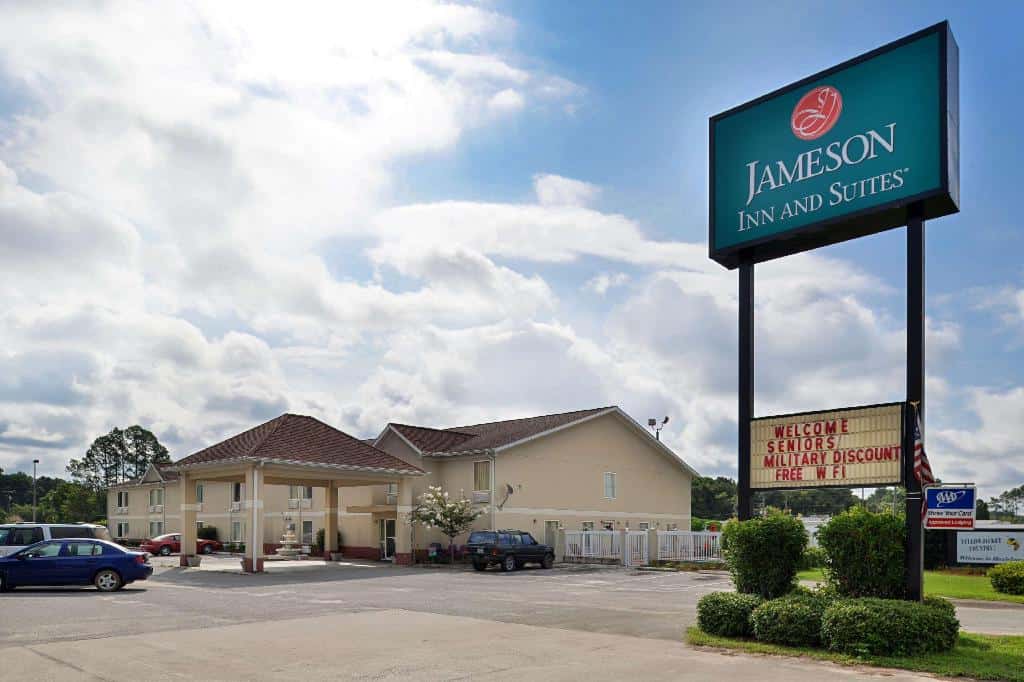 PRICES & AVAILABILITY -> BOOKING.COM
Jameson Inn is a good budget-friendly option and boasts over 120 properties in 14 different states, mostly in the Midwest. They offer an assortment of amenities, such as continental breakfast, free HBO, and a fitness center. The rooms all have a microwave and refrigerator, and they offer the typical hair dryers, iron and ironing board, and coffee/tea makers.
Unlike most budget Inns, they provide live music in the bar area and allow vaping in designated areas. For travelers who are interested, they sell e-cigarettes and eLiquid, which is the fluid used to fuel the electronic cigarette. However, smoke-free rooms are available for motorists. They advertise the properties as convenient whether you are spending one night, or you plan a lengthier stay for business or vacation. The average cost is $55.00 to $83.00.
They are pet-friendly and offer weekend and Valentine specials. The company has been in business since 1987, but it only began franchising in 2012. Headquarters are in Atlanta, Georgia. These motels are a good option for budget-weary travelers who want comfort, convenience, and a smattering of Southern hospitality. Free parking in these and all other motels helps to keep the budget on track.
10. Ramada by Wyndham
PRICES & AVAILABILITY -> BOOKING.COM
Ramada by Wyndham is a hotel chain that owns and manages all types of budget-friendly properties all over the world.
Precisely because of that, this chain offers uncountable possibilities to all kinds of travelers across the globe. From solo travelers, to families, or couples there is always an option that meets everyone's needs.
The standard room offers amenities such as a flat-screen TV, free WiFi and a 24 hour front desk to help make your stay safer and more satisfying.
Some properties also feature pools, children's playgrounds, restaurants and -sometimes- free parking and a decent free breakfast. This depends on the continent and the city you are heading to.
The hotel chain constantly offers great deals to their loyal clientele. As of now, if you are in the States, you can earn a free night if book, at least, 3 nights at one of the thousands properties they have in the territory.
So, it works like this: if you stay three or more consecutive nights at a hotel by Wyndham you will get 7,500 points after the third night. Then you can redeem your points for a free night. Even if you stay only one or two nights you can also earn some points.
If you wanna learn more about the terms and conditions click here.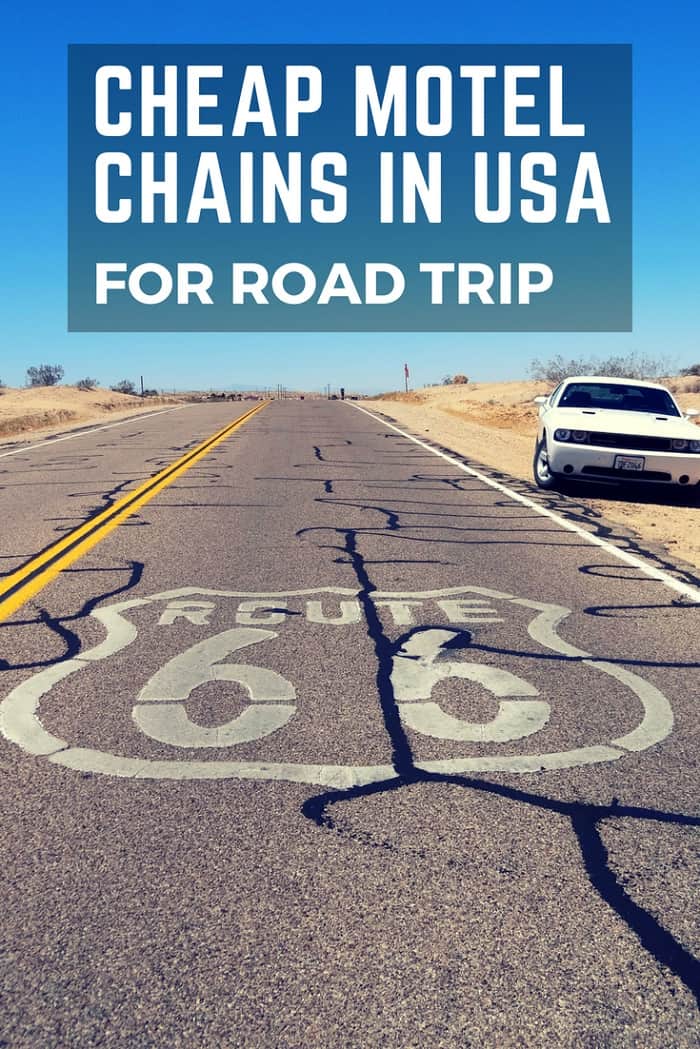 ---
These were the cheapest motel options for your road trip in America. We hope you've found some useful information for your trip. If you have any other suggestions or some useful feedback in general, feel free to comment below.