When you become a digital nomad or long-term traveler, you know that unexpected things can happen and you always need to be insured.
Considering the option of traveling without insurance is NO GO! Even a simple doctor's visit or medical check-up in a foreign country as a tourist can be very expensive.
Without insurance, you can end up in a big debt if something serious happens to you. Also, having your gear stolen may be an annoying problem for your wallet and also your business or remote job if you "travel and work from anywhere".
Nomad Insurance Plans 2023
Best Digital Nomad Insurance for Health & Travel:
SafetyWing is a remote working company that is rapidly gaining new clients. Their specialty is providing primary health insurance for nomads.
This is very helpful for long-term travelers who may no longer carry health insurance in their home country. Their company is a subsidiary of a powerful global insurance company, Tokio Marine.
Pros:
You don't need permanent residency in any country to get the insurance.
Those under 39 years old will find SafetyWing quite affordable.
Besides the medical coverage, you will get non-medical evacuation coverage, interruption, and cancellation of trip coverage and baggage claims.
You can pay monthly, rather than all upfront.
When you visit your home country for up to 30 days, you are still covered, unless you are a U.S. citizen.
You can choose private doctors and hospitals.
1 child per adult and 2 children under 10 per family can be also included free of charge. 
Cons:
Some activities that a regular nomad considers not very risky are not covered, such as climbing mountains at high elevations, scuba diving, and ice hockey.
The coverage in total maxes out at $250,000.
You have to be in possession of an international scooter license to be covered if you have a scooter or motorbike accident. These kinds of accidents are very common while traveling around Southeast Asia.
Some estimates on pricing: Some estimates on pricing: SafetyWing travel insurance for a 90-day trip for a 20-year-old to Finland comes up to only $129! Anyone up to age 39 will get that price. If you are 60 or older, the price jumps to $443.
Recent customer reviews of Safetywing on trustpilot.com
PassportCard Nomads is a company that is always adapting and improving to meet the needs of the digital nomad community.
Pros
Flexibility – It's simple to cancel, change, or extend your plan's duration.
No out-of-pocket charges – Simply download the app, file a claim, and money will be loaded onto your card so you can immediately cover any expenses.
One of the best apps in the market- You may use the app to find a doctor nearby, load money onto your card, update your information, and view your plan's coverage advantages 24 hours a day, 7 days a week.
24/7 Emergency assistance
You can make a purchase after your trip has begun.
Prices are relatively low: Plans start at $59 per month and include Covid-19 coverage.
Great coverage for extreme sports
Cons
Pre-existing conditions are not covered.
There is no coverage for the United States.
Only up to 45 years old
3. Insured Nomads
Insured Nomads is a travel insurance company created by nomads who have lived on five continents and understand what a traveler need when on the road.
The company offers two options, Global Health and Travel insurance, we'll focus on the first because it covers extended trips (365 days or more) and people who reside overseas as digital nomads.
Pros:
This policy offers travel alerts, country-specific datasheets, telemedicine consultations, airport lounge access, and more. 
It also covers COVID-19.
It is possible to add on its Adventure Sport option.
Great coverage! The "Preferred" option covers up to USD 1,134,250.00 and the "Preferred Plus" up to USD 5,672,125.00
Their "Travel Insurance" option is available for those on short-term trips (less than a year) or for multiple short trips within the 1-year coverage period.
The "Preferred Plus" costs $588.7658 a month, while the "Preferred" costs $407.97 also per month (for Americans living in Mexico – example.)
Health Coverage:
The coverage includes all these services in the countries selected in your 1-year renewable plan.
Hospital Stay
Surgery & Related Care
Oncology
Organ Transplant
Physician consultations
ER or Urgent Care
Diagnostic tests
Alternative & Complementary treatments
Ambulance Transportation
Vaccinations
Preventative Screenings
Prescription Drugs
Maternity
Vision Care
Cons:
Both choices are pricier than several of their competitors. However, their coverage is far more comprehensive than most of them offer.
4. Heymondo Travel Insurance
Best for tourists going on single trips and who don't want to sign a long-term commitment.
The majority of travel insurance providers offer coverage for 30 days to 6 months. When traveling on a single trip for business or pleasure and knowing your departure and return dates, Heymondo not only offers safety for extended stay plans but also for single trips.
Pros:
Ideal for – Single or multiple-trip travelers
Heymondo provides medical aid ranging from USD $100.000 to USD $10.000.000. (conditions apply)
Depending on your plan, the coverage limit is either USD $ 250,000 or USD $ 500,000.
Purchase time: You can obtain it before or during your trip.
You are not required to sign a long-term contract.
Other benefits:
Heymondo quote for a single trip
Both Heymondo Top and Heymondo Premium cover:
Medical and dental emergencies overseas
Medical transport and repatriation
Baggage
Travel disruption
Cons:
It may be a little bit expensive. For a 2-week trip from the U.S. to Europe Heymondo Premium costs USD $102.85, Heymondo Top costs USD $80.48 and Heymondo medical costs USD $73.57
Heymondo medical doesn't cover baggage loss or travel disruption.
Best for nomads, tourists, and remote workers visiting the U.S.
CoverAmerica-Gold travel insurance provides a cost-effective solution when visiting the U.S. amidst the current new travel uncertainties. Their plans have been customized for non-U.S. residents.
Back in your home country, you are probably used to seeing visitors getting covered by your great public health care. Keep in mind that that option is not available in the U.S.
Making sure that your health is protected is nothing but an integral part of your nomad trip.
Below we decoded the advantages of CoverAmerica-Gold:
Pros:
CoverAmerica-Gold is part of the United Healthcare PPO network which offers a large-scale network of medical providers and medical facilities across the U.S. that can directly bill the insurance company. This means that you don't have to be worried about not having cash with you.
In addition to your travel insurance coverage, CoverAmerica-Gold offers medical emergency services
Covers acute onset of pre-existing conditions for those under 70
You annual influenza shot is included 
A quick visit to the urgent care is included with a small copay of only $15
No cancellation or renewal fees
COVID-19-related expenses are included if purchased for a minimum of 30 days. 
It's affordable. A 30 year old visiting the U.S. in Christmas 2021, will only need to pay $ 96,72 for a 30-day visit. 
Other benefits:
Loss of passport or travel documents
Foreign excursions and cruise coverage around North America
Emergency dental treatment & eye exam
Missed connection benefit available during international travel to the U.S.
Cons:
Only non-U.S. residents can purchase it
Trips to other South and North American countries may be very limited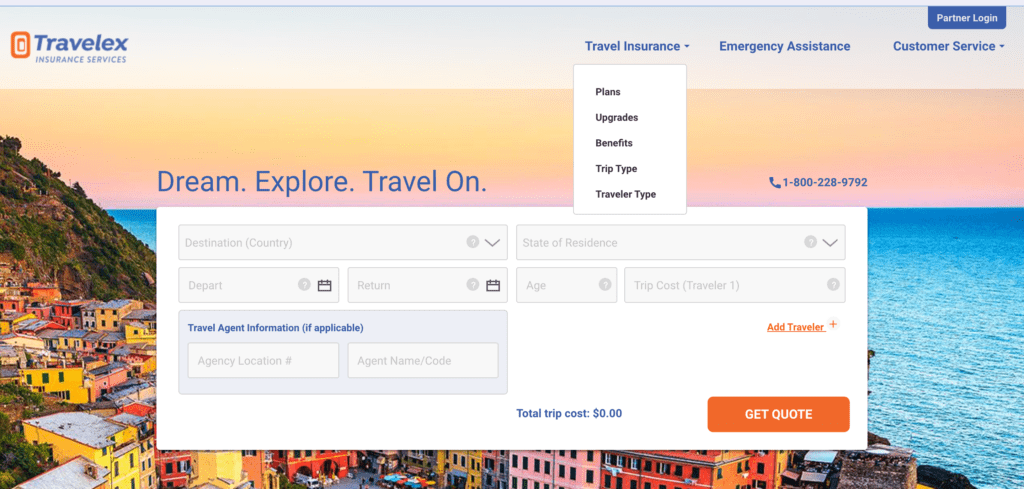 Travelex travel insurance offers digital nomads and remote workers protection for a variety of trips, including weekend getaways, long stays and luxury vacations.
The Basic plan provides you with all the essentials. Travel Select plan allows travelers to customize their needs. And Flight Insurance is designed for those whose needs are more related to flight-specific protection.
Pros:
Covers COVID-19: if you test positive for COVID-19 you may be eligible for trip cancelation, interruption, or emergency medical or medical evacuation.
Trip Cancellation and Interruption: regardless of the covered reason why your trip is canceled or interrupted, you will receive a reimbursement of the money you have spent. These include injuries, flights cancelations and others. This benefit also applies for the basic plan. 
Emergency medical and evacuation: If you suffer an accident when traveling, the company will provide you with emergency evacuation to a medical facility. In case you or your travel companion passes away, the policy will cover the cost of transporting remains home. 
24/7 Assistance: This is our favorite one! Who doesn't love a travel concierge? Well, in case you are looking for hidden paradises, or get sick and do not know where to go or even have legal issues, Travelex travel assistance will assist you as a travel concierge. And it is included in all of the plans!
98% of claims are paid: Filing an insurance claim is relatively easy and seems to be faster than the industry average.
Cons:
The coverage for COVID-19 may be quite limited.
Basic services have an additional cost otherwise, they are not included.
Our 22-year-old remote worker will pay $ 324 for the basic plan. However, they should add extra money for basic services such as some medical expenses ($139), adventure sports ($10) and AD&D ($18) so the total plan actually starts at $491.
Integra Global offers international healthcare insurance for long-term digital nomads. They offer no traveler's benefits, such as lost luggage claims or trip cancellation insurance. Instead, they offer comprehensive international medical insurance that is not limited to emergency care, the latter as is the case with most travel insurance.
They also cover routine health exams, dental and mental health services as well as chronic conditions. Travel insurance rarely covers these types of expenses.
Pros:
It might cover you if you test positive for COVID-19, but conditions apply.
After the deductible is paid for the year, the coverage is 100 percent. You can choose a range of yearly deductibles. A good sweet spot is around $1,000, but you can make your deductible as high as $5,000 to save some serious money on the coverage.
They work with any licensed hospital or doctor.
There are also plans available, at an additional cost, that will provide you treatment for pre-existing conditions.
They cover a much higher amount of medical expenses per year than travel insurance health care plans do.
Cons:
You will have to purchase separate travel insurance for everything other than medical needs.
You must purchase a policy for a year or more.
There is no direct billing, so you will need to front the money to the medical care provider and wait seven to 10 days for reimbursement.
For our 20-year-old globetrotter with no pre-existing conditions who do not opt for the dental plan, we have a quarterly premium of $884 with a reasonable $200 deductible. If you opt for the dental plan, the quarterly premium rises to $1,009. For an individual who is 60 years of age with no pre-existing conditions and the $1,000 deductible, we have a cost of $4,468 with the dental plan inclusive.
Allianz Travel Insurance, a prominent player in the travel insurance industry, offers comprehensive coverage to travelers worldwide. As part of the larger Allianz Group, a global leader in insurance and financial services, Allianz Travel Insurance specializes in providing a range of travel insurance plans designed to meet the diverse needs of travelers.
Pros:
Allianz Travel Easy – Oversea Annual offers up to $1 million in emergency evacuation coverage, $5,000 in baggage loss or damage claims, $2,000 of travel delay coverage and pre-existing medical condition coverage availability.
Cons:
You can't buy coverage for canceling your trip for any reason.
Their packages are fixed in their offerings, but there are a wide variety of packages.
Their plans are higher priced.
Their customer service could be better.
In order to have the coverage, you have to buy it before you leave on your trip.
Does not cover medical emergencies related to COVID-19.
Some estimates on pricing: Allianz Travel Easy Plan for the 18-70-year-old costs $1,090 for 180 days of travel. The price is dependent upon the cost of your trip. 
9. IMG Global
IMG's travel insurance packages have many of the features that others provide but at a very affordable price. They have a number of packages. For nomads who simply want medical insurance coverage and don't feel the need for the rest, the best package is called "Global Medical Insurance." The "iTravelInsured Travel Insurance" caters to digital nomads who are in far-flung regions of the world and are active and adventurous.
Pros:
The cost to renew your policy is much cheaper than with the other insurers.
If you want the coverage to ski, bungee jump, ride in helicopters and go scuba diving, this is your company. If you get lost, they will provide $10,000 for a search and rescue team.
You get $500,000 in emergency medical coverage (!) and $1 million in medical evacuation coverage.
Cancel for any reason or interruption for any reason coverage is included without an extra fee.
Their customer service is stellar.
Cons:
They have a wait time before you can claim lost baggage or trip cancellation. It's excessive and leaves customers out in the lurch a bit.
The health coverage package is not primary coverage, so you need to have coverage in your home country as well in order to qualify.
U.S. citizens are not allowed to return home while the policy is in force. Nationals of other countries are only allowed 14 days, otherwise, they cancel your policy.
They do not directly bill medical providers, so you will have to foot the fee and wait for reimbursement.
The coverage is based on the amount you plan to spend on your trip.
Some estimates on pricing: For a $4.000-budget trip the coverage for the Travel LX policy costs the 20-year-old $239.44 for the 90 days. For our 60-year-old, they can expect to pay a premium of $3,396.91 for a trip the same length, so there is a bit more of a price differential here by age.
As you can see, there is a lot of variety in the offerings of travel insurance coverage for digital nomads. You have to consider your length of stay if you have and will maintain insurance in your home country, your age, pre-existing medical conditions and the types of activities you will engage in on your trip. Some may opt for international medical insurance only, if they may be considering not returning home.
10. AIG Travel Guard
AIG Travel Guard is a global insurance company. It supports customers from all walks of life, including digital nomads and remote workers.
AIG Travel Guard Pros
Travel Guard provides a variety of insurance policy plans to suit various lifestyles.
It has a comprehensive website that is simple to use.
Subscribing to a policy is a simple and straightforward process.
Travel Guard updated its strategies to cover COVID-19 cases.
AIG Travel Guard Cons
Although it claims to be a worldwide insurance organization, most of its plans are not available around the globe.
Other insurance alternatives:
We hope you've found some useful information about digital nomad travel insurance plans. If you have some additional information, feedback or any other suggestions. Feel free to leave a comment in the section below. Thank you 🙂
Disclaimer: Affiliate links are links that allow website owners to earn a commission on any sales generated by a click from their website. It's important to note that some of the links on this website may be affiliate links, which means that if you click on the link and make a purchase, I may receive a commission.