Pattaya is probably the best-known seaside resort in Thailand. There are many attractions to visit here like the Budhha hill which is one of the highest points in Pattaya, and on top of the hill, there is a big Buddha painted in gold that attracts plenty of visitors. We are bringing you a list of the best hotels in Pattaya where you can base yourself with your family or friends while exploring Pattaya.
Pattaya is also famous for its floating market where you can find some of the best fruit Thailand has to offer. You can even go elephant trekking if you are feeling adventurous or visit the famous ladyboy cabaret shows if you are ready to see something special.
Also, the local food is very famous like Tom Yum, Pad Thai, and the unique street snacks that only Pattaya has to offer. It is also the city of a thousand of beer bars and home to the 3rd tallest building in Thailand, so there is definitely plenty of stuff to do in Pattaya and you definitely won't be disappointed.
Because we know you deserve only the best, we have compiled a list of the 10 best Luxury resorts/hotels in Pattaya. Check them out!
Visiting more places in Thailand??? Check out Luxury Hotels in Bangkok or Phuket!
Dusit Thani Pattaya – loved by solo travelers
Booking.com (*8.5) Map Starts at $90
**prices are shown for weekdays in Mid-season (October)
Set on a quiet beach stretch in Pattaya North, Dusit Thani Pattaya is a perfect choice for those who seek peacefulness and yet would like to stay in the proximity of the city.
It is about 7 kilometers from the Elephant Village, while the famous Floating Market is about 9.5 kilometers away. Bangkok is only around a 1.5-hour drive away. However, you won't have to leave the hotel as it has everything you might need during your stay.
Apart from different types of rooms with garden or sea views, it features three restaurants, tennis courts, a spa, a fitness center, as well as an 18-hole golf course, and a babysitting service. On top of that, there is a tour counter, shuttle service, a florist, a jewelry shop, and tailors.
Not convinced yet? The resort also offers direct access to two beachfronts and two swimming pools with some outstanding views of the beautiful Pattaya Bay!
Centara Grand Mirage Beach Resort Pattaya – for BEST family time with kids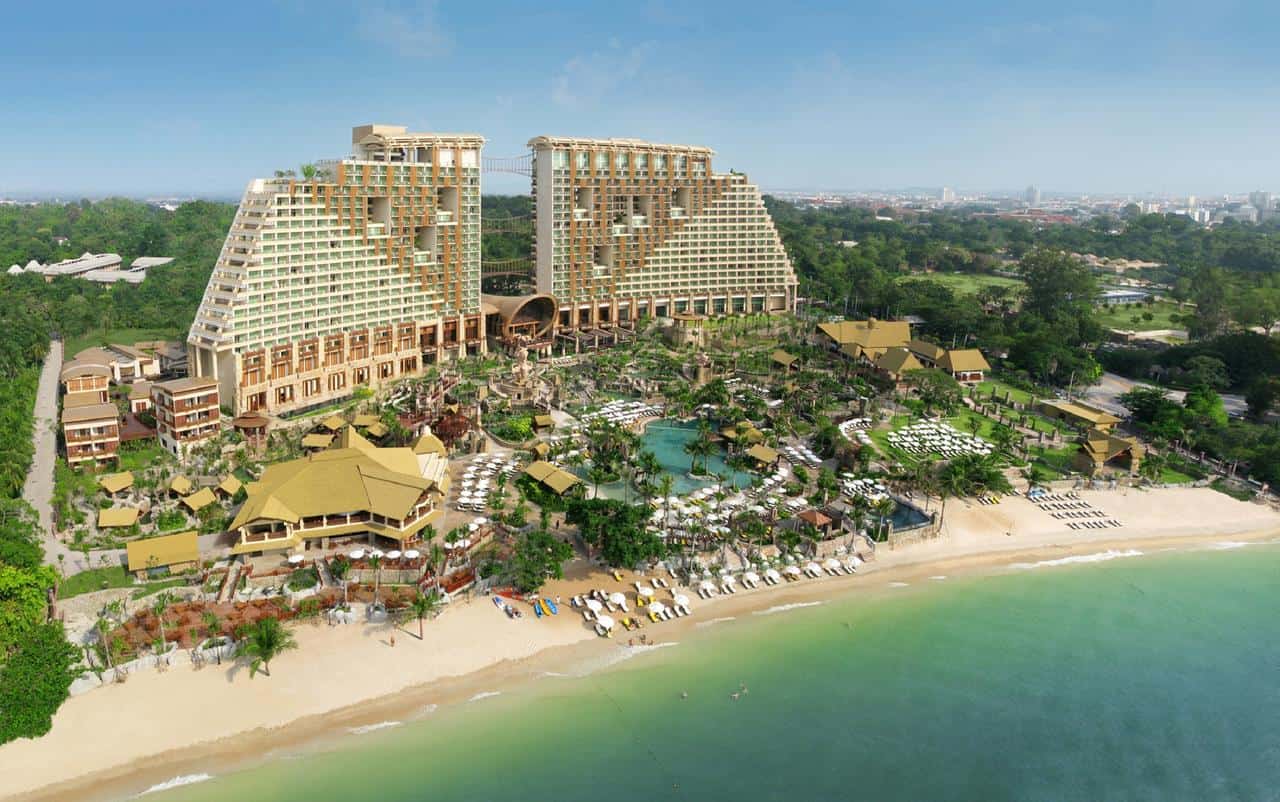 Booking.com (*8.6) Map Starts at $300
**prices are shown for weekdays in Mid-season (March)
Definitely one of the biggest and best Pattaya resorts for your luxury holidays or honeymoon in Thailand. It comes with everything you could possibly expect from 5 stars hotel located right on the beachfront.
Once you are accommodated in Centara resort, you don't need to go anywhere else. You can access the fitness center, enjoy various dining options, water theme park, pools, SPA, tennis courts or snorkeling, and climbing activities.
Rooms feature stunning sea view from private balconies and trendy THAI with high standard comfort, comfortable sitting, flat TV and so-called "luxury rain showers". What else you could ask for, right?
Centara Grand Mirage Beach resort is 2-hour drive from Suvarnabhumi airport and only 3km from Pattaya train station (in case you are coming from Bangkok). They offer FREE parking, connection with airport shuttle, also you can book various transportation options with them.
Customers love the resort and rate it 8.6 as one of the best family hotels in Pattaya! Some of the most common fav things in the review are: "excellent fitness, lots of activities for kids, kind staff, well-maintained pool and stunning view" etc.
Don't hesitate and book your stay at the best hotel in Pattaya! This place sells out very fast in high season.
Royal Wing Suites & Spa – for best dinners
Booking.com (*8.9) Map Starts at $375
**prices are shown for weekdays in Mid-season (March)
Previous customers loved:
I live and work in Bangkok and I come for weekends to Pattaya quite often. I've tried a bunch of different places but this is my favorite, since 2 years ago! Lovely beach, amazing restaurant views, and comfort. – Nick, London

Staff is very friendly and the restaurant food is super addictive and tasty – Alia, Malaysia

I could not get enough of the beautiful sunsets and sea views – Nadia, Russia
In Royal Wing Suites & Spa you will be treated like a king. They provide a service that is not comparable to anything else you have ever experienced before. The location is amazing as it is only 5 min walk away from the beach.
The culinary experience is delightful as they offer you 3 dining options prepared by some of the most amazing chefs in the world. You have access to an outdoor pool and in your air-conditioned room, you have a hot tub, flat-screen cable TV, a fridge and a minibar.
The room is fully equipped for your maximum enjoyment. A 24-hour front desk ensures all of your needs will be met immediately. And if you need to book a tour, activity or anything else just contact the staff and they will be delighted to help you out. The logistics are really convenient as it is only a 10 min drive from Pattaya beach and 1.15-hour drive from the Suvarnabhumi International Airport.
This truly is an amazing experience. What are you waiting for? Book your stay at Royal Wing Suites & Spa today!
AVANI Pattaya Resort – for staying close to center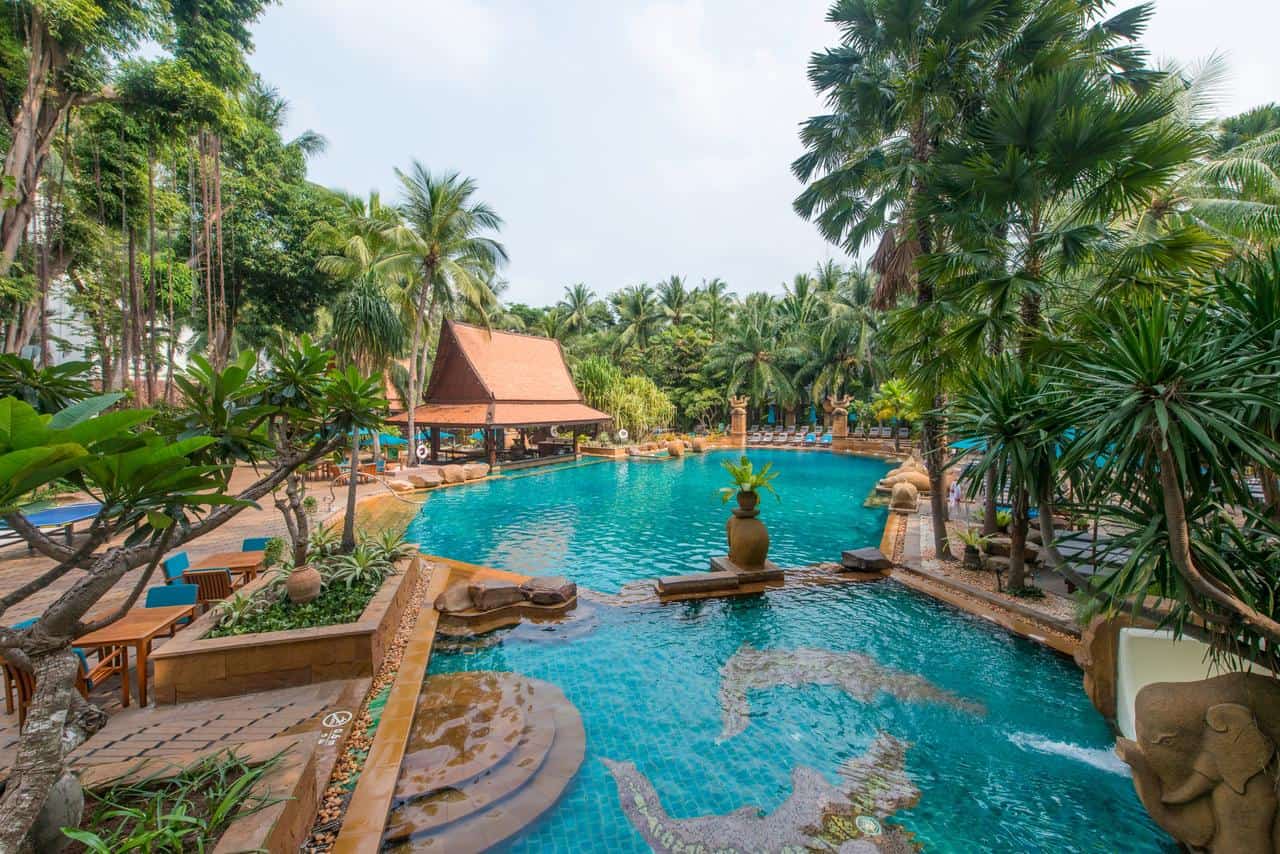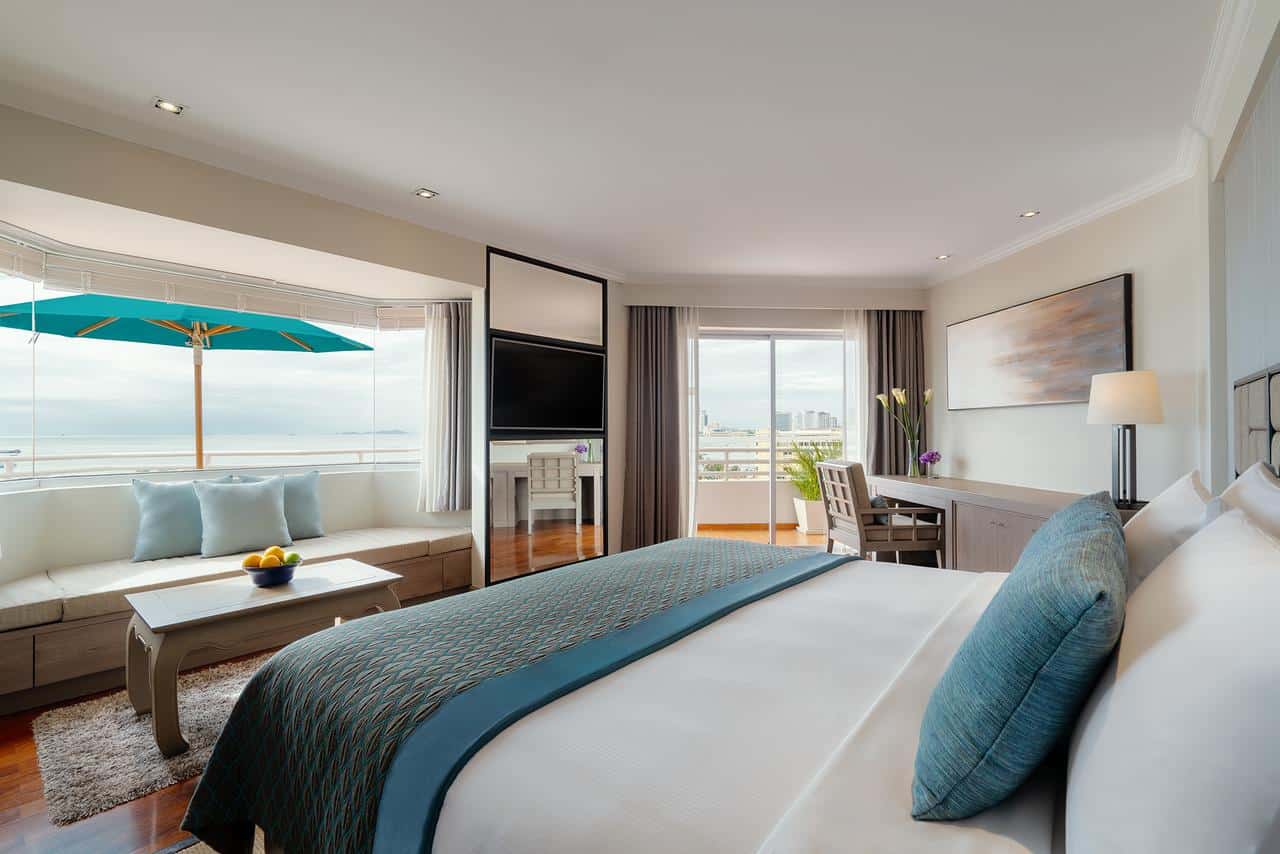 Booking.com (*8.8) Map Starts at $128
**prices are shown for weekdays in Mid-season (March)
Customers loved:
Cocktails are super professional and amazing, I could not get enough of them. Staff that works in the hotel is so lovely – Marta, Spain
We stayed in one of the cheaper rooms but it was still amazing and we enjoyed our stay so much. Great deal and lovely resort – Loreine, UK
Have the best time possible in Pattaya by staying in the AVANI Resort. This will definitely be a vacation you will never forget. You will be treated and spoiled like a celebrity. The resort is only 3 min away from the beach and it is located right in the city center.
The resort features a really large pool and a luxurious spa for you to relax in. The rooms are absolutely beautiful and have their own balcony with a view on the sea, pool or the garden.
The interior design is out of this world as the whole complex is fitted with wooden flooring and amazing decor that gives it a unique vibe. It is as cozy as it gets as the rooms are equipped with all of the standard goodies that definitely won't leave you disappointed.
The activities you can entertain yourself with are endless. Relax in the sauna, play a game of tennis, or simply exercise in the gym. This resort won't allow you to get bored at all. It even includes a Japanese steakhouse and a Graden Caffe which serves some of the best Thai dishes.
There are also 2 bars that serve top-notch cocktails on your demand. What else could you wish for? Book your stay now!
U Pattaya – for the best pool views
Booking.com (*8.9) Map Starts at $156
**prices are shown for weekdays in Mid-season (March)
What previous customers loved:
The infinity pool is so lovely and also the private beach access was just perfect addition to this amazing property – Anthony, Australia

It's one of the best Pattaya hotels when it comes to price vs. value in my opinion. It's very affordable for what it actually offers. – Jana, Czechia
U Pattaya definitely has a unique vibe to it. It is one of the best selling hotels on the beachfront in Na Jomtien which says a lot about it.
It has a chic design that will mesmerize even the pickiest, interior design critics. It features an outdoor pool, fitness center, and fabulous massage services that will ensure you are as relaxed as possible during your time there.
The breakfast is included in the price and it is completely flexible so you can use the service whenever you want. The room is fully equipped with a sofa sitting area, a minibar and tea/coffee making facilities in order to make the experience more pleasurable. Some rooms even come with a private pool and a mesmerizing sea view.
What else could you want? The hotel even has an on-site bar/restaurant and excellent room service that is always at your disposal. A 24 – hour front desk ensures all your needs are met at any time of the day so you can book a tour, rent a car or anything else effortlessly. This property is one of the most sought after and almost all of its customers are leaving 10-star reviews.
We guarantee you will enjoy the enchanting vibe of this hotel and promise that it is hard to find anything like it in Pattaya
Navana Nature Escape – for the BEST price
Booking.com (*8.9) Map Starts at $89-562
**Prices are shown for weekdays in Mid-season (March)
It is one of the best resorts located in Pattaya North. It has an outdoor swimming pool and fitness center with the latest equipment so all the fitness addicts can get their fix. Their restaurant serves some of the best international cuisines your taste buds have ever come in contact with. All the hotel rooms are amazingly furnished and include a minibar, your own desk, and state of the art flat-screen TV. The rooms are amazingly designed so you feel as if you were at home.
They offer a delicious Buffet and an American breakfast every morning which you should definitely take advantage of. They even have a Steam room you can use at your own will.
The receptionists are really friendly and available 24 hours a day at the front desk. Their English is impeccable and they are there to make your stay as convenient as possible. The hotel is in a central location close to everything so it is a perfect base for all your explorations of the surroundings.
All the customers are raving about this resort saying they never experienced anything like it. You should check it for yourself to see what the craze is all about.
Sea Sand Sun Resort and Villas
Booking.com (*8.7) Map Starts at $140
**prices are shown for weekdays in Mid-season (March)
Sea Sand Sun Resort is a 5-star resort with one of the most amazing locations on the crystal white sand beach in Na Jomtien. It's spacious suites, villas and a free-form swimming pool are placed in a big Balinese style garden that glows with a magical aura.
All the suites and villas are full of Thai decorations with marvelous floor to ceiling windows and a private outdoor balcony that will enchant you. The rooms are spacious, cozy, and fully equipped with air conditioning and cable TV.
The resort even features a Horizon Sea View Restaurant that serves some of the best beachfront Thai and international cuisine that will definitely satisfy your taste buds. There is also a spa inside the resort which provides massage and reflexology treatments and therefore improves your wellbeing.
For the children, there is a sperate pool while the adults can relax in the outdoor hot tub. What else could you wish for? It is located near all of the main attractions and definitely provides an excellent base for your exploration of Pattaya. All of its customers are raving about it and we are sure you will too!
Previous customers loved about this resort:
My absolute favorite thing about this resort was the beach, the sand is really white and it's right in front of your room. It's a dream setup for a lovely holiday in Pattaya. – Anna, Russia

I loved the view from the restaurant and also the food quality was amazing, everything was so tasty. I definitely gained a few extra pounds haha. – Jane, UK

The villas located on the beachfront are stunning. Also the garden is really beautifully designed and has lovely relaxing energy. – Mike, USA

Staff is really nice and always there for you with a smile. They make you feel like home. – Alena, Czech Republic
Mytt Beach Hotel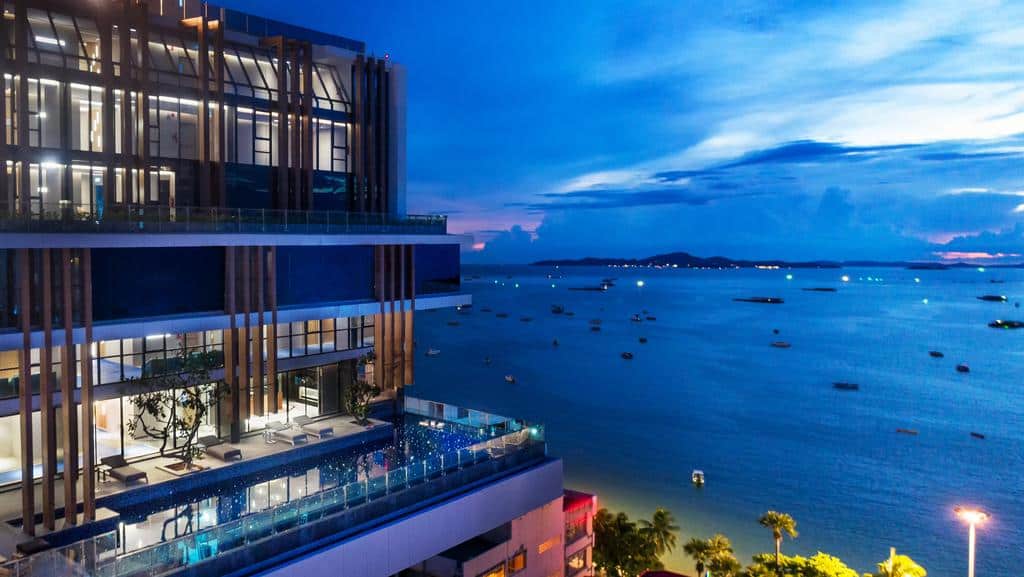 Booking.com (*8.9) Map Starts at $140
**prices are shown for weekdays in Mid-season (March)
This is the place all you go to if you want to experience Pattaya to the fullest. It is absolutely amazing, the quality of this hotel makes you never want to leave the place as it is located in the core of Pattaya North and the beach is just a 2 min walk away.
The rooms are one of the most luxurious ones you can find in Pattaya and there is even 236 of them. Your health is well taken care of as the hotel provides an outdoor pool, a spa center, and a fitness center to be used at your leisure. The meals in the hotel restaurant are delicious and will give you the real taste of Thai cuisine. The rooms are equipped with the best amenities and if there is anything you are missing the staff will take care of it immediately.
The reception is open 24 hours and there you can book all of your tours and activities. We haven't met a person that disliked this hotel so we are sure you will enjoy it as well. Book it now before their rooms get reserved!
Renaissance Pattaya Resort & Spa – for private pool
Booking.com (*8.7) Map Starts at $120
**prices are shown for weekdays in Mid-season (March)
This resort is the real deal. It is everything you have ever wished for and more. A true 5-star service is what you can expect. It doesn't have only one but two outdoor swimming pools, a kids pool, and a kids club.
It's one of the best resorts in Pattaya, Na Jomtien with world-class dining options and state of the art facilities. Every single room, pool villa and family suite is absolutely marvelous, full of modern decor and equipped with the most luxurious amenities.
When staying in the room you will feel like royalty. This resort offers so many extra bonuses like on-site catering, event planning services, etc. You can work out at their amazing fitness center with the view on the sea or relax at the full-service spa center in the afternoon. The kitchen prepares the most delicious food in Thailand and after dinning, you can spoil yourself with carefully prepared cocktails at the bar. This definitely is the place to stay in Pattaya
Wave Hotel Pattaya
Booking.com (*9.0) Map Starts at $174
**prices are shown for weekdays in Mid-season (March)
This Hotel's esthetics are really unique and stunning. What is awesome about it is that it is less than a minute walk from the beach and is fully equipped with the newest world-class facilities.
A large pool is available for your pleasure anytime you want if you get tired of swimming on the beach. The location is impeccable as it is located in the center so visiting the most popular sights is really convenient and easy.
The rooms feature an edgy decor and include a private balcony with a sitting area while providing all of the necessities a hotel room should have. They have everything you need in order to have a good time. The meals are great and amazing cocktails are served in the Cabana Pool Bar. This is the perfect spot to spend your vacation as it is trendy and hip. We know you will enjoy your stay here.
Royal Cliff Grand Hotel
Booking.com (*8.7) Map Starts at $146
**prices are shown for weekdays in Mid-season (March)
This hotel is the complete package. Just minutes away from the Pattaya walking street so it's as central as it gets. The facilities look amazing and the hotel even offers an amazing outdoor pool and a fitness center.
To help you relax and take care of your health they also offer relaxing massage treatments, a sauna, and a wellness center with 5-star service. The rooms are absolutely beautiful and feature amazing views on the sea and are fully air-conditioned, equipped with a flat-screen tv and a sitting area.
You even get a minibar and a fully equipped bathroom with a bathtub, hairdryer, and free toiletries. They have one of the most helpful staff you have ever experienced and they will do anything to ensure you have had an amazing stay.
The activities you can do there are countless tennis, table tennis, billiards, etc. This definitely is one of the best resorts in Pattaya so wait no more and book your stay today.
Previous customers said about this resort:
Definitely the best hotel in Pattaya. It's designed for a perfect honeymoon or holiday. We had a great time. – Jose, Spain

5-star place with all you need for your holiday. We enjoyed all the activities and massages very really good and relaxing. It's an awesome place for active people who want to exercise and workout during their stay. – Jackie, Australia

I love the location. It's super convenient to get anywhere around Pattaya. Also, the SPA was really professional and actually helped me to fix my back pain. – George, France
Floral Lux Hotel Monttra Pattaya – for a lovely remote experience
Booking.com (*8.7) Map Starts at $168
**prices are shown for weekdays in Mid-season (March)
This hotel is absolutely magical. The forest gardens it has are astounding and we can guarantee you will fall in love with them.
It's one of the best accommodations in Pattaya South. It has everything you could ever dream of. Take a swim in the outdoor pool or try some of the finest meat from the barbecue or the world-class restaurant.
The rooms will make you feel like you never have to go back home and will make you miss the memories you have made in Pattaya. All guests enjoy free parking while all the sights are just minutes away. The location has many logistical benefits you should make use of.
We are hundred percent sure you will fall in love with the decoration and the presentation of the hotel so we urge everyone to take a chance and try this amazing hotel out. You won't regret it and will be telling your friends to try it out as well once they arrive in Pattaya.
FAQs about staying in Pattaya
Where should I stay in Pattaya?
If you would like to enjoy nightlife you should stay around the center of Pattaya (Walking Road). For more relaxed and family time, look for the resorts and hotels further out on the coast.
Is Pattaya safe?
Pattaya is very safe in general but you should be more careful at night while drinking. Also, wearing expensive jewelry is not recommended.
What are the best resorts in Pattaya?
Some of the best resorts loved by visitors in Pattaya are Royal Wing Suite Spa, Centara Grand Mirage, and Avani Pattaya Resort.
---
So these are some of the best hotels/resorts in Pattaya. They are absolutely incredible and we know you will enjoy every single one of them. Wait no more and make your experience of Pattaya as marvelous as possible. Book your stay today!
If you have a tip or suggestion with some of the best hotels in Pattaya we should add to the article, we would love to hear it! Feel free to write a comment below.
---
DISCLAIMER: This article about the best hotels in Pattaya contains some affiliate links that might help us to earn a commission from a successful booking. The income helps us to run our magazine and provide more content and reviews. Thank you for your support.