Visiting Thailand is a dream coming true; this destination is nothing less than a tropical paradise with lush, dense forests, lively markets, and maddening yet never-ending parties.
If you are searching for a beautiful tropical country for which amazing nightlife is the perfect synonym, it's none other than Thailand.
Thailand has so much to offer that it would leave you amazed every time you visit. The beautiful cities and beaches of Thailand provide travelers with the perfect escape that they are looking for. But it's not just the natural beauty that has boosted Thailand's tourism industry. Thailand is the abode of numerous luxury hotels and resorts that never fail to impress visitors.
There are several exotic locations where you would want to visit and stay, but some of the areas of Thailand have their own charm and you explore every facet of Thai culture while staying there.
Among such places, Phuket is the one that tops the list.
Best Hotels in Phuket Overview:
Also known as the Pearl of the Andaman, Phuket is the largest island in Thailand. Besotted with a beautiful shoreline, it is one of the most visited travel destinations. If you are looking for the perfect concoction of modern-day Thailand and ancient Siam, Phuket is the right place for you.
Moreover, Phuket houses some of the most luxurious hotels in Thailand where you can have the best times with your friends and family. Want to know more about these hotels, then stay tuned with us.
The previous guest mostly appreciates:
Very kind staff and a great choice of breakfast – Salome, Australia
Helpful staff, great pool and beautiful sunsets – Eualia, Spain
Great location for family and peaceful vacations – Talha, India
Have you dreamed about amazing holidays on an island in Thailand and spent it in one of the best resorts in Phuket?
Well, this is it! Coconut Island is a small island with "obviously a lot of coconut trees". It's one of the most beautiful places in the whole country with only very few resorts. If you are looking for a party island, then this is the wrong choice! This island is perfect for relaxing holidays with your family or honeymoon.
The Village Beach Resort is located in the north of the island with your private beach and a pier from which you can take boat trips. As you can see from the photos above, the village is stunning and offers lots of greenery, various types of villas, swimming pools, restaurants, and a beautiful sandy beach. There are also Thai cooking classes, a gym & fitness center, watersport facilities, Muay Thai classes, tennis and mountain biking. The resort can also arrange amazing day trips for you to various hotspots of Thailand, such as Koh Phi Phi island of Phang Nga Bay.
The resort is highly rated by customers and has also 5 stars! Villas come with hot tubes, private gardens, a well-equipped kitchen, flat-screen TVs and spotless cleanness.
If you are in Thailand and looking for a place to crash, The Westin Siray Bay Resort & Spa, Phuket should be among your accommodation list. This is indeed a beautiful hotel with excellent service and professional yet friendly staff.
Just like other Westin hotels, this accommodation in Phuket promises guests a luxurious stay along the bayfront. Guests get to enjoy airy rooms with astonishing views of the Andaman sea. Each room is immaculately spotless and cozy, and if you find yourself too relaxed to go out, the waterfront views from your room should be a feast for your eyes.
Aside from the coastline and its stunning ocean views, guests at this hotel get access to modern gym facilities, 3 infinity pools, a spa, and a 24/7 concierge desk.
Rooms in this resort hotel feature outdoor seating through sliding glass doors so guests can enjoy social media-worthy views of the ocean. For added entertainment, a 37-inch flat-screen TV, a DVD player, and an iPod station are also provided.
The location is perfect for guests who enjoy outdoor yoga or volleyball games. Amenities also include a children's club, complimentary access to non-motorized water sports facilities, and free Wifi. You can indulge yourself with modern Italian dishes while being serenaded by lounge music at the Prego by the Beach. If you'd like to go for Asian cuisines, EEST and Seasonal Taste are your go-to outlets.
The Westin Siray Bay Resort & Spa Phuket offers its guests free parking and is just a 15-minute drive from Phuket Town. The Phuket International Airport and the Phuket FantaSea Show are less than an hour away.
Sri Panwa Phuket (Private Pools + Private Beach Access)
Private pools are amazing, it's impossible not to love it. – Viktor, UK

Amazing property and private beach access was TOP – Asif, India

The room had its private pool and stunning views. Simply this is the best place I ever stayed in my life – Leon, Panama
If you are looking for the perfect synonym for glamour, fun and amazing vibes in context to Phuket, Sri Panwa is the first name that would pop up in the brain. It has the most beautiful contemporary Thai interiors and the crowd is completely international.
Though the beach is a bit small, that doesn't mean it can't give the competition the other beaches. If you are in the mood to have some amazing fun time, then get yourself a Martini and relax at one of the three beautiful pools that are around the resort.
If you want to relax among the spectacular views of Layan Bay, Andaman Sea, and Anantara Layan, you should book yourself with Layan Residences by Anantara.
These are opulent homes that offer its visitors the height of luxury with complete butler services, endless pools, private chefs and complete privacy. The beautiful residences have two to eight-bedroom villas and the guests can enjoy the numerous facilities. This place is perfect for private, destination weddings, families, friends and honeymooners.
Related: Check out also Best Resorts in Pattaya
Situated among dense, green coconut groves, white beaches, and the fathomless waters of Phang Nga Bay, Naka Island is an altogether exclusive resort on Naka Yai Island. Mere a 10-minute speedboat ride from the main island of Phuket, this resort provides you the ultimate respite from the usual humdrum of life.
Home to the magnificent 67 organic-shaped villas, the visitors can relax and rejuvenate their minds and soul while spending gala time at the resort.
What the previous guests say about this luxury resort:
Staff, reception, and massage team was amazing and we had a lovely holiday in Thailand – DANA, UK

Amazing breakfast and stunning views overlooking the sea – John, Australia

Unexpected upgrade to Suite. Love it. – Simona, Italy
When you go to Thailand to relax, one of the best accommodations you should check is Crowne Plaza Phuket Panwa Beach, voted as one of the best hotels in Phuket.
A beachfront hotel, Crowne Plaza offers its guest a fashionable place to stay with a private balcony to enjoy the beautiful and peaceful view of the beach and complimentary access to high-speed WiFi to keep you connected to the Internet during your stay.
Hotel guests can get world-class relaxation in their in-house spa treatments and pools, or get an Instagrammable gastronomic experience at the resort's dining locations.
Each room is carefully-styled with chic, contemporary decor, a 37-inch flat-screen TV with satellite cable programming, a DVD player, a minibar, an electric kettle, and a safety deposit box. Guests can enjoy a private bath using a rain shower and a separate bathtub.
The reception is available 24/7 and can help guests regarding currency exchange, luggage storage, and airport shuttle services. Suggestions on where you can go and what to see in the area are just a question away so never hesitate to ask.
If you're here for work, the hotel has adequate business facilities. For a workout, check out their modern gym. When hungry, room service is available anytime upon request. But guests have the option for an around-the-clock dining menu from Mosaic and Italian cuisine and drinks from Patio.
The Crowne Plaza Phuket Panwa Beach is conveniently located 5 minutes away by car to the Phuket Aquarium, approximately 45 minutes from Patong Beach, and an hour drives away from the Phuket International Airport. Other fantastic locations in Phuket are as close as a 15-minute drive.
Previous guests loved:
Amazing views, great staff but maybe a bit small but cozy – Alex, France

If you wanna have a relaxing time and stay isolated from the Thailand fuzz, you gonna love it. It has lovely remote locations. – Nicole, Denmark

Loved the location and the beach is definitely one of the best we saw around Phuket, – Stef, China
Overlooking the perfect Nai Harn Beach and Bay, there stands the beautiful The Nai Harn, one of the best resorts in Phuket.
Snuggled in a small hillside tropical forest opposite Prothep Cape, The Nai Harn provides you with a perfect escape from all the hustle-bustle.
If you are looking for intimacy, privacy, and relaxed seclusion, then this resort is simply ideal for you. If you want to have a taste of the vivid and warm Thai hospitality, this is the place you should book yourself with.
Another amazing luxury hotel in Phuket which as you can already assume, is all about the pool! As you can see from the photo, the pool stretches along with the whole property almost and you can possibly jump into the pool from every single room. With that being said, if you are the "pool person" no need to look further.
Supicha has 5 stars and it's well-rated on booking.com. The accommodation comes with a buffet breakfast, AC, desk, wardrobe and flat-screen TV, private bathroom and access to gym & fitness center.
The previous guests mostly appreciate:
Amazing staff and chef was helpful with getting us vegetarian food – Ragul, India
Great choice of breakfast and amazing pool access – Steven, Czech Republic
Great place for swimming pool lovers, almost 50% of the ground is covered with pool – Nick, UK
The hotels look amazing, matches the pictures from booking.com profile! – Bailey, USA
The hotel has a great location as well. You can make it to the airport in around 20 minutes and visit some of Phuket's highlight in less than 5 minutes. For example, the famous Chinpracha house Thai Hua Museum is only 11km away from the Supicha Pool Access Hotel.
Avista Hideaway – BEST Hotel in Phuket for Couples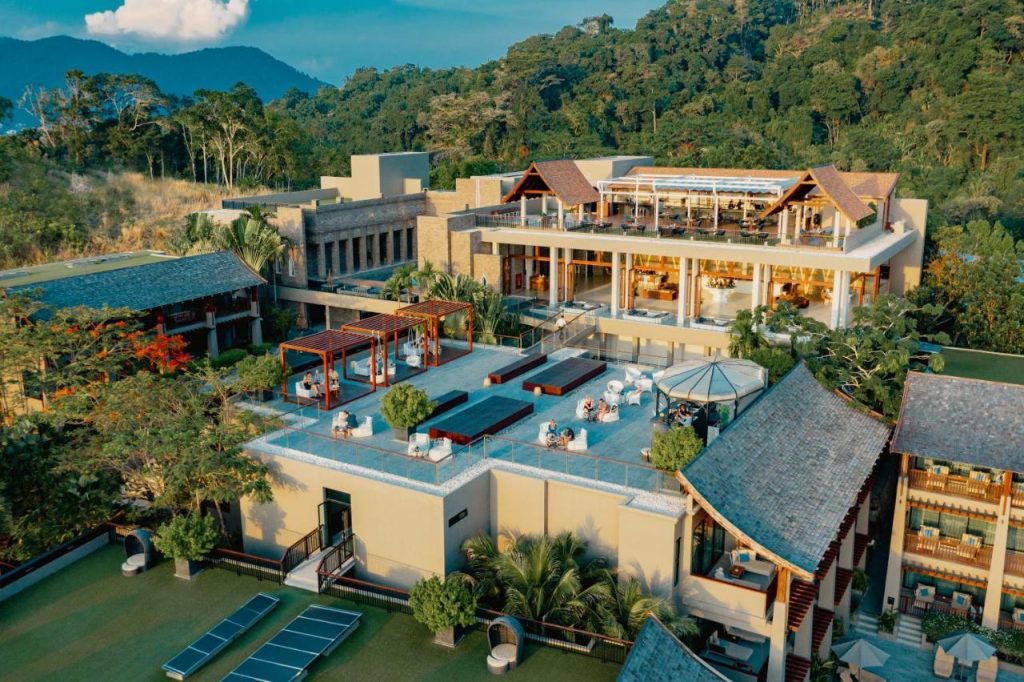 As the name suggests, Avista Hideaway is a secluded paradise in Phuket, perfect for couples' escapes. It boasts a tranquil atmosphere that is also reflected in the design of the entire resort.
The rooms come with flatscreen TVs, iPod docking stations, spacious bathrooms, private Jacuzzis or pools, and balconies that provide views of the surrounding lush jungles. Guests can enjoy fitness facilities, a spa, a rooftop bar, and restaurants offering Thai, French, Italian, Australian, Indian, and Chinese specials.
Should you decide to explore the local nightlife or the seaside, the hotel's complimentary shuttle will take you to the famous Patong Beach. Phuket International Airport isn't too far either. It's just about a 45-minute ride from the resort.
Located at the tip of Cape Yamu and overlooking the mighty Andaman Sea and the beautiful limestones of Phang Nga Bay, COMO Point Yamu is a quaint and beautiful resort. The interiors of this resort are designed by the famous Italian designer Paola Navone which gives you the ultimate experience of Thai luxury.
Moreover, you can also relax at the COMO Shambhala wellness retreat and can have the delectable Italian and Thai cuisines at the aesthetically designed two restaurants.
Nestled among the tropical fauna of Phuket, Anantara Mai Khao Phuket Villas offer a relaxing, yet scintillating retreat that provides you with unspoiled panoramic views.
When you are staying with Anantara Mai Khao Phuket Villas, get ready to wake up to white, powdery beaches with the luscious, green fauna of Sirinath National Park in the backdrop. Get a chance to trek through the dense jungles by elephants and spend a whole day relaxing at the beachside pool.
Since its inception in the year 1988, the popular Thai beach resort has come a long way and now enjoys a world-famous reputation for its personal services, an extensive variety of activities, and delectable cuisine.
Living up to its name Amanpuri which is a Sanskrit word implying the 'city of peace, this resort offers you nothing else. Overlooking the beautiful Andaman Sea and nestled in a coconut plantation, there are 40 Thai style-influenced pavilions and 30 private villas.
A perfect conglomeration of lush, green landscapes, residential-style architecture and an isolated beach getaway, Rosewood is situated on the shoreline of Emerald Bay.
It features stunning 71 pavilions and villas that have their own private pools with scintillating views of the ocean. This resort offers a delectable culinary voyage thanks to the four amazing outlets, explorer club, wellness concept, beachside pools, and fitness center that caters to all your senses.
Situated on the eastern shore of Koh Yao Noi, which is a beautiful island 15 km from Phuket, Six Senses Yao Noi gives the visitors an altogether different experience of Phuket. This hotel is one of the best hotels in Phuket, also because it's all about the native and rural experiences of Phuket and the original lifestyle of the local people along with a dash of modern luxuries.
This resort is located on an ideal location that gives a mesmerizing view of Phang Nga Bay and the limestone protruding jutting out of the clear waters. The villas at the resorts are designed according to the concept of barefoot luxury and eco chic nature that perfectly complements the surroundings as well. The whole focus is on outdoors with an outdoor cinema overlooking a beach, water sports area, outdoor muay thai ring and aesthetically decorated dining spaces with a view to the outdoor vista.
Keemala – Luxury Hotel Phuket
Overlooking the Andaman Sea and the Kamala village, Keemala is tucked away from all the crowd, noise and hustle-bustle of the city life. Located among the lush green forests, within the hills, Keemala offers you the most sought after refuge from the monotonous life and into the lap of Mother Nature.
The resort is mainly focused upon the quality of life and wellness. It is quite close to the Kamala Beach and Patong Beach where you can have the taste of the best parties of Thailand.
If you are searching for the most luxurious, opulent and five-pearl resorts in Phuket, Trisara is the name that tops the list. Booking yourself with the most romantic getaway of Phuket is the best way of enjoying your time in this tropical paradise. Trisara is the abode of 39 villas with all the modern day facilities.
You are provided with all kinds of luxury in such a way that you would want to live there forever. Tastefully decorated rooms with oversized beds, bright and shiny bathrooms, enjoy all the facilities of a 7-star resort while your stay at Trisara.
If you are searching for a fairytale land in Phuket, then Banyan Tree is the one for you. Overlooking the mesmerizing water of the lagoon, this resort is not less than a tropical paradise where the boulevards are covered with palm and casuarinas, gardens blooming with Allamanda and Bang Tao Bay shining in its beautiful splendor.
Situated in sprawling 400-hectare lush grounds, this hotel includes 3km long beach and houses more than 30 restaurants and bars.
Well, these are some of the best hotels in Phuket that have played a major role in bringing Phuket in the limelight. These resorts are kid-friendly and have all the modern-day amenities that you are looking for while planning for luxury holidays. Moreover, these resorts offer various other activities and sightseeing tours of the nearby surroundings. So when you are in Phuket and enjoying the best time of your life, embrace the amazing vibes of the place, let go of yourself and try the different activities, delectable cuisine, and visit different sites to know more about this paradise called Phuket.
Villa Purissara
The 5-bedroom Villa Purissara is a beautiful hotel located in the prestigious Laemson Estate on Phuket's Millionaire's Mile. The mansion rises directly on a small peninsula near Kamala Beach's pristine white sand beach. This 2020 restored property stands out for its beachside position, creative design, and sumptuous amenities.
Villa Purissara provides free WiFi, air conditioning, a restaurant, and access to a garden with an outdoor pool that is open all year. The hotel, which is located on the beachfront, has a bar, a shared lounge, and a private coastal area.
Guests can relax at the spa and health center, book excursions at the tour desk, or rent a car to explore the surrounding area. They can also play billiards on-site or go snorkeling in the area.
The truth is that Purissara has set the bar pretty high. It is every bit as beautiful as it looks in the pictures. The property is clean and well-maintained and the design is really nice. The great staff, on the other hand, makes the stay even more memorable. From the moment you arrive, you are greeted with 5-star service. Nothing seems to be impossible here!
SALA Phuket MAI KHAO Beach Resort
SALA Phuket is one of the best hotels in Phuket! It's a private five-star villa resort that departs from the usual Thai luxury paradigm. The resort's minimalist architecture stands out with its clean lines and fresh white walls that dance with shadows and geometry.
There are a few balcony suites among the guest accommodations, but the pool villas are the main attraction.
Their design defies convention, with the bathroom located outside in the garden and in front of the private swimming pool, integrating the outdoor space into the bedroom.
Windswept linens, pastel colors, pillows, Portuguese-style tiles, and sliding doors and curtains decorate the interiors. SALA offers a gorgeous beachfront infinity pool, an outstanding restaurant, and a peaceful spa.
V Villas Phuket
V Villas Phuket is a newcomer to the luxury hotel industry and has quickly become one of the most well-liked spots in town. It is situated on Cape Panwa, which is Phuket's southernmost point. V Villas Phuket is a vibrant, avant-garde hotel perched on a hilltop overlooking the lovely Ao Yon Bay that would appeal to a young, trendy clientele.
There are 19 individual pool villas on the site, each with a bright, open bedroom and a cozy living room. No matter if your accommodation is overlooking the sea or the hills, the outdoors are effortlessly incorporated into each one. The exquisite, individualized butler service is accessible around-the-clock, and a private buggy is always on hand to accompany you around the property.
The Big Buddha and Phuket's Old Town are both nearby, making V Villas a good place to relax while still being within a short cab ride of the main sights. The resort is also just a short walk from the beach. The hotel's rooftop bar, Akoya Star Lounge, is a chic hangout with unobstructed views of the bay. Here you can enjoy a tapas-inspired meal, cool DJ sets, and inventive cocktails before dining at Yon Ocean House restaurant on the first floor.
Kata Rocks
The luxurious Kata Rocks Resort is tucked away on Phuket Island on Thailand's picturesque west coast. A magnificent retreat known for its unsurpassed luxury, impeccable service, and breathtaking views of the endless ocean.
Upon stepping into this opulent sanctuary, prepare to be captivated by its distinctive architecture that seamlessly blends contemporary elegance with the allure of Thai-inspired aesthetics. The 34 villas, each boasting an individual infinity pool, Jacuzzi, and high-speed Wi-Fi, have been meticulously crafted to perfection, with every intricate element thoughtfully considered. Nestled amidst lush tropical flora, these havens provide panoramic vistas of the Andaman Sea, creating an unparalleled experience of luxury and natural beauty.
Kata Rocks is the ideal place for a lush and wonderful vacation, whether you're relaxing by the pool, indulging in invigorating spa treatments, or heading out for exciting water sports and island excursions.
---
PHUKET FAQs:
P.S. if you enjoyed this luxury hotels Phuket article, please share it or give us some feedback in the comment section below. Feel free to suggest other resorts that you think should be listed in this post.